The GC is fast becoming a foodie haven and anyone who has health concerns with wheat or just chooses to go gluten free should add these picks to your must-visit list.
"Gluten Free" is the fastest growing food intolerance category in Australia and these places have cottoned on to offer some of the best breakfasts sans gluten on the Gold Coast.
Marie Anita's Gluten Free Health Café
Marie Anita's is a completely gluten-free eatery that seamlessly combines the rustic charm of a bakery with a vintage elegance of an enchanting café. It's a completely safe sanctuary for your food sensitive friends with dairy-free, sugar-free, vegan, and raw alternatives. You can't buy happiness but you can buy the organic chocolate waffles and that's the same kind of thing. This dish will actually blow your mind; topped with raw cacao sauce, organic raw raspberry chia jam, and coconut yoghurt. No matter how full you feel at the time, make sure to nab a fresh loaf of artisan bread on your way out—the activated seed and nut special will put you off supermarket bread for life.
Where: 1/1863 Gold Coast Highway, Burleigh Heads
The Outcider
Don't be fooled by the name; although otherwise known as a watering hole that specialises in cider, this beachside bar outdoes itself on the breakfast front too. Most items on the menu at The Outcider can be made gluten free, but one that is a simple standout is the Avo Smash dish. It's as healthy as Miranda Kerr and looks just as good. Just swap the sourdough for gluten-free bread and you are well on your way. With the perfect ratio of feta, chilli, caramelised lemon cheek, tomato salsa, and Moroccan-spiced poached eggs, it's quite literally a taste sensation and a perfect way to start your Sunday in the salty sea air.
Where: 4/1 Douglas Street, Kirra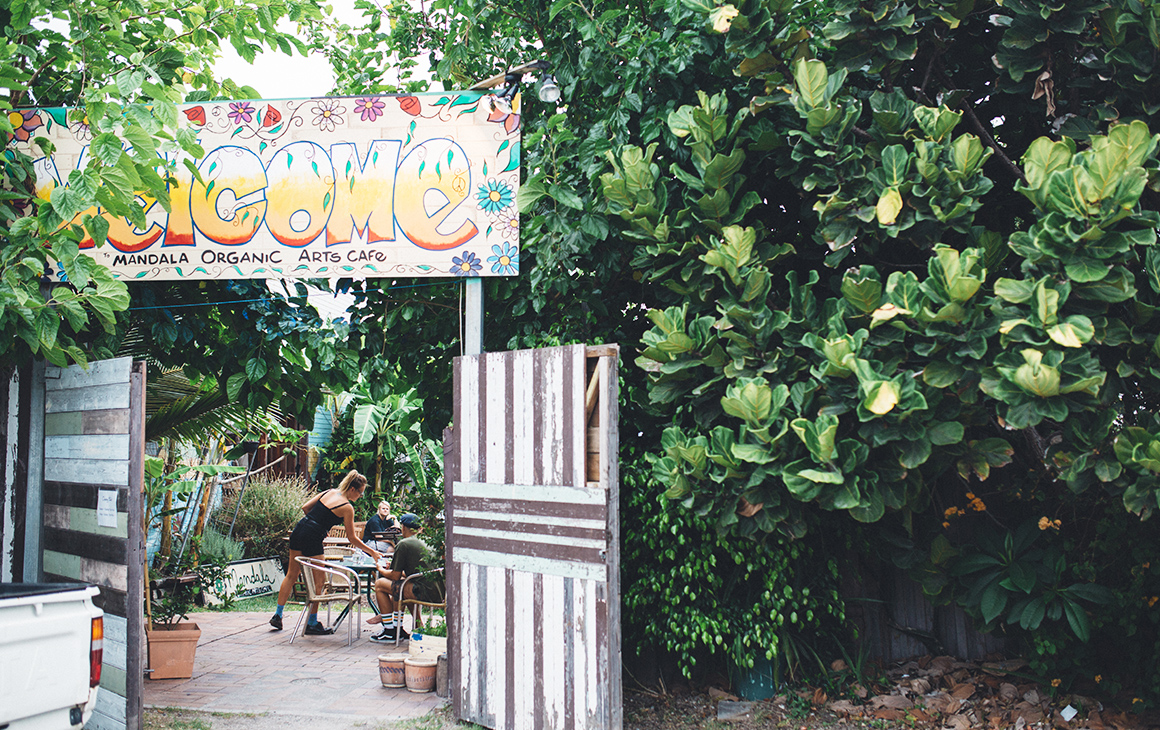 Mandala Organic Arts Café
One of the Coast's best-kept secrets, tucked away in Mermaid Beach is a creative café that fuses raw and organic food, events, and the arts for a vibe that truly feels like a home away from home. More of a brunch venue for the late risers, Mandala Organic Arts Café prides itself on being completely vegan, fresh, and local, with a whole swag of produce coming straight from their own permaculture garden. Nourished by nature is an understatement. With too many top gluten-free dishes to choose between from coconut flour waffles, to raw rice paper rolls, and pad Thai, to nachos and pizza, you are definitely spoilt for choice at this community hub that celebrates music, food, culture, and the people. #blessed
Where: Shop 4/ 2558 Gold Coast Highway, Mermaid Beach
Grocer & Grind
When you combine a rustic, chic coffee shop, wholesome health food store, and cute café slash restaurant, well, you get Grocer & Grind. If you aren't already sweet enough in the mornings, then your best bet are the gluten-free and dairy-free waffles served with Co-yo chocolate yoghurt and fresh fruit. Alternatively, if you have a savoury side then their Bacon Eggs Benny featuring free-range bacon, guacamole, home-made hollandaise sauce, and perfectly-poached eggs is a benny not to be beaten. Wash it all down with a 100 per cent organic coffee, fresh juice, or a sweet green smoothie—it may just change your life. Does Grocer & Grind serve some of the best breakfasts on the Gold Coast? We think so!
Where: Shop 1/1 Sunshine Boulevard, Broadbeach Waters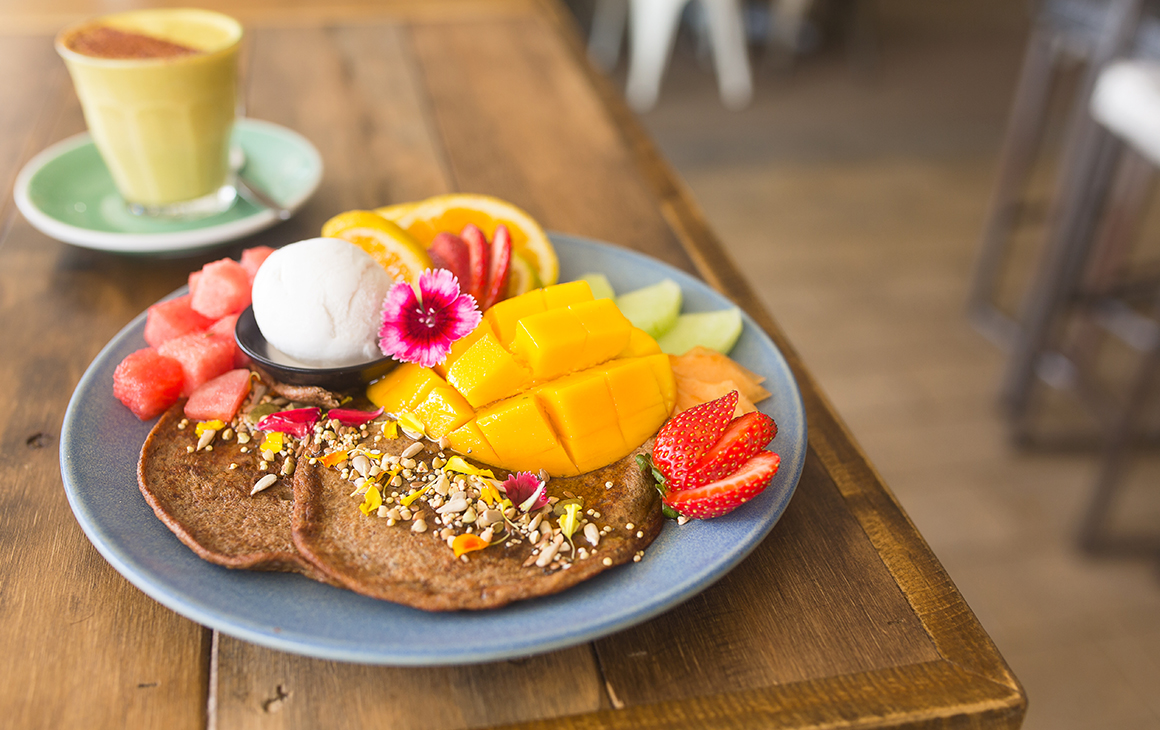 Beaches Off Tedder
The best way to start every day here on the Gold Coast is of course a sunrise swim, followed by a hearty feed. Beaches Off Tedder is a hop, skip, and a jump from the beach and offers a pretty extensive breakfast menu available from as early as 5am. Opt for the Mediterranean Vege Stack for a healthy fix, or just ask for the gluten-free toast if you feel like eggs benedict, eggs florentine, eggs royale, bacon and eggs, eggs your way… you get the idea. With seriously something for everyone, it's somewhere you can take your other half that may not be so open to your gluten free, sugar free, dairy free, vegan, and paleo ways. Beaches Off Tedder is also a bar, so why not wash it down with some bubbles or a beer. When in Rome!
Where: Corner of The Esplanade and Woodroffe Avenue, Main Beach
BSKT Café
As if BSKT wouldn't make this list, and if you still haven't been there, well, shame on you! Our pick, the Special K Salad is not what the name suggests (i.e. a cereal salad). Think fresh kale, baby spinach, gluten-free croutons, and a soft-boiled egg, topped with warm smoked trout and kalenaise—that's kale hollandaise if you weren't so quick to the party on that one. With nearly everything on the menu offering a gluten-free option, you will not get a case of the ol' food envy when your bestie orders the Super Berry Cacao Pancakes or the CocoWhip breaky Jar, because you can have your cake and eat it too. Hallelujah!
Where: 4 Lavarack Road, Nobby Beach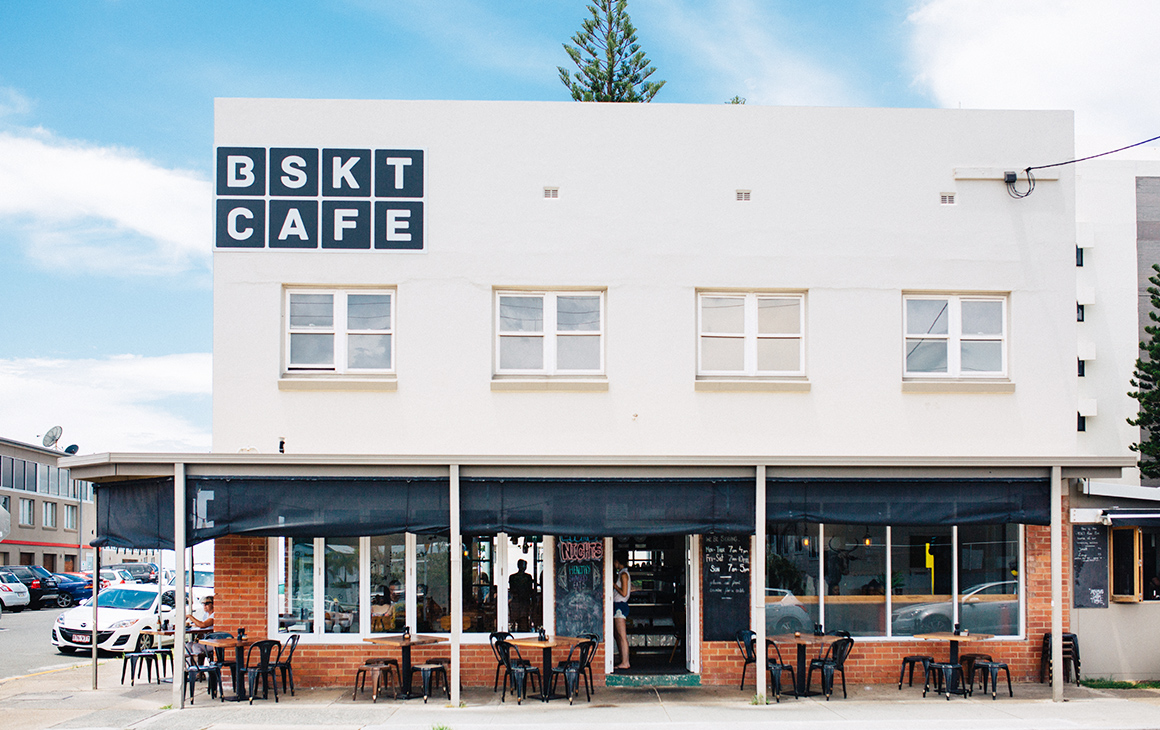 Cardamom Pod
Scribbled on the wall at this plant-based paradise are the words "Let thy food be thy medicine", and for good reason. Cardamom Pod is filled to the brim with exotic and innovative dishes with a twist, plus decked out with cute mis-matched furniture including cane peacock chairs and beaded chandeliers, you'll be getting snap happy and healthy all in the same breath. The mushrooms on toast pod-style are hard to go past: oven-baked sage butter mushrooms on fresh gluten-free bread, sitting pretty with wild rice, roasted almonds, sweet potato, and a tasty herb snag with tomato jam. Thank God they expanded their glorious offering to breakfasts, but get in quick as they only serve it on weekends from 7:30—11:30 am. And word on the street is they'll be opening a second venue at Ferry Road Markets very soon.
Where: Shop 1/ 2685 Gold Coast Highway, Broadbeach
Blendlove
With a mission to invigorate every body, every mind, and every soul one treat at a time, it's any wonder we aren't all converted blend-lovers already. Not only do they specialise in vegan, gluten free, dairy free and refined (cane sugar) free delectable desserts, they also offer a small but worthy breakfast menu. Blendlove's Berry-licious Pancakes are off the richter; topped with cashew yoghurt, strawberries, hazelnuts, caramelised bananas, and blueberry sauce. You may or may not want to finish off with a raw cheezecake for desert— 'cause #bulking am I right? Wash it all down with the spiced coconut, almond butter, and vanilla smoothie because, LIFE! With everything on offer completely plant based and made with wholesome ingredients of the highest quality, there should be no guilty feels here.
Where: Shop 1/253 Ferry Road, Southport
What are your faves among the best breakfasts on the Gold Coast when you want to go gluten free? Tell us in the comments. 
Photo Credit: Daniel Hine and Hayley Williamson for Metropolist