After a weekend of tacos and margaritas (and hangovers), or a few too many nights in the grips of pillowy baos, this is the list you need to call on.
Delicious and guilt-free food is an art our sunny region has mastered, so we promise it won't be too hard to swap the pizza for a loaded salad or superfood smoothie.
Not convinced? Try our pick of the best healthy cafes on the Gold Coast and you will be—promise.
BSKT
Mermaid Beach
This superfood hotspot needs no introduction, but we're going to hit you with a refresh anyway. If you're a big believer in 'you are what you eat' then BSKT is your jam. Everything on their menu is exceptional. Take that friend who is gluten free, dairy free, vegan, vegetarian, pescatarian, grain free (you get the picture), as there is something for anyone with a complex diet to eat. Our picks are the BSKT banh mi, miso salmon and prawn tacos. You also need a side of sweet potato fries and, for dessert, go no further than the signature CocoWhip—the OG healthy, vegan soft serve that's packed with probiotics.
Stable
Tugun
Your one-stop shop for beautifully crafted breakfasts, lunch salads and vibes that are always spot on, Stable Coffee and Kitchen is one of the best healthy cafes on the Gold Coast. With options that are friendly to vegans, vegetarians and gluten-free eaters, every dish at this Tugun cafe has been made from scratch with seasonal local produce. While their concise menu evolves with each season, as every good menu should, right now we can't go past the linseed and buckwheat crepe, the vegan laksa or, come lunchtime, a heaping bowl of salad washed down with a smoothie or cold brew. Really though, you can do no wrong here.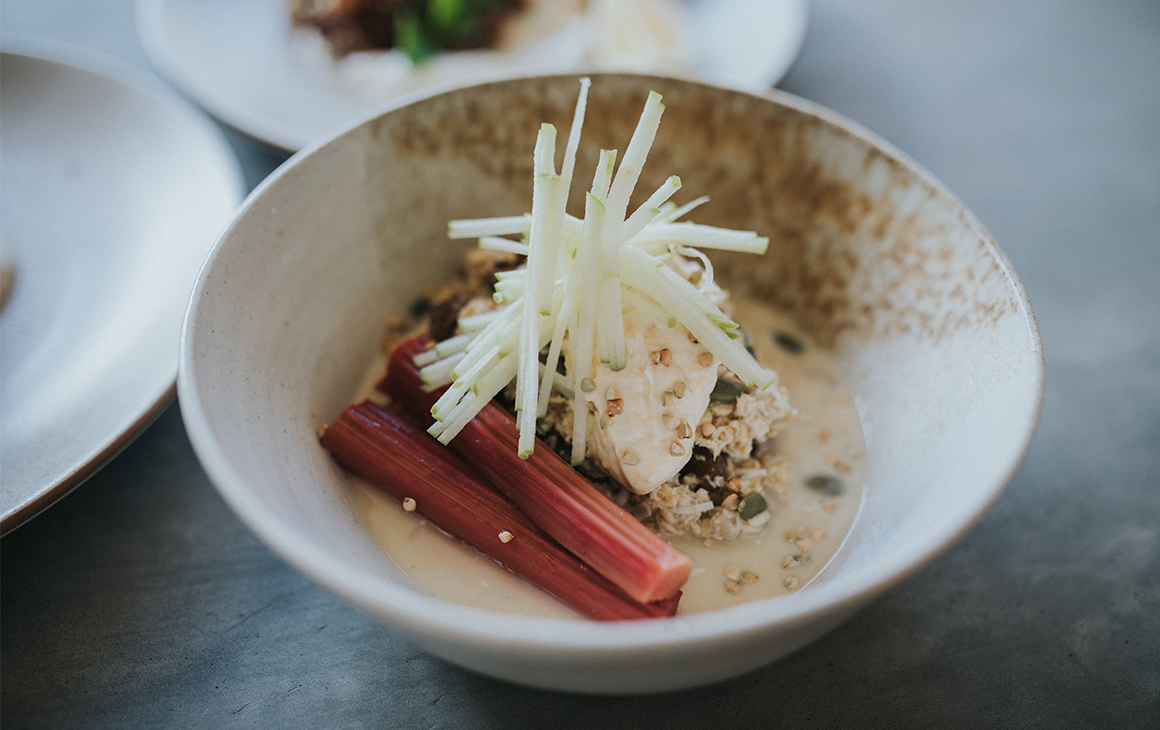 Cardamom Pod
Southport + Broadbeach
Stop in at any of the Cardamon Pods (Broadbeach, Southport and Byron) and you can expect to be nourished by nature. The team were head chefs in the famous Govindas' group of restaurants in Sydney and also started the popular Byron Bay Bliss Balls, so their passion is paramount in helping people to become healthy and happy. With a menu that's exclusively plant-based in Southport and vegetarian in Broadbeach, you know you're eating goodness from the Earth. We'd go to Cardamom Pod for their acai bowl alone, arguably the most Insta-worthy smoothie bowl in the country. If there's a prettier one out there, we'd like to hear about it.
Blendlove
Southport
Southport's Blendlove has mastered the art of turning wholesome ingredients into mouth-watering, all-natural desserts. This is soul food at its finest. Grab a gorgeous gift pack of delicate raw delights, for a present, or yourself, or hang out with the delightful staff over coffee, a spot of nourishing lunch, or a healthy spin on breakfast to start the day right. Hands down one of the best healthy cafes on the Gold Coast's northern end, that's also completely vegan, you're in good company at Blendlove.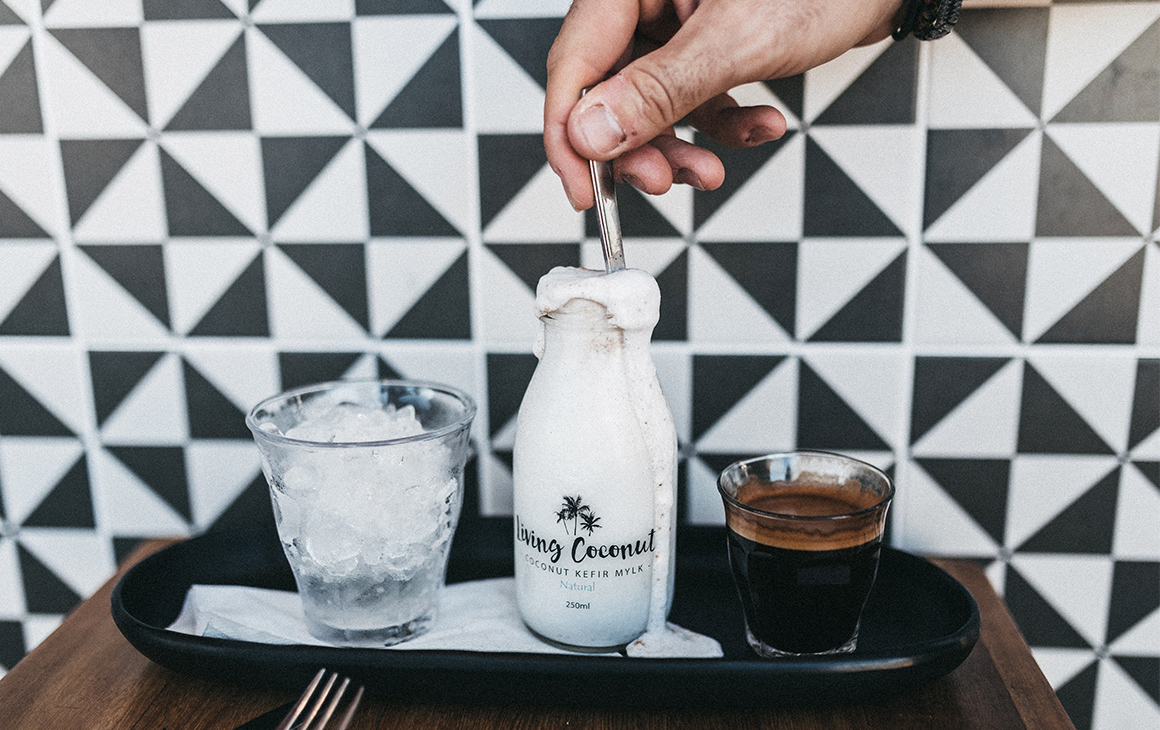 Niche & Co.
Tugun
This cute cafe in Tugun has superfoods sprinkled throughout every dish. At Niche and Co. you will find beetroot hummus smash on sourdough, loaded bagels, jackfruit burgers, vegan eggs benny, and one of the most delicious selection of acai bowls (think: salted caramel, espresso and peanut butter) in town. If it's good enough for regulars Sally Fitzgibbons and Mick Fanning, then it's good enough for us. If you're looking for one of the best healthy cafes on the Gold Coast, stop the search.
Marie Anita's Gluten Free Health Cafe
Mermaid Beach
We just cannot say no to a good loaf. And Marie Anita's Gluten Free Health Cafe is baking some of the best in town. Home to a luscious veggie garden out the back and serving up nothing but delicious eats and goodies out front, if you haven't checked out Maria Anita's, you're missing out. Gluten free fruit filled pastries, organic veggie burgers and gourmet pies make up some of the top healthy eats on the Gold Coast. Or hang around a little longer and lunch on mushroom and olive spaghetti bolognese, vegan lasagne and hearty soups.
Pokè Pokè
Mermaid Beach
If you're after a light and nutritionally balanced lunch, Pokè Pokè in Mermaid Beach is for you. This tropical eatery is inspired by the fresh flavours of Hawaii and the Caribbean, giving you all the holiday feels without stepping foot on a plane. Specialising in traditional pokè which is Hawaiian-style raw tuna, there are also bowls packed with salmon, coconut snapper, salt 'n' pepper calamari, lemongrass grilled chicken and options for those plant-based peeps, too.
Caffe Republic
Bundall
Northerners are well taken care of in the healthy-eating stakes by the friendly team at Caffe Republic. Tucked away in a retail mall at Bundall, Caffe Republic serves up some of the healthiest dishes around, made with organic, locally sourced ingredients. You won't feel a smidge of guilt about loading up on breakfast here, with the likes of a karaage chicken waffle benny or keto pancakes. Peter and the crew pride themselves on catering for every type of eater, from paleo to keto, vegan, vegetarian, gluten-free, sugar free, nut free and even the over-indulgent hangover.
Pier B Brunch Cafe
Hope Island
The most nutritious and pooch-friendly hub at Sanctuary Cove Marine Village is Pier B—a wholefood, health conscious cafe that has copious amounts of raw, vegan and GF options. Their signature Cocmojo bowls are a crowd pleaser, or browse the loaded cabinet for delicious bagels, homemade curries and soups, and mason jars brimming with bircher and yoghurt combos. Serving up bulletproof coffee and raw slices that are made in house with none of the naughtiness, it's worth the weekend drive, even if you're from the salty southern end of the Coast.
Raw + Rice
Coolangatta
After spreading their healthy fairy dust throughout the Sunshine Coast, Raw + Rice has recently opened a shopfront in Coolangatta—and we're sold. With their philosophy being 'every bowl has a story', the folks at Raw + Rice take their poke bowl construction very seriously. And the story doesn't begin when your order your bowl; in fact, it goes all the way back to when the ingredients in your bowl were planted, nurtured and harvested. That's what makes the food at Raw + Rice so good. Everything is hand picked, the fish is freshly caught and everything is supplied by local producers. Delish!
Raw Energy
Coolangatta + Burleigh Heads
With two stores on the Coast, Raw Energy is a bit of an old hand when it comes to serving up food that'll make you feel good. Covering breakfast, lunch and those sweet treats you'd be crazy to resist, a roundup of the best healthy cafes on the Gold Coast wouldn't be complete without a nod to this Queensland-based franchise. A few of our faves? We thought you'd never ask. When in doubt order the Omang-otang smoothie, the zucchini and corn fritters for an AM feed, or the macadamia and lentil burger for a midday stomach-filler.
Greenhouse Canteen & Bar
Miami + Coolangatta
Delivering plant-based fare to the masses, Greenhouse Canteen is changing foodie perceptions with their mantra: 'anything you can do, we can do vegan'. Think curiosities like cauliflower wings, smoked jackfruit enchiladas, quinoa chilli-loaded nachos, and the most mind-blowing raw desserts we've ever wrapped our lips around. Comfort food minus the guilt? Sign us up. Not a vegan or vego? Don't mock it until you try it, because this little gem is totally deserving of a spot among the best healthy eats on the Gold Coast.
Joy Beans
Burleigh Waters
Inspired by their travels and the desire to help communities in need, after a trip to Mexico, the owners of Joy Beans decided to bring the experience of single origin coffee back home; all grown, sourced and roasted with nothing but love. You can be assured as you sip on your morning cup of joe, that the farmers and workers who grew your organic coffee beans are as happy as you, because they are proud supporters of Fair Trade Australia and Australian Certified Organic. If you are feeling a bit peckish, Joy Beans also has a range of vegetarian options including gourmet toasts with smashed avo, to hummus and mushroom toppings. If sweet is more your style, you'll find raw treats, vegan ice cream and butterbings.
Meraki Wholefood Kitchen
Chirn Park
The serious health-conscious, gym bunnies and calorie counters among us can rejoice, because Meraki Wholefood Kitchen has an extensive list of healthy eats to get you through your day. Think: smoothie bowls, nourish bowls, healthy burgers and pizzas that can also be ordered vegan or gluten free. The portions will fill you right up and the staff are incredibly friendly and accommodating for any dietary needs and preferences.
Nutrition Station
Burleigh Heads
Burleigh is home to the Coast's fit and healthy set, making it the ideal destination for NU Healthy Cafes to secure another location for its chain of health-conscious eateries, Nutrition Station. Located on the northern side of the highway, here you can fuel your beach body with super food smoothies, protein shakes and a wide selection of nutritiously loaded breakfasts and lunches. If your body is a temple, or you're consciously trying to be kinder to your insides, this clean-eating health hub eliminates the guilt from dining out or taking away.
Worked your way through the best healthy cafes on the Gold Coast? Reward yourself with a nature hike at these top Gold Coast hikes.
Image credit: Hayley Williamson and Amy Higg for Urban List