With all the new comings and goings of late, sometimes it's difficult to differentiate the pros from the novices, and determine exactly who is deserving of your precious eating time and hard-earned cashola.
We do our fair share of dining out up and down the Coast and we know the struggle is real. Which is why we want to turn your attention to a foodie gem that's been hovering under your nose for some time now. Sure, locals in the immediate area are already privy to its awesomeness, but are you? Well, keep reading 'cause we're giving away a dinner voucher to one lucky reader…
Late 2015, Cicchetti first entered the market as a high-end Italian offering, with dishes and prices somewhat pigeon-holing it as a special-occasion-only type venue for the majority. And while this concept had worked beautifully at its original Byron-based restaurant, the GC customer base was not so obliging. Rather than giving up on their dream to bring authentic Italian eats to the Gold Coast, the team made a dramatic change of tact earlier this year. Transforming the menu along with the average prices, effectively reinventing Cicchetti as a welcoming pizza and pasta bar. It seems to be the winning formula, and business is booming!
Metropolist visited Cicchetti early evening on a Friday, when the cavernous venue was humming with a TFIF kinda vibe. We headed straight for a pair of perfect-for-summer cocktails, quickly peeling away the stresses of our hectic working week with every refreshingly minty sip and seduced further into the weekend mood by live musos that entertain diners every Friday and Saturday night from 5:30pm.
What struck us first about Cicchetti, aside from the contemporary dining room with floor to ceiling windows, grand vaulted roof, and striking chandeliers, was the eatery's finest asset—its staff. When the all-Italian team members constantly break into their mother tongue, you know you're in for a fun night. The eye-candy doesn't hurt either.
Cicchetti is a Venetian word for tapas or meze, which is the ideal place to start on the menu. We ordered the Olive Fritte; green Sicilian olives, stuffed with chilli, then crumbed, fried, and served on a bed of olive tapenade. The spicy bite lingering for a moment, then chased by a delicious plate of Gamberi, AKA prawns sautéed with white wine, fresh chilli, and Italian pasta.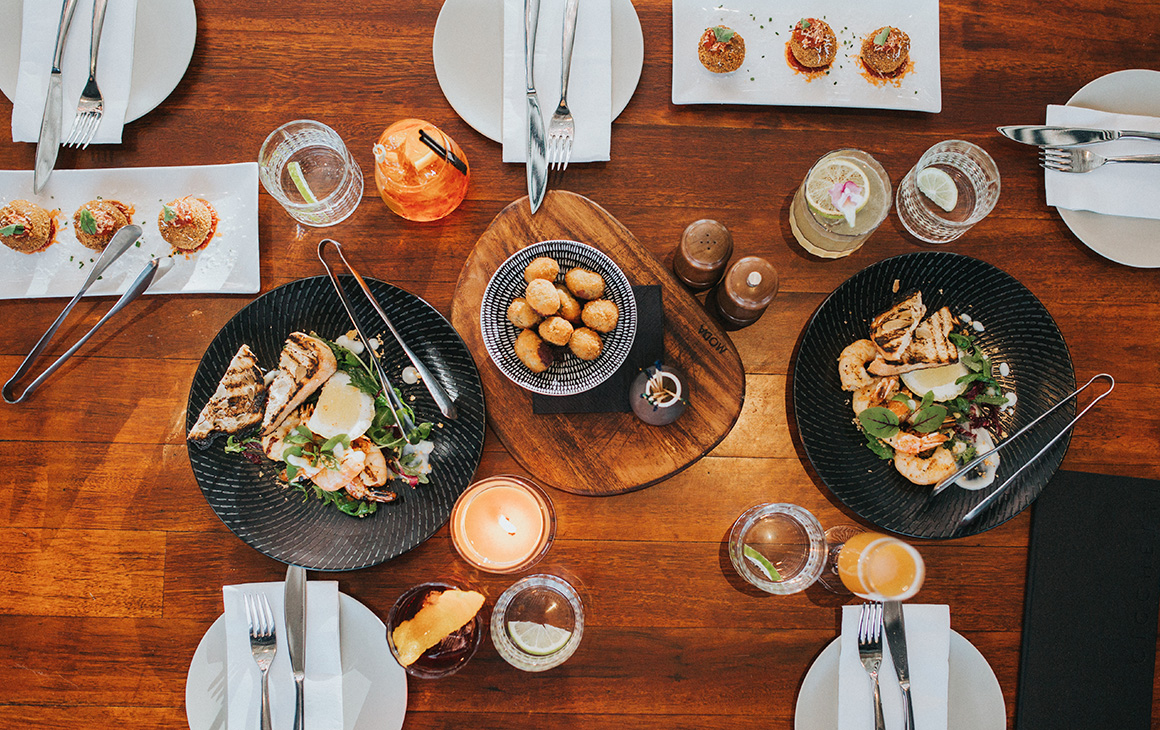 Gracious co-owner and manager Luca Giacomin is also the knowledgeable sommelier and gushes about the restaurant's stellar wine list. Comprising more than 150 bottles, Luca knows the story behind each and every wine on the list. He eloquently walked us through a few options to pair with our main plates of crispy skin ocean trout—the rotating fish special—and a pasta dish of Porcini mushroom tortolloni (not "leni" due to its larger size), with a creamy mushroom reduction, fried leek, and shaved parmesan. All accompanied with a crunchy side salad of peppery rocket, parmesan, and sliced pear. Are you drooling yet? We certainly were.
Having earned quite a reputation for serving some of the best pizzas on the Gold Coast, of course we obliged by face planting the seriously yummy Tartufo pizza, with ricotta spread across its base, mushrooms, prosciutto shaped into meaty roses, mozzarella, parmesan, herbs, and drizzled with truffle oil. We are going to be bold and go so far as to say it was one of the tastiest damn pizzas we've ever devoured on the Coast. Don't believe us? Try it for yourself and report back with your findings.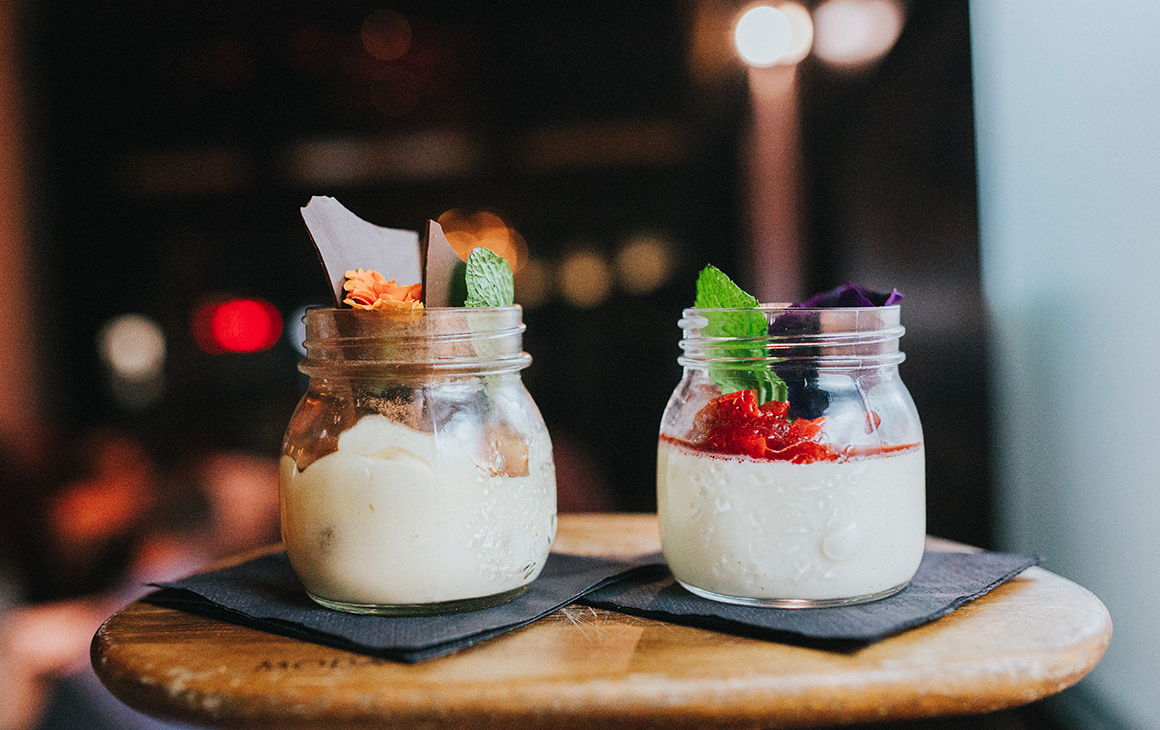 No Italian feast is complete without desserts, and Cicchetti nails it. Despite our bulging stomachs, our rubber arm was twisted when tempted with a vanilla-infused panna cotta topped with strawberries and a sweet balsamic reduction. Sitting perfectly alongside, in a cute glass pot, was the traditional tiramisu: savoiardi biscuit soaked in coffee, layered with mascarpone cream, and adorned with tempered chocolate. We've totes got our eyes on the crispy Sicilian cannoli filled with velvety ricotta and Nutella for our next visit. What do they say? Nom nom nom!
Not surprisingly, the restaurant was packed as we departed and the Friday night atmosphere electric. For southerners who rarely venture north of Broadbeach, clearly you're missing out on one of the best Italian restaurants on the Gold Coast. If you need more reason to be lured north, how about Cicchetti's insanely priced $10 pizza nights (dine in or takeaway) on Mondays, or BYO wine on Tuesdays and Wednesdays?
We're guilty it took us so long to be wooed by Cicchetti's charms, an inviting and versatile venue that could suit any occasion: group celebrations, date night, boozy Sunday lunch, or after-work aperitifs and Aperol Spritz all come to mind. Trust us, you'll be looking for any excuse to spend an evening in the company of those spunky Italians!
Where: Capri Via Roma, 15 via Roma, Isle of Capri
T&Cs: The prize entitles the winner to a $150 dining voucher at Cicchetti Gold Coast and must be used in one sitting. The contest closes 24/10/2016 with the winner drawn on 25/10/2016. The winner will be contacted by email and must reply within 48 hours or the prize will be forfeited and re-drawn. By entering, you agree to be contacted by Metropolist and Cicchetti Gold Coast.
Photo Credit: Hayley Williamson for Metropolist