The trend of Poké bowls wasn't just a phase, these glorious bowls are here to stay and you can find one on every menu that knows what's up, as well as at specialty poké bowl bars. If you haven't tried the traditionally Japanese/Hawaiian fusion, then it's probably about time you did. So we've tracked down 10 of the best pokè bowls on the Gold Coast.
HiPoké
Kirra
Step inside HiPoké and you'll be transported to the sandy shores of Hawaii with their walls covered in pink hibiscus and palm leaves. If choice overwhelms you, then take your pick from their menu with all the best combinations already figured out for you, or simply build your own to have it just the way you like it. Choose your base from sushi, coconut or black rice, quinoa or zucchini pasta, top with your protein, choose between five salads, your sauce and your crunch. If you can't get past the thought of raw fish, then we suggest you go for their karaage chicken or the delicious marinated tofu.
Finn Poké
Burleigh And Pacific Fair
Born in Byron, Finn Poké has made its way to us hallelujah! You can find their certified sustainable seafood poké bowls on Burleigh's James Street or at Pacific Fair. The guys at Finn have put their own spin on the dish, combining hot and cold elements, with either raw or cooked protein with a whopping 12 signature bowls on the menu. We love the colours of the Spicy Salmon Shaka with red onion, bean sprouts, daikon, watermelon, radish, shiso furikake and sriracha mayo. If that sounds a little too exotic for you, then you can still build your own rainbow bowl with all your favourite things. They have 'mates rates' on Tuesday, where all bowls are $12.95. We like a poké bowl bargain!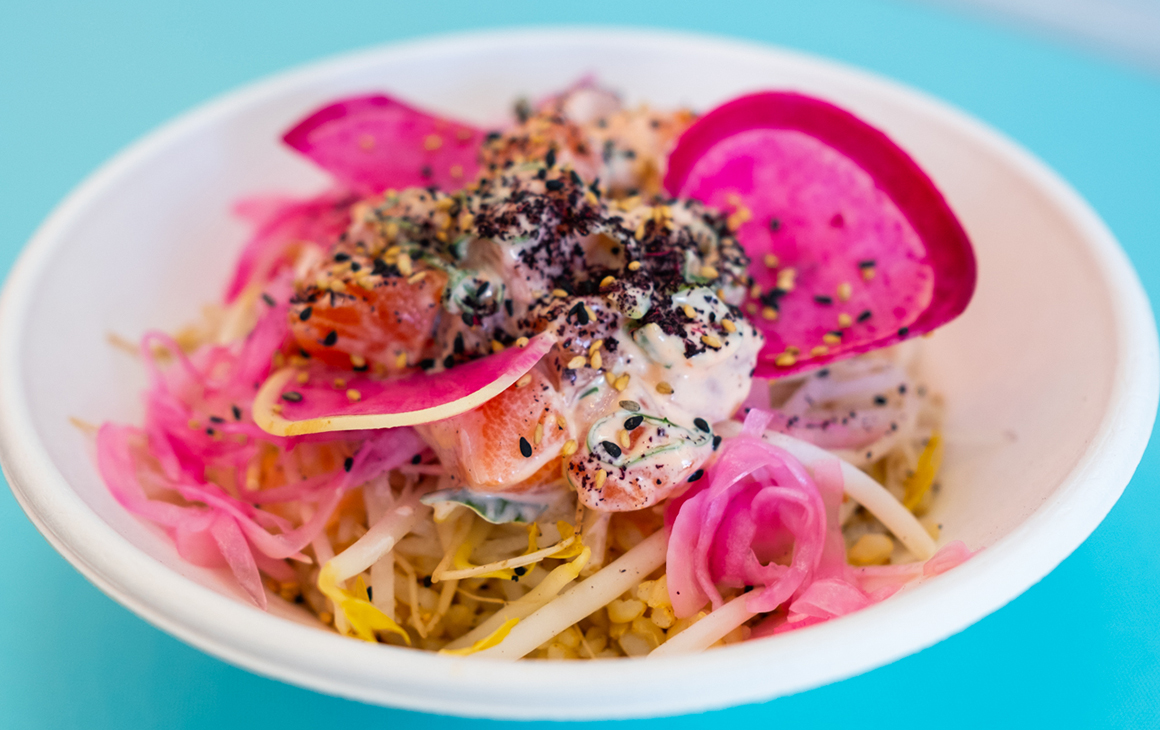 Greenhouse Canteen
Miami
If you haven't made it to Greenhouse Canteen then put it straight to the top of your list. Their slogan 'cruelty free and killing it' certainly rings true, serving up tasty plant-based eats out of their Miami digs. While they aren't a specialist poké destination, they do offer their very own take on the popular bowl which we guarantee you'll want to try. Think: a generous sized serving of seared tofu, sautéed greens, pickled vegetables, nori and fried enoki on top of turmeric infused rice. This is a place where you leave feeling satisfied and not heavy, which means you'll absolutely need to order dessert too.
Poké Poké
Mermaid Beach
Poké Poké, a Caribbean island marooned in Mermaid Beach, were one of the first on the Gold Coast purely dedicated to our love of these rainbow bowls. From the creators of Bonita Bonita, Bon Bon and Fufu, this tropical eatery gives you all the holiday feels without stepping foot on a plane. While they specialise in the traditional poke, the Hawaiian-style raw tuna, there are also bowls packed with salmon, coconut snapper, salt and pepper calamari, lemongrass grilled chicken and of course options for the plant-based lovers too. Our favourite is the Tuna Me On, filled to the brim with sashimi raw tuna, creamy avocado, crispy plantains, and wasabi mayo on a bed of brown rice.
Aloha Bar And Dining
Broadbeach
Whenever we visit, we're constantly amazed by the drool-worthy Asian slash Hawaiian-inspired dishes that emerge from Aloha Bar and Dining's tiny kitchen. Take your pick of seasame salmon, coconut kingfish, sous vide chicken or roasted eggplant and tofu. Your poké is then paired with avocado, wakame seaweed, shredded carrots and greens, and served on a bed of warm coconut rice. Pair it with some prawn and ginger dumpings and some of the most innovative cocktails and funky vessels on the Coast, and you'll be thanking us later.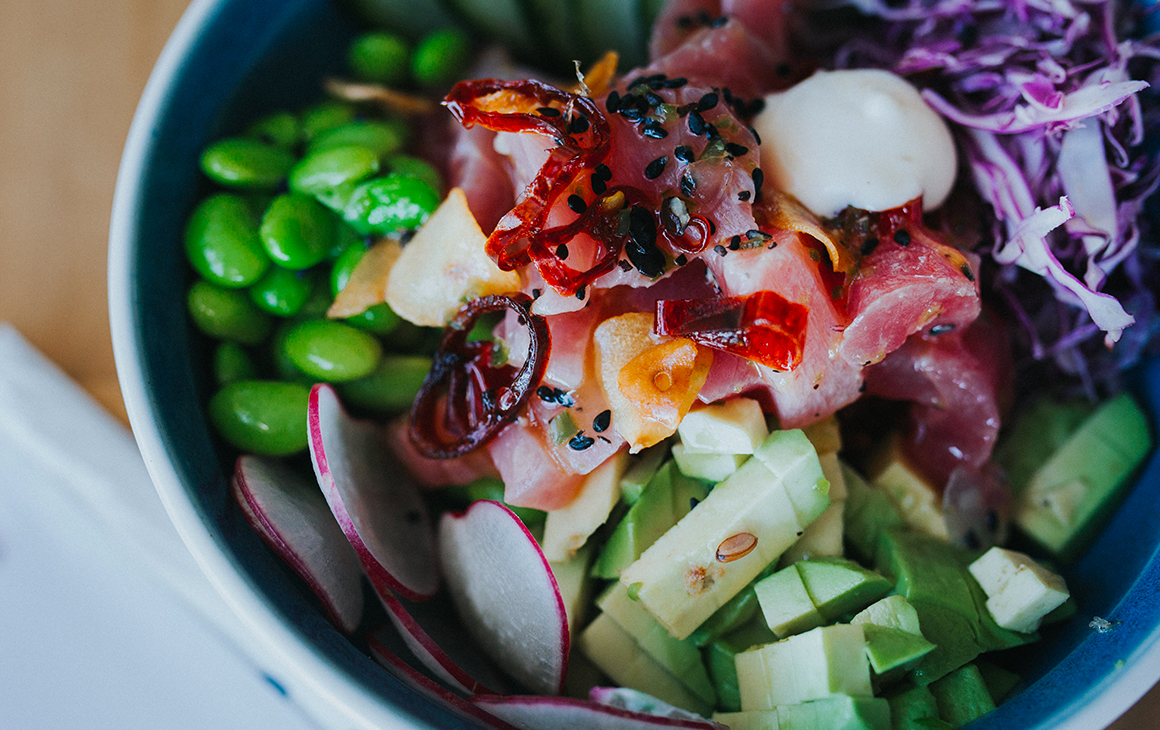 Sandbar
Surfers Paradise
If you've not yet taken the plunge and driven yourself into Surfers Paradise to try this beachside joint, then now is the time. Sandbar's menu boasts not one but three types of poke bowls. Your choice of tuna, salmon, or crispy Balinese tempeh is tossed in fanciful marinades. We tried and loved the Maui Poké Bowl of sashimi kingfish marinated in passionfruit, green chilli, and lime with a wasabi mayo, then served on a bed of red rice with edamame, avocado, sliced cucumber, radish, and red cabbage. First melting mouthful and you'll wholeheartedly agree this is one of the best poké bowls on the Gold Coast.
The Collective
Palm Beach
While not technically a "bowl" we had to include this one in our list of faves. Why? Because it is just a whole serving of tuna sashimi mixed up with chunky avocado, soya, shallots and scattered with sesame. You know sometimes you feel ripped off on the amount of tuna you get, not here! It's probably worth sharing, along with everything else that's jam-packed onto The Collective's five menus. We sincerely hope the poké doesn't leave the ever-changing menu any time soon, we could start with that dish every time we stop by here.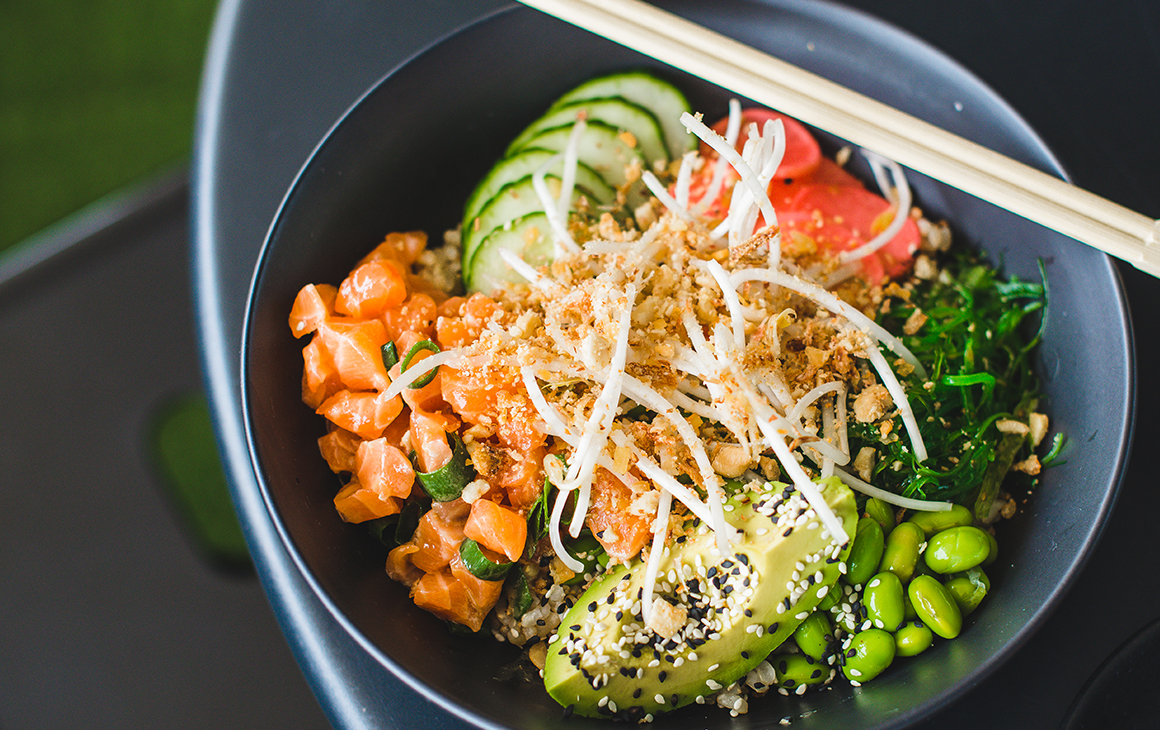 Caffeine Kings
Miami
One of the first to pioneer the poké on the Gold Coast, we salute the founders who have since passed on their beloved coffee shop to new owners. It's definitely not your typical laundromat turned laneway espresso bar and is tucked away in a matte-black graffiti covered wall making you feel like you just stepped into a Melbourne laneway. We advise you try one of their two versions of poké bowls. The first is jam-packed with fresh, local-caught salmon, edamame, cucumber, wakame, pickled radish, warm brown rice, bean sprouts and crispy shallots with a classic shoyu sauce and cashews on top. Or opt for one of their specials, we're hoping they bring back the chicken teriyaki poke soon.
Still hungry? Check out our round up of the best dumpling joints on the Gold Coast.
Image Credit: Hayley Williamson for Urban List