Pork belly used to be a cheap, leftover cut of meat—just one step up from offal in the carnivore hierarchy.
But then, top chefs rediscovered it and reminded us how delicious it is. The layers of fat between the meat melt away when it's cooked slowly, rendering through the meat, making it as soft as butter. And the crackling! Oh, the crackling…
So, what's a Gold Coaster to do when they're in need of a pork belly fix? We've done the hard yards to bring you the best pork belly on the Gold Coast. Get some pork on ya fork, team!
Glass Marina Mirage | Garnished with coriander; tossed in a sticky palm sugar, chilli, and ginger caramel; and on a mission to rock your taste buds, Glass Marina Mirage's chef's signature dish is the Thai-style crispy pressed pork. Simply put, it's vying for the title of the best pork belly on the Gold Coast. Big call, we know.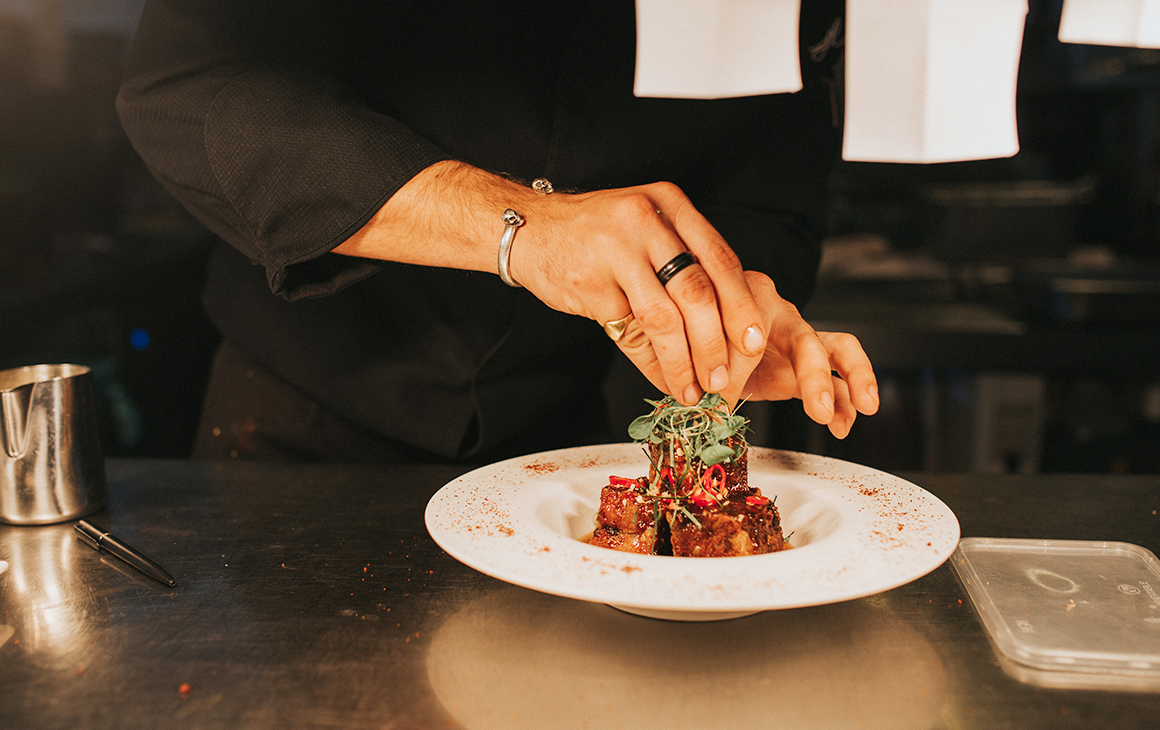 Elston | One of our fave Surfers Paradise destinations for eats and drinks, Elston nails it in the pork department with no less than five pig-inspired dishes on the dinner menu. From a crispy skin pork belly starter, pulled pork bruschetta, 32-hour braised pork cheeks, to the pièce de résistance—a confit pork belly main with pumpkin red curry puree, coconut shavings, and black sesame crisps. Oink!
Cadence Cafe | Craving that crispy goodness, but overcome with guilt? Nerang favourite, Cadence Cafe is helping you out with the Asian pork salad: slow-cooked pork belly sitting pretty on a garden of mixed leaves, roasted peanuts, drizzled Asian dressing. See, practically guilt free!
The Lazy Goose | Sophisticated Broadbeach newcomer, The Lazy Goose is kicking goals all over the park with their diverse menu, but you're here for the pork belly and their fancifully presented dish comes served on a bed of charred artichokes, lentils, a potato and apple mousse, and finished with micro herbs. Nom nom nom.
Fu Manchu Oriental Kitchen | Chevron Island newbie, Fu Manchu Oriental Kitchen needs to be on your to-dine list—stat. The first dish we wrapped our lips around when they opened? The 12-hour tamari and cola-braised crispy skin pork belly, naturally.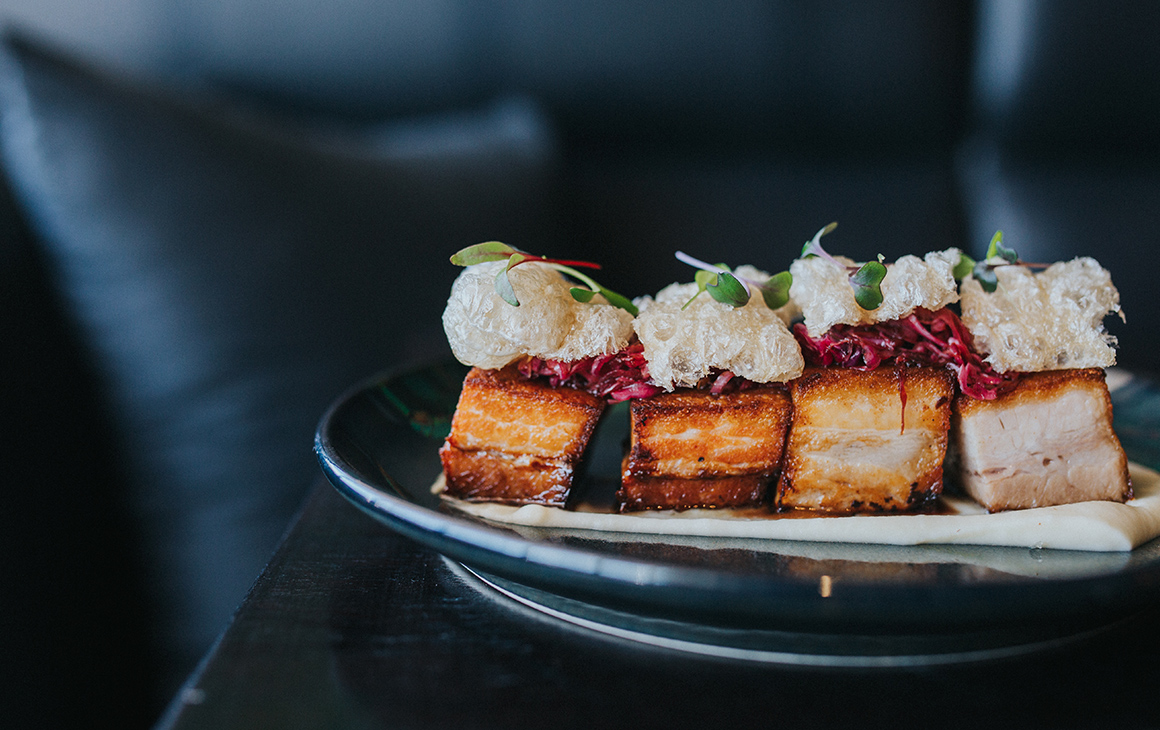 Sparrow Eating House | Here at Metropolist HQ, we're huge fans of Nobby Beach's lovely Sparrow Eating House. Have you noticed? And while deciding is never fun—TF for share plates!—we rarely leave without devouring a drool-worthy plate of slow-roasted pork shoulder with crackle sticks, roasted potatoes, and goats cheese. Oh, and two of those peanut butter martinis, please and thank you.
HANK Bar and Dining | If you're a pork belly connoisseur than you've most certainly made your way through a plate of HANK's signature dish: the slow-roasted Byron Bay pork belly on a bed of parsnip puree, cabbage remoulade, and apple gems. With the option to upsize to a whopping half-kilo of the buttery slash crispy meatiness, if you're so inclined. #wewould
Etzu Izayaka | Renowned for one of the best pork belly dishes on the Gold Coast, Etsu Izayaka puts an Asian spin on an old world classic with their nek-level Buta no Kakuni, otherwise known as Bangalow pork belly with an apple ginger salsa and spicy mayo.
Bine Craft Beer Bar | Come for the 50-cent wings (erryday between 4pm—6pm, yo!) and stay for the pork belly, served two ways. Straight up crispy skin pork belly with apple cider syrup and an apple rhubarb compote, or, our pick, the slow-roasted pork belly burger with apple slaw and Sirarcha aioli. Drool.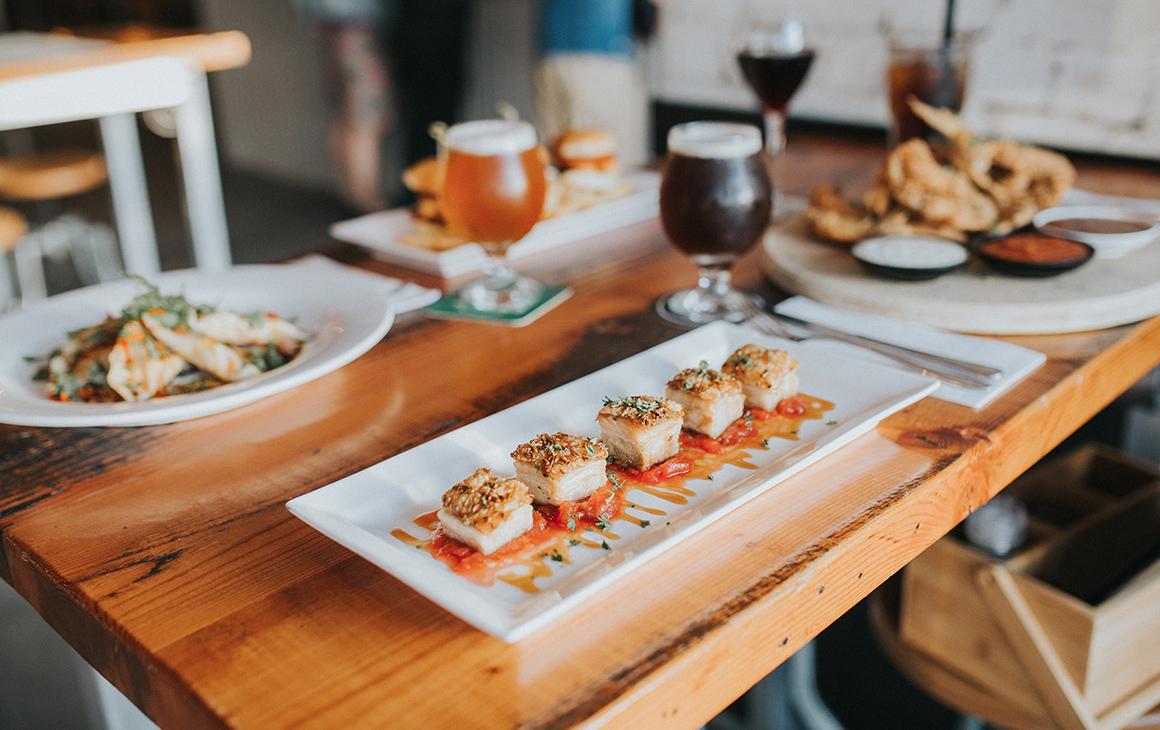 Cicchetti | Who needs pork when you can have porchetta? Isle of Capri's Cicchetti will absolutely spoil your tastebuds with their one-kilogram Byron Bay slow-cooked pork shoulder roast accompanied with roasted spuds and an apple, prune, and ginger chutney. Pork perfection.
Harvest Moon | Hidden away, but certainly not forgotten, Burleigh's Harvest Moon makes a mean pork belly if we do say so ourselves. A free-range Byron Bay Berkshire cut is slow-roasted for 12 hours and accompanied by a bacon chilli relish and smoked apple puree, and the mandatory crispy crackle. Never skimp on the crackle, people!
BiN Restaurants | No matter where you reside, you are never too far away from a BiN restaurant. From Broadbeach, to Pac Fair, Burleigh, and Coolangatta you can sashay in for a drool-worthy share plate of sticky soy pork belly with a mustard apple pickle.
Society of Florida | Society of Florida's pork belly is the business. We're talking heavenly cubes of melt-in-your-mouth crispy skin pork belly, caramelised fennel jam, pickled beets, and micro herbs. Have you tracked 'em down in Florida Gardens yet?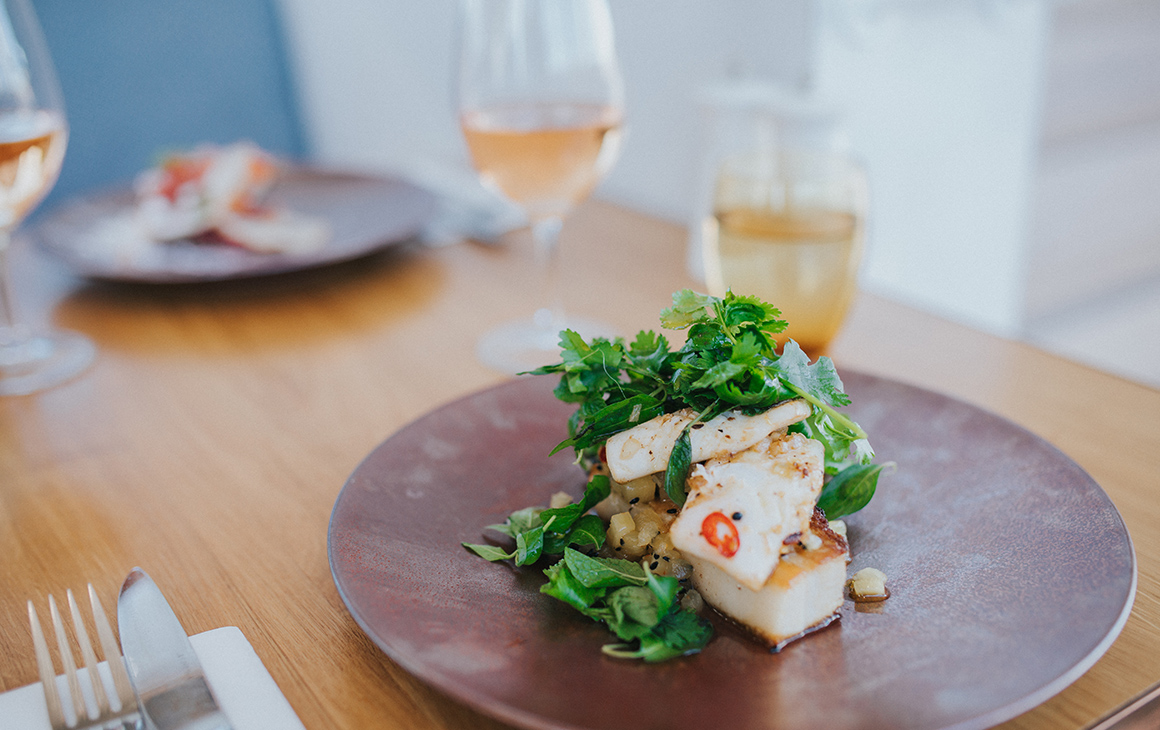 Pier Marina Mirage | You truly can't go wrong at Pier Marina Mirage. Pretty much everything on the menu hits the mark, and no matter what you order, you'll have food envy the full length of the table. But if you have pork belly on your mind, the crispy pork belly served with salt and pepper cuttlefish, pineapple chutney, and dressed with coriander and mint, will leave you sufficiently satisfied.
Bonita Bonita | In case this wasn't on your radar, pork belly tacos actually exist and they are a thing of beauty. Bonita Bonita's la primo Cerdo tacos are overflowing with pork belly, spiced quinoa, pineapple chilli jam, rocket, and topped with queso fresco (cheese, people!).
Hellenika | We've never met a dish at Hellenika we didn't like, which is why we are counting their Greek-style wood-fired Hirino AKA salty pork belly with leeks, among our pick of the best pork belly on the Gold Coast. You can thank us later.
Clifford's Grill | Another pig-tastic dish to add to your list, Clifford's Grill in the Watermark Hotel is justifiably proud of their slow-braised Balinese-style sweet and sticky pork belly. We reckon you'll think it's the shiz too.
More of a sweet tooth? Work your way through our pick of the Gold Coast's best peanut butter everything.
Photo credit: Hayley Williamson for Metropolist