Sweet dreams may have been made of deep-fried doughnuts and ice cream, but these days they are in for a healthy twist.
While our raw obsession is still a shock to our grandmothers, whether you're vegan, watching your sugar intake, or just a raw food enthusiast, raw desserts have quickly become a popular alternative for many a sweet tooth. And, if you are biting into that smooth, nutty goodness with an aftertaste of guilt-free satisfaction, then you live in the perfect spot, 'cause the Gold Coast has unofficially been declared the raw dessert hub of Australia. Agree?
If you're in need of something that ticks all the gluten-free, dairy-free, sugar-free, and guilt-free boxes, we're pointing you in the direction of who makes the best raw desserts on the Gold Coast.
NOURISHING BY SALLY
Ever wondered who is the mastermind behind those drool-worthy raw treats beckoning from inside the glass cabinets at popular eateries such as CocoWhip in The Kitchens, BSKT, No Name Lane, ESPL, Flannery's, Daark Espresso, and Burleigh Social? GC local, Sally Robbie is the talented creator of the wildly successful wholesale raw cake business that's supplying Gold Coast restaurateurs with healthy and creative raw treats. Sally's cakes and slices are made with extraordinary attention to detail, a passion for wholesome eating, and an exceptional talent for food styling. From mint chocolate cheesecakes, to peanut butter caramel squares, Sally can accommodate almost any personal taste and can gift you with a raw cake that'll fool even your dairy-loving friends. We heart Nourishing by Sally!
CARDAMOM POD
This popular vegetarian restaurant based in Broadbeach has quickly become the Holy Grail of raw desserts on the Gold Coast. With a fridge chock-a-bloc full of a colourful variety of raw treats, that's also strategically positioned next to the cash register, it's basically impossible to tame your sweet tooth on the way out. Made daily with local ingredients and a passion for plant-based food, the Cardamom Pod has the perfect answer to all your naughty favourites. From peanut butter cups to chocolate-peanut Snickers slices, and even the raw vegan version of their famous pumpkin dairy cheesecake, the Cardamom Pod will bless your cravings.
Where: 1/2685 Gold Coast Highway, Broadbeach and Brickworks Centre, Ferry Road Markets, Southport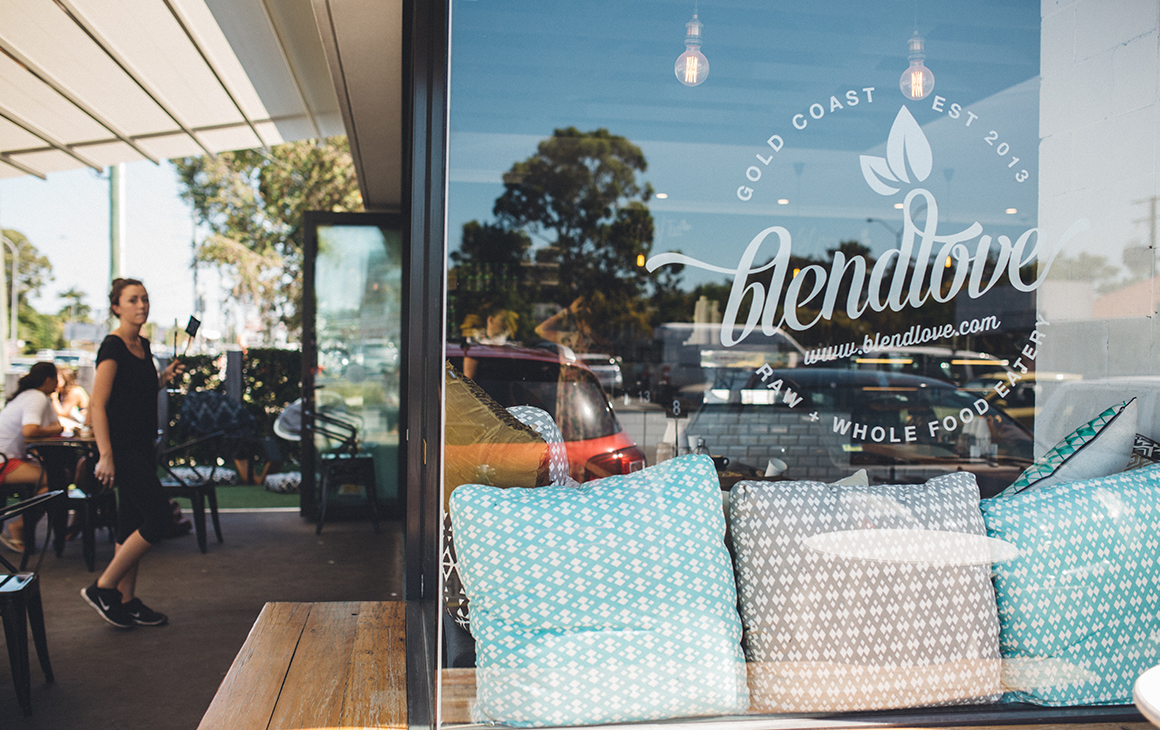 BLENDLOVE
Founders Riki-lee and Sharlene went from a mobile market stall to creating the most Instagrammed and adored destination for raw desserts on the Gold Coast. Made with high-quality ingredients, a passion for healthy and plant-based nutrition and, of course, a whole lot of love, Blendlove has won every vegan foodies' heart with their perfectly sliced and decorated "cheezecakes". Our faves are the wild orange and goji berry for a winter kick, white chocolate espresso for coffee withdrawals, and the Ferrero Rocher for those times when our cravings need some lovin' but the Nutella jar just isn't cutting the mustard anymore. Is Blendlove making some of the best raw desserts on the Gold Coast? We think so!
Where: Shop 1/253 Ferry Road, Southport
NUDE SISTERS
Nude Sisters is the dynamic duo behind some of the best raw desserts on the Gold Coast. You can catch the Nude Sisters (no, the gals are not nude, silly!) on Friday and Saturday nights at Helensvale's NightQuarter markets, or you can order their Alice-in-Wonderland-like raw treats online; perfect for a ladies night, or a special occasion. Our tip? Head straight for the banoffee cheesecake or cookies and cream slice. Drool.
Where: NightQuarter, 1 Town Centre Drive, Helensvale or online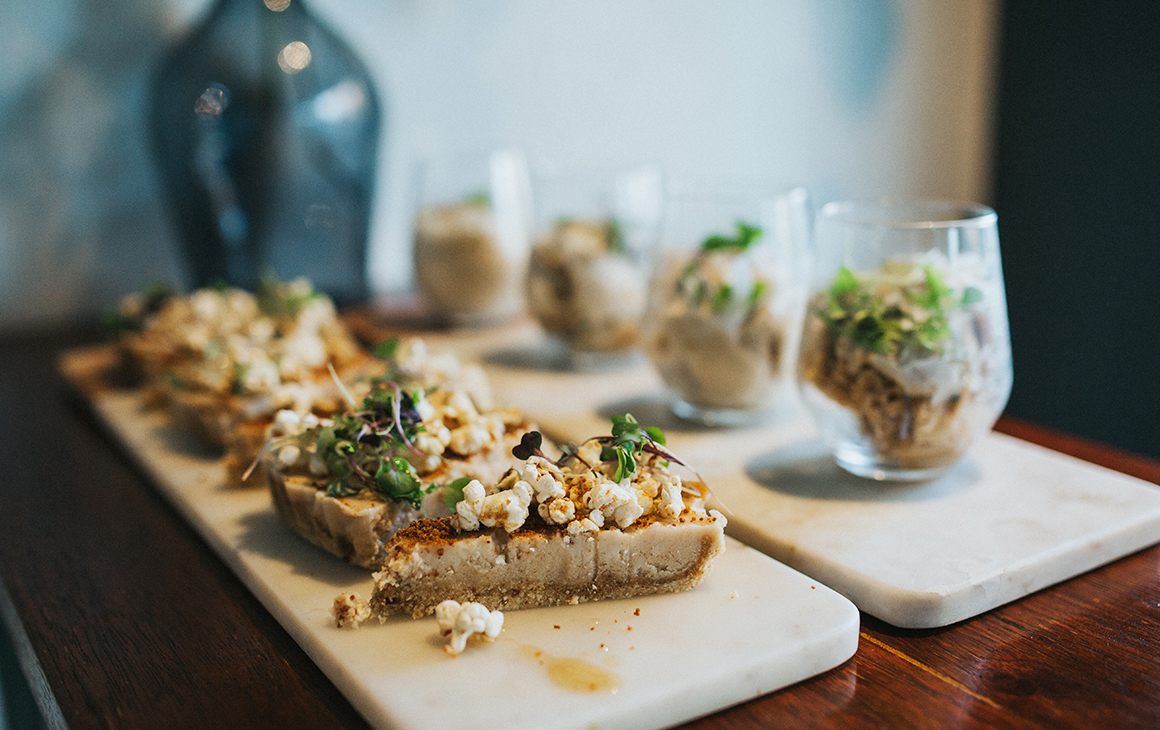 GREENHOUSE CANTEEN
Vegans rejoice, because one of the Gold Coast's most popular vegan restaurants is back in full force with its gorgeous new Miami eatery; shaking up the foodie scene with their stunning plant-based meals and dedication to nourishing food with a difference. Greenhouse Canteen's motto boldly states: "Anything you can do, we can do it vegan" and we believe them, because they've brought us salted caramel slices topped with popcorn, a lemon and passion fruit "cheesecake" that'll have you dreaming of exotic holidays, and even a raw pecan pie—all made in house. Raw-mazing!
Where: 1916 Gold Coast Highway, Miami
MRKT
This dynamic duo has been crafting some of the best raw desserts on the Gold Coast for years. Although their evolved branding, MRKT is likely what you've recently spied at the Palm Beach Farmer's Markets or waving back from behind cafe glass cabinets such as Woodbox Cafe, The Cleanse Kitchen, Raw Energy, and Journeyman Coffee Roasters. MRKT's intricate raw treats and protein balls are an edible work of art; we've got our eyes on the raw turmeric latte and orange chocolate jaffa rounds. Mmmm.
Where: Visit website for stockists
BOOTLEG JUICE BAR
We get it. Sometimes a green juice just doesn't quench the thirst for something sweet. Fortunately, Bootleg Juice Bar, Broadbeach's cold-pressed juice bar knows this, and likes to tempt us with a variety of raw treats—supplied by Nude Sisters and Nourishing By Sally—that are perfect for a quick snack during your lunch break. From energy bars and protein balls made with dates and nuts, to naughtier (but still nice) options like their incredible raw chocolate doughnuts or caramel slices, there's a good chance you'll be leaving Bootleg with more than just a juice.
Where: Shop 6/90—110 Surf Parade, Broadbeach
CAFFE REPUBLIC
If you are not ready to cheat on your caveman diet of poached eggs on slabs of bacon or no grains and diary, but you are in need of a treat after your grass-fed burger, Caffe Republic crafts raw treats in-house with the same attention and love as their food "with a conscience". Based in Bundall, this Paleo café has satisfied the bellies of health-conscious foodies for the last seven years, and even manages to lure vegan eyes with their massive raw chocolate slices and zesty raw passion fruit and lime "cheezecakes".
Where: Shop 1, 138—162 Slatyer Avenue, Bundall
Tell us, where are your favourite spots to devour the best raw desserts on the Gold Coast?
Photo Credit: Hayley Williamson for Metropolist