We're not called the Gold Coast for nothing, so why wouldn't we take full advantage of our superb water views?
That supreme ideal can be a terrific accompaniment to your next dining experience, particularly, for example, if you happen to run out of things to talk about on your first date. All your eyes have to do is wander to the side and say, "Fab view isn't it!"
But we aren't talking your tried and tested surf clubs here. For the best restaurants on the Gold Coast with water views, we're looking at something of an aquatic refinement that comes with dining so close to the dip. However, aquaphobics needn't worry: there isn't any floating or dangerously submerged restaurants (for anyone still traumatised by the prospect of underwater dining in Jaws 3!) on this list.
Instead, included are a slew of carefully selected land-built establishments that combine great food with even greater (and safer) coastal or lakeside vistas. So, before literally pushing that boat out, let's take a look at some of the best restaurants on the Gold Coast with water views.
QUARTERDECK KITCHEN AND BAR
You had us at hello! The attentive staff at Quarterdeck always appear to be smiling, probably because there's plenty to smile about. This includes a pleasingly peaceful Coomera River outlook with views overlooking the luxury-yacht littered marina. There's also a delightful seasonal breakfast and lunch menu, the latter including a most delectable "light lunch" legendary crab and avocado sandwich and the taste bud-electrifying coconut prawns. Quarterdeck is an ideal venue to tuck into a little something while you watch the boats go by. Special mention must also go to their coffee and cake deal accompaniment, which included, upon our most recent visit, a homemade pistachio, white-chocolate and raspberry cheesecake that went down splendidly. Even gale-force winds couldn't deter us that day!
Where: 76—84 Waterway Drive, Coomera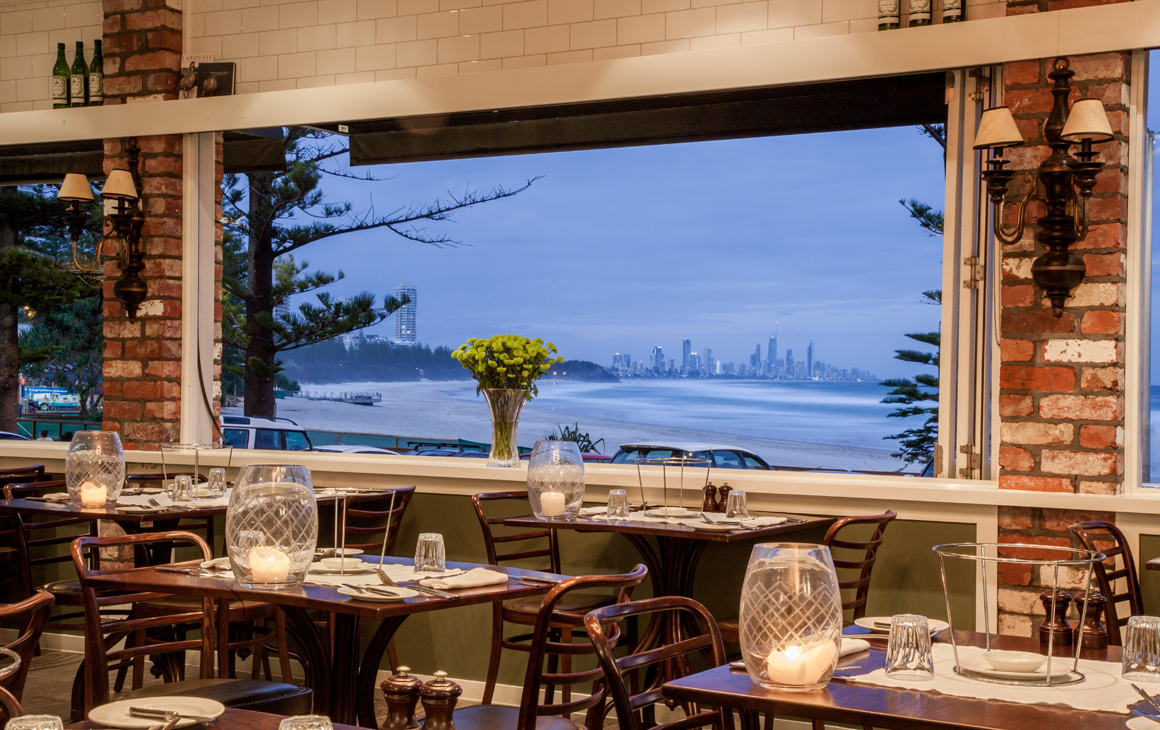 THE FISH HOUSE
If you like seriously good fish close to the sea, you can't do much better than Burleigh Heads haunt, The Fish House. Owner Simon Gloftis is a renowned local restaurateur who also owns the equally classy Hellenika in Nobbys Beach, and claims his responsibility is his patrons' health and wellbeing. That's very reassuring, as is the copious wine selection and the inclusion of a most thoughtful wine accompaniment menu, which does the hard work of matching meal to drink for you. Oh and the views are easy on the eye too, making this a hotspot among the best restaurants on the Gold Coast with water views.
Where: 50 Goodwin Terrace, Burleigh Heads
GLASS DINING AND LOUNGE BAR
This has been a favourite of ours for a while and it's not hard to see why. Like the ideal cocktail, Glass combines perfectly-matched ingredients to ensure ultimate social satisfaction. It overlooks and has breathtaking views of Main Beach Marina, has contemporary décor to die for, and delivers a menu combining a medley of the best meats and local seafood with a presentation that makes you feel as special as some of the mega celebrities who've dined here (recently these have included Rod Stewart, actor John C Reilly, the cast of Entourage and Brian Johnson, lead singer of AC/DC). Why not wait till dark and make it a magical candle-lit supper second to none. We also love those snazzy curved glasses the wine is served in too!
Where: Shop 27, 74 Seaworld Drive, Main Beach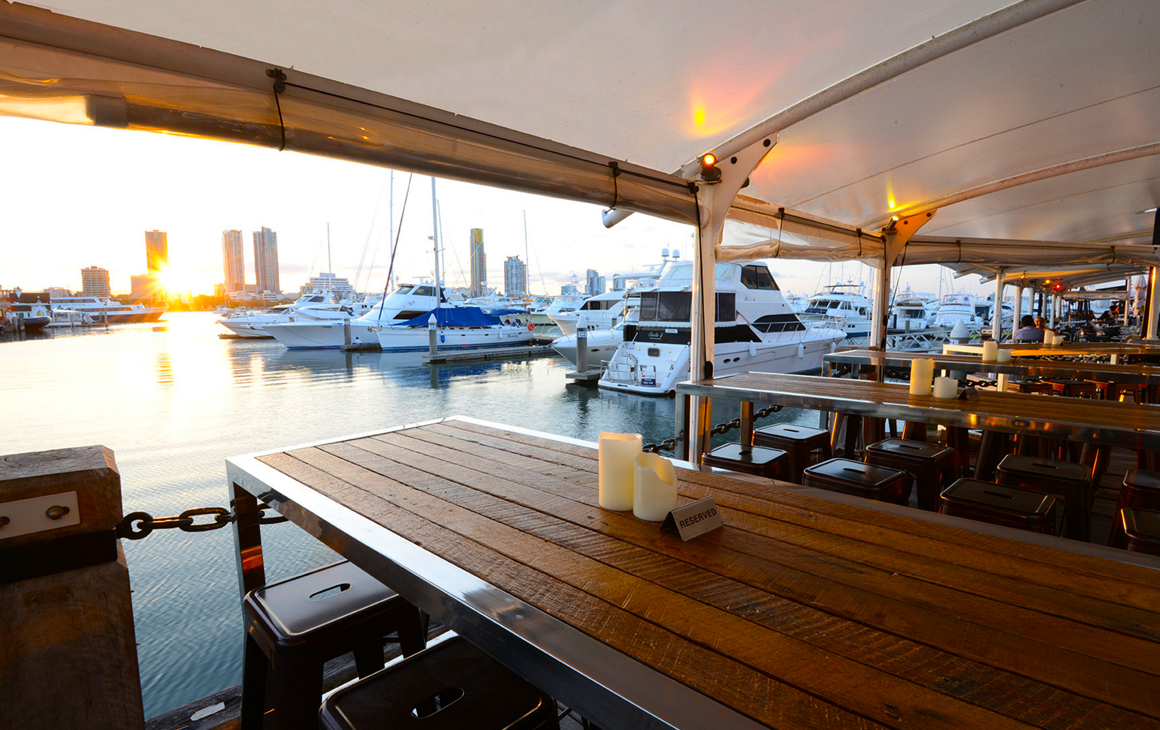 FELLINI RISTORANTE AND BAR
When you're part of the Marina Mirage splendor you can't really go wrong, can you? So here's another. Combining intoxicating level one views across the Broadwater and with an extensive modern Italian menu that strongly focuses on representing Neapolitan and Tuscan cuisines, you can't fault Fellini.
Where: Level 1, Marina Mirage, 74 Seaworld Drive, Main Beach
HELM BAR AND BISTRO
This is as close to a sports bar as we're gonna get. Helm Bar and Bistro (which has a sister venue in Sydney), used to be Titanium, but the venue has upped its game since the renovation and taken full advantage of their sublime Nerang River and Chevron Island overview. The menu is, in their words, "easy eating" and should absolutely be combined with one of their pre-meal signature cocktails.
Where: 30—34 Ferny Ave, Surfers Paradise
BIN 72
The prawn starter stuffed with zucchini flowers (with a most decadent jalapeno dipping sauce), the Jamon and Mozzarella balls and the sticky soy pork belly can't be highly recommended enough at this stylish large-windowed Coolangatta bar and tapas restaurant. Bin 72 takes in awe-inspiring views of the surf through the majestic Norfolk pines. As it can be a little tricky to find, we'd like to point out that it's located on level one of The Strand shopping centre. Check it out!
Where: Shop 121, 72—80 Marine Parade, The Strand, Coolangatta
Seaduction
A number of restaurants along Surfers Paradise's glitter strip enjoy some kick-arse views of the Pacific, but one of our faves is Seaduction in the sparkling Peppers Soul Hotel. This magnificent chef-hatted restaurant changes its seasonal menu regularly, featuring mouth-watering dishes like sumac-dusted baby calamari, beetroot and sugar-cured ocean trout, lasagna of Harvey Bay scallops, and butter-poached lobster tail and crushed pea tortellini. Yet the star of the show is the floor to ceiling windows and uninterrupted level two views over the big blue. If you get your Sea-named restaurants confused and end up a few paces away at Seascape, alongside Cavill Avenue, not to worry 'cause the views and food is equally impressive.
Where: Peppers Soul Hotel, Level 2, 8 The Esplanade, Surfers Paradise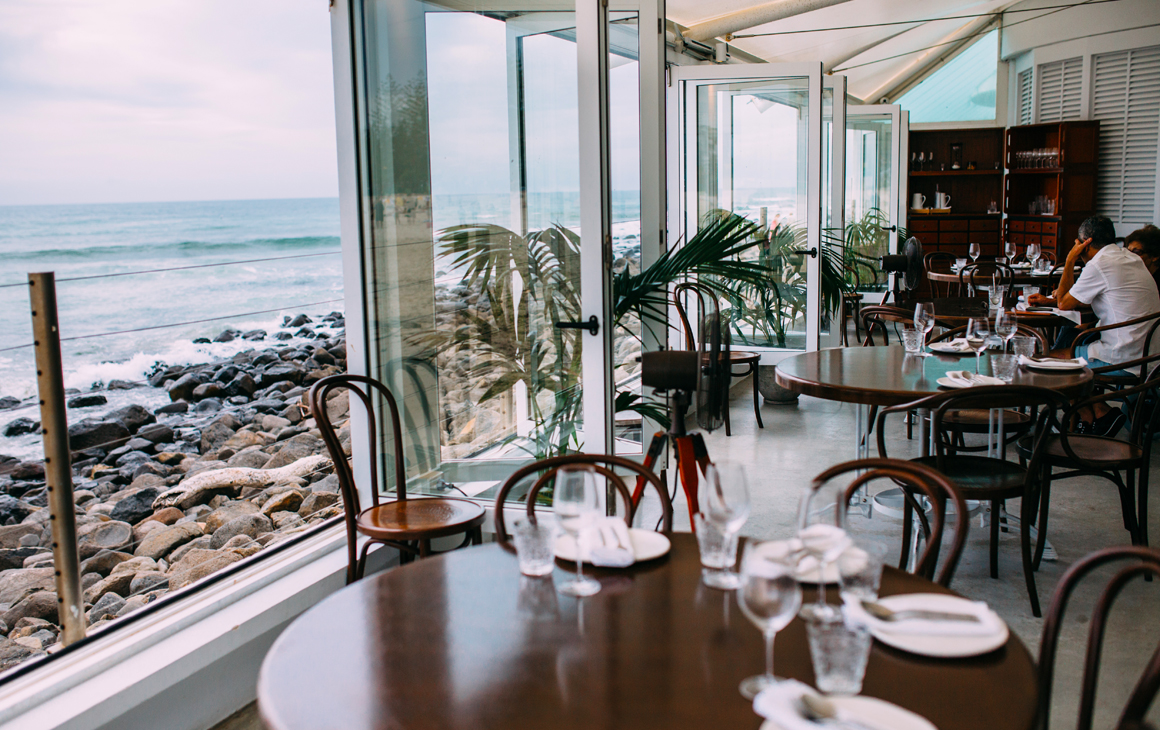 RICK SHORES
We saved the best till last. Predominately Thai based, with an infusion of Indian, Vietnamese and Japanese noticeable on the menu, Rick Shores caters for a broad range of tastes and it's nice to see such initial oddities as cuttlefish popcorn, pork cheek bao, the an intriguing salad option of "banana blossom" and a poached rhubarb, ginger beer, and lychee sorbet on the menu. Combine this with sand-level views of the brilliantly white shores of Burleigh Heads, and you have dished up gastronomic excellence.
Where: Shop 3, 43 Goodwin Terrace, Burleigh Heads
Did we miss your favourite among our pick of the best restaurants on the Gold Coast with water views? Let us know!
Photo Credit: Hayley Williamson and Brooke Darling for Metropolist; Glass Restaurant and The Fish House