From Byron Bay to Billinudgel and Doon Doon to Dum Dum, Northern NSW has more fun town names and eligible wedding venues than any other place on Earth—fact.
Away from the hustle and bustle of the Gold Coast and Brisbane, without being so far that you need to complete a visa application and take a flight, there's not much more you could ask for in a place to tie the knot.
Even if you have to throw your guests on a bus or sketch maps with broken foot bridges, hosting your wedding in Northern NSW is sure to be a dream come true. These most beautiful wedding venues are yours to cover in boho rugs, embellish with gold trimmings, and craft into the most memorable event of your life. Town halls, old churches, farmlands, idyllic restaurants, waterfalls, fancy hotels, and spots to pitch an oversized tipi; all your little girl dreams can come true in this pocket of natural beauty and quaint charm.
Say "I do", at one of the most beautiful wedding venues in Northern NSW.
Halcyon House | Cabarita Beach
Halcyon House is a Pinterest board of dreamy décor and elegant summer house vibes. Amidst the walls covered in frames and eclectic print furnishings, your guests will dine on a banquet of "confident coastal" dishes, perhaps smoked Spanish mackerel, grilled pippies, or poached squid. Accepting only a handful of wedding bookings per year, this is not a decision to ponder for very long.
Summergrove Estate | Carool
Seventy-three acres of enchanted land and the 180 degree scene of sprawling hills; Summergrove Estate is the definition of country charm. Their detailed online wedding brochure provides pricing and packages in numerous variations, from a simple ceremony in their stunning glass-fronted chapel to a formal sit-down affair with all the trimmings—even offering to organise a horse and carriage, fireworks, or a casual helicopter arrival. Seems they've worked hard for all those shiny awards.
The Orchard Estate | Clunes
Opened in 2016, The Orchard Estate is a new addition to the catalogue of magnificent wedding venues scattered in the Byron Hinterland. A black barnyard-style construction on a family-owned macadamia orchard, the setting is nothing short of breathtaking. Complete with bamboo chairs and privacy galore, it's the perfect spot to wed near the beautiful town of Bangalow.
Mavis's Kitchen | Mount Warning
If the only thing you find cuter than your future husband is an old Queenslander with timber floors and perfect décor, then your wedding needs to take place at Mavis's Kitchen in the foothills of Mount Warning. A one-stop wedding shop, Mavis can take care of your entire shindig at their accommodation slash restaurant setting, with an ever-so-cute log cabin, farm house, or little cottage available to top off the night. All of this is set in their mountainside paddock, complete with a garden of produce to cater to your special day. Mount Warning is said to have great Aboriginal significance and once acted as the site of special ceremonies, making it a perfect spot for the more mythical bride and groom.
The Fig Tree | Ewingsdale
Picture this: a ceremony set under an ancient fig tree, dinner under the stars, beach and Byron Hinterland views, poolside cocktails and canapés, country charm. There isn't a box The Fig Tree doesn't tick. With two homes either side of the restaurant sleeping a total of 14-16 guests (one of which is an old converted dairy bale, just to add to the cute factor), the pre and post celebrations are just a short stroll away. Book The Fig Tree "Eton Mess" for the perfect cherry on top.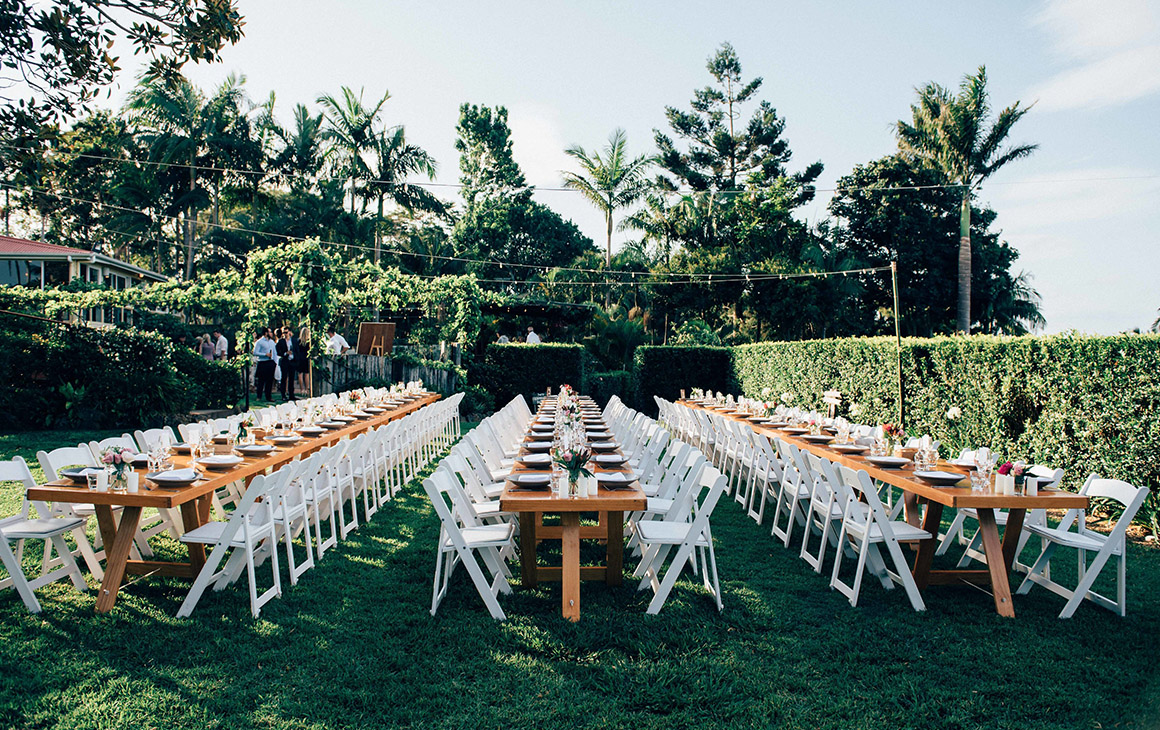 Osteria | Casuarina
Oh Osteria! An industrial hall-like setting and communal wooden tables, trumped only by a mouthwatering food offering designed for sharing and feasting; oysters on ice, swordfish ceviche, and goat's cheese soufflé are just some of the standouts. Only a few hundred metres from Casuarina Beach, you can waste many a weekend at their restaurant and bar in the name of necessary wedding preparation. Word of warning: the "Real Weddings" page of their website is a surefire way to slip into a vortex of #weddinggoals.
Billinudgel Hotel | Billinudgel
Going by the slogan of "the last of the good old country pubs", the Billinudgel Hotel—or "the Billi" as the locals call it—is for the bride who knows a happy wedding and a huge debt aren't a match made in heaven. She LOLs in the face of a $10K wedding planner and will be wearing a dress she can dance in 'til 4am. Throw some fairy lights up in the beer garden and take photos on the neighboring abandoned railway track and, hey presto, you've got yourself a wonderful wedding that won't leave you with massive debt.
Rae's on Wategos | Byron Bay
Getting hitched at a beachside venue on the Gold Coast usually means a (borrowed) house on Hedges or a glittered-up Surf Life Saving Club. But not in Byron Bay. Ten steps ahead of the game, this savvy boho town has boutique hotels on its beaches—the ingenuity! Iconic, exclusive, and immeasurably luxurious, Rae's on Wategos is in a league of its own. Set on the pristine Byron Bay enclave of Wategos, this wedding venues offers the beauty of being beachside without the need for a no-shoes, emergency-tarp-at-the-ready kind of affair. Named one of the world's top 25 hotels by Conde Nast Traveller Magazine, we can't think of a more elegant way to celebrate your nuptials than in this white masterpiece of tropical exotic goodness.
Forget Me Not | Coopers Shoot
The ultimate tipi wedding is yours for the pitching on the Forget Me Not acreage, boasting a lily pad lake and a home for the bride and groom to crash in. Sure to be a top pick for the DIY bride, you are free to organise your own catering, BYO booze, and spruce up the tipi or marquee setting how you see fit. Capable of hosting up to 300 guests, Forget Me Not is one of the most beautiful wedding venues in Northern NSW with enough space for hosting quite the extravaganza.
In addition to the best weddings venues in Northern NSW, you'll wanna check out these beauties that are closer to home.
Photo Credit: Figtree Wedding Photography // follow on Instagram