There are a handful of restaurateurs in our midst who simply make gold with everything they touch. Those serial types who never rest on their laurels, consistently exceed expectations and who you'll follow anywhere, without hesitation.
One such team is Mark Wilson, Lia Mason and their long-time business partner in crime, Lee Middendorf. You already know them from Spice Den (which they've since sold) and Osteria in Casuarina (destination cafe cum restaurant cum all-out wedding venue), to Kingscliff's dreamy Taverna and, more recently, waterfront Tweed River wedding venue, Ancora. If you aren't already familiar with this team, well, are you really deserving of that foodie badge you wear so proudly?
We had the pleasure of a sneaky peek at their newest and brightest venture ahead of its official opening this week. And trust us when we say, this is one innovative eatery totally deserving of a top-ranking posi on your 2018 dining hit list and well worth the Uber ride across the border.
Bombay Cricketers Club, neatly finding its home in Kingscliff's buzzing Salt Village, is Indian like you've never experienced before.
Firstly, the décor is not what you'd typically expect from an Indian restaurant. There is no gold-trimmed wallpaper or ornate plates and framed murals fixed to the walls, and most certainly no napkin boats and BYO cheap plonk under fluro lights.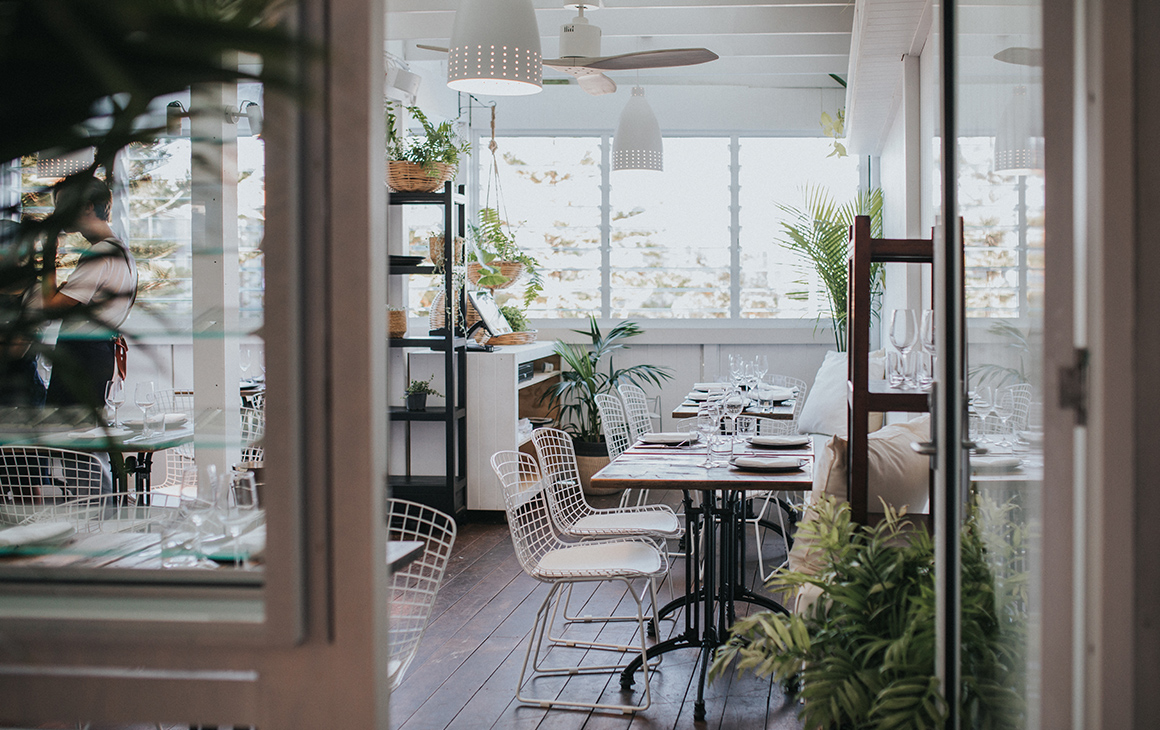 Intimate 50-seat Bombay Cricketers Club is styled after the cool and breezy plantation homes that dotted Indian farmlands in early British colonial times. White vertical paneling lines the walls, glass louvers let the sea breezes flow through, and a smattering of potted palms and hanging ferns bring the outside in. It's simple and timeless, so the food can take centre stage.
Most people also associate Indian with heavy, creamy and sugary curries served all various shades of… brown. Hell, we certainly did. Similar to their lauded restaurant 'Greek-inspired' Taverna, the sophisticated menu at Bombay Cricketers Club is contemporary, Indian-inspired cuisine. They've broken open the traditional spice cabinet, pairing those fragrant flavours with seasonal, locally sourced produce to create a culinary fusion unlike any other we've encountered.
While Asian, largely southeast Asian, cuisine has exploded along the Coast in recent years, these guys believed a gapping hole for the sub continent of India, Pakistan and Sri Lanka was deserving of a new-age representation.
And as expected, they didn't take the task lightly. Prior to opening, they enlisted the expertise of Ved Navghare, former head chef from Melbourne's Tonka, and one of the most respected modern Indian restaurants in the country. Ved graciously shared everything he knew with the tight-knit team—including talented owner chef, Lia Mason—from his current repertoire of skills and modernisations to those cherished childhood memories and traditions collected from cooking alongside his mother.
Take the Not Butter Chicken, for starters.
Before you throw your hands in the air, the 'Not' connotation indicates you're about to indulge in Ved's precious generational family recipe, made with light smoked cream, local tomatoes and coriander. Yep, you'll never look at your artery-clogging takeaway store-bought butter chicken the same way again.
Infusing aromatic tastes of cardamom, clove and cumin to black peppercorn and turmeric, everything is made from scratch throughout and there are sufficient hints of heat without overdoing it.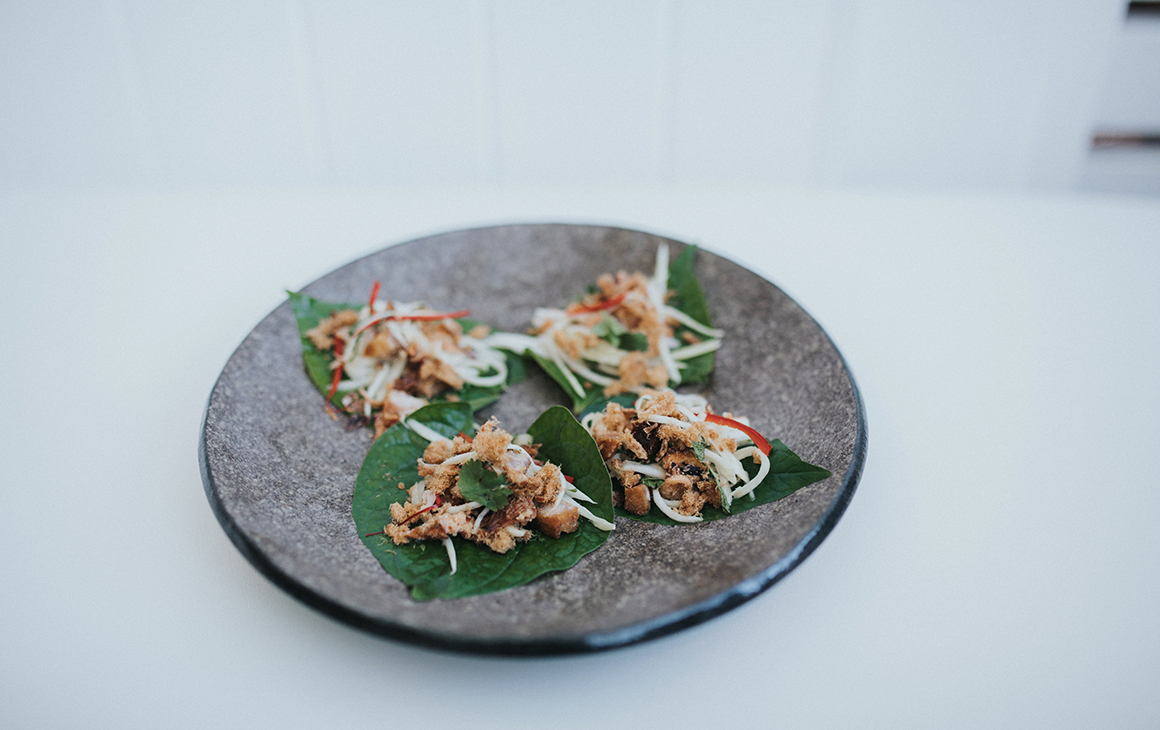 Other standouts we're still dreaming about include the pork belly on a bed of dhal, decorated with sorrel leaves and candied radish; the bite-sized betel leaf topped with crispy pork, mint, green mango and fried garlic, or the main event, banana leaf wrapped blue eye trevalla with green sambal, eggplant pickle and a host of flavour-packed veggie sides. Mmmm.
You'll want to try one of everything, which is a good thing the entire menu is designed to share. Our pick? We'd totally go the banquet so you don't miss a thing (stretchy pants essential). And unlike previous Indian dining experiences, you and your dining compatriots will be falling over each other to 'gram pictures of your beautifully executed food.
Us being us, we also made our way through the imaginative cocktail list adorned with names like Bengali Bam (Bam Bam spiced rum, lime, pineapple and coconut) and the Mumbai Negroni (West Winds Cultass Gin, Campari and Regal Rouge vermouth), or the local Kingfisher Lager is there if you're reminiscing your one-time adventure to this cultural utopia.
It's cool to learn that Mark and Lia's original idea for this venue—for a social post-event gathering place where food was the centerpiece rather than the booze—was literally born when visiting a cricket club in Bombay, long before their other restaurants came to life.
Fortunately for us, it seems the timing was finally right!
The Details
What: The Bombay Cricketers Club—modern Indian-fusion restaurant and bar
Where: Shop 3, Salt Village, Bells Boulevard, Kingscliff, NSW
When: Open Monday + Wednesday to Friday 5pm 'til late; Saturday and Sunday 12pm 'til late
Not yet visited their sister restaurant, Taverna? What have you been doing with your life?
Image credit: Hayley Williamson for The Urban List