For the guy in your life who is picky about what he surrounds himself with, but too busy surfing the points to go out and spruce up his wardrobe or living quarters. We're helping the dude out with the ultimate Christmas gift guide, chocked full of the stuff he totally wants to find under the tree.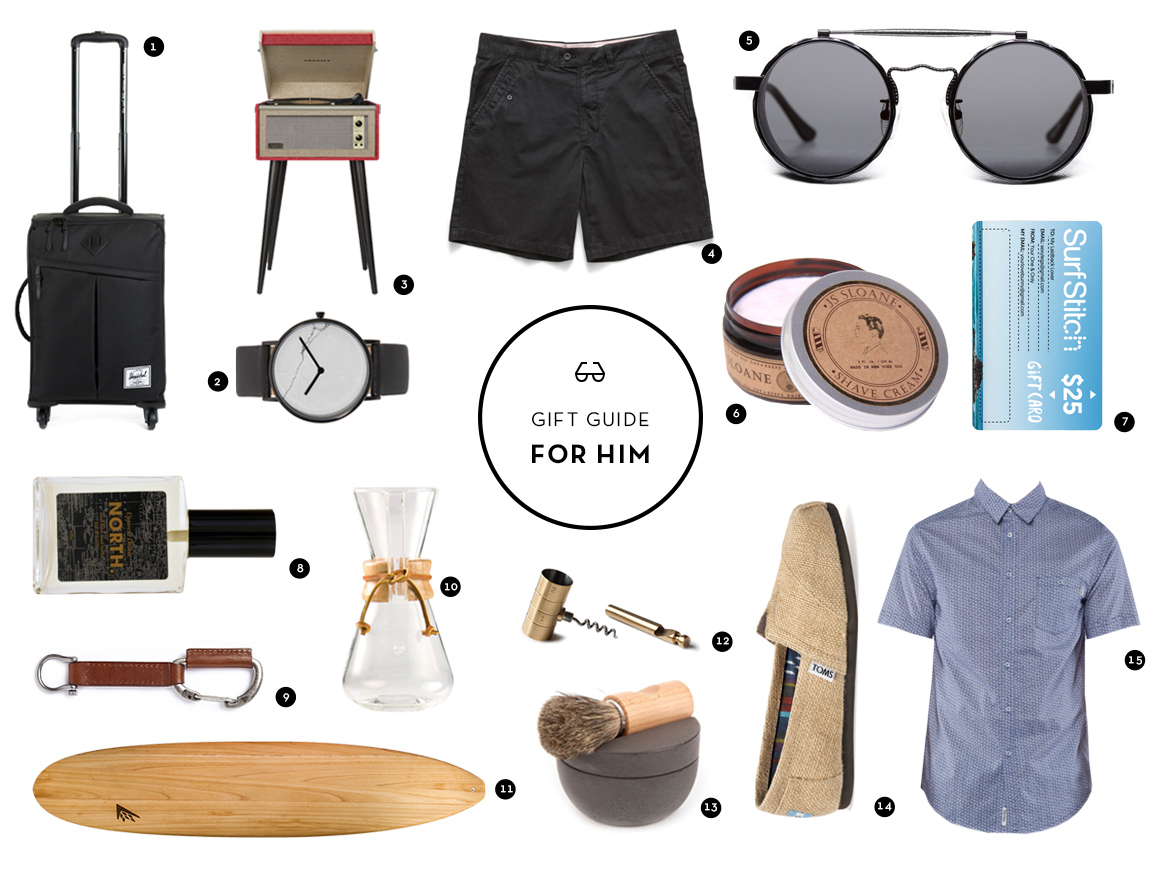 1. It's true, Herschel make some of the best bags around. And the Highland will last him years.
2. There's ordinary watches, and then there's art. The Horse makes art. Like this marble-faced timepiece.
3. If he ain't got a record player, a vintage Crosley will be the beginning of the vinyl love affair.
4. Boardies are awesome. For the beach. Give your man a pair of walk shorts for when you want to hit James Street without leaving a trail of sand.
5. A guy in nice sunnies = sexy. That is all.
6. Even if he prefers a hairy chin, buy him Shave Cream anyway. He'll find another purpose for it—like shining up his old Volvo.
7. There's always going to be something that he wants, that won't even cross your practical mind, sweet thing. Enter: the voucher.
8. The smell of salt and board wax is attractive. In those first few days. Help him up his scent game with Uppercut's North fragrance.
9. Ask him where he keeps his keys. We're guessing there's a loose one in the wallet, maybe one in the back pocket. But definitely not, on a keyring. Which is why you should gift him one.
10. Real men like coffee (we totally don't actually think that). And this Chemex is a win-win for both of you. He gets all creative in the kitchen, you reap drink the rewards.
11. Okay, so we don't recommend you buy him a board without his input, but think about the joy it would bring if you sprung him with the cash to get something spesh. It'll be the present you'll never be able to top. On second thoughts, this is a stupid idea. And we apologise for wasting your time. Moving on…
12. That bar trolley he just set up. It's not complete without a 4-in-1 bar tool. You know we're right.
13. A shaving kit you won't mind having on the bathroom shelf.
14. Toms—casual enough for the beach, yet dressy enough for a chill dinner out.
15. Because sometimes he just has to wear a shirt.
Photo Credit: Surfertoday.com