It's a good day when one of the Coast's most prolific hospitality teams opens a new venture. Ben and Ursula Watts are pioneers of cafe culture on the Gold Coast. They single-handedly changed the way we do breakfast when they first brought us Miami's Paddock Bakery in 2014 (which they've since sold). Followed by Mermaid Beach's Bam Bam Bakehouse in 2015, Chinderah's Cubby Bakehouse in 2018, and creekside hole-in-the-wall Neptune Kiosk somewhere in the middle.
If you already thought it was tricky to find a park at the Coast's much-loved swimming spot on a sunny weekend, wait until you see what has just opened at Tallebudgera Creek.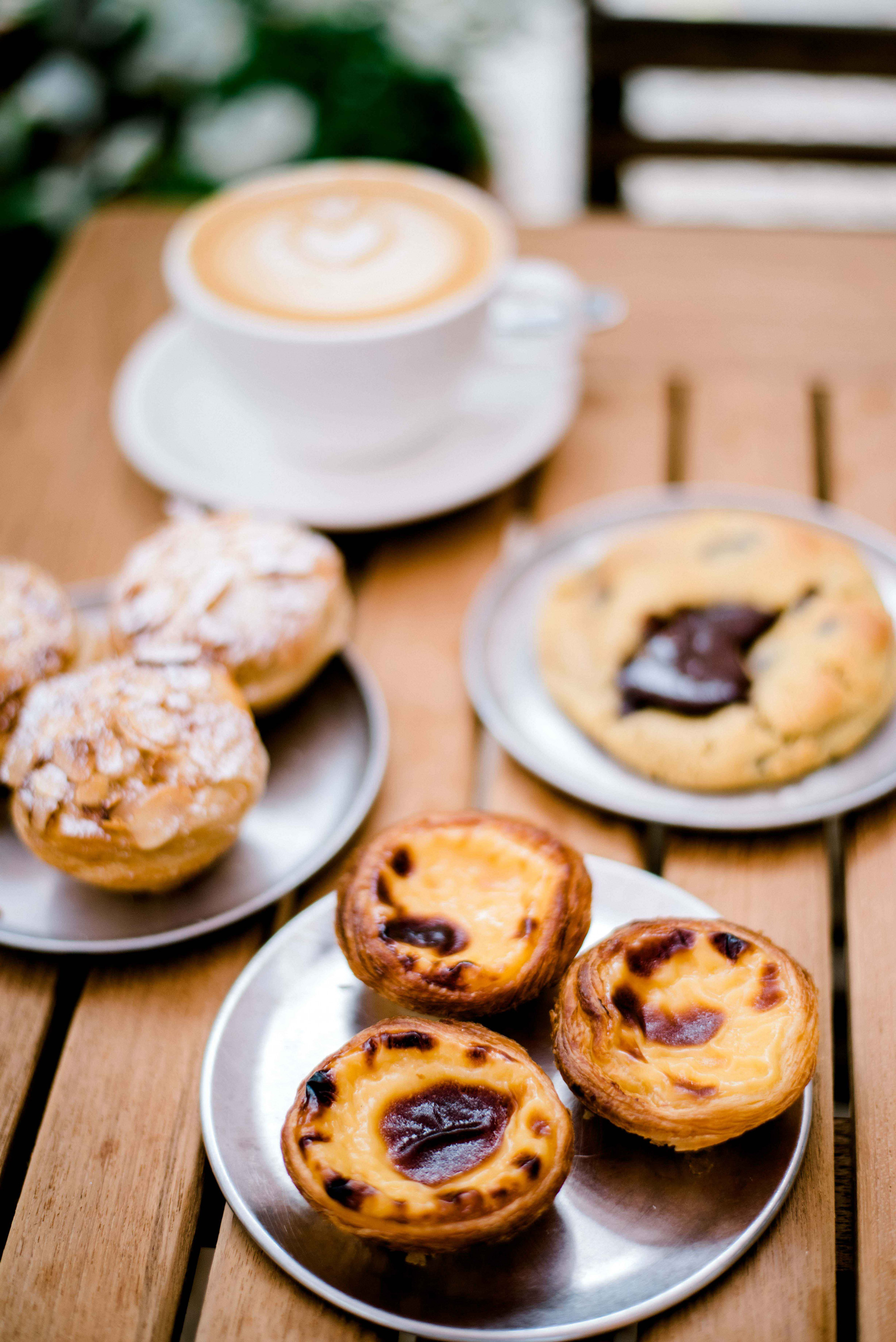 You'll smell Custard Canteen the moment you step out of your car, with baked buttery goodness now wafting on the salty sea breezes. With each venue highlighting a signature baked treat (from croissants at Bam Bam to baguettes Cubby), Custard Canteen champions the iconic Portuguese custard tart, and we can hear you salivating from here.
Custard Canteen's red and white striped umbrellas pop against the established pandanus palms and paperbark gums, with a alfresco garden setting that's sure to lure you back time and time again. The pretty scene is smattered with reclaimed timber communal benches, picnic tables, shady nooks, wooden lawn chairs, potted flowers and pockets of grass perfect for the kids and fur babies. Given its rare oceanside location, the collide of trendy brunchers with sandy-footed bikini and boardshort-clad beachgoers is the epitome of Gold Coast lifestyle, and we love it.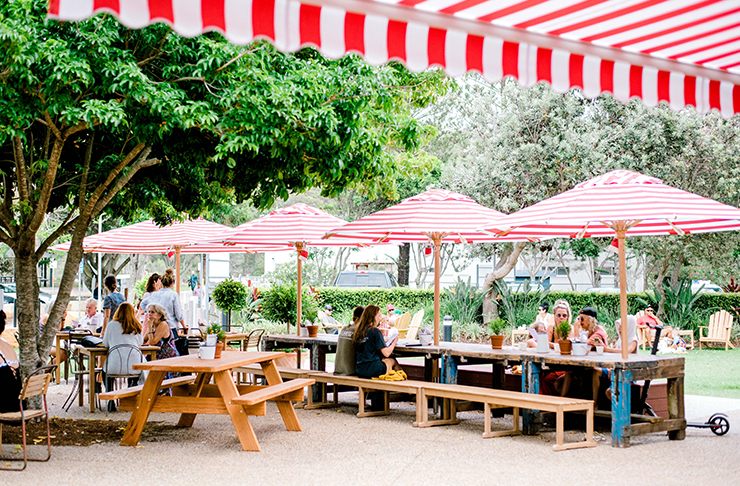 If you think you know Portuguese tarts, think again. Proving these guys never do things half way, Custard Canteen is the proud owner of an elaborate puff pastry 'sheeting' machine and custom ovens imported from Europe. Making puff pastry by hand is serious business and you're invited to press your nose against the window, peering into the engine room to watch the intricate artisanal process as pastry is layered and 'laminated' and where pastry chefs hand-press and fill every individual tart to perfection.
So dedicated are they to their craft, prior to opening Ben and Ursula took their young boys to Portugal where they were immersed in the tradition of tart making with a fourth generation baker. While learning the technical side of crafting an authentic Portuguese custard tart, they absorbed the history and passion for this famous pastry, bringing their knowledge back to the Gold Coast for us all to enjoy. Their tarts are made in small batches and to demand, so you can often rock up after the lunch rush and still devour a warm parcel straight from the oven.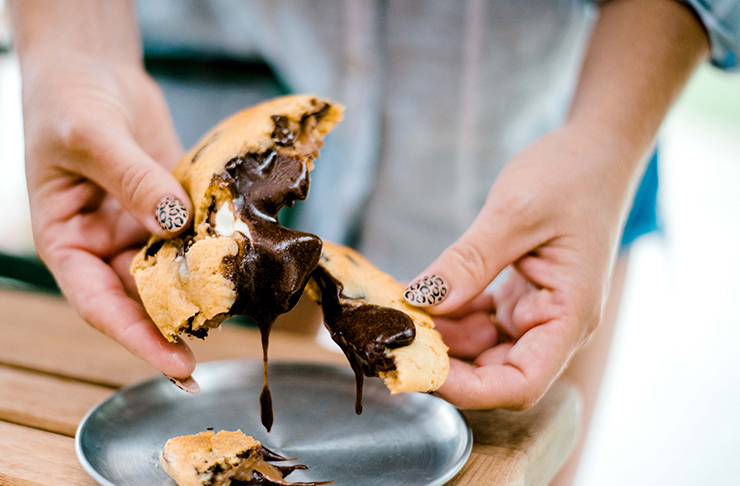 Fitting perfectly into the palm of your hand, these moreish beauties have other signature baked treats competing with your attention. Take, for example, the self-saucing cookie with a gooey centre, plus milk and white chocolate throughout. Or Custard Canteen's new almond croissant tart also made on puff pastry with an almond frangipane cream folded through custard—served bite sized so you can treat yourself without overdoing it. Or just devour three, we won't judge.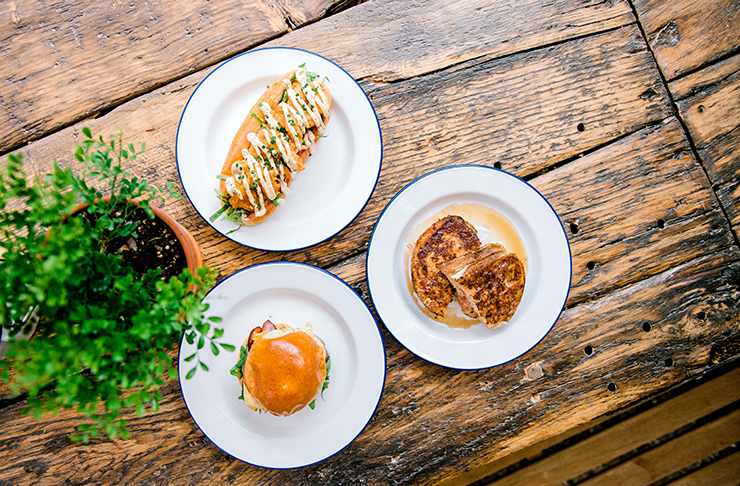 The all-day menu is made to eat with your hands, so you can order to takeaway and enjoy under your umbrella at the creek, or bask in the outdoor, picnic-style ambiance at the cafe. Wrap your mouth around the generous prawn po boy loaded with crisp, buttermilk prawns and topped with remoulade sauce on a milk hoagie, or the reliable bacon and egg roll with BBQ and chipotle mayo.
We can also vouch for the finger-licking French toast sourdough toastie, a Parisian-inspired Monte Cristo with free-range ham, Swiss cheese, cinnamon sugar and drizzled with maple syrup. Or try the beer-battered fish and chips, the Reef Burger with Furphy beer-battered fish and jalapeno slaw, or a roasted beets salad bowl for something lighter. Wash it down with a freshly squeezed-to-order OJ, smooth coffee with beans by Byron Bay's Marvell St., milkshakes, kombucha and more.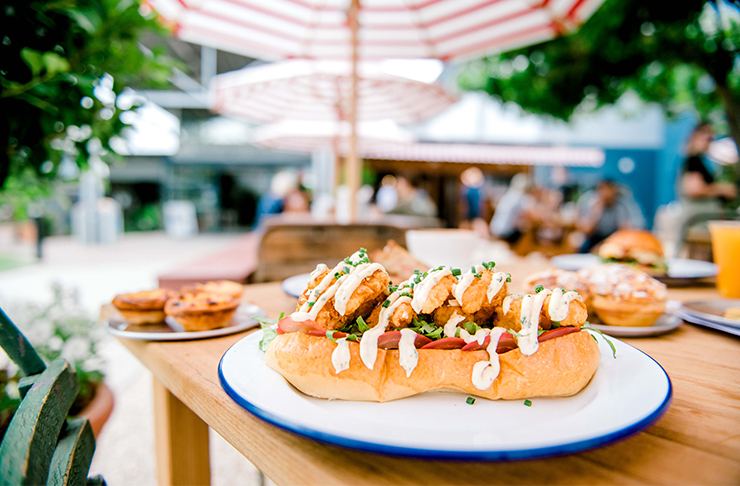 If you're unfamiliar with the government-owned Tallebudgera Leisure Centre that Custard Canteen now adjoins, while you wait for your coffee order, we suggest taking a wander through to check out the equipped gym, budget fitness classes, climbing wall and beachside family accommodation that you can get amongst, anytime.
We love Custard Canteen's playful 50s vibe too, with Butter Boy merch available soon and branded coffee cups certain to feature in many future #tallebudgeracreek Instabrag posts. So, prepare to meet your new cafe crush, Custard Canteen is now open seven days from 6:30am to 3pm for coffee and 7am to 2:30pm for meals and snacks.
The Details
What: Custard Canteen
Where: Tallebudgera Creek Beach, Palm Beach
When: Daily from 6:30am to 3pm for coffee and 7am to 2:30pm for food
For more information, click here.
Looking to try more baked goodness from this team? Have you visited Cubby Bakehouse in Chinderah yet?
Image credit: Kaitlin Maree for Urban List