If the pandemic has taught us anything, it's that focusing on our mental and physical wellbeing, reconnecting with those who matter most and spending time in nature is what is truly important in life. With domestic travel restrictions now easing across Australia, there's no better time to book that well-deserved, healing holiday to Tasmania with family and friends.
Boasting dramatic 'Grammable scenery at every turn, a plethora of beautiful natural wonders, as well as wellness and mouth-watering foodie experiences—a cheeky dozen Barilla Bay oysters and a glass of Arras, anyone?—this pristine paradise provides the perfect destination for a rejuvenating trip.
If Tassie wasn't already on your radar, we've compiled a list of reasons it should shoot to the top of your must-do travel list, pronto!
Float And Bathe
For some self-love and a well-deserved reset, the architecturally designed Floating Sauna Lake Derby is one of Australia's most thrilling wellness experiences. Yes, we know saunas are the hottest health trend right now—experts say there is a slew of health benefits including lower risk of heart disease, blood pressure and stress from regular sweat sessions—but trust us when we say, this isn't your average sauna experience. Guests alternate heating sessions in Australia's only floating wood-fired sauna, which has jaw-dropping, Insta-worthy views, with a cold plunge just outside in the fresh water of Lake Derby for the most exhilarating sauna experience of your life.
For full immersion of a different kind, experience the joy of shinrin-yoku, or forest bathing, with certified nature and forest therapy guide Kara Spence of Nature. Be in it. The Japanese have been practising it since the 1980s, with countless studies showing dramatic reductions in stress, anxiety and depression, so if that's not a reason to switch off your phone and head into the forest, we don't know what is. Kara's guided group practice lasts between two and four hours, covers a few kilometres of trail and includes a series of mindfulness and sensory experiences, designed to enhance connection and bridge the gap between us and the beautiful, natural world. There's nothing like the clean fresh air and sounds and sights of the enchanting Tasmanian forests to de-stress and revitalise you.
Soak In It
In this fast-paced digital world, most of us don't often take the time to enjoy a long bath but Tasmania certainly has you covered when it comes to dreamy, inviting tubs for a luxurious soak under the stars. From outdoor tubs with ocean soundtracks to granite baths with mountain vistas, Tasmania has a slew of options to immerse yourself in with a glass of bubbles after a day of exploring. Take in the coastal views of Great Oyster Bay from your outdoor bath at heavenly hideaway Thalia Haven, Freycinet Lodge's Coastal Pavilion - Bay View or the epic, Insta-worthy tub at Porky Beach Retreat, nestled atop the dunes of a private beach on King Island. For the ultimate wilderness experience, slip into the open-air bath at Pumphouse Point's The Retreat or indulge your senses in the outdoor barrel bath at Peppers Cradle Mountain Lodge's King Billy Suite with a glass of local wine in hand under a canopy of stars. Pure bliss.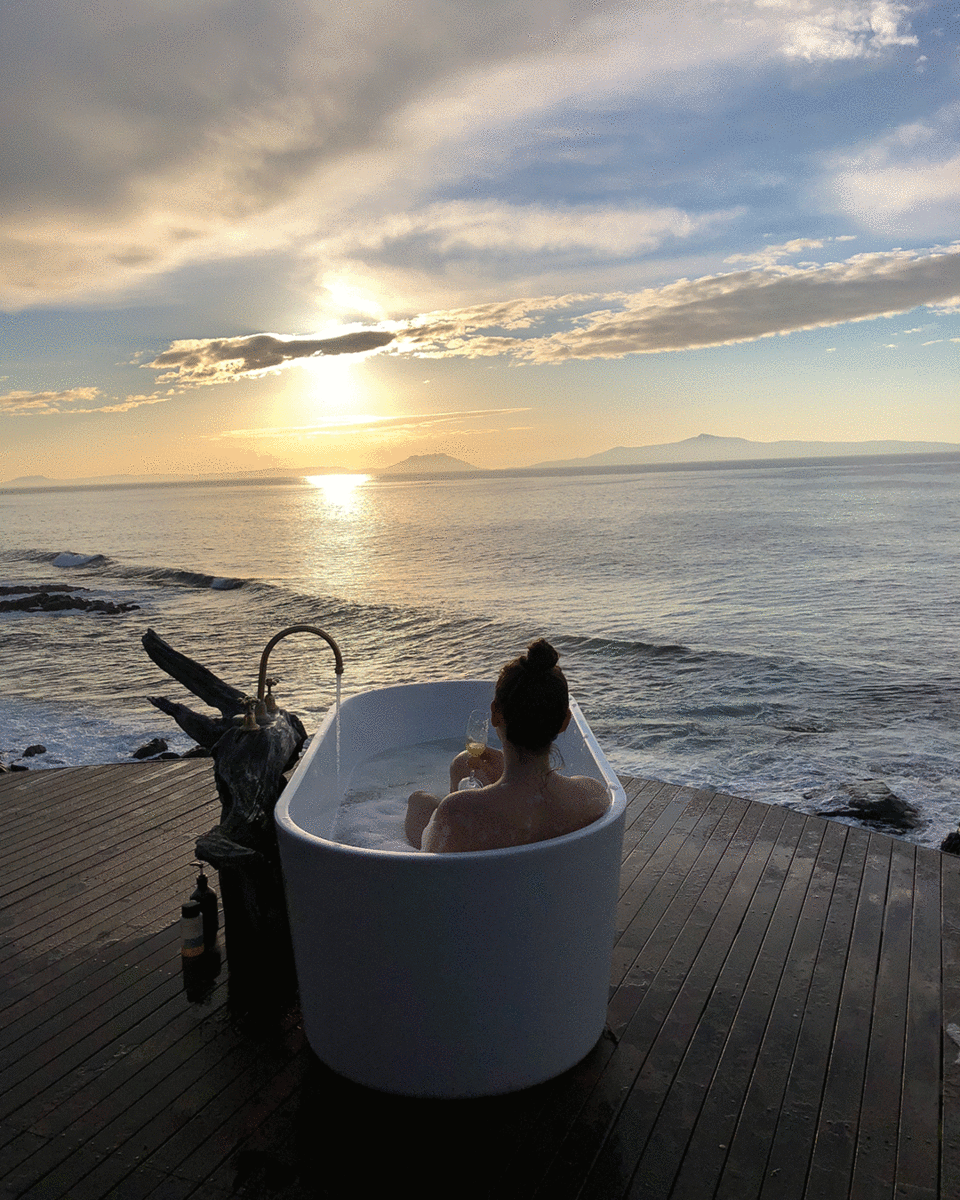 Into The Wild
It's estimated that 60 per cent of the world's population will live in cities by 2050, so it's never been more important to spend time outdoors for a nature fix and bonafide mood boost. Fortunately, Tasmania is a nature lover's paradise with 40 per cent of the isle protected as national parks and reserves. Take to one of the world's last great wild rivers on a Franklin River Rafting multi-day expedition or hike across beaches and over the Ironbound Range on the 85km South Coast Track with Tasmanian Expeditions. For something less strenuous but no less inspiring, try Sci Art Walks, a downloadable series of free podcasts or 'audio escapes' featuring commentary by prominent scientists, artists and cultural figures. Teamed with original music by local artists and paired with walking trails around the island, from Cataract Gorge to Cradle Mountain, The Nut in the north to Cockle Creek in the south, these are ideal for the thinking traveller chasing a uniquely immersive experience.
Discover The Unique Flavours Of Tasmania
There's a lot to love about Tasmania, but its exceptional produce and seafood are reasons enough to cross the Bass Strait. Oysters lovers will be in their element at Freycinet Marine Farm, just outside Coles Bay where you can take a tour of the farm with Oyster Bay Tours, and taste the succulent, freshly harvested fare straight from the water. For a quirky and delicious Tassie foodie experience, swing by the family-owned Melshell Oyster Shack, which reopens in January 2021. Pull up a chair outside this quirky blue caravan, indulge in fresh oysters and take in the glorious views across the Swan River. If you can drag yourself away from the culinary delights on offer, there are also farm tours and shucking lessons available. For a sweet Tassie experience, follow the bees making unique leatherwood honey with honey producers on the Cradle to Coast Tasting Trail across the north west or sample wild-fermented ales at the farm bar of Two Metre Tall Farmhouse Ale and Cider in the Derwent Valley. With its cool climate, clean air and fertile soil, it's not surprising Tasmania is home to Australia's first—and finest—French black truffles. Tasmanian Truffles gives visitors the rare chance to join Henry and Anna Terry and the truffle dogs on a hunt for black truffles on their family farm in Deloraine, a 2.5-hour experience that takes you into the world-class trufflery, followed by a truffle tasting and lunch platter.
Go With The Flow
After all of those months of quarantine—and perhaps a few too many quarantinis—it's time to get out in nature and move that body. There's no better Aussie state than the Apple Isle to disconnect from technology and reconnect with Mother Nature and yourself. Tasmania is home to some world-class mountain biking trails so why not take in the most beautiful landscapes on two wheels? Located in North-East Tasmania surrounding the thriving former tin-mining town of Derby, the Blue Derby Mountain Bike Trails is widely known as one of the world's premier mountain bike networks with 125km of purpose-built trails to suit every skill level and riding style (yep, you don't have to be a pro) in a pristine natural environment. For one of the most scenic trails in the world, don't leave Tasmania without riding from the mountains to the sea on the Bay of Fires Trail, an exhilarating 42km wilderness ride. Tracing the path of the Mersey River, the Wild Mersey network is the latest addition to the growing network for trails and will offer over 100km of trail once completed. For epic views and thrills, the gravity focused Maydena Bike Park, located in Tasmania's beautiful Derwent Valley, is well worth a visit. Offering a wide range of tours, a shuttle up-lift service, bike hire, sightseeing tours and a café and bar for post-ride beers, the year-round park boasts 62 individual trails including a top to bottom family-friendly ride, epic pro trails and a wilderness trail capitalising on the unique rainforest environment.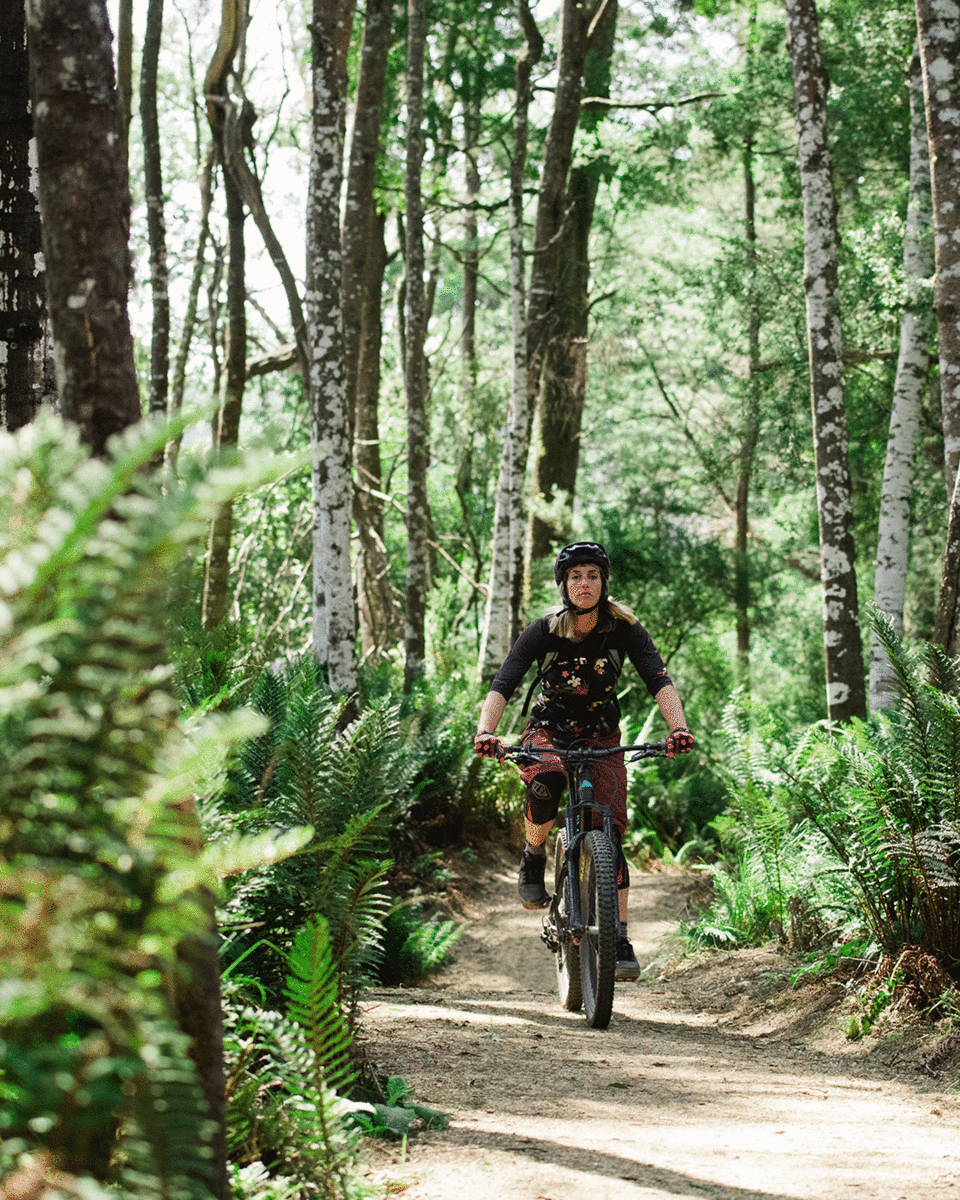 Recharge At These Stays With A Difference
From glamping and boutique designer hotels to wilderness lodges and sustainable stays, Tasmania is home to some of Australia's coolest and most creative accommodation offerings. For a boutique stay with a social conscience, check into 43 Degrees in Adventure Bay on Bruny Island, while the shipping containers at the Coastal Pods Wynyard offer a unique take on self-contained accommodation. Riders will love Tin Mountain in Derby as the Blue Derby Trails flow right past the front door of the beautifully designed units or for a glamping experience, the Bay of Fires Bush Retreat offers boutique accommodation in a bush setting just minutes from the beaches of the Bay of Fires and Binalong Bay. Tucked away on Lake Pedder within the Southwest National Park, the heart of the Tasmanian wilderness, is Pedder Wilderness Lodge, a haven for those who love to hike, fish, abseil and hope to catch a glimpse of the aurora australis.
Just Add Water
Surrounded by water, Tasmania is a hot spot for water activities. Take in the views of the cliff-lined shores of Bruny Island and the Tasman Peninsula from the ocean on a four-day trip with Southern Sea Ventures. Alternatively, Roaring 40s Kayaking offers an eight-day expedition paddle in Bathurst Harbour and Port Davey, while those who like to keep it a bit less intense can hire a kayak at Corinna and drift down the Pieman River to Lovers Falls, or watch platypus play in the River Derwent with Tassie Bound Adventure Tours. Those who are feeling adventurous can indulge their inner daredevil and do a full-day guided canyoning expedition with Cradle Mountain Canyons, or enter sea caves and cruise alongside some of Australia's highest sea cliffs with Pennicott Wilderness Journeys.
Whether you need a digital detox, adrenaline-fuelled adventure or soul-soothing relaxation – or all of the above – you'll find what you need just a short flight away in Tasmania.
Image credit: Hero image of The Retreat, Pumphouse Point by Jarrad Seng, GIF gallery of The Freycinet Lodge Coastal Pavilion by Melissa Findley and Thalia Haven by Ben Hansen, GIF Gallery of Branxholm Trail Blue Derby Mountain Bike Trails by Stu Gibson and Maydena Bike Park by Kane Naaraat.
Editor's note: This article is sponsored by Tasmania — Come Down For Air and proudly endorsed by Urban List. Thank you for supporting the sponsors who make Urban List possible. Click here for more information on our editorial policy.