You've got to be intrigued by the name alone, right?
While it may have felt the pace of new openings had slowed momentarily, just giving you foodies a breather to catch up on your dining bucket lists, along comes one of those extra spesh gems that we can barely contain our excitement to share!
An evil fictional character made famous by the 1960's film of the same name, Fu Manchu, the super villain, seems a fitting title for a dangerous new contender to join the growing fleet of best restaurants on the Gold Coast.
Quietly opening its doors this weekend, after months of arduous construction, Metropolist swung by for a look-see just as the tight-knit team were making final preparations for opening night.
At the helm of Fu Manchu Oriental Kitchen, Chevron Island's newest culinary hotspot, are brother and sister co-owners, Troy and Zuraya, who are of Malay heritage together with wife slash sister-in-law, Holly. Having regularly journeyed all over Asia to visit family and get their fill of some of the world's most flavoursome cuisines, these self proclaimed "Asian travelling food tarts" have created a distinctively modern Asian fusion menu bursting with curious flavour and culture combinations.
Take one of the standout dishes for instance: the sticky Asian beef short ribs; a hearty man's dish served with a European twist of hand-cut chips seasoned with five-spice together with crispy Asian craft beer-battered onion rings. Could you get more Asian fusion? We think not!
During our visit, we devoured menu stars including the tamari and cola-braised pork belly on a parsnip puree, and the Spencer Gulf mussels with blackened bamboo bread for soaking up the addictive miso and saffron broth. Not forgetting our melt-in-your-mouth fave, the seared sesame-crusted tuna on a garden-fresh nicoise salad. Are you drooling yet?
Other dishes totally vying for our attention when we return include the Singapore chilli crab or the "Crying Tiger", charred strips of rare beef sirloin paired with a fiery chilli sauce. And you know we can never go past a pillowy Chinese bao; Fu Manchu's are stuffed with either duck, plum, and pickled carrot; or mushroom, kimchi, and crispy garlic with truffle mayo. Sure there were plenty of unpronounceable ingredients we've never encountered, but we're adventurous and that's all part of the fun.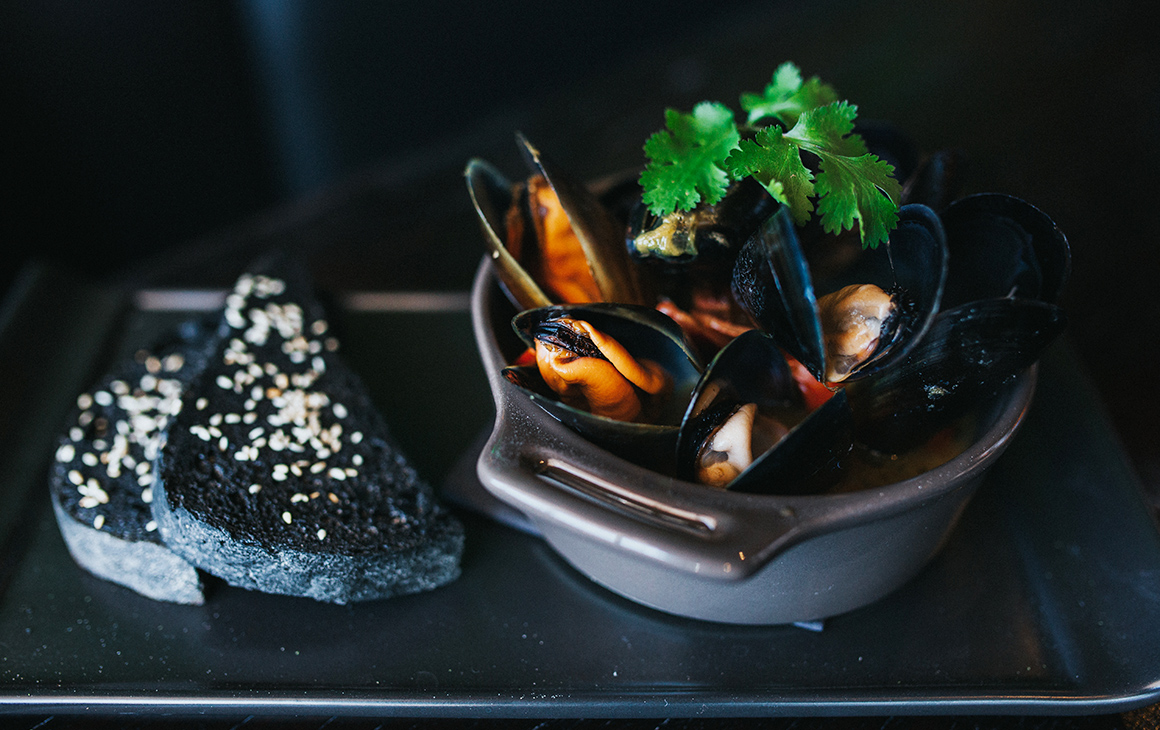 You know the cocktails are going to be brimming with the most mouth-watering of Asian influences too: ginger, lychee, lemongrass, coriander… can't you just taste the flavours through the screen? Uh-ha! Another Asian fusion line up is the tap beer selection, Tiger from Singapore and Sapporo from Japan, side-by-side with Australian-made brews from Byron and Nelson Bay.
Aside from the party-in-your-mouth food offerings, you're going to absolutely adore the smooth, contemporary fit out. Out front is a sleek, yet traditional, London shop-front façade, a style which we are told is found throughout Shanghai; and a reflection of the region's colonial roots. What looks small and unassuming street side, inside is a cool split-level eatery. An intimate bar and lounge downstairs with room for about 20, and an upstairs space for 60 or so diners, including an 8-seater semi-private dining room that can be booked first come, first served.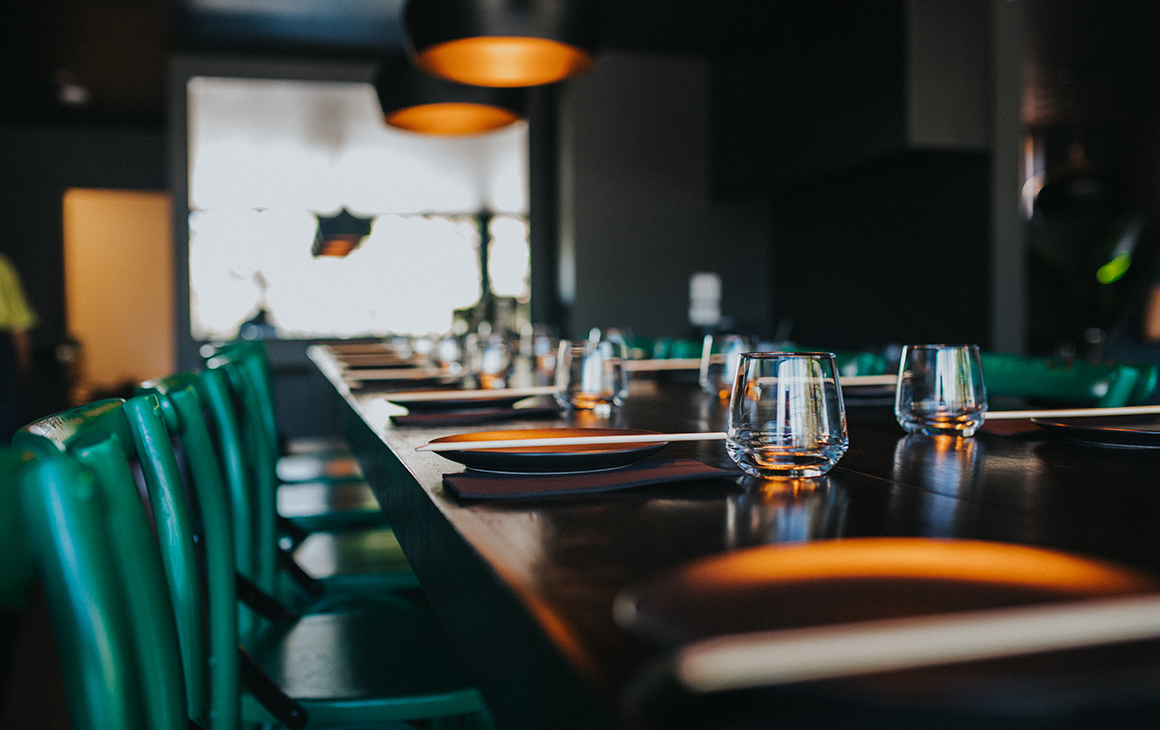 They've moved away from the classic Asian palette of red and gold, instead focusing on emerald greens with a predominately black base. Dark banquette seating lines a moodily-lit dining room that's kitted out with custom-made furniture using recycled wood sourced from 1960's-built houses. Adjacent to the bar, illuminated bird cages dance across the ceiling, but we couldn't peel our eyes away from the luxe hand-screen printed wallpaper. A standout feature of the ground-level bar and lounge is New York-sourced wallpaper designed by the legend Lenny Kravitz.
Through windows at the rear of the upstairs dining room, a majestic old Norfolk Pine will be bathed in green light that'll add further depth to the setting. So, if you're lost when finding your way to your dinner destination, just keep your eyes peeled for the towering green beacon on Thomas Drive!
These guys have been in and around the food game for years, both behind the scenes and as customers themselves, so are very clear on the experience they wish to create. Fu Manchu Oriental Kitchen is all about encouraging a progressive style of service, not your stock standard entrée, main, dessert, pay your bill and leave kinda night out. Instead, they're eager to develop a stay-a-while supper club environment that'll draw you in and make you want to linger. Order some dishes now, some later, add a cocktail, and repeat.
There's really very little else of this calibre in near proximity, and given it's probably as close as many of you are willing to venture in the direction of Surfers Paradise, it's a welcome addition to Chevron Island and the blossoming Gold Coast dining scene in general.
Full props must go to co-owners Troy, Holly, and Zuraya, who, with the help of a few tradie mates along the way, have just completed their own epic version of The Block; throwing in a marathon effort to completely transform the space. Upstairs was once a dilapidated gym and downstairs, a transient succession of ex-tenants—a pharmacy, bakery and, more recently, a Cuban chicken takeaway—all which were uncovered when peeling back the layers during renos. We think it is safe to say this little shopfront on Chevron Island may have finally found its forever family!
So folks, clear your weekend dinner plans and put this sexy new eatery right to the top of your list. Fu Manchu Oriental Kitchen is now open seven nights from 5pm, with lunch on Fridays through Sundays. Just don't forget to tell them we sent you.
Where: Shop 2/44 Thomas Drive, Chevron Island
Contact: 07 5531 6268
Photo Credit: Hayley Williamson for Metropolist