All around the world, we love celebrating anything and everything, so believe it or not, there is a World Whisky Day and it's on this Saturday 19 May!
This weekend, get together with some fellow whisk(e)y* lovers and enjoy a dram or two. To help you in your mission, here is a round up of whisky bars on the Gold Coast that reeeeally know their stuff.
*For the sake of consistency, let's just go with whisky.
The Scottish Prince
Palm Beach
When The Cambus Wallace crew set sail south for Palm Beach, southerners knew good things were on the horizon. Throwing all their knowledge and ideas into this atmospheric new watering hole, the styling is 10 outta 10 and so are the whisky-inspired cocktails and bar eats. With some 280+ bottles of whisky behind the bar, it's clear what your tipple of choice should be here and these lads are making it their life mission to see every patron enjoying whisky, or at least appreciating it. Hosting regular whisky tasting workshops for both the connoisseur and wannabe teach-me-everything-you-know newbie, The Scottish Prince is one of the coolest new whisky bars to land on the Gold Coast in recent times. So, make it your destination of choice for World Whisky Day with their daytime soiree including a whisky trivia lunch at 12:30pm and whisky tastings at 2:30pm and 4:30pm ($50pp). For more information and to book your spot, click here.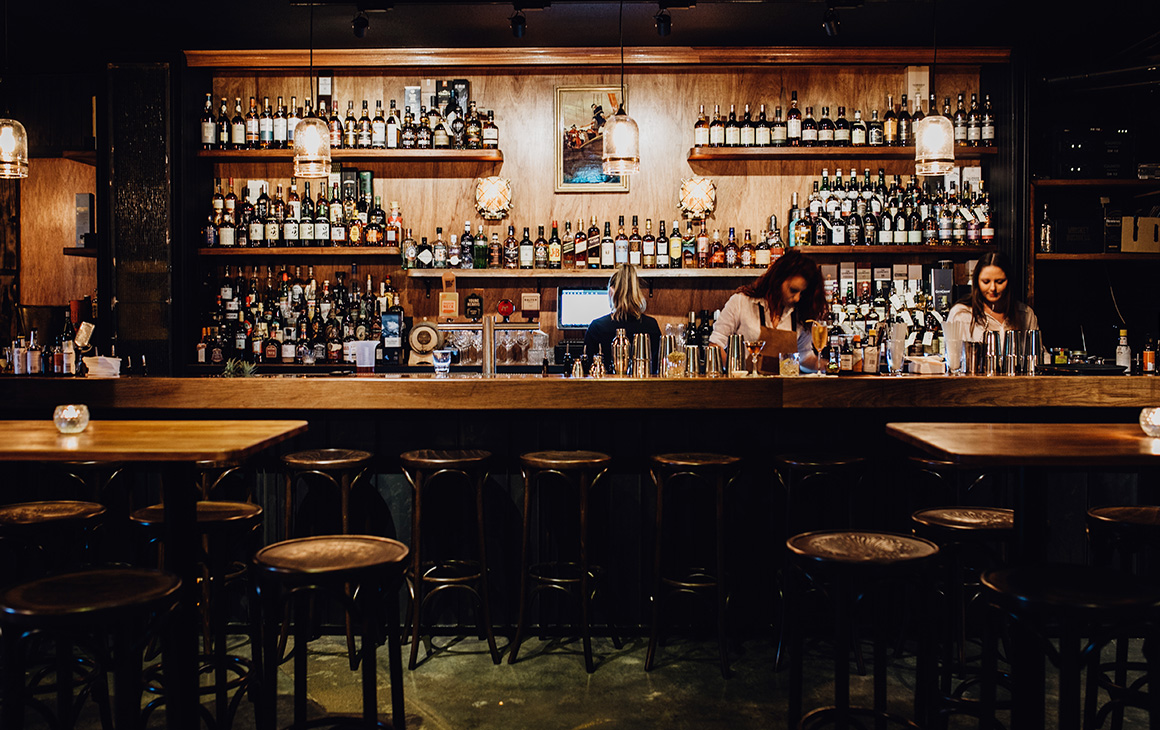 Etsu Izakaya
Mermaid Beach
If we're going to play favourites (oh, and we totally are), Etsu Izakaya is one of our all-time top restaurants on the Gold Coast. Boasting a mad selection of Japanese whiskies was one of Mitch & Nerissa's first goals when creating Etsu. So, four years on, and several trips to Japan later, they have a staggering 70-plus different bottles lining the back bar—one of the biggest ranges in the entire country, no less. Estu Izakaya is without question one of the best whisky bars on the Gold Coast where you can ogle at exclusive pours including the rare 'like rocking horse poop' 30-year-old Hibiki ($330 per nip) or let the knowledgeable team point you in the direction of any of their game-changing whisky-laced cocktails. Kanpai!
Lockwood
Burleigh Heads
In true speakeasy spirit, until you're in the know, Lockwood, Burleigh's secret bar, is not easy to hunt down, and even when you do know where to look, you still must request entry via text message. It's that sense of discovery, mystique and exclusivity that'll have your heart skipping beats. Promising classic tipples and fine drams, pull up a stool at the bar where stylish bartenders are dressed in ties, waistcoats and flat caps, and ready for a banter while they mix your Rob Roy (a stiff Scotch whisky version of a Manhattan) or as you sip on a 25-year-old Talisker, neat. All as seductive mood-inducing blues and rockabilly tunes, think Creedence and John Lee Hooker, set the tone for an intimate night behind closed doors. These guys are honing right in on the dying art of classic bartending and old-school personalised service, and we can't get enough.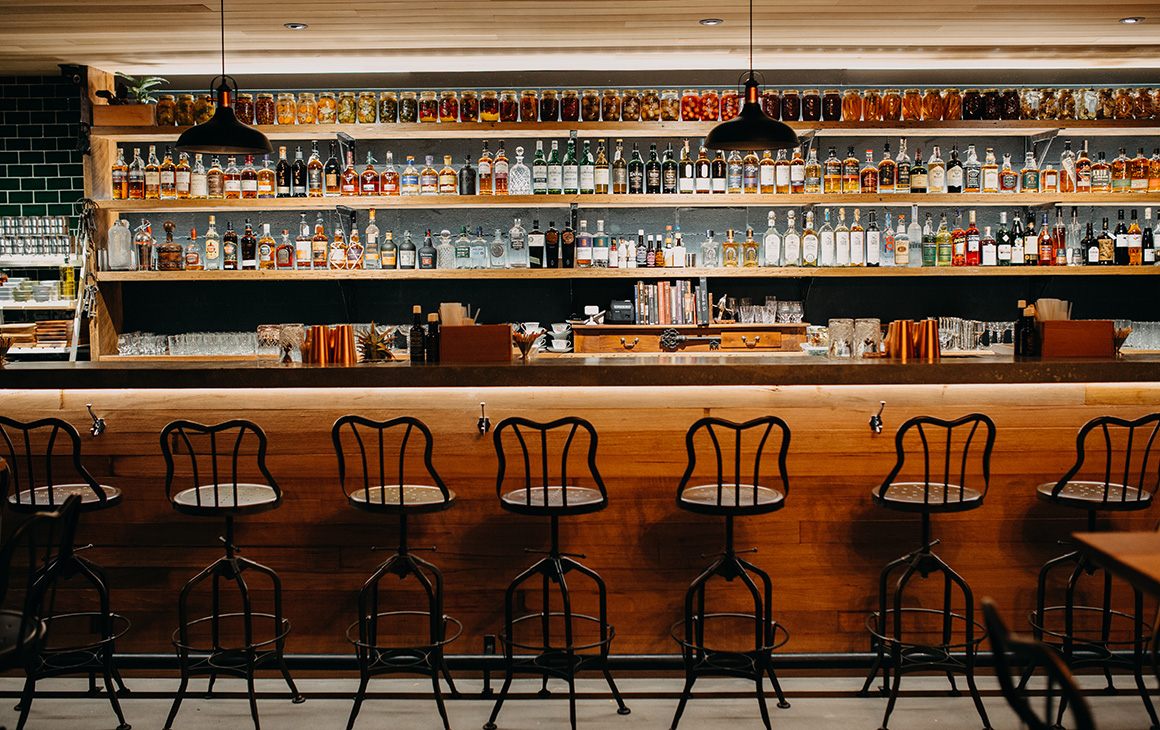 Iku Yakitori & Whisky Bar
Burleigh Heads
Iku Yakitori & Whisky Bar is without question one of the best whisky bars on the Gold Coast, and with da man Adam Bastow at the helm—recognised by The Perfect Blend as one of the top 10 bartenders in all of AUSTRALIA (yes, in caps)—you've got an unbeatable combo. Blow the budget on exclusive pours like Iku's prized Yamazaki Sherry Cask ($420 per nip) or the rare 18-year-old Yamazaki Mizunara Oak. If you can't quite handle your whisky neat or served over meticulously hand-cut clear ice (an art form in itself!), but still wanna celebrate World Whisky Day, give Adam a nod and he'll whip you up one of his whisky-inspired specialty cocktails. It doesn't hurt that the Japanese noms are nek-level here, too.
Eddie's Grub House
Coolangatta
If you're yet to discover the grungy and rockin' ways of this Coolangatta dive bar, serving up some of the best, most outrageous burgers in town, then what have you been doing with your life? A local's fave among the best whisky bars on the Gold Coast, Eddie's Grub House is like a beating heart at the southern end of Griffith Street; there's a good chance you'll walk in stiff and leave with a distinctive swagger.
The Loose Moose
Broadbeach
With a mind-blowing 160 whiskies sourced from all over the world (70 alone from the Scottish Isles), The Loose Moose is a rocking choice for whisky connoisseurs and wannabes. Confused? Don't be—just let the friendly and knowledgeable staffers walk you through Scotland's regional champions, Japan's single malts, America's bourbons and Canada's ryes. We suggest you head straight for limited edition pours from That Boutique-y Whisky Company including the Auchroisk, Caol Ila and the Blended Malt #1. Dedicated whisky drinkers are even encouraged to buy an entire bottle—that's locked up in a glass cabinet at the front—so you know a seat and your favourite liquor is always waiting for you each time to visit. Pair your drink of choice with some finger-licking slow-cooked ribs or gourmet burgers and you've got a jolly night out at one of the best whisky bars on the Gold Coast.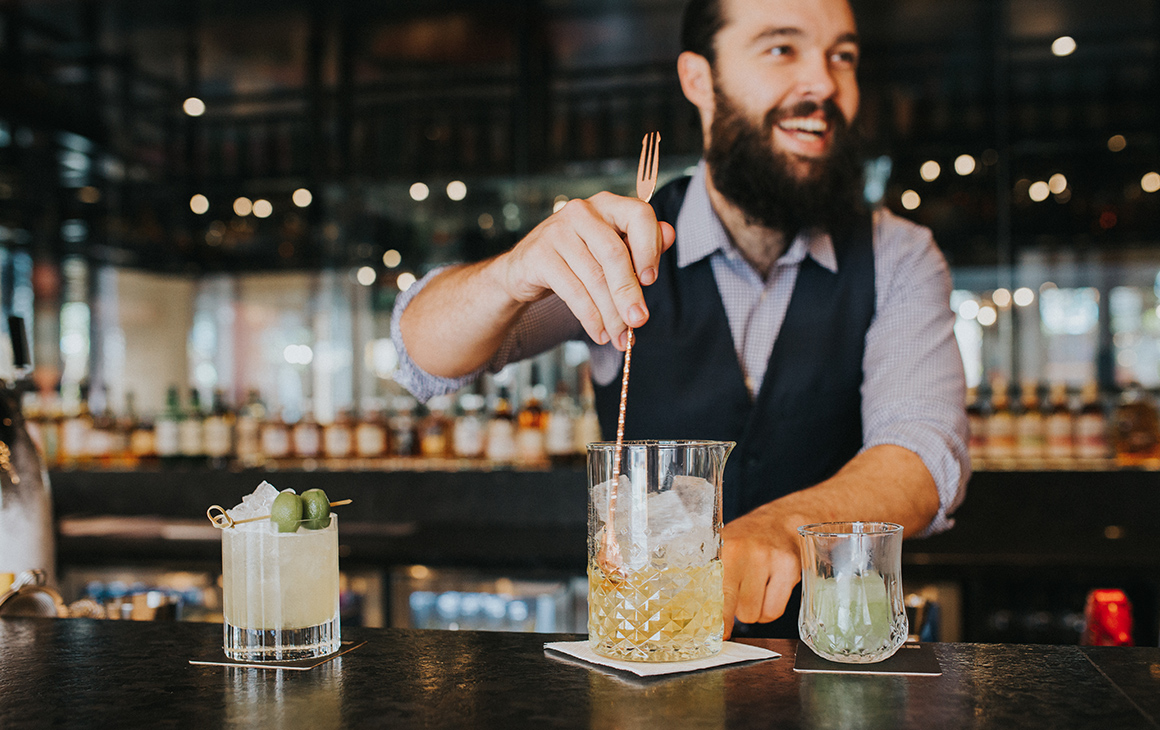 Yamagen
Surfers Paradise
The signature restaurant of QT Gold Coast's funky hotel, Yamagen is an atmospheric Japanese izakaya with a raw sushi bar, yakitori grill humming at its heart and the most cracking menu of artistically-presented dishes from tempura black cod to sashimi tacos. But, you're here for the ridic Japanese whisky selection, with one of Queensland's largest line-ups (70 bottles and counting). Come for a wide offering from the Suntory, Nikka and Hibiki ranges, together with whisky-laced cocktails like the Nashi pear and mint highball or the Kyoto Old Fashioned with Kakubin whisky, yuzu bitters and gyokoro tea. If you're on the hunt for one of the best whisky bars on the Gold Coast, well, you've found it.
The Verandah Bar At Intercontinental Resort
Sanctuary Cove
Northerners are well looked after on World Whisky Day, at Intercontinental Resort's colonial-inspired The Verandah Bar, complete with a whisky library. Oooh, fancy! Dress up in your loafers and linens for a swanky afternoon in the sophisticated, sundrenched lounge, sipping any one of 50 whisky variants from the US of A, Scotland, Ireland, UK, Japan and Australia. Or, come late for a nightcap (like the smoky 18-year-old Hakushu Japanese single malt or a classic whisky flight), as you cosy up by the fireplace—permission to feel and act like a trendier version of your grandpa.
The Cambus Wallace
Nobby Beach
This intimate, moody-lit speakeasy is the perfect setting for a night looking broody and deep, whisky in hand. Named in honour of The Cambus Wallace, a fateful ship that ran aground when carrying a precious cargo of scotch, you know this team is passionate about their extensive list. Be tempted with over 60 whiskies from Scottish blends and single malts; Irish blends and single malts; a selection of American, Australian and Japanese whiskies; plus a few rare drops from Taiwan and India. Co-owner Dave Ferry is so enthusiastic about the craft of distilling and swilling whisky, he's been known to host workshops to share his vast knowledge.
Worked your way through the best whisky bars on the Gold Coast? In that case, you're likely going to need a hangover cure in the morning.
Image credit: Hayley Williamson for The Urban List