Ah, Waikiki…the home of long boards, ukuleles and Mai Tais; where rainbows appear on the daily, kitsch is cool again and Hawaiian shirts are worn proudly as the tourist uniform.
If you're yet to make the 10-hour flight across the Pacific to Oahu and the lush archipelago of Hawaii, we've got the first few days of your Waikiki itinerary covered. And it wouldn't be a tour with The Urban List without plenty of foodie recommendations thrown in for good measure. Aloha!

Narrowing down where to stay in Waikiki can leave you with a headache of confusion before you've even booked your flight. Not to mention the nauseatingly high room prices and shitty exchange rate—ouch! We've found a way to maximise your travel budget, leaving mucho cashola for #allofthecocktails. GET LUXE is a sharp new travel company that does the hard work for you—sourcing ridiculously fine rates to some of the city's hippest hotels, with flights, bonuses and upgrades options rolled into one. Can we get a 'hell yes'?
Recently undergoing a complete $115-million dollar rejuvenation, Alohilani Resort Waikiki Beach, named in honour of the last reigning monarch of the Hawaiian Kingdom, whose estate resided on the same location in the 1800s, is up there with Waikiki's best. Bringing the beach inside, we love Alohilani's sandy colour palette; two-story aquarium in the lobby bar; sexy pool deck complete with cabanas, alfresco bar and infinity pool; dreamy ocean vistas from most rooms and new culinary offerings to impress the most discerning of foodies. Opt for the value entry-level package or, do as we did and upgrade to the Beach Tower with shimmering views over Waikiki Beach every time you peel back the curtains. Bliss.

9AM Start Your Foodie Tour Early
Let's be honest, us Aussies are seriously spoilt by a top-notch cafe culture, which means you might be underwhelmed by Waikiki's breakfasting options. But worthy establishments can be found. Be prepared to line up for hip perennial fave Heavenly Island Lifestyle Cafe, an ultra-fresh healthy oasis in the midst of carb-loaded diners and buffet-ville. Come for Heavenly's brekkie version of Hawaiian-style pho noodle with local ginger, coriander and organic chicken or a far less artery-clogging twist on the traditional Loco Moco.
11AM Slip Into Step With Island Time
Not surprisingly, Waikiki is all about being a lazy lizard with hours sprawled languid by its lagoon-like urban beach. Buy a cheap lilo (you'll find ABC Stores on every corner) and bob for hours in the warm, blue Pacific, peeling yourself away at regular intervals to order Kalua pork sandwiches or shave ice from the many esplanade-side vendors.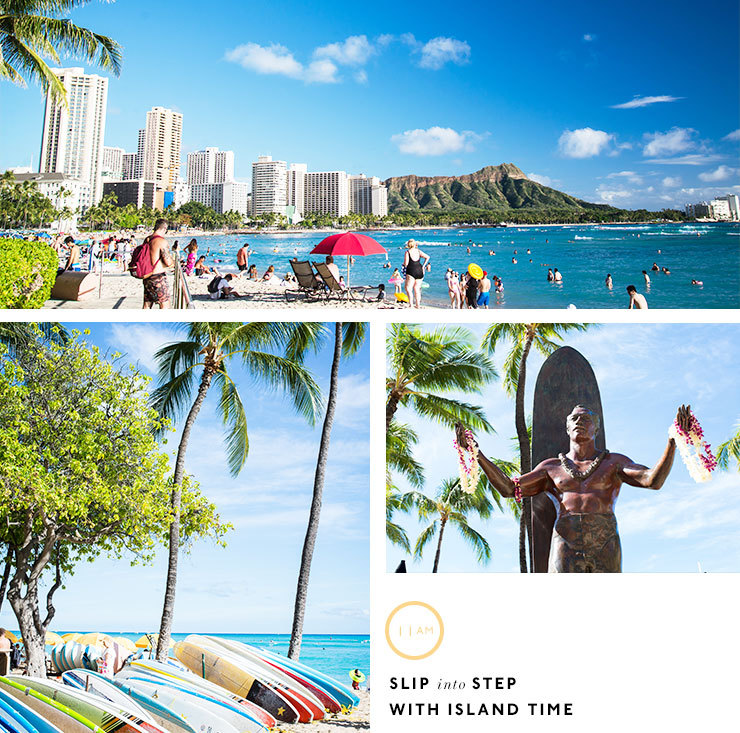 2PM It's Happy Hour(s), Baby
If Waikiki has got something bang on, it's their extended happy hour. Typically starting around 2pm and lasting up to four hours, get your holiday drinking shoes warmed up with a bar and restaurant crawl to acquaint yourself with this hotspot's mind-warping range of eating and watering holes. While many locales request you dine at the bar or lounge area, it's a small price for big savings on beer, vinos, cocktails and easily-tide-you-over-until-dinner bar snacks. Try Buho Cocina y Cantina, Maui Brewing Co. or Outrigger's Duke's for starters.
5PM Saviour Sunset At A Hotel Barefoot Beach Bar
Sunset spells cocktails, so take your pick of the hotel barefoot beach bars and maximise golden hour. Yep, you don't need to be staying in these luxe joints to appreciate them. Moana Surfrider's magical Banyan tree was planted in 1855 and is heritage-listed, creating an ambient setting for sunset drinkies while being serenaded by local musos and hula girls. Or, meander through the tranquil garden entrance of whimsical Waikiki icon, The Royal Hawaiian, before deciding between several variations of the rum-laced Mai Tai cocktail that was invented in honour of this very hotel.
8PM Dine In-House At Alohilani's Hot New Foodie Precinct
A delicious new addition to Waikiki's foodie landscape, and conveniently located within your hotel, Morimoto Asia is a high-end signature dining experience created at the hands of celebrated chef, Masaharu Morimoto. Overlooking Waikiki Beach, reserve your table at this indoor-outdoor restaurant for incredible Asian fusion like Peking duck to dim sum. Next door, and for something more casual and upbeat, Momosan is serving noodles, flavour-packed ramen, gyoza and Chef Morimoto's take on Oahu-fave garlic shrimp. The bonus? Both eateries are a short walk to the elevator and your plush cloud-like bed.

8AM Cruise To The North Shore
For a true taste of Oahu island life, one must escape the glitzy shop-lined boulevards of Waikiki, even if just for the day. Rent a vehicle (we'd totally go the Jeep Wrangler) and head east around the southern base of Diamond Head. Oahu's trade wind-swept east coast is lined with pencil-thin palms that appear to defy gravity and grass-covered volcanic rock headlands that plunge at near vertical angles into the Pacific—all pockmarked with dreamy Listerine-blue bays which make for ample photo and Insta-bragging opportunities.
Swing past popular snorkelling destination, Hanauma Bay. You'll pay a nominal fee to enter the protected marine park or, if the crowds scare you, enjoy the view from above and continue beelining north where the twisting coastal roads grow narrower and less hectic. Busy oceanside car parks likely indicate worthwhile photo pit stops, while snaking through Kailua is a worthy detour to wriggle your toes in the thin wedge of white sand and a refreshing dip in the calm aqua waters of Lanikai Beach.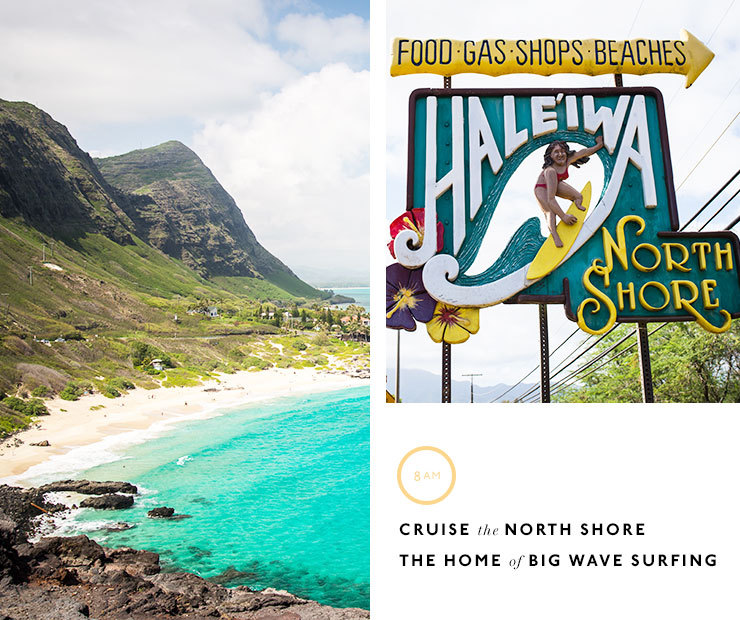 Further north, gritty seaside neighbourhoods hug the coast with seemingly little to protect them from the rare wrath of Mother Nature. Jumbled roadside shacks sell everything from ice-cold coconuts to 'lunch plates', shell necklaces and palm-woven bags. Though it wouldn't be an Urban List guide without satisfying your bottomless appetite, riiight? Eat dessert first with Waiahole Poi Factory's famous Sweet Lady of Waiahole dessert—made from taro, a potato-like produce that's grown in flooded fields and pulverised to a sticky paste—then paired with coconut ice cream.
While you'll pass a shrimp truck every few hundred metres around Kahuku, the original, and by far the busiest, is Giovanni's. Warning: you may or may not turn into a garlic shrimp before the day is out. No judgment. Next, is the macadamia nut farm where you're invited to sample every seasoned nut flavour created or local Kona coffee, roasted with the reminiscent taste of chocolate. Mmm. Seeking something a little more refined to satisfy your foodie cravings? Detour off the country road to Turtle Bay Resort—the only official resort in the North Shore area and straight from a scene outta Forgetting Sarah Marshall—for a relaxed beachfront lunch of blackened ahi tuna and Misoyaki butterfish at Roy's Beach House.
11AM Praise The Wave Gods In The Home Of Big Wave Surfing
Upon reaching Oahu's North Shore, you'll drive past unassuming beaches that, come winter, are home to some of the world's heaviest and most respected breaks. Those who've ever followed surfing will romance with misty eyes at the likes of Bonsai Pipeline, Waimea Bay and Sunset Beach. Outside November to March, it's often a glassy millpond and you can try your luck at snorkelling with turtles. Here the pace of life is slow and, aside from an annoying snaking line of traffic along the single lane coastal road, it's humbling that such a famed destination has avoided the rampant clutches of development; a veritable time warp where farm stalls dot dirt roads, happy chickens run free and you ponder if the vibe has changed little in the past few decades.
Stop for Haupia cream pie at vintage Ted's Bakery or save stomach space to devour acai bowls in the home of acai and the quintessential North Shore town of Haleiwa. Haleiwa Bowls, a wooden shack on the entrance to town, lets you load up on extra toppings (peanut butter for us), or pull into one of several food truck picnic set ups for street eats before ambling through overflowing retro surf shops.
Road-tripped out? It's time to set the GPS south, passing fertile nutrient-rich volcanic soils and sprawling pineapple fields that blend into the foothills of the dramatic Waianae mountain range. Oahu's prized Dole Plantation put this region on the map in the 1950s. It's worth braving the tourist crowds for a super-sized Dole Whip (pineapple soft serve) or a giggle at every pineapple-themed souvenir imaginable.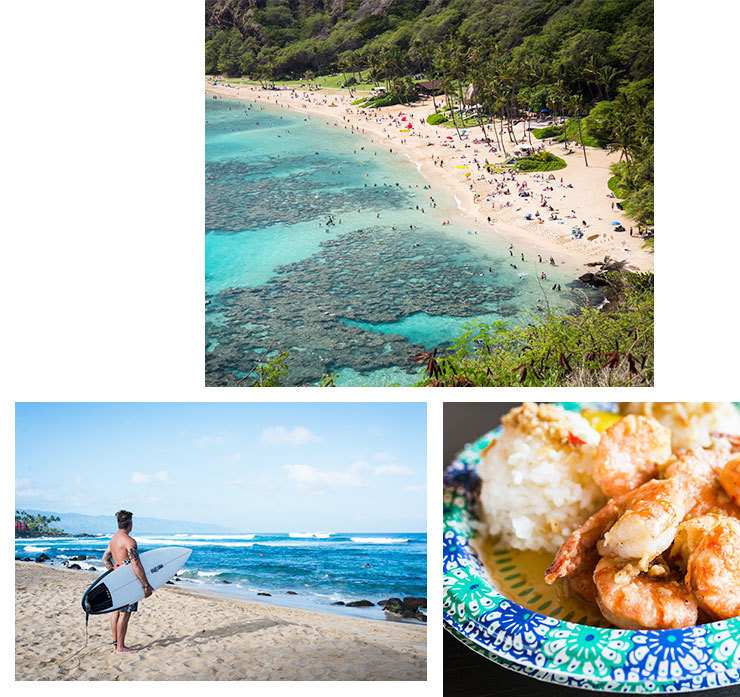 4PM Oyster Happy Hour At International Market Place
Energy left in the tank after a solid day island exploring? Hands down, one of Waikiki's best happy hours can be found at Herringbone. Rebuilt on the original site of a melting pot of ethnic markets dating back to the 1800 and 1900s, International Market Place is a gorgeously green alfresco shopping plaza with brands from Free People to Aesop. A tranquil oasis from the mid-afternoon sidewalk peak hour of Kalakaua Avenue, look for the flashy Tesla showroom before ogling at the 60-year-old Banyan tree which greets guests upon entry.
On level three's terrace, Herringbone's contemporary decor rivals that of any new age Australian establishment with a puffer fish adorned entryway, cascading green wall and lights that hang from aged ropes and upturned dugouts. But you're here for two-buck shuck oyster happy hour (4pm to 6pm), paired perfectly with nek-level mussels tikka and $5 beers and $6 vinos. We call bargain.
6:30PM Continue Your Foodie Tour Of Waikiki
Stay on for dinner at Herringbone or take your pick from some of Waikiki's finest new restaurants lining International Market Place's dining terrace, from Stripsteak to Yauatcha and celebrity chef Roy Yamaguchi's Eating House 1849. Otherwise, hit the pavement a few blocks further west to reach Roy's original eatery (yes, Roy's is everywhere), embracing a rainbow of fresh locally-farmed ingredients.

6:30AM Nature Break: Hike Diamond Head Or Moana Falls
We get it, your pants are a little tighter after all that eating, so crush the holiday sleep in with an early start nature break. Join the tourist trail snaking up to the pill box lookouts of Diamond Head or find some wheels (bus, Uber or rental car) to carry you 20 minutes out of the city to Moana Falls. A fresh 2.5 kilometers (round trip) and you'll be chasing waterfalls, baby.
9AM Make A Date With Bills
Craving a taste of home? One of our absolute favourite finds in Waikiki was, none other than Australian-originated institution, Bills. Come for breakfast, lunch, dinner or cocktails, just whatever you do, don't miss an experience at one of the coolest and freshest dining destinations in Oahu.
12PM Poke Bowls At Surf Jack
Poke bowls may have swept Australia in the past year, but the scaled back version of this raw seafood delight has its roots in Hawaiian/Japanese cultural ties. With ahi tuna plucked fresh from the Pacific, one of Waikiki's finest poke bowls can be found at trendy Mahina and Sun's in the Surf Jack Hotel. Eager for something less hipster? Try hole-in-the-wall local fave, Ono Seafood.
Prefer to keep adding to that waistline you worked so hard to exploit on holidays? An old-school fave, the Cheese Cake Factory will see you ordering super-sized everything and no less than 35 (!!) varieties of cheesecake on the menu. Muumuu or oversized beach dress attire recommended to mask predicted food baby.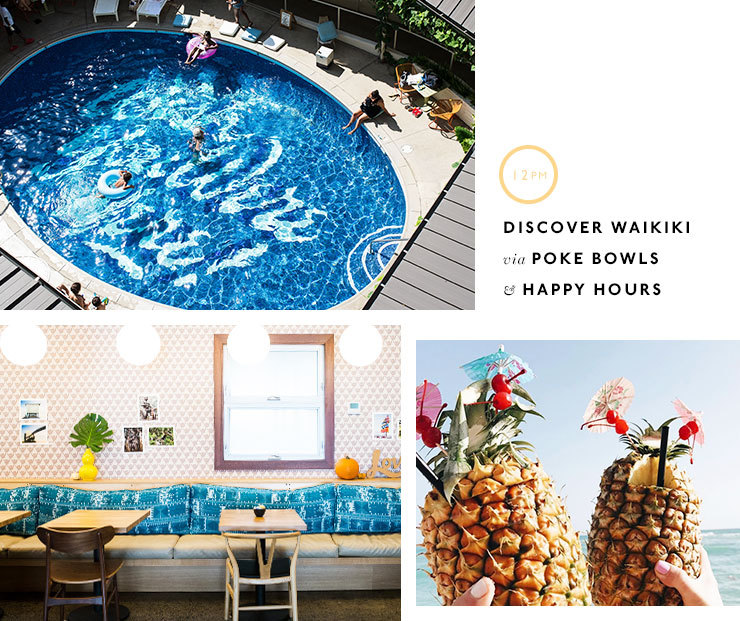 2PM Hang Ten In The Birthplace Of Surfing
If you've never attempted to stand up on a surfboard, Waikiki is a learner-friendly (albeit crowded) wave to try your hand in the birthplace of surfing. Surf lessons (or long board rentals if you already know how to pop) are a dime a dozen along the beach and a private lesson will set you back about US$100. Bonus is, you won't stand out as the unco newbie (pretty much everyone here is), unlike the pro-loaded waves of Australia. Now you're a bonafide new member of the global surfing fraternity, don't miss a shakas selfie with the bronzed statue of legendary Hawaiian Olympic swimmer, Duke Kahanamoku, who helped popularise surfing across the world way back in the 1920s.
6PM Hunt Down A Taste Of Vintage Waikiki
You've hit up some of Waikiki's fittest dining establishments, so tonight we think you should kick it old-school. Head a few blocks back from the main drag where grungy tiki bars waft with mele sounds or peruse the living museum to Duke himself, before getting cosy at Duke's Bar in the Outrigger Hotel, or head in the direction of unabashedly dated Tiki's and Lulu's where share cocktails are served in take-home lava cauldrons.
Editor's Note: The author of this article was hosted by Get Luxe Travel and Alohilani Resort in Waikiki, but as always, the opinions and recommendations are their own.
Image credit: Brooke Darling + Alohilani Resort Waikiki Beach