Okay guys, we know you've been frothing to find out the deets about Miami's newest brewery and taphouse, so we're here to spill the beans. Lost Palms Brewing Co. opened over the weekend and this one's an absolute ripper!
There's no denying that us Gold Coasters love sinking frothies in the dazzling Queensland sunshine, all year round. And to compliment Miami's bustling nightlife at Miami Marketta, your newest weekend watering hole has just opened its doors. Chill in their outdoor drinking area and get amongst refreshingly unique beers brewed on site in a laid back setup bursting with charisma.
If you've been stalking these fellas on Instagram as much as we have, then you've already fallen in love with their pastel pink and mint colour combo filling your feed with tropical vibes and palm trees galore. Putting a unique, fun spin on the typical macho look of breweries, these guys capture the lush Queensland spirit in every essence of their locale.
And now we can finally tell you that they've set up shop on Oak Ave—yep, right across from Miami Marketta and a stumble up from Nobbys. You won't miss their giant blush warehouse against the street's industrial backdrop and otherwise cement landscape. Step inside for an overload of colour pops, a funky sky high mural, upstairs art space and sweet ebony tap wall.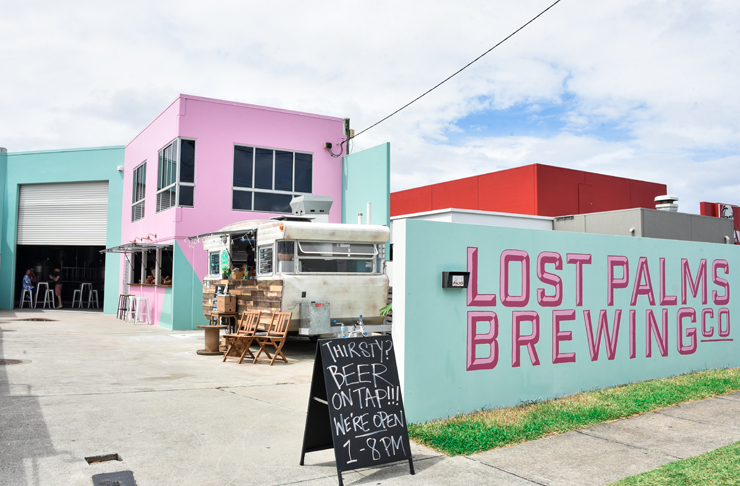 The trio behind Lost Palms Brewing Co. are uni friends Jarrod Blanning, John Walz and Joseph Ernest Lister, who met while studying engineering. What started as a homebrew project under a house in Brisbane, has now completely blown up into your newest neighbourhood oasis in Miami. And guys, you're seriously gonna love it.
As a chemical engineer, John's the mastermind behind your tasty concoctions, with the boys helping to tweak and ramp up the recipes. If you caught these legends at the Gold Coast's Beer and Cider Festival, you'll already know how incredible these mixes are.
With five huge fermenters to watch in action and six beers ready for tasting, you're bound to find your new go-to Summer, Amber or IPA drop. But the fun doesn't stop there, folks. A unique fave is found with their thirst quenching Beetroot Sour. Using local juices from HRVST ST with added apple to cut through the earthiness of the beets and a touch of sour flava-flaves, if you're not a beer-drinker at heart, one of these interesting creations is bound to win you over. Tangy strawberry Kombucha blends and a dark Porter beer with notes of coffee and chocolate are on the drinks list, too. When it comes to Lost Palms Brewing Co.'s Porter, these guys are determined to show you that dark beers are actually delish. And at just 4%, this one's the perfect session beer.
But this hearty drinks list is set to evolve and develop with your feedback. You'll be served by the men behind the brews themselves and they're ready for your thoughts. This. Is. Huge. Not only do you get to taste these experimental bevvies, but your say could even influence the creation of a new drop. Give your review on Untapped or simply over the bar.
Kicking off the festivities on Fridays through to Sundays, head on down for good vibes, beers and an exciting development in the future set to team local art exhibitions with new bevvie launches. We're bloody intrigued.
These guys even have a side hustle on the move where they'll be wholesaling their best sellers from the Northern Rivers right up to the Sunny Coast.
Head down to Lost Palms Brewing Co. this weekend for your first look. See you there, scallywags.
The Details
Where: 11 Oak Ave, Miami
When: Friday 3pm-8pm, Saturday 1pm-8pm and Sunday 12pm-6pm
Image credit: Jess Parkes for The Urban List