If we were to name the most hotly anticipated opening of the spring, this would be it.
It seems like an eternity since we teased you with news that Miss Moneypenny's, of Noosa fame, was bringing its world famous cocktail offering and Mediterranean vibes to the Gold Coast. Well, the wait is finally over.
Quietly opening its doors earlier this week, we took our first look inside and let's just say, we're madly in love.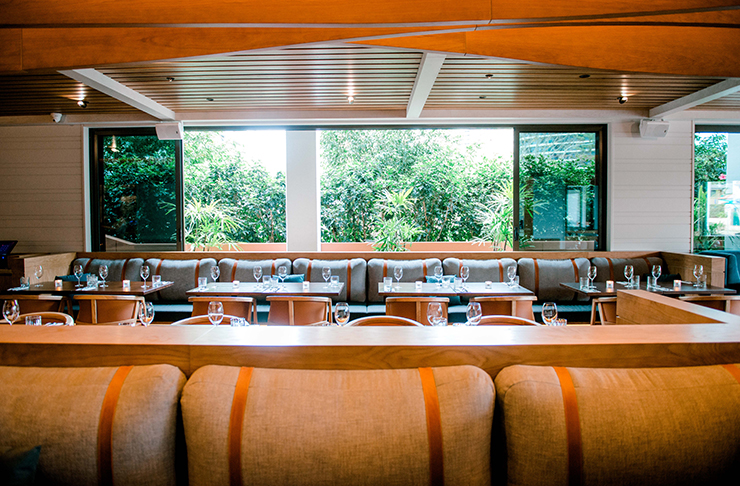 Away from the bustling centre of Broadbeach—with little walk-by patronage and minimal traffic—Miss Moneypenny's is located on Surf Parade under the recently opened five-star Avani Apartments. While this removed locale may have some scratching their heads, we think it's actually a huge strength.
Escaping to this quieter pocket of the neighbourhood brings with it an instant sense of calm and exclusivity. You'll feel relaxed the moment you settle into the plush couch seating and take a sip of your first Peppered Peach Ice Tea cocktail.
Designed by one of the world's most respected hospitality designers, this is Kelly Designs first big splash on the Gold Coast, and we can confidently say there's nothing in town quite like it.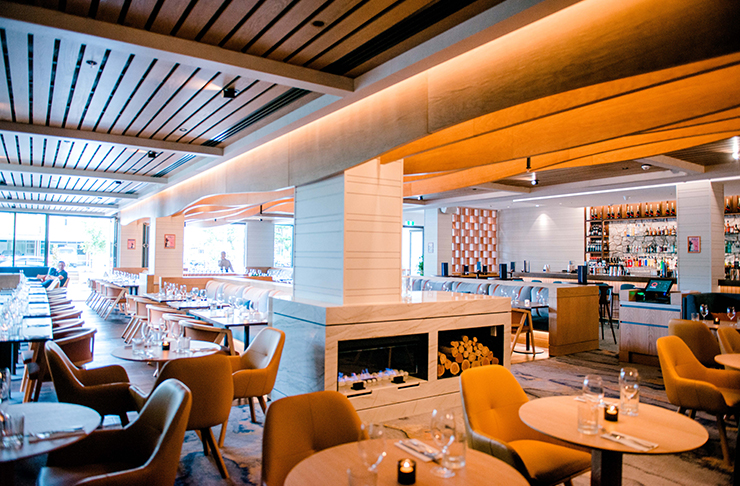 Miss Moneypenny's coastal colour palette is dreamy and the styling is elegantly timeless. From the terracotta breeze wall entry way and stunning terracotta lined bar (we sense a new trend will follow), to the walnut tables, plush heathered grey and emerald blue couch seating—even the meticulously designed bathrooms are screaming for an Insta shoot sesh. Miss Moneypenny's is chic, grown up and very classy.
Grab a casual resort-style seat on the alfresco patio (with plans for an arbour shade come summer) or a table in the main dining room that lends itself perfectly to groups. Or, nab an intimate posi in the rear lounge nook, overlooking the full length of the 200-seat restaurant, while the modern fireplace crackles through the last of the cooler nights.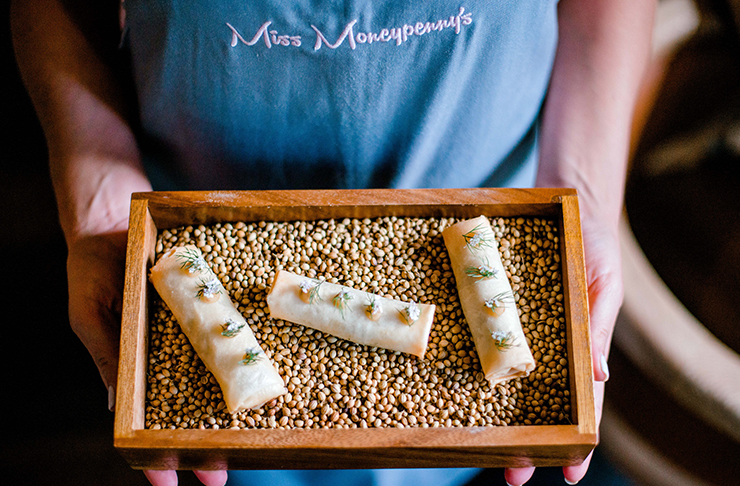 Understandably, owner Ben Walsh is brimming with delight to finally unveil this statement restaurant. He justly believes Miss Moneypenny's award-winning cocktail list will raise the bar, but he's proudest of the new menu. Luring talented Head Chef Braden White back to Aussie soil after an extended stint in Bali at 8 Degree Projects (Bikini, Sisterfields, Bo$$ MAN and Sibling), Ben believes the food quality has jumped several notches.
With all-day dining available seven days, from 7am for breakfast then with the full menu served through until 11pm—it's a serious rarity when you can order premium food well into the night. Arrived late from the airport? No worries. Slip into Miss Moneypenny's and get the holiday vibes kick-started immediately.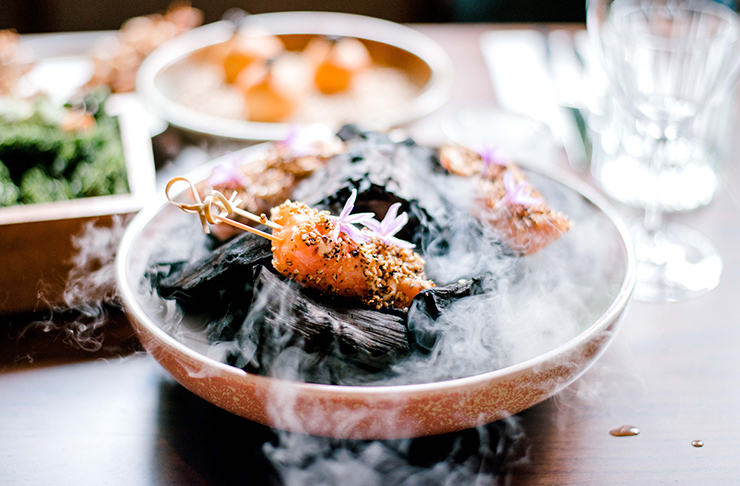 Braden's menu starts with mouth-wateringly good bar snacks and entrees. Artistically executed, work your way through moreish bites like suckling pig spring rolls, mushroom fritters with porcini mayo, doughnut of smoked crème fraiche topped with caviar and chargrilled king salmon served strikingly atop charred chunks of wood. While you could happily graze on upmarket bar snacks all day, we suggest moving onto the prawn linguine or crowd-pleasing pizzas. With social dining at its heart, opt for larger share dishes like fried market fish served whole and accompanied by fragrant papaya salad with hot and sour dressing, or the melt-in-your-mouth slow cooked lamb shoulder.
And the drinks selection? Gosh, where to do we start? Miss Moneypenny's is the cocktail bar of your dreams. Its signature list features the likes of an Istanbul Old Iced Tea (with gin, quince liquor, elderflower, lemon, pressed cucumber and Turkish apple tea) or a charred capsicum and smoked paprika margarita. The bartenders unapologetically offer an 80s Cruise Ship Drinks selection where old favourites like Mai Tais, Singapore Slings and Grasshoppers are brought into the 21st century. Not to mention, there's also an extensive curated wine list and a local and international beers line-up worth getting around. We could go on and on. But we're going to stop there and leave you wanting more.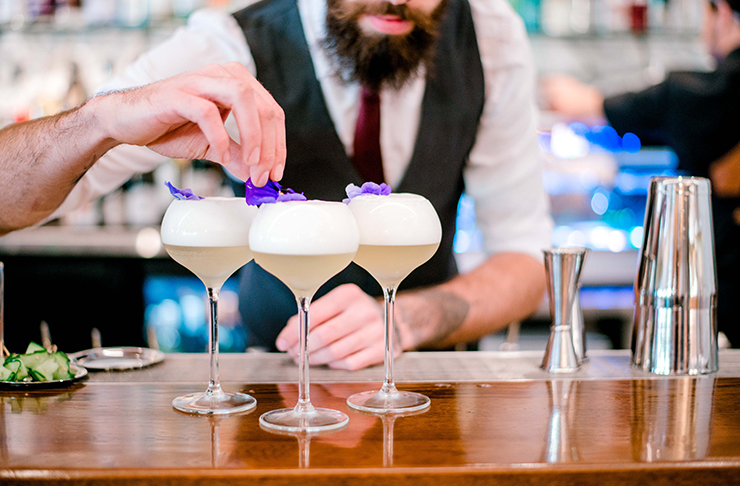 If you're tasked with booking the next work event or special celebration, you'll want to know about the exclusive Rimini Room, located down the hall. Basically a miniature version of Miss Moneypenny's, with private bar, garden courtyard and room for 65 for a seated dinner or 120 cocktail-style, you'll nail the party planning when you hire this private space.
Miss Moneypenny's joins the recently opened Fat Freddy's American diner, bringing a hive of activity to this lesser travelled pocket of Broadbeach. So, order a signature cocktail, settle in for a generously long lunch and welcome the Gold Coast's newest dining haunt. Trust us, you'll be a regular in no time.
The Details
What: Miss Moneypenny's restaurant and cocktail bar
Where: Ground level of Avani Apartments, 50 Surf Parade, Broadbeach
When: Daily, 7am until late
For more information, click here.
Image credit: Kaitlin Maree for Urban List