If ever there was a time to perfect your cocktail skills at home, this is it. But thanks to the clever crew at the Gold Coast's Mr.Consistent, you won't have to flail about in the deep end at all.
Pumping out lip-smacking cocktail mixers and delivering them to doorsteps across the Gold Coast and Tweed, Mr.Consistent is the doorway to never screwing up your margarita again.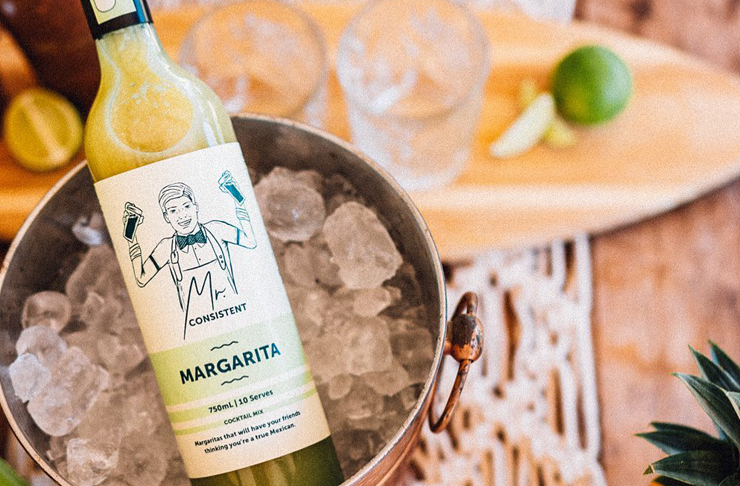 Using super-fresh ingredients—yep, these bottles will need to be refrigerated—you'll find mighty mixers for the perfect margarita, bloody mary or whisky sour, with each bottle containing up to 10 serves of happiness.
So how does it work? Choose your mixer, add booze, ice, maybe give it a shake and strain if the cocktail calls for it, and voila, you'll be drinking bar-level tipples for every happy hour at home from now on.
Seeing as you could very well be kicking off your DIY cocktail career, we'd suggest opting for their current ISO Party Pack, which comes with all three Mr.Consistent mixers, plus an essential bar kit including shaker, shot glass and strainer. Because why not go big, if we're already at home, right?
Check out all of Mr.Consistent's offerings here, and be prepared for your Houseparty chats to get a bit more interesting.
The Details
What: Mr.Consistent, fresh cocktail mixers
Where: Currently delivering from Helensvale down to Kingscliff, and anywhere east of Mt Tambourine.
Want to add some cheese to your happy hour at home? Check out the best cheese delivery services on the Gold Coast.
Image credit: Mr.Consistent