Everyone stop what you're doing and pay attention!
We're here to spread word that the beautiful young sisters behind Heven-yah gelato cart, Amy and Holly Prosser, have officially opened a chic new gelato bar in Mermaid Beach. Srsly. Nabbing a posi in a recently reno'd 1950s corner building, complete with recycled brick, polished cement flooring, and original exposed hardwood ceilings, it's the most charming Gold Coast gelateria we've ever laid eyes on!
When it comes to tempting our fussy palettes with frozen desserts, there's certainly some tough competition these days, but we reckon Heven-yah is different.
Firstly, let's start with the sweetest of stories leading to the birth of Gold Coast's newest gelateria.
Co-owners Amy and Holly gush that, as a family, they've always been drawn together by a love for gelato and food. A few years back, dad Chris took his passion to another level, graduating from a course at Italy's Gelato University in Bologna (um, best university ever?!).
Inspired by their father's newfound skills, when travelling Portugal in 2015, the girls met a gracious gelato-maker by the name of Pedro. As is often customary in Europe to open your home to others, Pedro invited them into his kitchen and gelateria teaching all they needed to know about this age-old dessert craft. Their minds were blown and on return home, wheels were quickly set in motion for their first gelato cart which has since made the rounds of festivals, markets, weddings, and even a coveted appearance at last year's Quiky Pro.
Secondly, Heven-yah's new permanent gelateria is the only venue on the Coast using a traditional "Pozzetti" refrigeration system, with built-in tubs, imported direct from Italy. It means there's no typical nose and handprint-smudged glass between you and your host. As Amy points out, serving gelato is just as much about the theatrics, and here, it's all on display.
The sisters intend to stay close to tradition, right down to the methodical technique of spooning and carving the perfectly stacked gelato scoop. How's this for form, eh?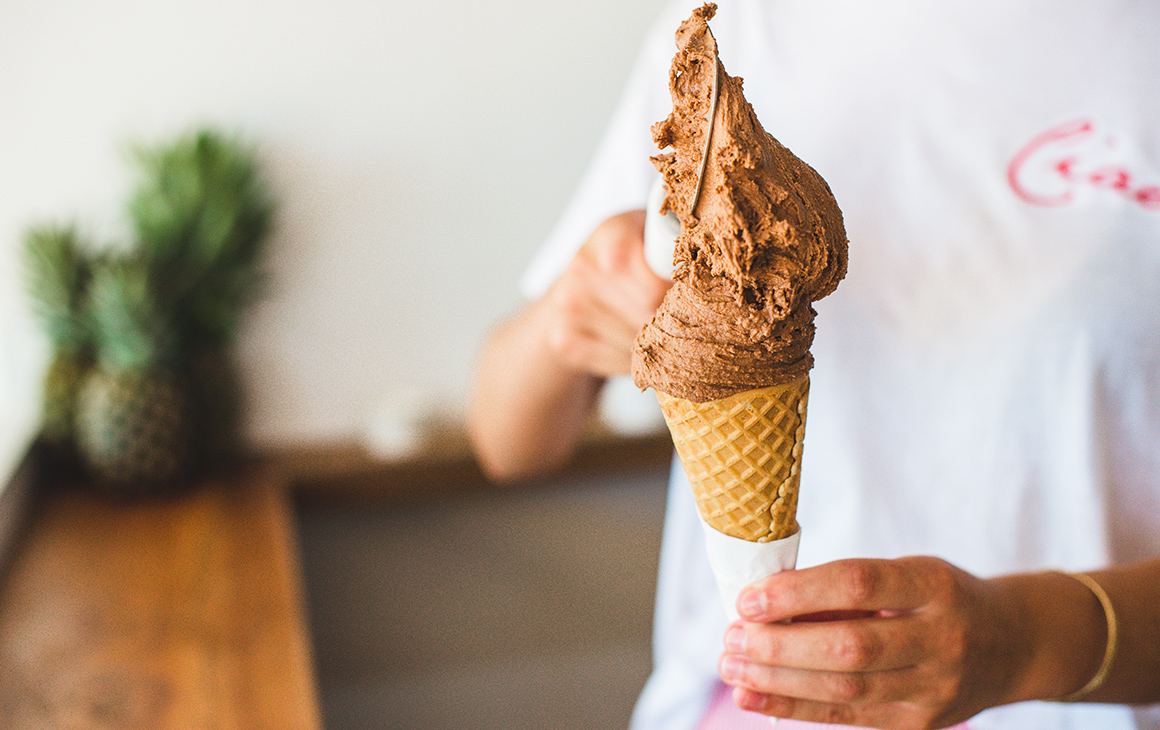 They've spent the past year mastering dozens of drool-worthy flavours from classic chocolate or, for vegans, the chocolate almond (made with almond milk), to the popular salted caramel, hazelnut, or orange and poppy seed. We went weak at the knees as Amy described her next project, a mascarpone with cherry, hazelnut, and praline. Mmmm. Oh, and they make their own caramel and praline too—no biggie. Also on the menu are refreshing sorbets like simple but sensational strawberry, mango, rock melon or apricot, created with the freshest of seasonal local produce.
So fresh in fact, you'll find the sisters frequenting their fave banana man or pineapple man at Murwillumbah's weekend markets—as close as you'll get to the source, AKA the Northern Rivers' fertile farming district. Even granddad is in on the action, supplying his granddaughters with honey from his very own beehives.
Each evening you'll find Amy and Holly behind the shuttered windows chopping, preparing, and blending tomorrow's flavours in their authentic Carpigiani gelato machine. Everything is made small-batch and rotated regularly; from the simplest yet top-notch ingredients, including fresh-picked fruit and quality Belgian chocolate. What's more, it's all gluten-free and at least one vegan option will always be available.
And the name? Well, their heritage is Welsh, and while the spelling is different, when verbalised heven-yah translates to ice cream in the Welsh language. Cute!
Right now you'll find Amy and Holly scooping 12pm to 10pm Tuesday to Friday and 11am to 10pm weekends. Heven-yah, tastes like heaven, yeah?
Where: Shop 2/2387 Gold Coast Highway, Mermaid Beach (two doors down from Alfred's Diner)
Photo Credit: Brooke Darling for Metropolist