If you've already found your way to Burleigh's cool back alley bar, Lockwood, you'll be pumped to learn this nightspot is soon to gain a new neighbour.
Opening Friday, Nightjar is brought to you by the familiar faces behind Bine Craft Beer Bar, Hideaway Kitchen and, more recently, Soho in Broadbeach. This crew has a loyal following; people seem to trail them everywhere they go and we've no doubt a desirable spot in Burleigh (albeit tucked away in a laneway car park) will be no different.
Drawing inspo from the existing roller doors, exposed red clay brick, Besser blocks and naked concrete floors, they've used the rawness of the space to create a gritty garage dive bar. Checker plate fronts the basic bar, while gun metal grey walls glow under exposed globe pendant lights that hang from copper piping and original hardwood rafters. Simply put, this grungy dude's den has got all of the industrial feels.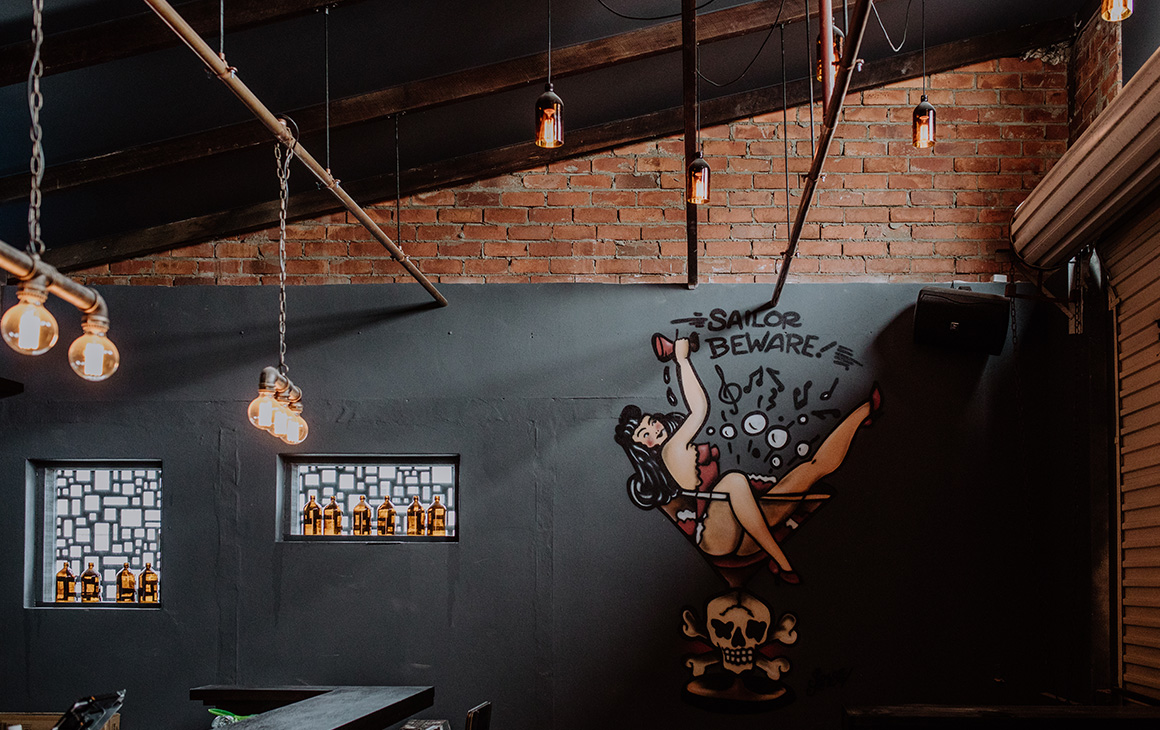 Adding character, Americana-style Sailor Jerry artwork is emblazoned about the bar, so you can come wearing your pin-up girl and anchor tatts with pride. Dress code, what's that?
Yet another small bar in the Coast's armoury (meaning there is NO food, folks) ensures the focus is squarely on the drinks. Stone & Wood and Coopers are on tap and, just like the décor, they're stripping it all back and going for sessionable, easy drinking cocktails. Think: margies, caprioskas, mojitos and daiquiris. Choose your poison and go classic, or take you pick of fruit with blueberry, strawberry, mango, passionfruit and more. Sailor Jerry rum-inspired cocktails are served in tin cans and Navy-imported spirits from Lamb's to Pusser's (hellooo Painkillers) give a nautical theme to the mischievousness. We think Toby just wanted an excuse to wear his captain's hat…
In true style, they'll have an unbeatable happy hour between 4pm and 6pm, where all tap beer, house wine and basic spirits will go for a tiny $5 each. Knock-off drinks = sorted. Live music, with a heavy focus on rock ballads, is planned for Thursday through to Sunday nights, so chances are you'll hear Nightjar before you stumble across it.
Six months ago, you'd be forgiven for thinking buzzing Burleigh dipped into somewhat of a slumber post 9pm, though with new late-night drinking options and yet more to come, there really is little reason for southerners to venture further north anymore.
If dressing up and playing the scene makes you seasick, then this joint has your name all over it.
The Details
What: Nightjar
Where: Accessed via Justin's Lane off Gold Coast Highway, Burleigh Heads
When: Open Wednesday to Friday, 4pm to 12am + Saturday and Sunday, 12pm to 12am
Looking for somewhere to eat before getting stuck into the dranks? We've got you covered with a handful of our fave Burleigh restaurants.
Image credit: Hayley Williamson for The Urban List