We're about to make a huge declaration of love. Okay, here we go. Our fave Gold Coast spots for eats, drinks, and good times has just grown by one, and it's all because of a good-lookin' new haunt that goes by the name of Sandbar. Hola!
Okay, TBH the location is one you've likely already visited for their ridic craft beer selection and million dollar views, but we're here to tell you one of the Coast's longest-standing watering holes—previously known as Surfers Sandbar—has just evolved as "Sandbar" with a stellar new look and direction, and we couldn't be more stoked.
Gold Coast raised, co-owner Jake Short has spent the last seven years living part-time in Indonesia. He's had a hand in the opening of some of Bali's fave party spots from Single Fin to pop-up bars like Salty Seagull and Helter Skelter, as well as operating his own cold-pressed juice bar in Canggu.
He'll be the first to admit he was pleasantly surprised to see the rapid evolution of Gold Coast's hospitality scene in the years he's been away. Which is why he, together with his parents, Greg and Jo Short—who've operated here for a staggering 19 years—and with help from their dedicated team, decided to throw their full energy into a total overhaul and re-launch of one of Surfers Paradise's most established venues.
Despite having a shitload of stellar coastline on the Gold Coast, beachfront venues (that aren't surf clubs) are a rare commodity. So you've gotta be stoked when we gain a bangin' new hangout, where you can linger over cold brews, cocktails, and a refined menu that far outstrips many other casual offerings along the same stretch of waterfront.
It's a big call, but we'd love to see this place become the Coast's version of Bondi's The Bucket List. With a rather significant event approaching in 2018, the world's attention is turning our way more than ever, and faithful investments like these are helping Surfers Paradise to find its cool again.
The team has drawn inspo from some of Australia's fave holiday haunts—completely overhauling the space, styling, atmosphere, and menu offerings. Even the sexy soundtrack is similar to what you'd find playing at say, Seminyak's Potato Head.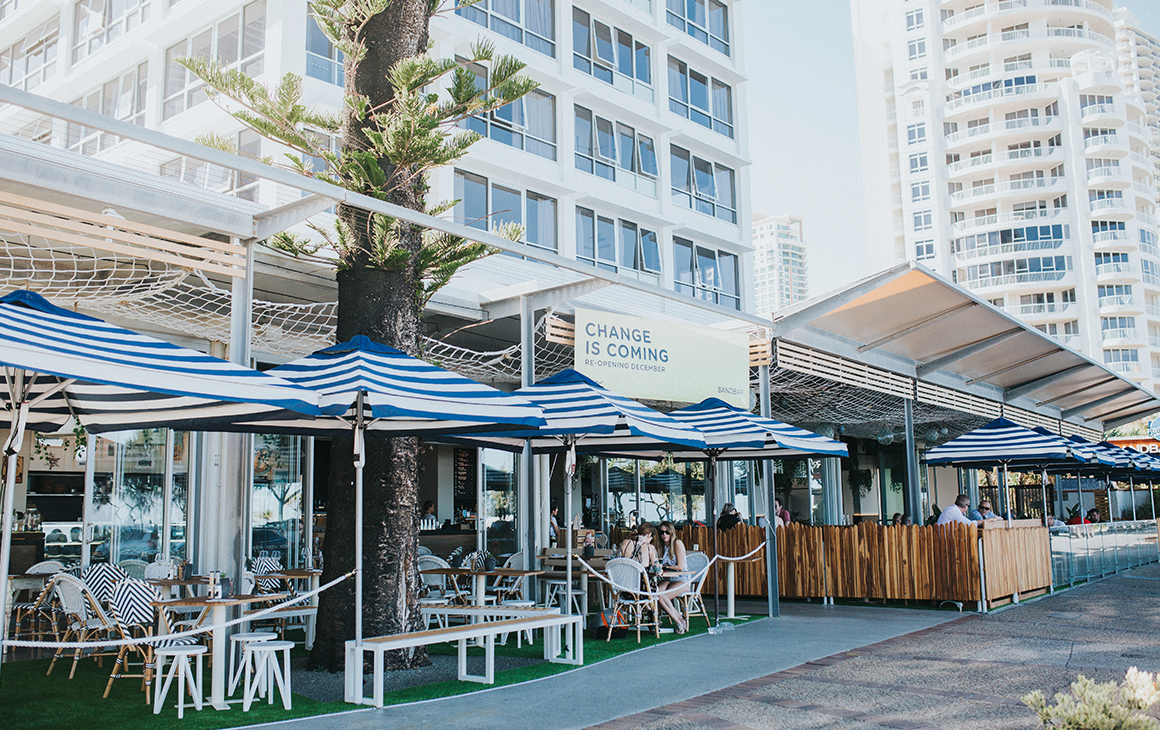 Jake's gorgeous gal Miriam has also had a major hand in conceptualising, sourcing, and shopping for all manner of furniture and fittings to totally deck out the new Sandbar. Everything has been custom-designed and made by friends both locally and in Indo; from the imported teak furniture from Bali (which makes an impressive statement throughout), to lighting featuring whitewash hanging steel drums inside and, outside, Japanese fishing float lanterns that softly illuminate the front terrace after dark. Right down to details like the hollowed Balinese lava rocks which make cute succulent planters on each table and the exotic collection of crockery.
It was the end of an era when the famous breakfast buffet bain-marie was marched out the front door, but it's all part of Sandbar's coming of age. We reckon Sandbar's hip cafe is now one of the coolest hangs for breakfast or lunch in Surfers. You might feel a touch of French Rivera, and you'd be right—the cafe styling was inspired by Jake and Miriam's summer 2016 research trip through Europe.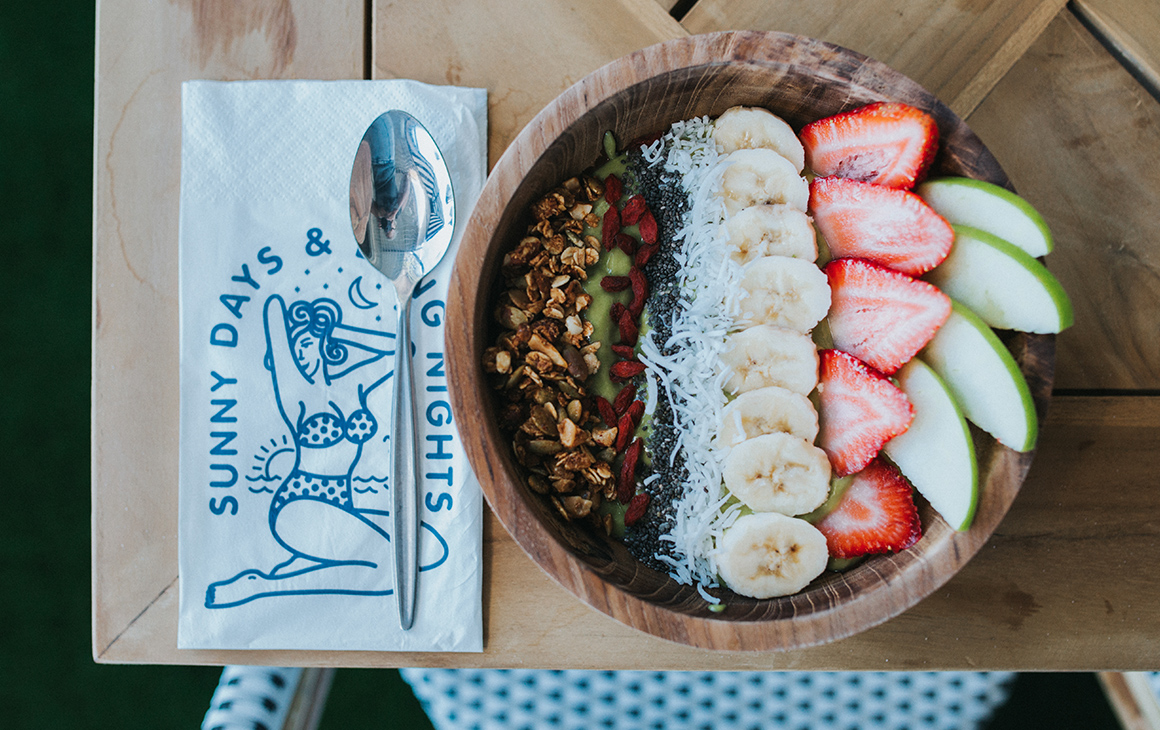 Gelling perfectly with the breezy setting, Sandbar's fresh new breakfast menu is littered with summer-inspired dishes. We went weak at the knees when we first laid eyes on the "6ft & Offshore" smoothie bowl with blended avocado, banana, mango, baby spinach, ginger, and OJ, topped with a rainbow of fruits, shredded coconut, chia seeds, and granola. If there were an award for the Gold Coast's most Instagrammable breakfasts of the season, this deserves to be shortlisted. Add to that, cold-pressed juices, super smoothies, and tempting picks like the pulled pork benedict, crispy corn fritters, and ricotta vanilla pancakes.
A walk through the cocktail line up (created by GC's fave Irishman, Irish Shakes) and gourmet "burgers with a twist" menu further confirms the playfulness and outside-the-box approach they've taken. Take Sandbar's easy on the stomach burgers for example, with melt-in-your-mouth milk buns sourced exclusively from Pastry Emporium. There's the Shi-Boo-Ya burger with tempura soft shell crab, coriander, gold mango, and wasabi mayo, or the Piggie Smalls with generous chunks of pork belly, apple relish, and gruyere cheese. Drool.
But don't get us started on the Hawaiian poke bowls—there are THREE to choose from. This has to be our dream lunch; silky mouthfuls of either tuna, snapper, or kingfish sashimi soaked in flavour-packed marinades and served with a crunchy edamame salad, avo, and a quinoa base. Life = made.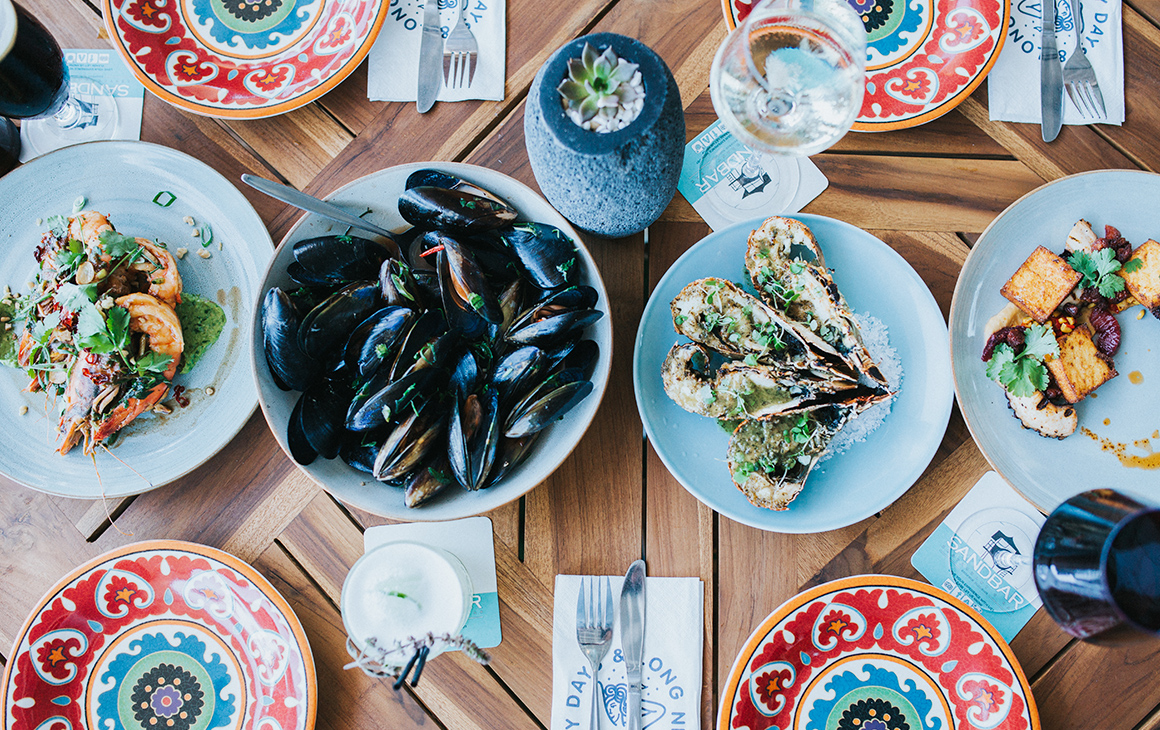 Really, we could go on and on about the menu. Changing it up across breakfast, lunch, and dinner, the options are seriously lengthy! Chef Maxie Hill (previously head chef of Rick Stein's South Coast restaurant, Bannisters and well-respected for his cafe work in Bali) is justifiably proud of his "sharing is caring" dinner menu that's smattered with fresh seafood dishes—we're opposite the beach, after all! We devoured and loved the Shaoxing Mussels; Moreton Bay bugs grilled with Pernod, Dijon, and a tarragon sauce; and the char-grilled octopus served faultlessly with a sweet corn puree, blood orange slivers, and polenta squares. Yep, there's not a greasy chicken parma or pizza in sight, TF.
If you don't head to Surfers Paradise on the reg, it's cool, we get it. Though next time you're passing through, swing in for a cocktail and a poke bowl, and most certainly put Sandbar on your itinerary when you have visitors in town and are giving them the royal GC tour.
Sandbar is the kinda venue we want tourists visiting the Gold Coast—those that never make it outside of Surfers—to remember and go home and tell their friends about. It's the kind of beach-y sophisticated yet fun-loving hangout we think will do a fab job of reflecting the Gold Coast we all adore, outside the well-worn clichés.
If you need another reason to jump in an Uber and travel a little further north this weekend, Sandbar are throwing a launch shindig on Saturday night (December 18), with DJ beats by Mister Bennetts and freebie samples of their new menu and drinks circulating from 6pm. Grab your crew and we'll see you there!
Where: 53 The Esplanade, Surfers Paradise
Photo Credit: Hayley Williamson for Metropolist