There's bills to be paid, dinner to be made, emails stacking up, and tension is rising. Sound familiar?
It's the general anxiety and stress that living a full life inevitably brings; and we feel ya. That's why today, we've got something extra spesh to share with you!
Yep, the Gold Coast is fast moving up in the awesomeness stakes with the sparkling addition of a new communal rejuvenation facility—The Bath House.
A few weeks back we shared news that the talented ladies behind the Coast's adored vegan restaurant, Greenhouse Canteen, were spreading their wings and undertaking a massive new project.
Now a permanent fixture in the blossoming fabric of our city, The Bath House is the laid-back day spa you didn't know you were missing in your life. And, as promised, we've got your first look inside!
On their precious Mondays off, Greenhouse owners and sisters Natalie and Charlie Evans, and best friend Phoebe Venz had been regularly missioning across the border to a regional NSW day spa to melt away the tensions of running their high-demand eatery. Fast-forward to mid last year, in their Miami kitchen, when a light bulb moment came in the form of bringing a similar spa concept to the Gold Coast. And that, my friends, is when the dream for The Bath House was born.
Over the past 10 weeks, the Greenhouse girls, together with the help of dear mum and dad Evans, have converted a cavernous industrial warehouse in West Burleigh. Located at the mouth of the Tallebudgera Valley, step inside The Bath House and we bet you'll immediately breathe out a sigh in the same instant your tense shoulders relax.
Inspired by bathhouses in the likes of Morocco—where all facilities are gathered under one roof—the space is modern and minimalistic. They've nailed the flow and feng shui, with lots of white, soft arches, natural textures, pops of peach and neon green, cute hand lettering signs adorning the walls by Penfriend, plus several inviting lounging areas for lingering and, in true Greenhouse form, ample plants smattered about.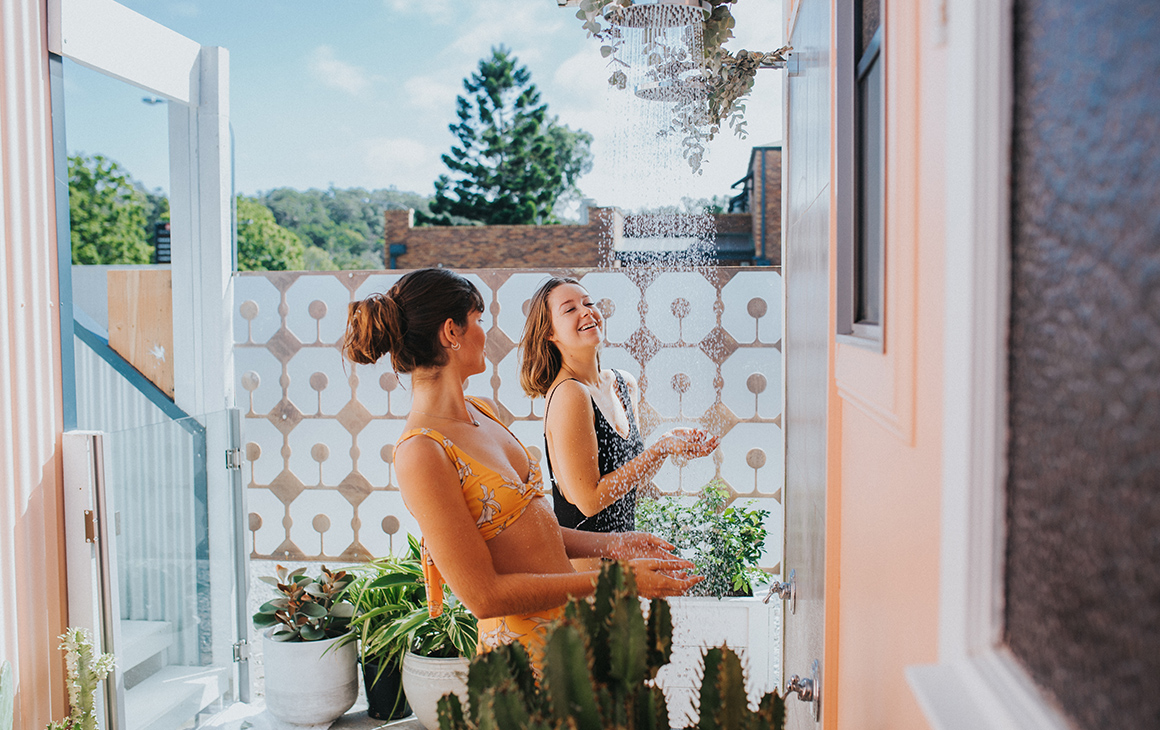 Once you strip down to your swimmers or shorts, first rinse off in the outdoor shower, before splitting your time between the warm massaging bubbles of two hydrotherapy spas, an intoxicating eucalyptus wet steam room in upwards of 50 degrees, and then get the blood circulating with a refreshing dip in the outdoor magnesium plunge pool. Next, it's onto the red cedar dry sauna, where you have control of the intensity by splashing water over a bed of hot rocks in the corner (just don't forget, hot air rises!). Take it slowly through the facilities or soak, steam, plunge, and repeat. The choice is yours.
What the Greenhouse gals see as a special point of difference is their service. A knowing smile and a warm hello, right down to offering you a cold face towel, a whole baby coconut to sip, or a soothing cup of zesty ginger tea while you get cosy on the sun deck at the rear.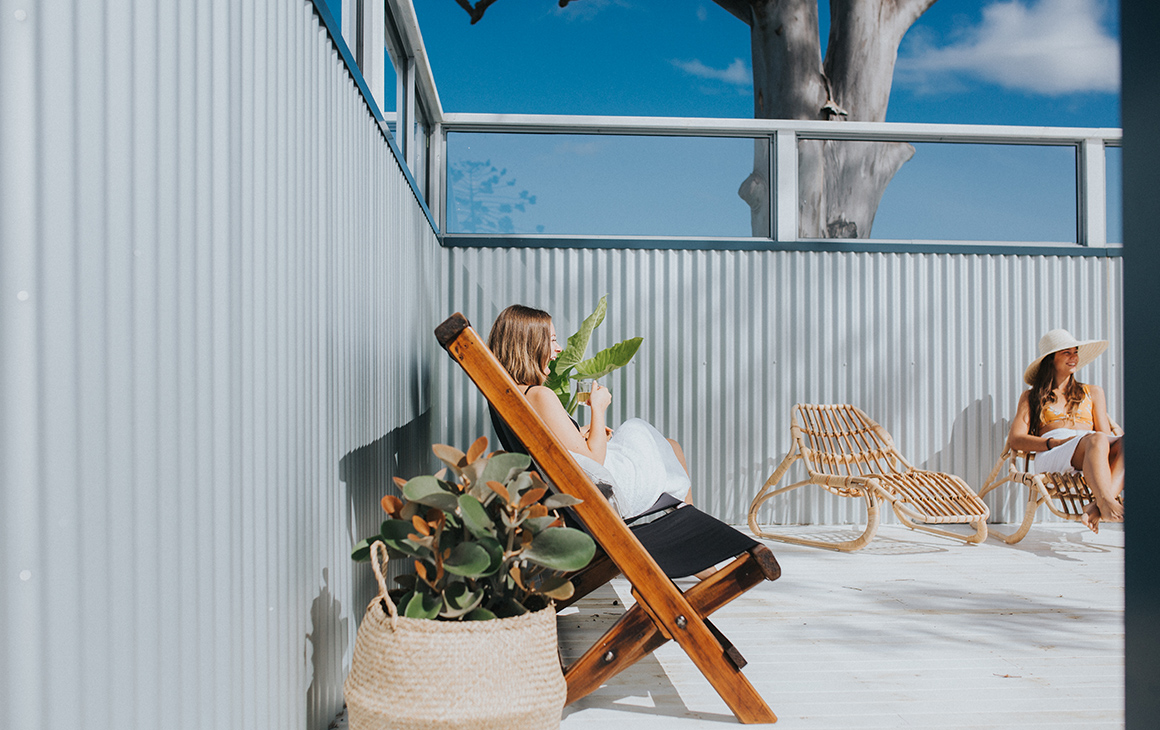 Each session lasts about 90 minutes, which is the optimal amount of time to switch off and unwind. Later this month, they'll be adding massage and beauty offerings in their two treatment rooms.
For years we've been longing to try the sensory and all-embracing KaHuna (or Lomi Lomi) massage, straight out of Hawaii. They're working with a local therapist who incorporates a Balinese twist—a KaHuna massage with essential oils. We know what we're squarely planning our next visit around!
When you book into a massage and beauty treatments, it comes inclusive of a 90-minute soak, meaning you'll soon be able to nurture your body with several hours of pure bliss and "me" time.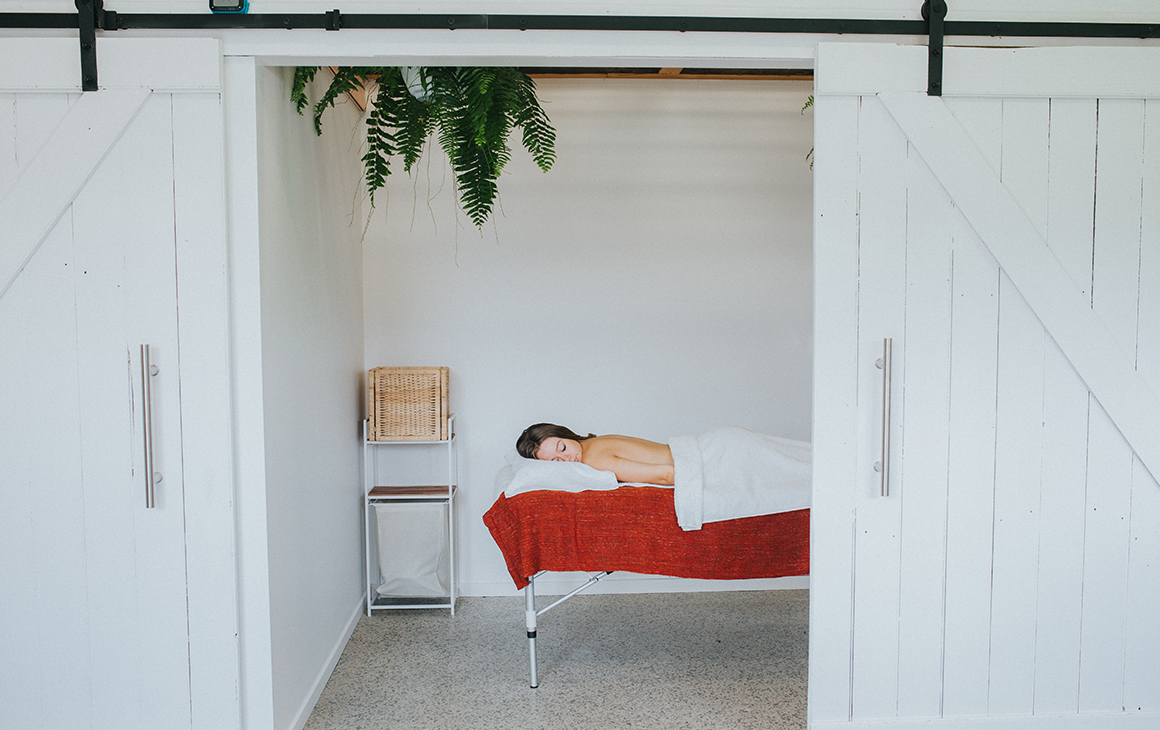 While a highly absorbed digital life seems to be the tipping point for many of us, the ladies want to show it's still possible to have balance. So they're hooked up to WIFI and invite you to book an extended session and soak, steam, or sunlounge between emails and deadlines.
Hangry after all that self-indulgence? There's also a cute Botanical Bar with a simple but nutritious offering of plant-based eats. From daily salads and bites like a chickpea tempeh and vegan almond "feta" on a buckwheat soya wrap; to homemade raw treats, cold-pressed juices, kombucha, tonics, and natural medicinal elixir shots.
There is so much potential here and the ladies are already tapping into the opportunity for events and groups. Think bridal showers, birthdays, team building, and staff incentives; where hosts and businesses can exclusively book the space for 90 minutes or longer.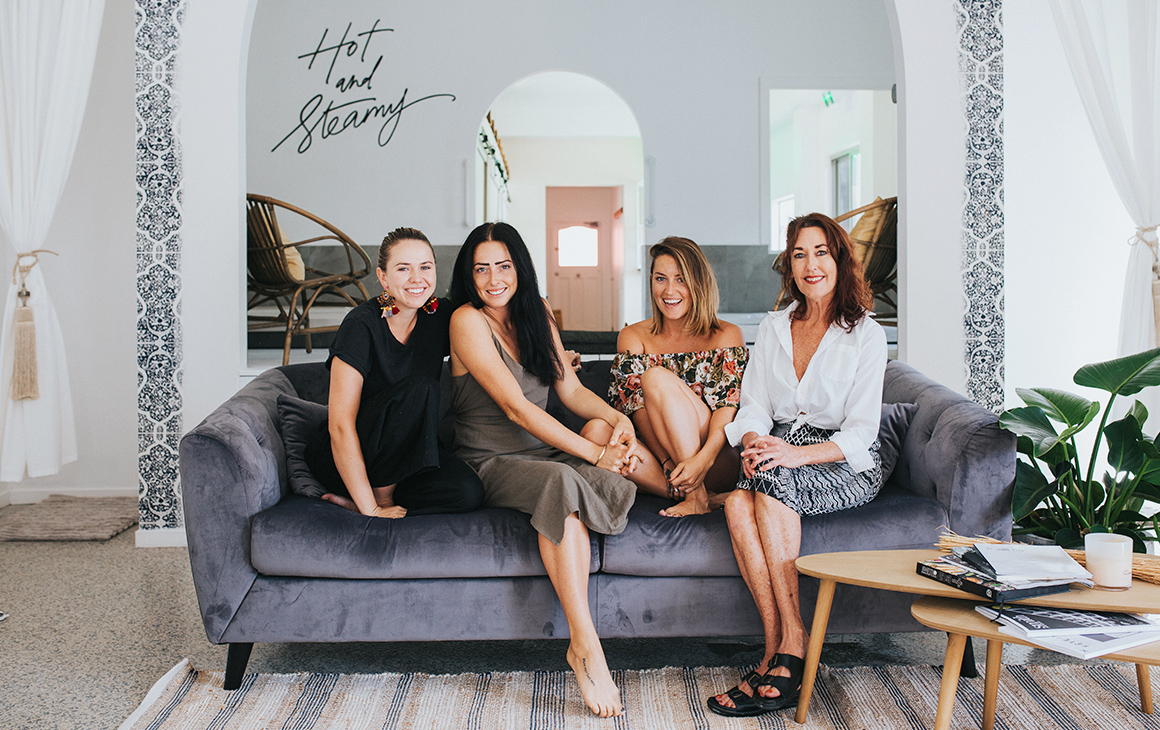 Initially, The Bath House will be open Wednesdays to Sundays from noon, with the last soak starting at 4pm, and numbers capped at 15 guests per session. Once they get into the groove, they'll add evening bookings to accommodate those nine to five warriors. Or, how about an alternative Sunday Session, one that'll treat your body and soul rather than toxify it?
Clearly it's a no-brainer that you should try one of the best new day spas on the Gold Coast as soon as The Bath House officially launches this Wednesday. So, lock in your bestie (or just go solo), then jump onto their online booking system and secure your first soak, stat. You'll be glad you did.
Where: 7/37 Tallebudgera Creek Road, Burleigh (across the road from Parlour Coffee)
Photo Credit: Hayley Williamson for Metropolist