When Greenhouse first opened under its meat-free mantra in Kirra in 2014 there were just four vegan-dedicated venues on the Gold Coast. Today there are 13. Not to mention vegan day spas and a new plant-based grocery store.
It's an impressive three-fold trend for a small city. And we have no reservation claiming that the Greenhouse brand—fronted by gutsy sisters Natalie and Charlie Evans—have spearheaded both the passionate local movement and a conscious awakening in those who are yet to make the transition.
This weekend, the Greenhouse dream comes full circle. Returning to their southern Gold Coast roots, Natalie and Charlie are teaming up with Jenny Madigan, one of their original Kirra customers, who has believed in them since the very beginning. Jenny will be Greenhouse's first official franchisee and has worked closely with the girls on the fit-out, menu and systems to ensure Greenhouse Canteen & Bar Coolangatta is bang on brand, providing the identical experience and delicious plant-based dishes you've come to know and love.
Having recently completed a degree in sustainability, Jenny is both walking the walk and talking the talk. She went vegan, the purest representation of her newly chosen and more sustainable life path. Combined with her background in hospitality, she couldn't think of a better way to spread the vegan message—making fun and energetic plant-based, after-dark dining more accessible to the masses, all while generating even more momentum for the local vegan crusade.
Their 'it's cool to be kind' motto is inscribed on the Coolangatta eatery's entrance, which sits in an uncanny juxtaposition to their nearest neighbour—Hog's Breath. (Yes, cover your eyes as you walk past, vegan friends.)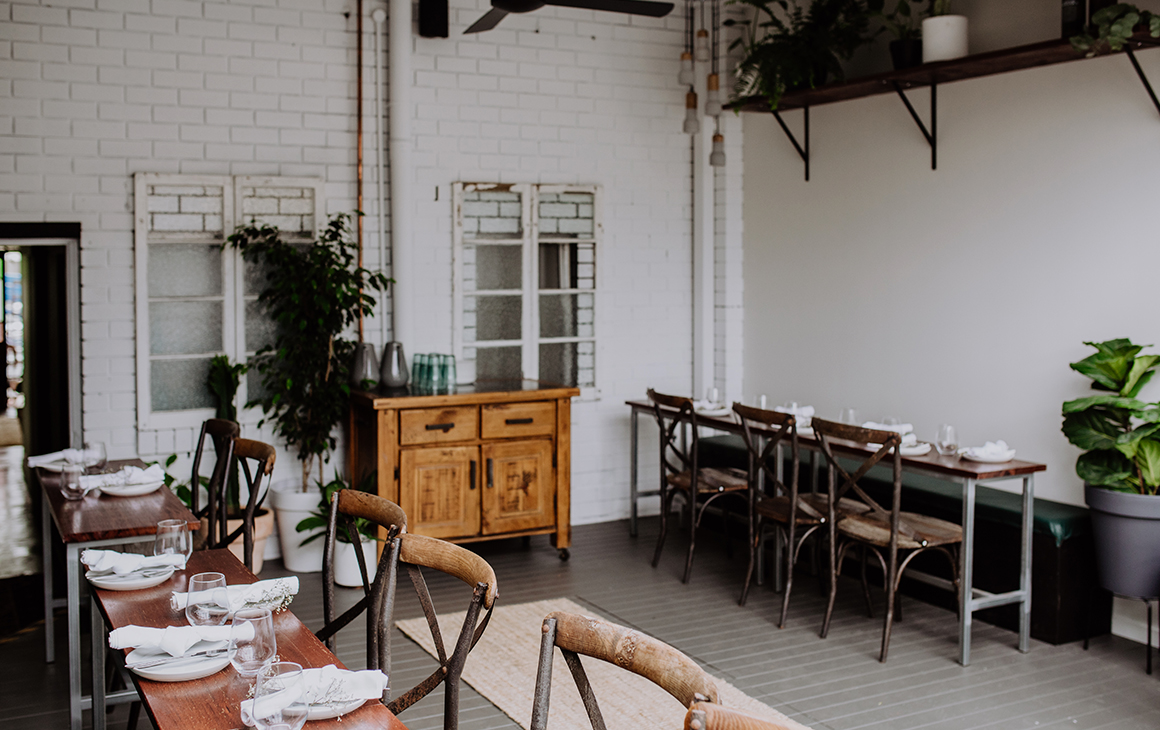 All the signature Greenhouse design elements are there, from pressed metal and rustic farmhouse chairs, to recycled hardwood everything, a characterful 80-year-old front door with stained glass window inserts (Red Ned's strikes again), exposed cement floors and the symbolic deep forest 'Greenhouse' green.
They've even created their dream space at the rear of the narrow restaurant, an intimate greenhouse-like dining room, complete with a peaked glass roof, twinkle lights, bunches of natives adorning the tables and greenery galore from hanging Devil's Ivy to African Milk Trees. Out front, you'll feel like you've been transported direct from their Miami restaurant when you pull up a stool on the alfresco deck overlooking Griffith Street.
You can already feel the energy breathing from this space; soon to be filled with Gold Coast's loud and proud vegan cheerleaders who, thanks to Greenhouse, can these days eat harmoniously alongside their supportive (yet still carnivorous) friends, too.
All your Greenhouse favourites have migrated south for your dining pleasure; from the almond feta-stuffed zucchini flowers and buffalo cauliflower wings to the generous antipasto board with housemade dips, nut cheeses, pickled veggies and seasonal fruits to start. Or, over on the main offerings, the flavour-packed Vietnamese pancakes and Gara Masala curry with red lentils, baked sweet potato and turmeric rice or, the crowd pleaser that will never depart the menu, the jackfruit enchilada. And all crazy affordable at $19 to $22 per main. Add to that a rotating roster of life-changing desserts from housemade brownies to strawberry and cream raw slices, and we've died and gone to heaven.
Greenhouse boldly claims 'whatever you can do, we can do vegan' and you can't help but agree, they bloody nail it.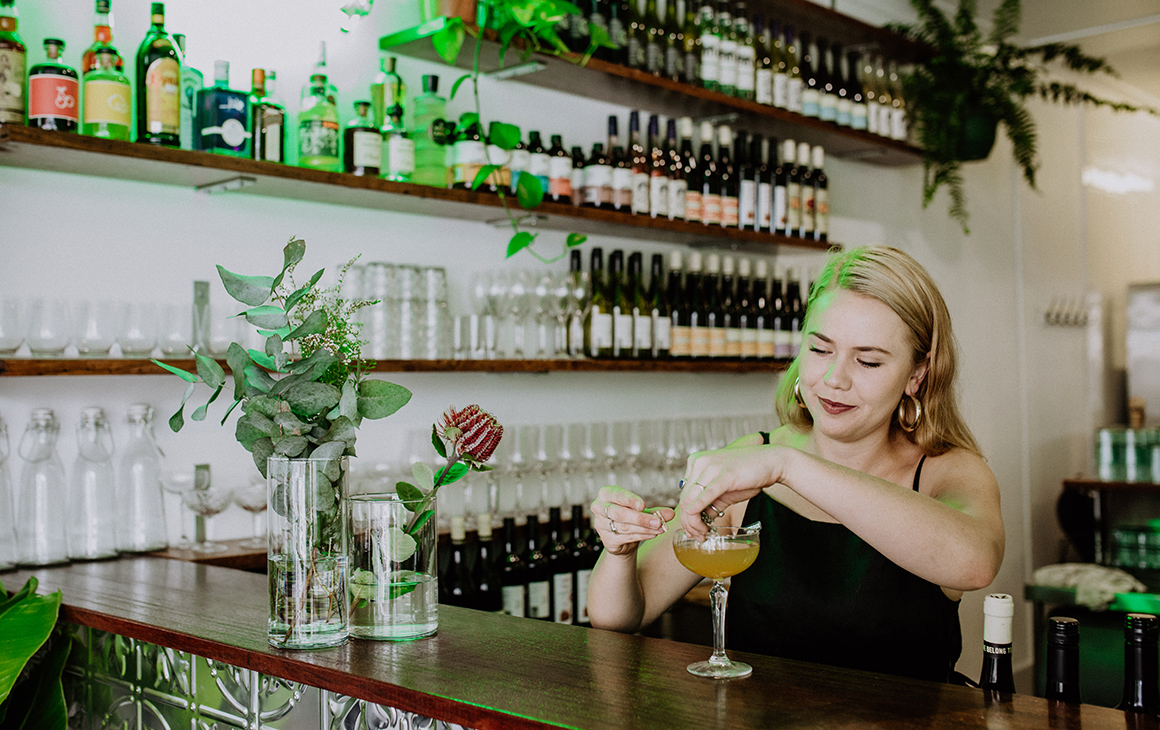 Behind the Botanical Bar, it's the tipples that truly bring the vibes to vegan dining at night. We've got our eyes on Charlie's new fave, a range of sustainable wines by Unico Zelo out of the Clare Valley, including Harvest vinos, with grapes sourced from a cooperative of local growers whom the founders have taught in their integral sustainable farming practises. The same group produces the intriguing Applewood Gin and Okar (an Aussie-inspired aperitif likened to Aperol), which is used in Greenhouse's Australian Sour cocktail, served with lemon juice, coconut sugar, native gum and essential oil. Or, try Australia's first cherry cider, by Tasmania's Pegan; free of sugar and added nasties, but at 8% alcohol content, go easy!
It goes without question the Greenhouse brand is shaping up to be one of the Coast's home grown hospitality empire success stories. They've got their sights set on Brisbane next, which surprisingly seems to be lagging behind the GC in the after-dark vegan stakes, with Sydney and Melbourne also on the radar for future franchises. Any takers?
Greenhouse Canteen & Bar Coolangatta opens this Saturday night and every Tuesday through Sunday from 5pm thereafter. Get down there and welcome them the best way you know how. #crueltyfreeandkillingit
The Details
What: Greenhouse Canteen & Bar Coolangatta
Where: 1/140 Griffith Street, Coolangatta
When: Open Tuesday to Sunday; 5pm 'til late
Want to learn more about the powerhouse team behind Greenhouse? We chatted with the gals here.
Image credit: Hayley Williamson for The Urban List