Set to soar 118 metres high, Brisbane will soon boast the world's tallest man-made waterfall! And no, we're not kidding one bit.
Turns out (admittedly, while slightly left of centre) the 150-million-dollar project is jaw-dropping in its design and will undoubtedly catapult Brisbane's skyline, showing once and for all that SEQ is leading the charge when it comes to progressive architecture.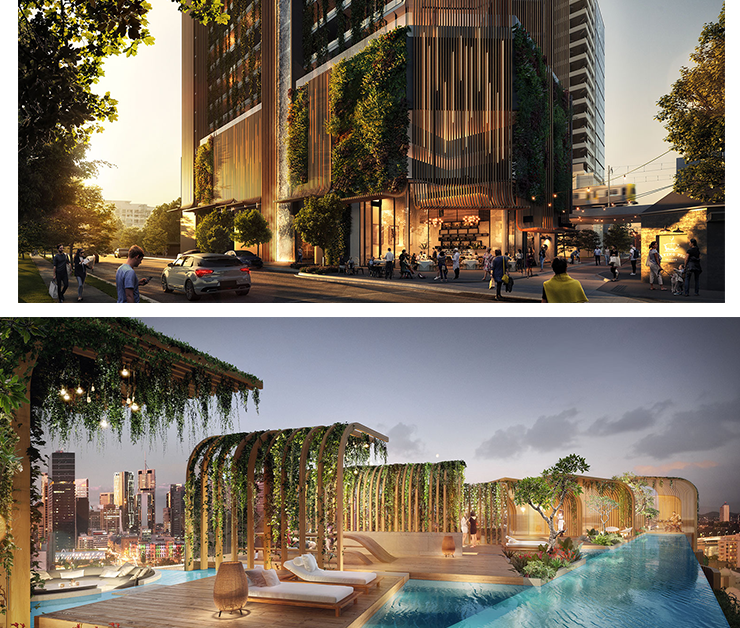 This incredible piece of design will flank the side of the Aria Property Group's residential building on Hope St in South Brisbane, with the man-made waterfall spanning the full length of the building's side and connecting to the rooftop's 50-metre long infinity pool. Not literally, mind—it's not Wet n' Wild…
Designed by award-winning Sydney architects, Koichi Takada, the building will comprise of 216 luxury residential apartments, a theatre, library, reflection ponds (fancy) and two complimentary Tesla cars, because you'll be fancy as fuck if you live here.
A note on this mammoth waterfall's water consumption—because we know what you're all thinking. Using recirculated rainwater collected from a rooftop tank, the waterfall will operate 18 hours per day, using less than 250 litres per cycle. Read: they're pretty damn keen on keeping waste to an absolute minimum, which we're all for.
Expected to open in May 2019, the developers are really getting a wriggle on. And, while us mere mortals may not be able to afford a pad in this building, those views of the waterfall are free.
Keep up to date with the latest, here.
Image credit: Aria Property Group