Germany—the land of beer and bratwurst, schnapps and sauerkraut. As infamous for their sweet-tooths as they are their beer brewing skills, the Deutsch are partial to a good-old knees up as much as we Aussies are.
So, if you're in the mood to gather your pals and settle into some brews and filling fare, you'll want to know about the Gold Coast's newest German-themed eatery and bar.
With a long-standing venue in Broadbeach and outposts across the country, you should already be familiar with the signature picnic tables, super-sized schnitzels and giant steins of The Bavarian.
Recently opening their second Gold Coast location, The Bavarian has claimed a prime slice of real estate at The Kitchens in Robina Town Centre, and shopping has never tasted so good.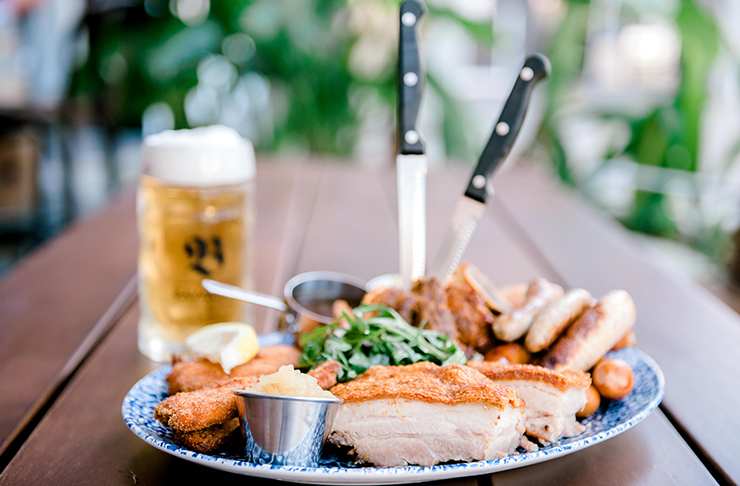 The Bavarian is the perfect destination for the fellas to park with a two-litre beer tower while the ladies flex their shopping muscles, or to refuel on crackling pork belly and apple strudel between credit card splurges at DJs.
This grand space, with high, exposed industrial ceilings, has room for a whopping 300+ diners across communal picnic tables inside and out, stools circling oversized beer barrels, and a sunny beer garden just beckoning to soak up the spring rays. Inside, a massive island bar is lined overhead with litre stein mugs that create a glass chandelier of sorts. There are hanging planters, table tennis and bocce and we expect this place will be totally buzzing with hungry shoppers taking a welcome break from all that retail therapy.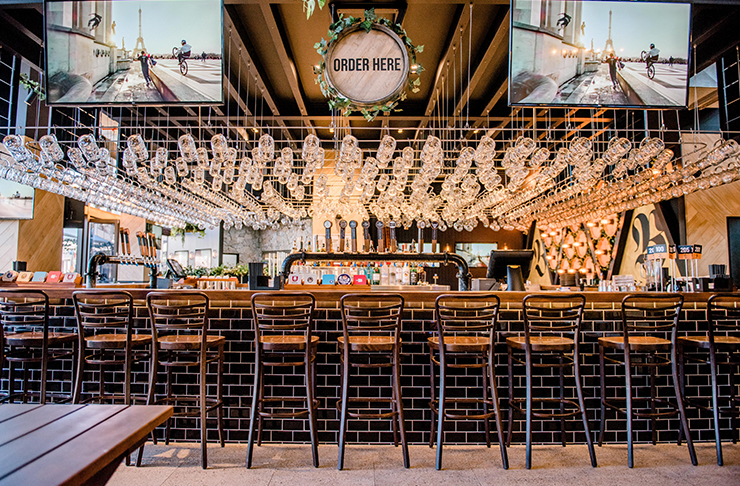 Like any good German restaurant, their menu is heavy and hearty. Start with a warm giant pretzel before moving onto gourmet sausages (Frankfurter, Kranskey, Cacciatore, Kielbasa and other names we can't pronounce) served with your choice of housemade sauerkraut or mash and mushy peas. Or, schnitzel lovers will be in crumbed chicken heaven with nine insanely tempting variations, along with crispy pork knuckle, pork belly and share platters catering from one to four feasters. If you're a light consumer or non-meat eater, don't be scared away; their build-your-own salad and wraps menu is loaded with fresh goodness and plenty of choice.
While The Bavarian no longer dubs itself a Bier Cafe, we know you're here for the German amber brews and they do not disappoint. With 20 beers on tap and imports including Lowenbrau, Stiegl, Spaten and Frankziskaner, served in one-litre stein glasses, you'll have a tough time walking out of there in a straight line. Driving? We love their beers splashed with fruit juice, like the mango or lemon Weissbier. But you'll be stashing the keys and calling an Uber after the likes of schnapps or a Boilermaker (beer with a shot of Irish Whisky).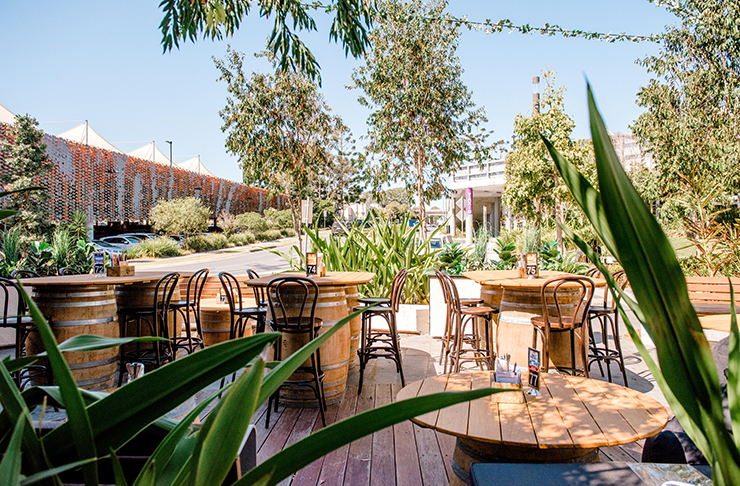 Open from 11am until late, The Bavarian at Robina Town Centre is also targeting the post-shopping and after-work crowd, with seriously sweet mid-week specials on offer from 5pm. Think: $15 chicken burgers with a drink on Mondays or 2-for-1 schnitzels on Tuesdays. More cheap treats to lure you in for that spontaneous (or not-so-spontaneous) drink include $5 Happy Hour between 4pm and 6pm or Royal Snack Hour, where any drink purchase will give you access to complimentary premium snacks, also between 4pm and 6pm.
Next time you head to Robina Town Centre, go hungry. But you have been warned; because a slightly buzzed shopping spree will very likely ensue.
The Detail
What: The Bavarian
Where: The Kitchens, Robina Town Centre, Robina
When: Open daily, 11am until late
For more information, click here.
Image credit: Kaitlin Maree for Urban List