It's no secret we have a huge crush on Lupo. This progressive neighbourhood bar and eatery has carved its own path since opening two years ago; cooking over an open wood fire and quietly making waves in their little nook at Mermaid Beach.
If you already know Lupo, you'll know the story. Lupo is the third passion project for this modest yet brilliant hospitality family. First introducing the Gold Coast to the concept of tapas share plates with Espana back in 2010, Lupo is a beautiful blend of the talents of young chef Harry Pearce and parents Thea and Brad.
Having just survived the crucial two-year mark in business, they're capitalising on the milestone to refocus their energy and grow their identity. Evolving from a broader European-style offering, Lupo has been redefined into a late-night Italian trattoria serving the style of handmade pasta and dishes they love to cook for each other at home.
We popped into Lupo recently to visit our favourite hospo family. At first glance, it doesn't look like much has changed. But one glimpse at our watch and the time would suggest otherwise.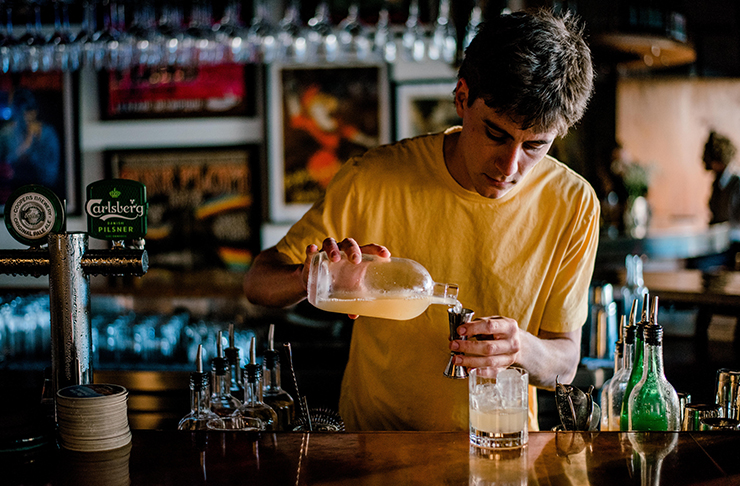 It was 10pm on a weeknight and we were sitting down to incredible bar snacks of lightly pan-fried sardine bruschetta, chicken parmigiana sandwiches and a warming bowl of rigatoni and meatballs. A heavy curtain partitioned off the dining room, adding to the intimacy and turning the bold horseshoe-shaped cocktail bar into the kind of late-night hangout you could settle into for hours.
There was a moody, come-as-you-are vibe with smooth jazz tunes set at the perfect level. Strangers were bantering across the bar, and well-known local bartender Randy was mixing us a Clarified Milk Punch cocktail, served in a simple rocks glass with Husk Spiced Bam Bam, Campari, pineapple, kiwi and hints of lime, chilli and pistachio.
It's clear Lupo is effortlessly succeeding in their mission to create a neighbourhood bar that you can go to at any time; a place where you can eat well, drink well, listen to good music and be in good company. As Harry poignantly describes—they've found perfection in the imperfection.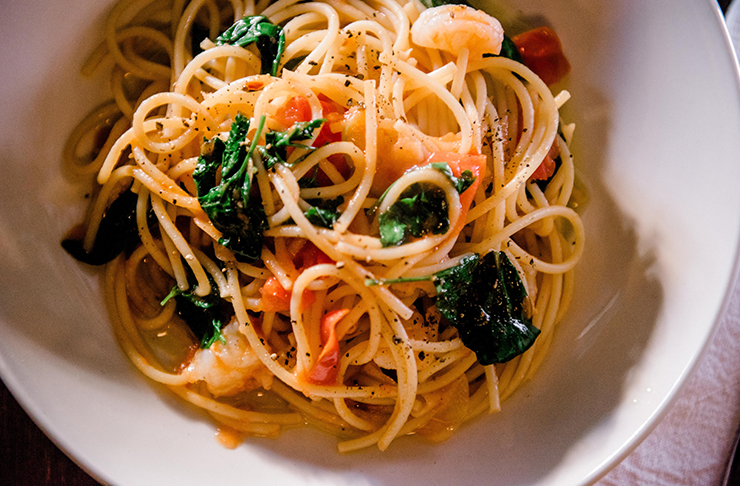 The dive bar ambiance that materialises each night is something you simply can't manufacture. Here they've never been about ego or making money, but instead creating a gathering place where the hospitality is like a warm hug from family. It's a level of maturity and heart that can be hard to come by in our youthful surf city, and we simply can't get enough.
After perusing the regular dining room menu, we've already made plans to return for handmade potato gnocchi in Gorgonzola or the BBQ local pork tenderloin with fig and eggplant agro dolce—together with a longer walk through Randy's sophisticated cocktail and wine list.
We already loved everything about Lupo, but this move to an Italian trattoria and late-night bar just feels so right. Now open from 6pm until midnight Tuesday through Saturday (with food available until close), if you haven't visited Lupo in a while, we think it's time you returned to re-ignite the flame.
The Details
What: Lupo Italian trattoria and late-night bar
Where: 2460 Gold Coast Highway, Mermaid Beach
When: Open Tuesday to Saturday; 6pm until midnight
For more information, click here.
Image credit: Kaitlin Maree for Urban List