Trying to figure out what to do in the big city of Melbourne as a visitor can be overwhelming. In some ways it's less visitor-friendly than Sydney ("Aaaaand this is Fed Square. We're not sure what it's for..."), famous for its foodie scene, gorgeous wineries and art exhibitions, there's definitely a lot to cram in. You just need to know where to find it.
Presenting our ultimate visitor's guide to Melbourne. Everything to see in the CBD, inner 'burbs and beyond.
CBD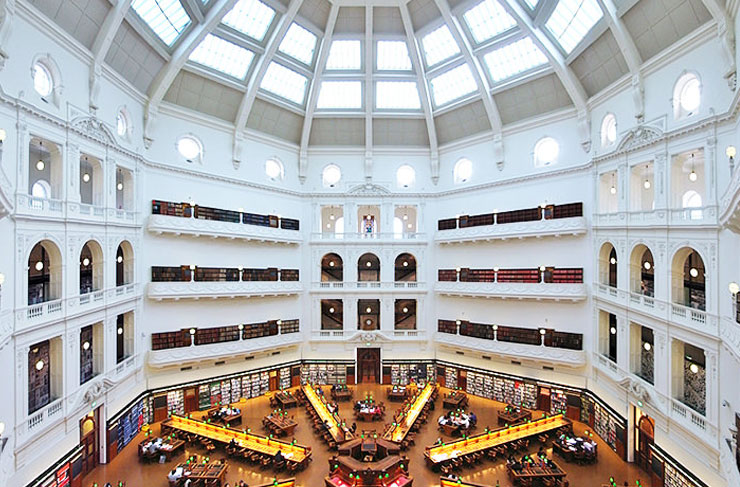 Photography: State Library Victoria
State Library Victoria
This stunning public library, established in 1854, was one of the first free public libraries in the world. With over two million visits annually, "State" is still hustling and bustling with people coming to study, read or just appreciate the building's beauty. The library is host to numerous events and exhibitions, both free and paid, so check out what's running when you're in town. Pro tip: set up camp in the famous reading room and play som chess. There's a dozen boards that anyone can use, and no shortage of challengers.
Nationally Gallery of Victoria
Founded in 1861, the NGV is the oldest and most popular gallery in all of Australia. It features both local and international artists, exhibitions, events and programs, and under the stewardship of current DIrector, Mr Tony Ellwood, it's only getting better (Exhibit A: The recent Triennial Exhibition). Whether your thing is contemporary art, historical exhibitions or fashion and design, the NGV has you covered. Check out exhibitions and programs are running here. Don't forget to put your hand in the popular waterwall.

Photography: Rooftop Cinema
Curtin House
Get your 10,000 steps climbing up the seven storeys at Curtin House. It's basically the best of Melbourne in a single building. On level 1 you'll hit Cookie, a beer hall and award-winning Asian-style eatery. Level 2 is home to The Toff In Town, a bar with a train carriage running down the centre, each booth reserved for decadent dining. On level 3 you'll find the independent Metropolis Bookshop, probably the best-stocked art and design bookshop in Melbourne. Get your traditional Mexican fix at Mesa Verde on level 5–make sure you try their famous Hazard sauce, its guaranteed to make you see double. Finally, look out upon the CBD skyline at the Rooftop Bar, or catch a flick at the Rooftop Cinema on level 7. Plot twist… there is no level 6.
Queen Victoria Markets
This 19th Century market is the largest in Melbourne, with stalls ranging from butchers, delis, grocers, bottle o's and insanely good food stalls. Grab a pastry from The Bread Box, the only stall which bakes in-house, before wandering around the market proper. Or if you're feeling a bit cheekier, check out the iconic American Doughnut Kitchen van, for some oozing, hot jam doughnuts. You really can't go wrong. Afterwards, head down to one of our favourite wine bars, Willows & Wine.

Photography: Visit Victoria
Degraves Street & Centre Place
A stroll away from Flinders Street Station are two of the most atmospheric streets in Melbourne. First up, Degraves Street. Packed with charming boutique restaurants, cafés and dessert stores like Little Cupcakes and Waffle On–it's the perfect spot to feed your growling belly. Cross Flinders Lane, and you'll hit Centre Place. Hands down the cutest laneway in the city. Here you'll find the cheapest and most delicious crispy baguettes at B3 Café, warming soups from The Soup Place and a frothing bevvy above Jungle Juice Bar—the always excellent Hell's Kitchen.
Inner Suburbs

Photography: La Bodega Des Andres | Michelle Jarni
Brunswick Street, Fitzroy
Fitzroy is your one stop shop for all things hipster, vegan and cruelty-free in Melbourne. Hit up the Cruelty Free Shop for a shopping experience, vegan style. You can't even tell their Doc Martins are cruelty and leather-free. Once you've tired yourself out shopping, re-energise yourself at one of Fitzroy's famous Vegetarian and Vegan restaurants. Knock back the nacho bowl topped with oozing Vegan nacho cheese at Vegie Bar, or 'The K' tofu burger at Yong Green Food.
Chapel Street
Chapel St comes in two speeds: swanky and chic (South Yarra) or grungy and boozy (Windsor/Prahran). For food and bars, you want the Windsor end, arguably home to some of the best restaurants in Melbourne, including Mr Miyagi, Hawker Hall and Tokyo Tina. A few blocks down you'll hit Chapel Street, Prahran. Brunchers and coffee addicts, this section is for you. Journey Man is slinging some crazy good chilli scrambled eggs on charcoal toast, and you HAVE to detour into the Prahran Markets for a cheese toastie at Maker & Monger. Grab a croissant for the road from Q Le Baker, then burn the credit card at South Yarra's best fashion boutiques.
Sydney Road
There are two things found in abundance on Sydney Rd, Brunswick: bridal gowns and a good ole' kebab. But there's also a massive range of op-shops, strange boutiques and awesome retailers up here, and most visitors never bother to hop on the No.19 tram to find out. Pop inside Santa Carla—part jewellery, comic book, local artwork and kids store. Another good one: Dejour Jeans, a Brunswick institution since 1989. They custom design and tailor quality jeans to your body for only $55. Bargain-o. Need more tips? We've got a Sydney Rd Shopper's Guide over here.

Photography: Jenna Fahey-White
Footscray
The best of the west. It's a safe bet most travellers NEVER make it out here. Footscray is known for some of the best Vietnamese banh mi rolls in Melbourne, not to mention cheap AF avocados. Grab some of the best pork rolls from Nhu Lan. Bad Love Club is another excellent foodie pit stop: it's a café by day, dealing out jaffles, and a boozy bakery by night. For you vintage-lovers, hit up Footscray Finds market for car boots overflowing with potential thrift shop come ups.
Melbourne Cricket Grounds Tour
Sure, it's a little touristy, but the history at the 'G is amazing. This is a rare chance to explore one of the world's most iconic stadiums. Peek inside the MCC Long Room, the player's changing rooms and even take a walk on the fabled grass. Appreciate the CBD skyline from the city terrace and soak up the splendour of Melbourne. If you get hungry afterwards, wander down to Swan St in Richmond for an excellent feed. Big Dog's Deli does sandwiches fit for a king.
Welcome to Thornbury
Welcome to Melbourne's OG permanent Food Truck Stop and Bar, located in Northcote (it's on the edge of Thornbury...). Indulge in over 80 different food trucks, rotating daily and changing every month. There are also craft beers, beers on tap and cocktail jugs to share or hog all to yourself. Fingers crossed you visit on one of their iconic 'theme days' (usually held on Saturdays or Sundays). It might be garlic bread, dumplings, Ron Swanson—who knows. Luck of the draw.

Photography: Luna Park
Luna Park
A ride on the (slightly terrifying) Luna Park rollercoaster is pretty much mandatory for Melbourne visitors. Not only do you get a kitschy day at an old-school theme park (plus all the fairy floss you can eat), you're smack bang in the middle of St Kilda, one of our favourite Melbourne suburbs. Head down Ackland St for a foodie feast—first stop is 7Apples for some gelato, then Monarch Cakes and Europa Cake Shop for the sweet treats. If you've got burger cravings, check out Fat Jaks, just down the road.
Cinema Nova
Cinema Nova is no regular theatre. This art-house cinema features proper in-cinema dining and high tea's, as well as a trendy terrace cocktail bar. Cinema Nova also shows theatre performances from around the globe, so there's no need to travel to London to watch a performance at their National Theatre. After your movie, head across the road to Readings Carlton, literally voted the best bookshop in the world (we're not bragging, it's just a fact). If you're hungry, sit yourself down at Tiamo and order their rib-sticking carbonara.

Photography: Astor Theatre
The Astor Theatre
The Astor Theatre is basically a time machine to the days when movie theatres used to be cool. This single-screen cinema seats up to 1,150 people and is decked out with stalls, a dress circle and elegant gold curtains concealing the screen. Astor is famous for its cult favourites and new releases. Grab a choc-top, kick back and watch a classic flick. You can check their calendar for all the latest info.
South Melbourne Market
South Melbourne Market is a favourite for both locals and visitors. The stalls are packed with fresh fruit and veg, meat, fish and homewares. Just across the road is My Son Joy, selling epic meals that are allergy, vegan, vegetarian and low-FODMAP-friendly. Or if in you're in the mood for the perfect poach, head to Good Egg, a speciality free-range egg café. Their bacon and egg roll is off the chain (not a bad hot sauce selection either).
Parks & Gardens

Photography: Visit Victoria
Royal Botanical Gardens
Join the local yummy mummies power walking around the Royal Botanic Gardens, pram in hand. Trust us–it's impressive. This place is still one of our favourite places in the whole city to just sit and BE. It's tranquil. Serene even. If you get peckish from doing laps of the lake, hit up The Terrace Café, smack bang in the middle of the park overlooking the gardens. What's better than taking in a beautiful view while scoffing down a bangin' parmigiana? Nothing, that's what.
Edinburgh Gardens
Borrow a dog for a day, pack a picnic basket and make your way down to Edinburgh Gardens in North Fitzroy. Half of this 24-hectare park is an off-leash doggo zone so they can run their little paws off. This garden is packed with facilities including tennis courts, a skate park, playgrounds, table tennis tables, picnic and BBQ areas.

Photography: Visit Melbourne
Carlton Gardens
This world heritage listed garden surrounding The Royal Exhibition Building is among the most beautiful in Melbourne. Its 19th-century style features symmetrical designs of tree avenues, two lakes and gorgeous shrubberies. The perfect spot to sit back with a Melbourne-grade coffee and reflect upon your trip. Keep an eye out for events at the Exhibition Building too—it's a real stunner inside.
Fairfield Boatshed
Row, row, row your boat gently down the Yarra River. Get #romantic with bae and hire a hand-crafted rowing skiff, kayak or canoe and get rowing at Fairfield Boatshed. Once you've built up enough of an appetite, either dig in at their Tea Room and Grill or set up a picnic on a bench overlooking the Yarra. Pro tip: puppers are allowed in the boats too!
Day Trips

Photography: AdventureMe
1000 Steps
Work off some of those calories you've ingested this holiday at the 1000 Steps, Kokoda Memorial Track. The most difficult part about this hike is the walk to get to the stairs, then you're pretty much smooth sailing from there. Just kidding…bring your asthma pump. After you're done, have a brunch-sesh at Lorna Café, or inhale down a cheeky veggie burger at the vegetarian café in Wholefood Merchants. If you want to kick on and explore the Dandenong Ranges, check out our handy guide over here.
Yarra Valley Wineries
Look out across the bright green rolling hills of the Yarra Valley, with a glass of quality wine in one hand, and a slab of cheese in the other. Go wine tasting at 916, Coombe and/or Giant Steps (let's be honest, it's going to be 'and'). Make sure you check out Balgownie Estate too—feast at their restaurant and sloshing back wines from the cellar.
Red Hill
This small community on the edges of the Mornington Peninsula is known for its serious food and wine game. Wineries, like Montalto, take advantage of the microclimates around Red Hill, ideal for growing cool-climate grapes, perfect for pinot noir. Hit up Red Hill Community Market for a dose of fresh produce, gourmet good, arts and crafts and clothing. Red Gum BBQ does a mean plate of barbecue meats, or there's always Johnny Ripe for home-baked apple pies—best we've tried in the state.

Photography: Visit Victoria
Great Ocean Road
Roll down the windows and wave your hand outside the car like Rebecca Black on a coastal road-trip down the Great Ocean Road. Stop off in Lorne for a surf on the beach and feed at The Bottle of Milk, serving up Supreme Coffee. Keep driving and you'll hit the gorgeous coastal town of Apollo Bay, home to picturesque waterfalls and insanely fresh seafood joints, like Apollo Bay Fisherman's Co-Op. If you're looking for a luxe getaway, Point Of View cabins are defs the way to go.
Werribee Open Range Zoo
This safari-style African adventure open zoo has a huge array of animals wandering over a massive 225 hectares. Stroll along the Pula Reserve Walking trail to witness gorillas, lions, monkeys and cheetahs going about their daily life. Feeding a giraffe on your bucket list? You can totally tick that off. You can purchase tickets here.
Want to get a little fancy? Here are the best places in Victoria for a cheeky glamping session.
Image credit: Visit Victoria