Ahh, Nobby Beach. The delicious filling to our Miami-Mermaid sandwich with a name that makes you feel a little bit uncomfortable if you're not a local.
Don't be fooled by this teeny 'burb, you can get up to all kinds of mischief within the four block vicinity of Nobby Beach. And, like all strategically thought out mischief-making plans, Nobbys ticks all the boxes within walking distance. So, next time you veer off the highway to pop into the IGA for an emergency mi goreng run, why not stay a little longer and check out the other rad things to do day and night?
Here's your guide to the best things to do in Nobby Beach.
Sparrow Eating House
Dim lighting, snazzy mint green interiors and cocktail specials that will make you accidentally drop your cutlery, head along to Sparrow Eating House on Wednesdays for killer share plate specials. It's not often we come across a specials night on the Gold Coast that even hospo staff rave about, but this absolute ripper offers any couple four generous shares of heaven on a plate for just $50. And that's enough to make anyone forget their own name. Seasonal faves span from Moreton Bay bugs to lamb rump and Mexican prawns with tequila chili marinade. Sharing is caring.
MexiCali
In the mood for a mexican fiesta? Then add a little spice to your sangria jug clinks on MexiCali's cosy balcony at sunset. Get a bird's eye view of the Nobbys' strip while you munch on corn chips that your mum will rave about, indulge in a smorgasbord of tasty starters plus an extreme taco menu, browse a cocktail list bound to get you in trouble and jive to DJs pumping up your hangout. One for the vegos too, with the vegetarian taco an absolute ripper, and we could just bathe in that guac. MexiCali's got it all, baby.
Gemellini
When you have a hankering for delicious pizzas, pastas and wine, there's just no budging it, y'know? Luckily, Gemellini in Nobby Beach has all of this and more. The little brother to Broadbeach's much-loved Gemelli Italian, these guys are renowned for serving up traditional wood fire pizzas, fresh hand made pastas and sharing plates to bring you an authentic feasting experience. Pop by for an intimate dinner any night of the week or for your Sunday sesh—it's one of the best things to do in Nobby Beach.
Bine Craft Beer Bar
If you've been scouring the Coast for the very best wings, we may well have found them. Head down to Bine Craft Beer Bar any weekday from 4pm, and 3pm on Fridays for a guaranteed whet whistle. Fifty cent wings, $5 tap beers and ciders until 6pm... It just makes for a bloody good time, ya feel? Tucked away at the end of the drag, this Nobby Beach hotspot is bustling every night of the week and even shares the love of their kitchen with vegan fave, I Like Ramen Co. on Tuesdays. Friday night live music rolls into Saturday's $20 burger and beer special, all sprinkled with some more live tunes; AKA, the best seasoning of all.
The Yard
'Cause we know how much you guys love your coffee, The Yard is a must drink in Nobby Beach. Brewing only the best cuppas and with a snack cabinet that's always chockas with delicious treats for all kinds of foodies (yes, you too, vegans), The Yard combines delicious meals with epic lazing spots which may just entice you to stay all day. And you know how there's nothing better than day-drinking in the sun? Teamed with a fresh menu and daybeds, The Yard is all over your arvo soiree, too.
Mount Lebanon Deli
Seriously though, if you ask any Nobby Beach local about Mount Lebanon Deli, they'll take you by the arm and march you straight there to delight in delicious, authentic Middle Eastern treats. Family owned and run by Jason Basmadji, these guys are particularly famous for their fresh falafel wraps. A little nanna drops off freshly homemade falafels throughout the day, and because they're so popular, occasionally she'll have to make a few extra trips. Topped with tabouli, hummus, tahini, crisp lettuce, spiced yoghurt and all wrapped up in a hug of fresh mountain bread. If falafels aren't your jam, there's a whole selection of handmade arancini, pastries and more to taste your way around. Do not. We repeat, do not, go past this place.
BSKT
There's a lot to love about Nobby's BSKT cafe. Cheerleaders for wholesome eats, BSKT is one of the Gold Coast's most beautiful beachside cafes and the birthplace of Australia's first vegan soft serve, CocoWhip. Together with a swoon-worthy interior of dreamy lighting, salty sea breezes, simplistic styling, sketched wall murals, and wood galore; it's not hard to see why this is widely considered one of the best things to do in Nobby Beach. Another reason we totes adore BSKT is the free wifi; start-ups can get creative working from the ambient space with no pressure to move along.
The Cambus Wallace
Long gone are the days you need to travel to Broadbeach or Surfers Paradise when in search of a good time post 8pm, with small bars like The Cambus Wallace leading the charge. Moodily-lit and with effortlessly cool cocktail slingers behind the bar, this nautically-themed rum and whisky bar is an after-dark destination in its own right. You can expect live local musos and DJs most nights, plus a rotating roster of soul-satisfying mains and bar snacks such as sliders, whisky-glazed ribs, arancini, andsteamed bao. Pass us another Kraken spiced-rum espresso martini please, bartender.
Hachi
Nobby Beach has no shortage of fab eateries, but if you want to save a few pennies (for more gyoza, per se), then Hachi is your place 'cause it's BYO, baby! Hachi is always busting at the seams come weekends, with diners getting their fill of top value menu highlights such as ponzu salmon, chicken katsu or crumbed scallops. Basically all your Japanese go-tos are covered on their extensive menu. Did we mention it was BYO?
Canvas
This boutique gift shop and cafe has everything you need, comfortably scattered within its four perfectly-decorated walls. Window pervin', outdoor seating, a hidden date spot, rows of books, funky cushions and kooky stationary. You may just have to hang out at Canvas with a treat and a piping hot bevvie for hours on end while you're gift shopping for a special someone, AKA you. It truly is a hard life.
Clean Beauty Market
Beauty gurus, raise your contouring brushes, this brand new cruelty-free beauty bar in Nobby Beach is seriously worth a looksee. Y'know how some planet-friendly makeup can look kinda like the innards of an old avocado stuffed into a sad brown bag and slapped with a hand-written label? This is totally not that place. Stocking over 200 exclusively plant-based brands (most of which aren't readily available in Aus), there's something for errrr'one at Clean Beauty Market, from plant-based fake tans and makeup right through to natural inner wellness products. Get all dolled up on your next visit to Nobby Beach.
Rare Groove
Whip out your hairspray, squeeze on some leather pants and zip up a pair of spangly shoes, it's time to check out Rare Groove. Boasting one of the biggest record collections on the Gold Coast, not to mention good vibes plus time warping decor, you'll also find giant posters, CDs and even a few tapes kicking about. Rock 'n' roll ain't noise pollution, man.
About A Girl
Flashy fashun is so our jam. And this cute-as-a-button coastal chic store is pretty fab. Get all 80s movie montage with your bestie and scour the shelves for some new signature pieces, chuck them over the crook of your arm and race to the change rooms before making the big reveal. Be prepared to open your wallet, because you'll instantly fall in love with everything at About A Girl.
Bingo At The Arc
You had us at $10 espresso martinis every Thursday. Head down to Nobbys Arc from 7pm onwards for music and a new inventive game called 'pizzaball' where you can get a pizza for 10 buckaroonies if you prove your sporting finesse. Team this with bingo and live music, your midweek hangout is sorted.
Beachfront Walk To Miami Headland
We know, we've said it a thousand times, but that beachfront walk is hard to beat. Make your way from Nobby Beach to Miami Headland on a warm afternoon with a cold one in your hand and just lap up all those good vibes, yo. You may even spot some dazzling dolphins, or, you know, eye candy on a skateboard.
Whisky Wednesdays At Cambus
Get your weekly dose of howlin' blue with the James Street Pretchers from 8pm every Wednesday at The Cambus Wallace. With specials like whisky-glazed pork ribs or sirloin for $15 or $10 arancini balls served with chips and slaw, you'll be stomping and hollering surrounded by all the good stuff at Nobby Beach's favourite nautical dive bar.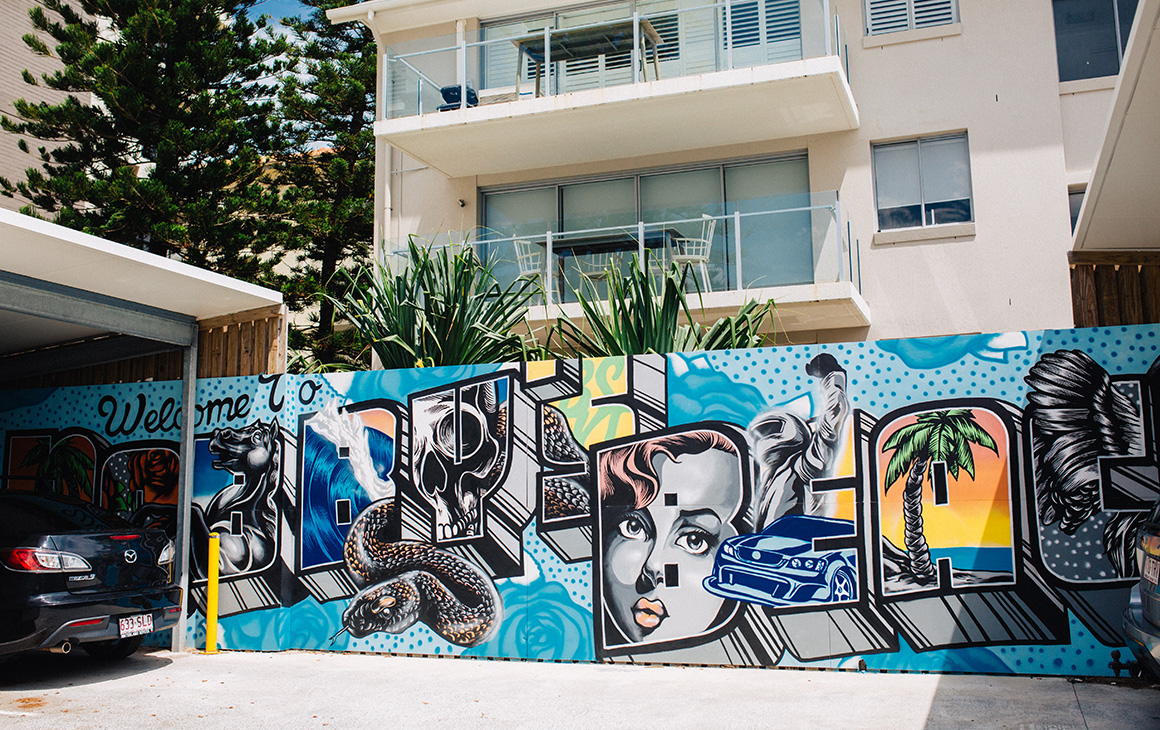 Yoga At BSKT
Not only is BSKT a bangin' place to go for healthy eats (and hello, Cocowhip), they're also pretty savvy when it comes to boosting the ol' endorphins. This absolute beachfront locale makes for the perfect place to host your daily yoga zen sesh. And what better way to breathe in the good and breathe out the bad than with a Nobby Beach crew overlooking the ocean? You may just wanna namaste all day, geddit? Hands down one of the best things to do in Nobby Beach.
Hang With The Bar Flies At Nobby Beach SLSC
Phoar, the view from Nobby Beach SLSC has gotta be one of the best on the Gold Coast, we reckon. Feel that sea breeze rustle your hair on the balcony or gaze at the glittering GC ocean from indoors. Try your luck at winning a meat tray or a million bucks on the pokies and make friends with a tradie who's just knocked off work. Order your monstrous schnitty or head straight to the ice cream bar and get all nostalgic with old school GC surf lifesaving history plastered all over the walls. An oldie, but a goodie.
Conquered all the best things to do in Nobby Beach? Hit up the very best of Mermaid Beach, next.
Image credit: Hayley Williamson for The Urban List