Okay, let's take a poll. Hands up who's dined at Sparrow Eating House?
This darling Nobby Beach eatery has been open almost two years already, and anyone who's had the privilege of dining here will agree it's one of the most underrated gems on the Coast.
Yet, we get it. With all these tempting new openings of late, it's easy to find your dining to-do list spiralling out of control. This often means we tend to forget about these off-the-radar eateries that guarantee an exceptional night out. Every. Single. Time.
Owners Andrew and Jodie Whiting are two local trail-blazers whom we can thank for the mind-blowing transition of Gold Coast's café scene in recent years. Andrew and Jodie first opened Vintage Espresso in Mermaid Beach in 2010. No doubt it was the line ups out the door which forced other cafés, or those with the gusto to start their own, to stand up and take notice. Gold Coast's wider populace was becoming caffeine savvy and top-notch cafés with capital city-quality coffee and individualised fit-outs have been popping up like daisies ever since.
Moving on from Vintage, in 2013 the Whitings built on what they'd learnt to open one of the most adored cafés on the Coast today, delightful Elk Espresso in Broadbeach. Soon after, they exercised their love for creative cocktails and intricate share plates with Sparrow joining the family in January 2015.
What we love most about Sparrow Eating House is its unwavering dedication to changing their menu with every season. Consistently curating an imaginative selection of dishes that takes advantage of the freshest locally-sourced produce on offer at that moment.
So, with a new crowd-pleasing seasonal menu recently dropping, we knew it was high time we paid another visit!
We'll never tire of Sparrow's minimalist yet quirky décor. Intimate yet spacious with concrete floors, subway tiles lining the bar and walls, exposed beams, a gorgeous copper bar and table tops, eclectic crockery, splashes of fragrant native flowers, and those geometric exposed-globe pendant lights that remain totally unique to Sparrow. Paired with an upbeat but unobtrusive soundtrack, a breezy cool vibe, plus service staff that are all kinds of lovely, and you've got all the makings of one of the best restaurants on the Gold Coast.
Menu stars that we devoured during our visit included the baked camembert with cranberry and pumpkin sourdough; delicate pillows of gnocchi with hazelnuts and forest mushrooms; and a menu staple, the succulent tempura zucchini flowers stuffed with truffled ricotta and pumpkin—no visit to Sparrow is complete without these babies. Next we moved onto the Jerusalem artichokes topped with walnut salsa and the to-die-for duck breast smattered with refreshing pops of grapes and balanced with feta. And we were soon left wishing we'd ordered more of the melt-in-your-mouth salmon tataki with berry yoghurt. Oh boy!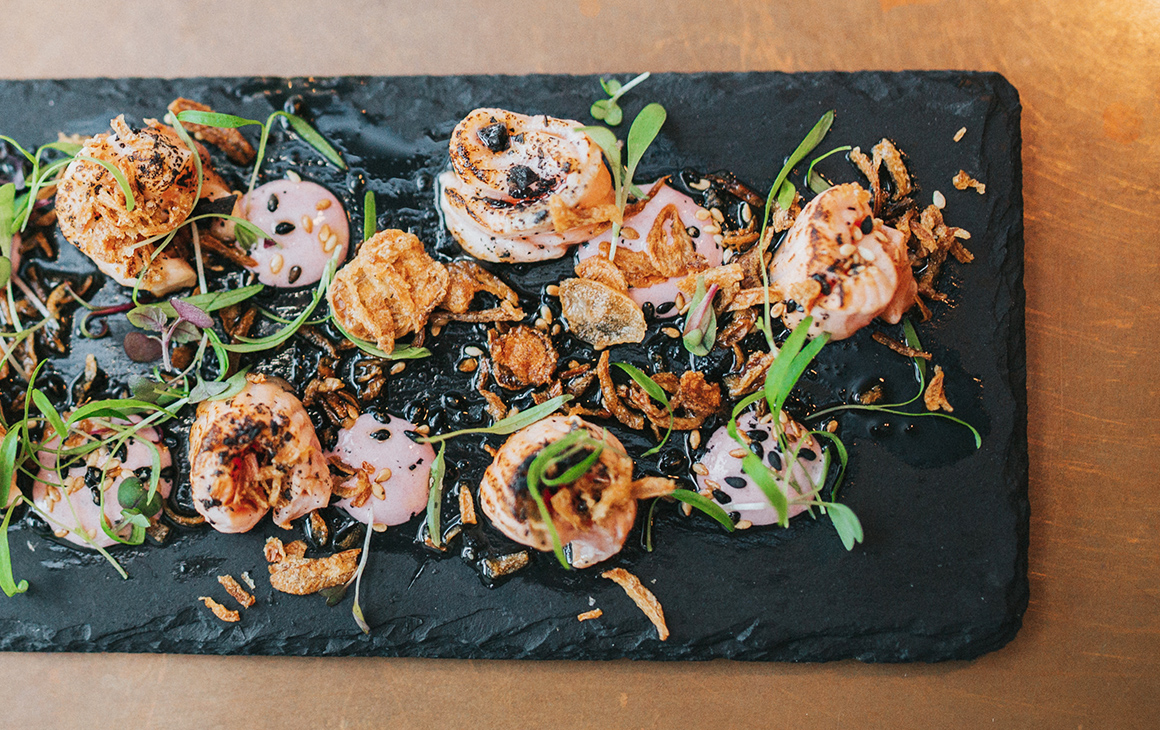 With a cocktail list that's equally eccentric, we meandered our way through the list starting with the zesty apple and cinnamon sour, a luxe violet martini, the lip-smackable pomegranate margarita, plus a seasonal addition, the orange and maple old fashioned.
Sparrow's dessert menu reads like something out of a sweet-filled wet dream—such as its winter special, the spiced pumpkin crème brulee with cinnamon ice cream. We reckon this chic bistro is perfect for a late-night sweets stop after dinner, or otherwise most certainly lends itself to a cocktail or two before a night out. We opted for a boozy liquid dessert that could slide neatly into the gaps in our bulging stomachs—hello, Ferrero Rocher Iced Chocolate.
Yep, we pigged out. It was ridic.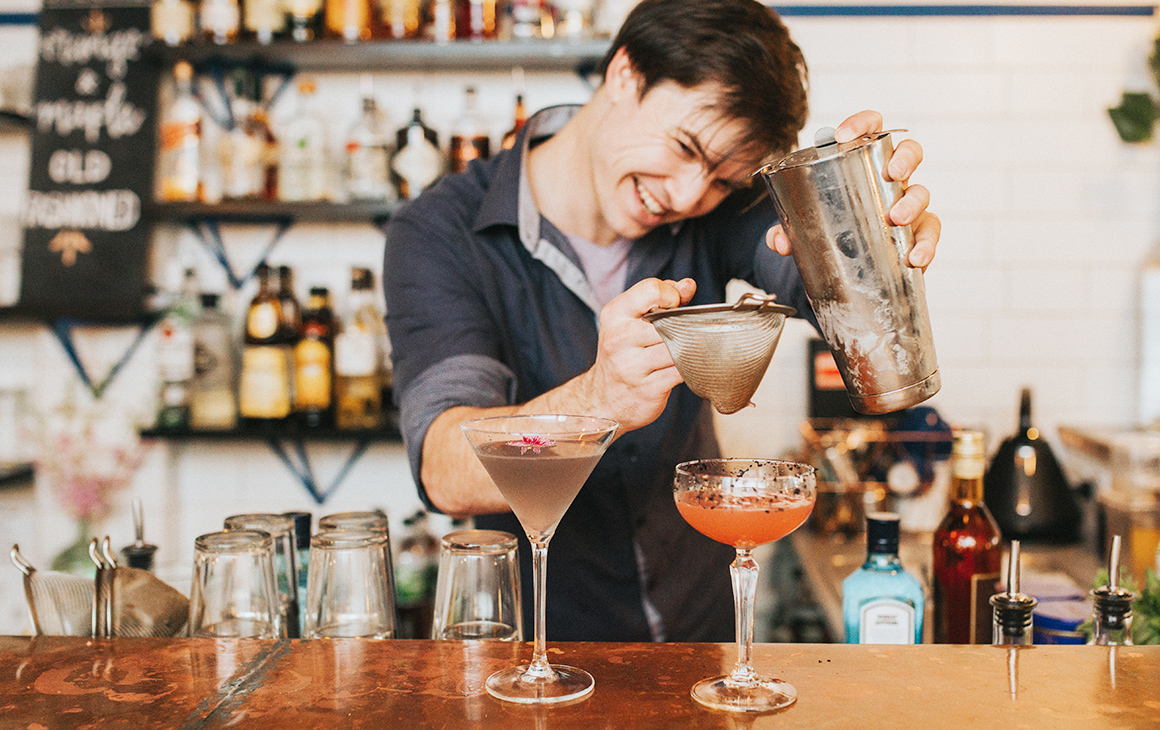 If you're anything like us, deciding is our least favourite thing about eating out. We want it all! And at Sparrow, the struggle is real. Fortunately, they know this and hence their food philosophy is focused squarely on sharing. Absolutely everything on the menu is designed to share, so you never need to settle on just one lonely dish. Still can't decide? Opt for the exceptionally well-priced banquet menu, which allows you to taste up to eight different dishes for just $39 per head or, for the budget conscious, Sparrow's ever-popular four share plates for $50 offer that helps to pack out the moodily-lit venue on Wednesday evenings.
Sparrow Eating House is one of those rare finds that's on-trend without trying too hard. So if you're currently scratching your head and asking yourself why you've not yet discovered this place or, if your last visit was several moons ago, pick up the phone and book yourself a table, stat. Date night, anyone?
Open for dinner from 5:30pm six days a week (closed Mondays), and lunch on Saturdays and Sundays between 12pm and 3pm; bookings are always recommended.
Where: 2/32 Lavarack Street, Nobby Beach
Photo Credit: Hayley Williamson for Metropolist