Pssst! Have you heard the whispers? There's another brand spankin' new restaurant and bar set to open on the Gold Coast next week and you'll never guess where…
Don't sweat, we're going to spill the beans, 'cause that's what we're good at, but more so, we just can't help it. Call it a fault, a quirk, a not-so-great trait, but someone's got to share the underground secrets, and it's us.
Full of character and sass, this newbie is tucked away inside one of the Coast's favourite hotels and is pretty much the place we want to spend every Friday afternoon, guzzling clock-off cocktails. Any guesses?
It'd be cruel to leave you hanging, so we won't. We're here to give you a peek inside Yamagen, the Coast's hottest new Japanese izakaya and bar—so new it hasn't even opened yet—inside Surfers Paradise's uber cool hotel, QT Gold Coast.
If the name is already familiar, it should be. Yamagen has operated in this space for a staggering 30 years; around the same time the hotel was originally constructed. And while it has always been a treasured corner of QT Gold Coast, its classic style never quiet gelled with the upbeat and playful personality of the QT brand, so we expect a makeover had long been on the cards.
And, boy oh boy, you won't recognise her now!
While proudly hanging onto the original name, the vintage 80s décor and Teppanyaki grills have been removed, to give the space a mammoth injection of youth and energy. Transporting Yamagen into an entirely new era of experiential dining and setting the restaurant up to again become a hospitality institution for the next decade (or three).
Entering via QT's Calypso Terrace, the doors slide back to reveal an expansive bar, with a splash of Gold Coast bling in the metallic ceramic tiles lining the bar plus netted fisherman trap-like lanterns hanging overhead. Gaze further back, and you can peer into the glass-enclosed kushiage station; the beating heart of the izakaya where smells and smoke wafts as Japanese chefs work over robata grills and binchotan charcoal.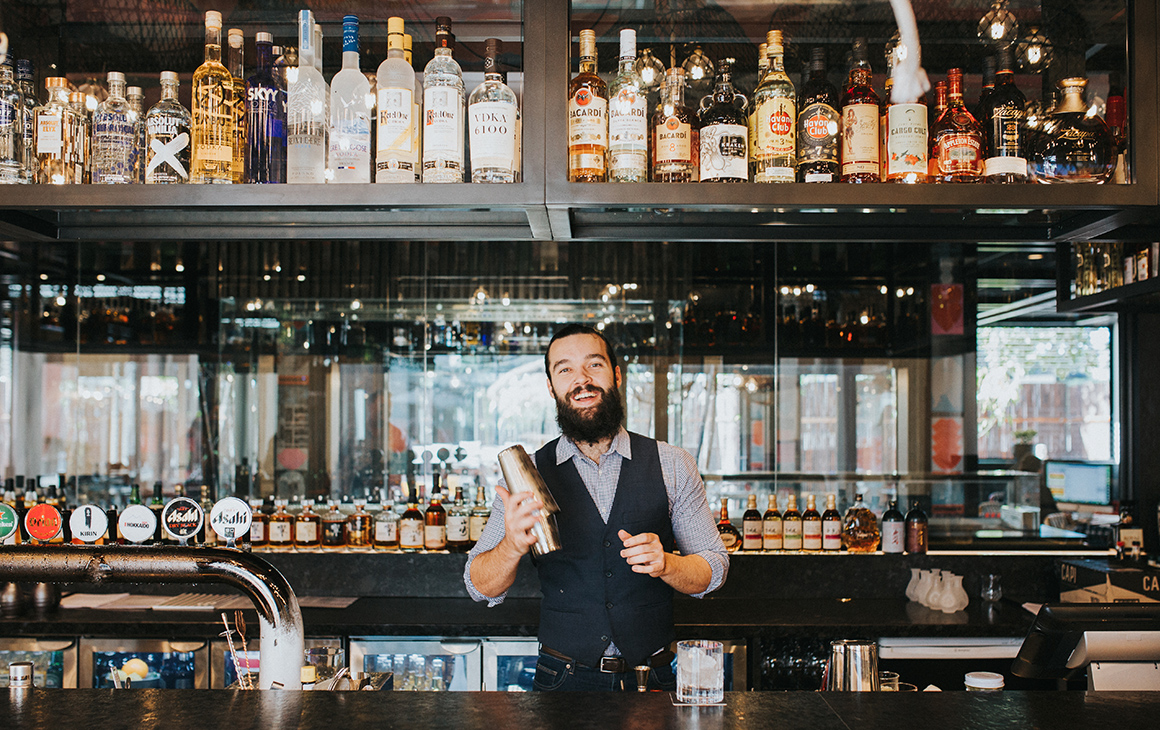 At the rear, a sprawling 70-seat table seki (fancy talk for dining room), is dimly-lit and moody with pops of red and quirky graphics covering the walls, balanced by a calming Zen bamboo rock garden outside, behind the windows. Mix it all with a music soundtrack that makes the convo go up a few decibels, and you get a lively setting that suckers you in for an energetic evening with friends or an entertaining date night.
Tucked around the corner, nabbing a posi at the 15-seat traditional sushi bar will be a hot commodity. Here you can interact with the chefs—including 23-year Yamagen veteran and sushi master Mitsuo Yoshino—and devour plate after plate of omakase (chef's selection of market fresh sushi and sashimi). Honestly, if we could live off the raw dishes offered up here, we'd die happy.
Or, if you're after something more casual, there's bench seating lining the front windows and bar area, where an Asahi Black will be waiting with your name on it.
But if the funky fit-out and buzzing atmosphere doesn't have you falling over yourself with anticipation, the extended food offerings most certainly will.
QT Gold Coast has managed to secure hospitality heavyweight Warren Lindsay to lead the team. He gushes over a creative menu and dish presentation that is some of the most "innovative and exciting he's ever seen". And when that comes from a man who has spent a lifetime in the industry, lived and worked in Japan for four years AND consulted to the likes of world-famous Nobu, that's a comment which carries some serious, as in seriously serious, cred.
The superb menu features a variety of hot and cold dishes, so expect to munch on plates of beautifully presented Yellowfin tuna tartare served with sides of wakame, yuzu avo, spicy mayo, sesame and puffed rice (then plated like nothing you've ever seen before) or the delicately sliced spicy jalapeno Harimasa Kingfish. Personally, we're also saving stomach space for the miso black cod, not to mention the artistically crafted salmon and spicy tuna tacos.
But don't be afraid that this spot is out of your league. There's plenty of reasonably priced favourites sprinkled throughout the menu, like steamed prawn noodle dumplings, crispy tempura bugs, robata-grilled skewers and uramaki (inside out) sushi rolls. All delicious, we might add.
Drinks-wise, you're all set too: Yamagen claims to have nabbed the coveted title of Queensland's largest Japanese whisky selection, with 65-plus options and more arriving daily; some bottles worth more than a small car. Whisky connoisseurs will appreciate a swill of the limited edition Hibiki 21 or single malt, 18-year-old The Yamazaki.
Otherwise, let talented bartender Jordan Melling work his magic with the cocktail shaker, first sampling the Utsumi Sour with a blend of Tanqueray gin, peach liqueur and aomomo (baby green peach) both muddled and whole to garnish.
Dessert is where things get really interesting again. Pebbles is one of Yamagen's signature desserts—chocolate coated black sesame and cherry blossom ice cream shaped to look like, well, pebbles, with edible decorations that resemble moss and soil. Or, our fave, the Miso Caramel Chocolate Fondant with goma ice cream; heavenly rich and totally memorable.
Are you intrigued yet? You should be!
So folks, sit tight, as you won't have to wait much longer—Yamagen 2.0 officially launches Friday 28 July. Basically prepare for a hearty dose of sensory overload and whole lot of swagger. Well played, QT Gold Coast, well played.
The Details
What: Yamagen
When: Open Tuesday to Sunday from 5pm (officially opens Friday 28 July)
Where: QT Gold Coast, 7 Staghorn Drive, Surfers Paradise
Planning a visit to Yamagen? Go all out and book yourself in for a mini staycay; we checked out QT Gold Coast here.
Image credit: Hayley Williamson for The Urban List