The Gold Coast is spilling with creative workshops and crafty sessions designed to unlock a brighter, happier and more inspired you.
Sketch yourself into the picture of creativity, whether you're new to a craft or re-introducing yourself to an old artsy flame. All in the name of free-flowing self-discovery and creating cool stuff, we've rounded up the best creative workshops on the Gold Coast to dip your paintbrush into.
Art Workshops | Mint Art House
Burleigh
Mint Art House is the Gold Coast's newest art collective and they're spoiling us with some of the best creative workshops around. The collaborative studio houses 14 Gold Coast artists, each at various stages in their career, but all looking to support one another and bring arts to the wider community. Filled to the brim with talent, the crew at Mint host everything from paint and sip classes to artists talks and screen printing classes and you need to book one ASAP.
Various Creative Workshops | The Hive Gallery
Burleigh
Offering various workshops, such as Fresco painting, watercolour, still life and film photography to name a few—as well as being a daily studio space for artists—The Hive Gallery is really bringing some much-needed creative vibes to the coastline while also celebrating all the incredible existing talent.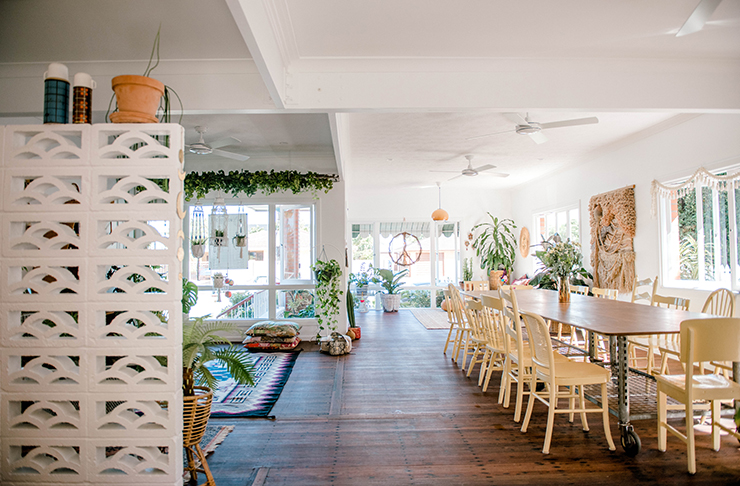 Various Creative Workshops | The Craft Parlour
Miami
Gone are the days when arts and crafts were just for nannas. Miami's sunshine and love-filled creative haven, The Craft Parlour, offers a glorious selection of workshops that change up throughout the year. Think bralette sewing and watercolouring to screen printing, basket weaving, hand dyeing, jewellery carving and even pickling. Keep an eye on The Craft Parlour's website where new workshop dates are posted monthly; you'll lose your mind over the endless options like silversmithing, hand-tooled leather purse crafting, ceramics and more. If you're hunting for the best selection of Gold Coast creative classes, stop the search.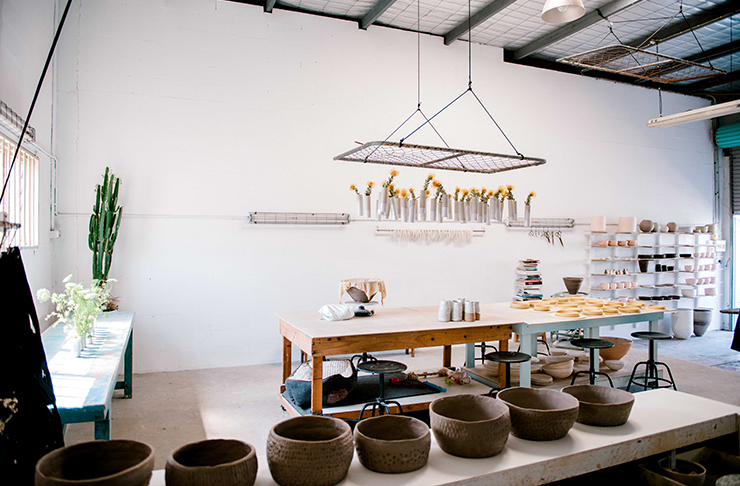 Pottery Workshops | Norton And Norton
Currumbin
We've all seen that Ghost scene. Or at least, the steamy Bachelor re-enactments of it. So, there's no questioning that Norton & Norton's workshops are the sexiest around. Hand-craft your own planter pot, spin vases with your special touch and learn how to carve out intricate patterns into nifty vessels. If you're looking for a creative workshop on the Gold Coast with proof that you nailed the whole clay-date romance, this is it.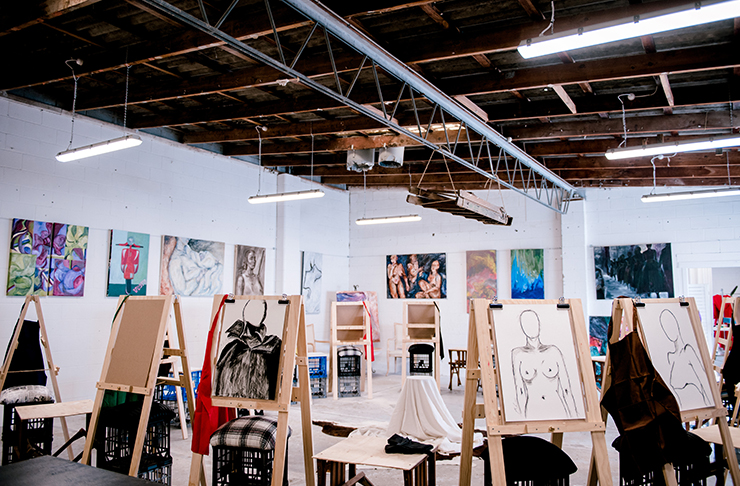 Life Drawing + Sip And Paint | The Sweet Fine Artist Studio
Mermaid Beach
Van Goghs and Oh-Nos alike can get amongst the exceptionally creative workshops at The Sweet Fine Artist Studio. With over two decade's experience creating and teaching art, resident artist Maree sets you up with all your paints and paper, canvases and even glassware for your BYO bevvie. All you'll need is a go get 'em attitude, liquid courage and an inquisitive mind for either Life Drawing or Sip and Paint creative workshops in Mermaid Beach.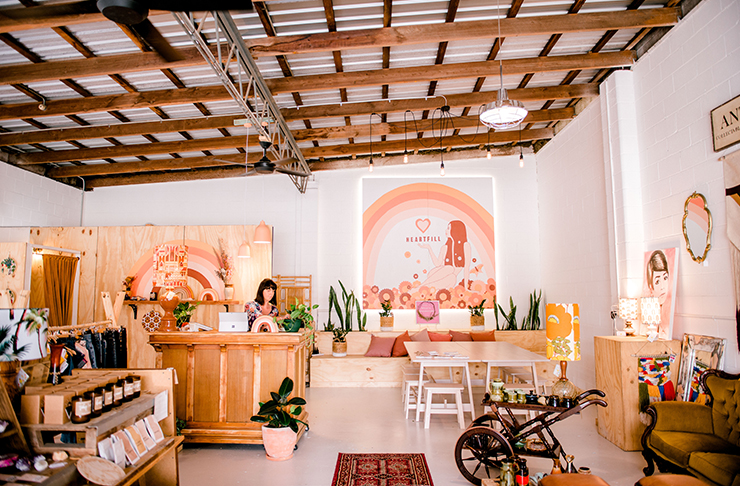 Jewellery Making + Dried Flower Arrangements | Heartfill Store
Burleigh Heads
Warm blush interiors, peachy murals and a team dedicated to making consumerism more mindful. Heartfill Store is your heavenly Gold Coast creative workshop hub, and you'll likely fall in love upon first step into their store. Stocking original homewares, fashion and blooms, at Heartfill Store you'll find everything from dried floral arrangement workshops and brush lettering to pottery and weaving. Be sure to check in regularly for upcoming events.
Pottery Workshops | POT Studios
Tugun
Located in Tugun this POT Studios provides the perfect environment for bringing out your inner creative. Run by incredibly knowledgeable potter Cindy, start with the four-week hand building pottery course or the six-week wheel throwing course. Both of which will see you turn a block of clay into a glazed pottery piece. Even better? No experience is necessary. If that sounds like too much of a commitment, then the INSPIRE Pottery Workshops are for you. Great for groups, they're ideal for those looking to get their hands in clay and get creative. As well as private lessons POT also hold 'Date Night' where you and your love can channel your inner Swayze and Moore over a crash course in wheel throwing…with the lights down low of course.
Networking + Professional Development | Karma Collab Hub
Miami
It's not easy finding fresh business events on the Gold Coast sans cucumber sandwiches and percolated coffee. Luckily, Karma Collab Hub is all about creating connections, offering a place to share information and hosting epic career-focussed workshops on the Gold Coast. From networking that doesn't feel yuck, right through to marketing training and social media insights; check in with their calendar for seriously valuable Gold Coast workshops well worth their teeny-weeny fee.
Cocktails Mixology Masterclass | Hyde Paradiso
Surfers Paradise
Consider yourself a bit of a cocktail connoisseur? Or maybe you have some guests coming over that need impressing? Then why not learn how to whip up a mind-blowing cocktail at Hyde Paradiso's cocktail classes. Renowned for their beautiful cocktails, the folks at Hyde Paradiso know a thing or two about mixing a stiff drink and they are willing to pass that sacred information on to you. With a minimum of four people required, grab your friends and you'll be master mixologists in no time.
Life Drawing | Dust Temple
Currumbin
Nestled within Currumbin's industrial area, Dust Temple have been hosting inclusive life drawing workshops since 2014. So it's safe to say, these Gold Coast art classes are a real hoot, and a true celebration of the human body. Team life drawing workshops with live musicians plus a moody setting, and basically you'll never want to leave. Well, you will. But only to hang your new nude pic proudly in the living room.
Flower Crown Workshops | Eden The Flower Shop
Eden the Flower Shop sits pretty as one of the Gold Coast's best creative workshop options for birthdays, bridal hurrahs and baby showers. Settle in for a morning, afternoon or full day and then split a cheese board and a bottle of bubbles while weaving delicate florals into a royal accessory. The best part is, they'll come to you.
Pizza + Pasta Making Workshops | Salt Meats Cheese
Surfers Paradise
High on the list for all self-appointed foodies are Salt Meats Cheese's cooking classes. Learn the art of preparing pizza or pasta in these deliciously fun, hands-on masterclasses. No Gold Coast cooking class is complete without knocking back a glass of wine while you eat your perfectly-cured creation, too. It's the Italian way, so it'd be rude not to.
Watercolor Workshops | Artable
Kingscliff
Designed to help you 'discover the artist within', Artable is a long-standing creative art class provider that sources some of Australia's best artists to host one and two-day workshops. Think: botanicals and seascapes with watercolours, learn to draw still life with colour pencils, and more. Lead by a line-up of talented artists, no experience is needed here, just good vibes and a willingness to learn.
Cooking Classes | Willow Vale Cooking School
Willow Vale
When workshops turn foodie, only the best will do. And the best is all you'll get at Willow Vale Cooking School. Classes are run by Bruno Loubet (whose received rounds of applause from the likes of Jamie Oliver and three-star michelin star chef Pierre Koffmann). Each class is planned around seasonal ingredients plucked fresh from the garden. Deeply rooted in sustainability, the picturesque location of Willow Vale is as delicious as your final dishes. Running for around 2.5 hours, Bruno explains each homegrown recipe, giving you his chefing secrets, then finishing off with a three-course lunch.
Macrame | Mo's Desert Clubhouse
Burleigh Heads
Mo's Desert Clubhouse, Burleigh's favourite grungy hotspot, also hosts some of the most creative workshops on the Gold Coast. Serial twister, knotter and dropper, Emilia Lorena shares her macrame expertise all year round. Supplying all your materials (with wine encouraged), Emilia's Gold Coast workshops are the perfect creative outlet, baby shower locale or place to catch up with old friends, or a stellar place to meet new ones.
Floristry Workshops | Flowers On Tedder
Main Beach
Main Beach's Flowers on Tedder workshop series is bloomin' epic. Learn how to create beautiful hand-tied posies, build a terrarium, create table centrepiece arrangements, buttonholes and corsages, or kokedama plant hangers, to name a few— all while sipping on a cheeky champas. A fitting creative Gold Coast workshop for budding florists everywhere.
Worked your way through the best Gold Coast creative workshops? You'll find more creative types at these Gold Coast co-spaces.
Image credit: Kaitlin Maree and Brooke Darling Photography for Urban List