If there are two things that'll make us get out of bed on any given morning, it's coffee and doughnuts. From simple cinnamon perfection to candied sugar orbs of goodness, they're are the holiest of doughy deliciousness, and the Gold Coast sure knows how to put on a fine doughnut show.
Though, it seems, we haven't seen anything yet. May we introduce: The Doughnut Affair.
During a family holiday to New York in the dead of winter, founder Kurt discovered an oasis from the cold inside a local doughnut shop that was humming with chill vibes and blissfully happy customers. He had an epiphany right then and there about a complete career and lifestyle change, and the dream was officially alive.
Later, Kurt returned to that little shop in New York to get his hands deep in dough and learn everything there was to know about running a successful doughnut slinging business. Formulating his own concept and bringing a slice of magic back Down Under, The Doughnut Affair was born. Fast forward to today and the ever-smiling Kurt is moments away from opening the doors to his stylish little dessert bar in Mermaid Beach.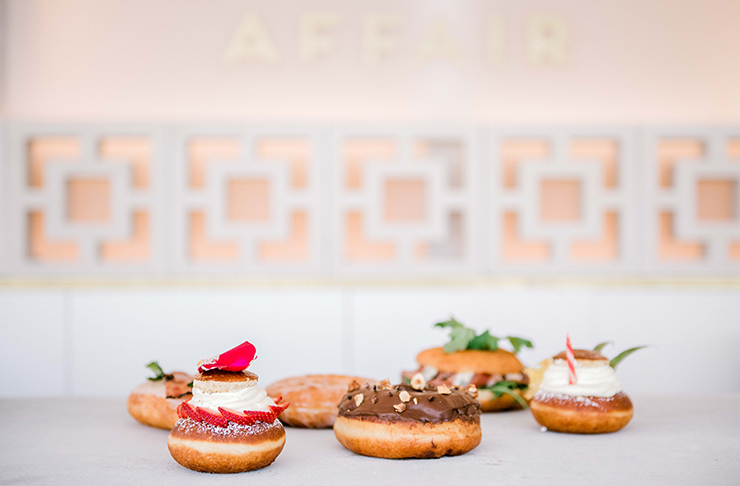 Nabbing a high exposure locale (formally occupied by FuFu) and securing talented pastry chef Graciela Jonen—whose resume includes Sofitel Gold Coast, Palazzo Versace and Brisbane's Otto—The Doughnut Affair is like no other doughnut you've experienced before.
With a name encouraging you to have a sneaky affair on your diet and a slogan that prompts you to "regret nothing", there ain't anything shy about these delectable and totally photo-worthy doughnuts.
The menu may be small, but the addictions will be real, once you wrap your mouth around these freshly baked treats, many of which are spiked with liquor. Take for example the Pina Colada doughnut that tastes remarkably like the real deal; with a fresh pineapple compote and Malibu ganache, topped with a dehydrated pineapple and chocolate straw to resemble a doughnut-shaped cocktail. Genius.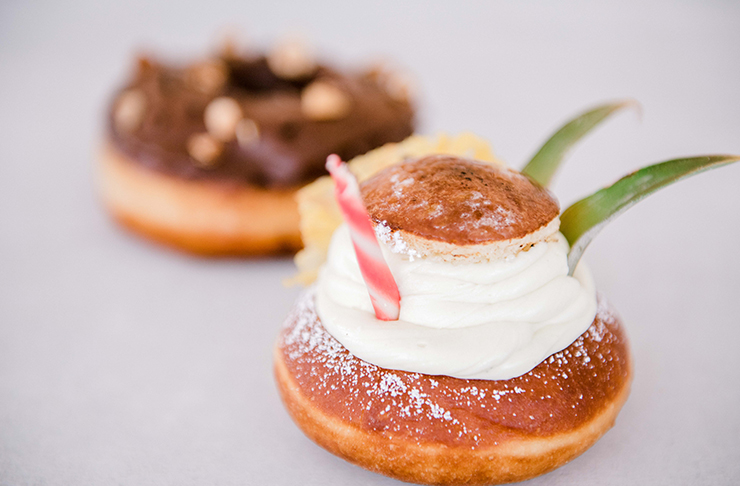 Creative without being OTT or sickly sweet, we also tasted and loved the strawberries and champagne-infused cream doughnut and wickedly good doughnut log with its bourbon maple glaze, maple bourbon ganache filling, smoky black pepper seasoning and adorned with deep fried basil and a caramelised bacon rasher. Drooling yet? You should be.
While we can't say what it's like to jump into a pool of chocolate ganache, we'd guess that plunging into their double-filled and coated chocolate ganache doughnut with praline and hazelnut would evoke a similar sensation. And the perfectly crisp-yet-light classic glazed doughnut? It'll turn you into a buttery puddle, guaranteed.
Kurt teases at future wild ideas like a chilli margarita or Negroni doughnut—yes, seriously. Basically, anything goes and you're welcomed to throw them a challenge. Grand Marnier-soaked Tiramisu doughnut, perhaps?
Chef Graciela has been working hard to perfect her gluten-free dough too, which we're told is no mean feat to ensure the GF doughnut doesn't collapse like a flan in a cupboard. She'll be serving up sweet and savoury combos too—plain doughnuts filled with prosciutto, blue cheese, rocket, fried eggs and mascarpone macadamia will be on the opening for week menu, with more options to follow.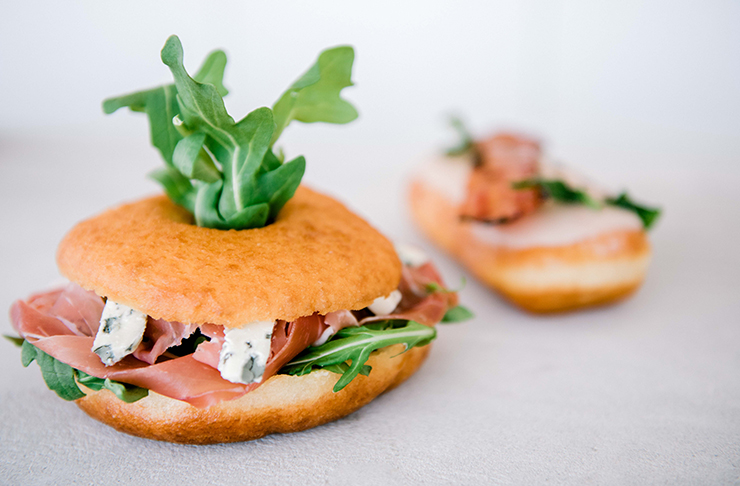 If you feel like slurping on something a little extra, The Doughnut Affair will be the Coast's first pourer of Melbourne's much-loved Code Black coffee, along with kombucha, juice and Nude water.
Officially opening this weekend, you can get your hot little hands on these babies seven days, while supplies last, so be sure to plan your next doughnut date accordingly.
The Details
What: The Doughnut Affair
Where: 2375 Gold Coast Highway, Mermaid Beach
When: Open Monday to Wednesday from 7am to 4pm, Thursday 7am to 8pm and Friday through Sunday from 7am to 9pm
For more details, click here.
Image credit: Kaitlin Maree for Urban List