Australia Day is undoubtedly the most epic nation-wide public holiday of the year!
Though, as we know, most of you will be knee deep in frivolous celebrations come lunchtime, so we've rounded up six of our fave cafes open on Australia Day so you can kick-start the day with, ya know, a flat white and bacon 'n egg sambo or the like.
Burleigh Social
There's nowhere else quite as quintessential Australiana as the scene at Burleigh Social. With their fun vintage backyard BBQ-style setting of communal picnic tables, umbrellas, and astro turf, on a sunny day it's the epitome of everything that's pure and good on the Gold Coast. This Australia Day, they'll be open through the morning only, 6—11:30am so waltz on in for their classic bacon and eggs with tomato relish. 'Straya!
Where: 2 Hibiscus Avenue, Burleigh Heads
Iron and Resign Garage
Life on two wheels goes together like beards and anchor tattoos, heck we at Metropolist are part-time bikie chicks ourselves! Iron and Resin is a bike retail shop cum garage cum coffee stop. Roll on in for a hot or cold brew if you don't feel intimated by the sweet rumbling of Harleys, Cafe Racers, and classic moto rebuilds that ebb and flow from the on street parking. They'll be open for the usual coffee and pastries this Australia Day morning, 6am—11am. And if an Aussie Day moto ride is on your public holiday agenda, make this your first stop!
Where: 6 Stewart Road, Currumbin Waters
Griffith Street Larder
Since it's generally frowned upon to eat a cronut for breakfast (damn you society!), you'll want to look elsewhere on the Griffith Street Larder menu to find your brekkie. But you won't be disappointed and you probably won't hate yourself after, either. Simple but so tasty, try Larder's smashed avo on toast (very Aussie!) with an always excellent Blackboard coffee…or maybe a peanut butter milkshake if that cronut is still taunting you. This Australia Day, they'll be open 7am—5pm.
Where: Shop 9 Griffith Street, The Strand, Coolangatta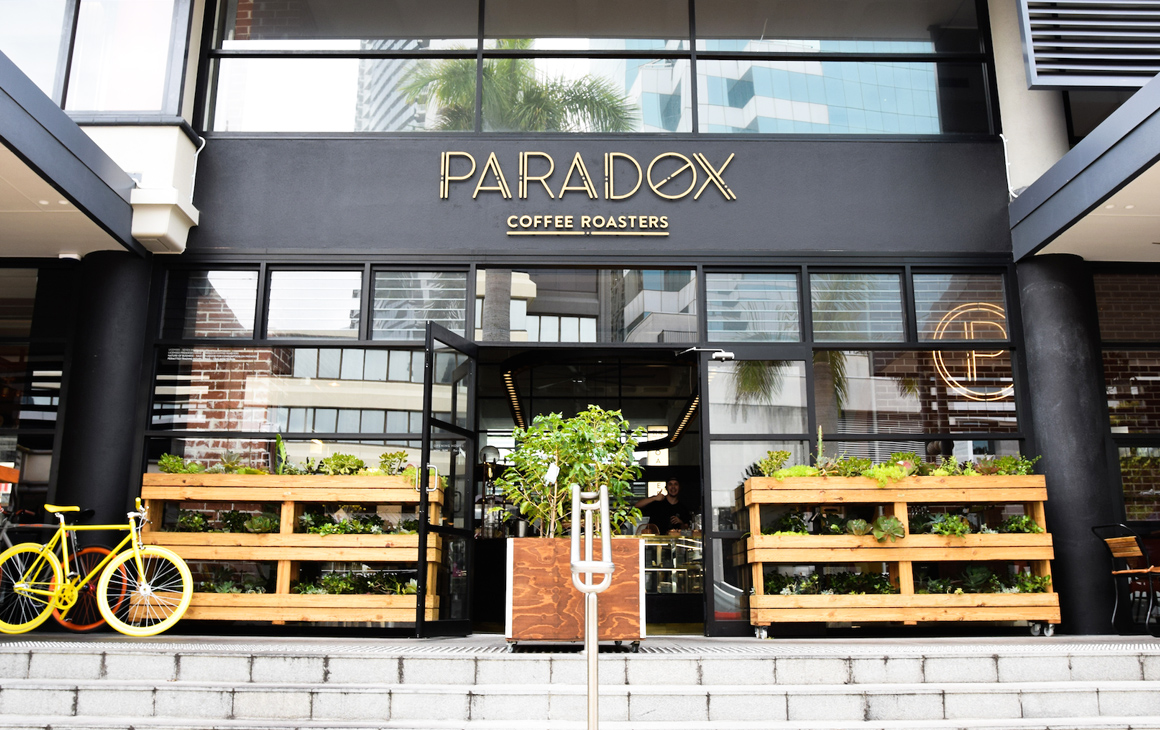 Paradox Coffee Roasters
Tucked far enough away from the maddening Cavill Avenue school holiday crowd on Surfers Paradise's iconic golden mile, we love all the businesses residing within the slick complex—The 4217. But roast your own beans, and you have our ultimate respect. The crew at Paradox Coffee Roasters are doing the hard yards on Australia Day keeping you caffeinated and your belly content, open 7am—5pm.
Where: The 4217, 7/10 Beach Road, Surfers Paradise
Commune Café
A place where a good attitude and good vibes are just as important as good food and coffee, Commune Café never disappoints. A mish-mash of eclectic furniture fills the space, as do an absolute truckload of people. Commune has definitely earned a rep as one of the best breakfasts in Burleigh and is worth fighting the crowds for this Australia Day, open 6am—1pm.
Where: 1844 Gold Coast Highway, Burleigh
Cadence Café
Northern Gold Coasters not wanting to travel far this Australia Day? Lucky for you there's a new kid on the block worth checking out. Already a favourite with the lycra-clad biking crew, Cadence Café in Nerang is open bright and early on January 26 (6am—3pm). They're helping kick-start your public holiday with a coffee-hit along with any number of breakfast dishes—like the banana protein pancakes which are pretty freakin' delicious!
Where: 75 Nerang Connection Road, Nerang
Photo Credit: Hayley Williamson and Mandy Ryan for Metropolist