When you think of Greek cuisine, does your mind wander to a white building with blue trim overlooking azure water, while you gorge yourself on olives, tzatziki, perfectly-cooked lamb, and warm flatbread? Us too!
Well, no matter how vivid your imagination it's doubtful you'll be fulfilling that fantasy within the next week or two, but you can still transport your taste buds which, let's be honest, is definitely the next best thing. So, sit back while we guide you through the best Greek restaurants on the Gold Coast and let your mind wander.
The Lamb Shop
The first thing you'll notice on stepping into The Lamb Shop (after the insanely good smells wafting from the spit-roast, that is) are those delicate-and-to-die-for blue and white tiles stretching from floor to ceiling. Is it just us, or have you already daydreamed of a kitchen/bathroom renovation featuring these beauties plastered throughout? We love your style, guys! After a few iPhone snaps, applying the perfect Insta filter will keep you content as you wait a few short minutes for some of the best Greek eats on the Gold Coast. Pull up a stool at the casual servery where juicy lamb is spit-roasted over hot coals before your eyes, and goes straight from the spit to your plate. Whether you opt for a traditional souvlakis in soft, doughy pita bread or one of their tasty sides (try the char-grilled octopus!), you're guaranteed a delicious and filling meal every time. Trust us, it'll be the best 13 bucks or so you've spent all week.
Where: The Oracle Boulevard, Broadbeach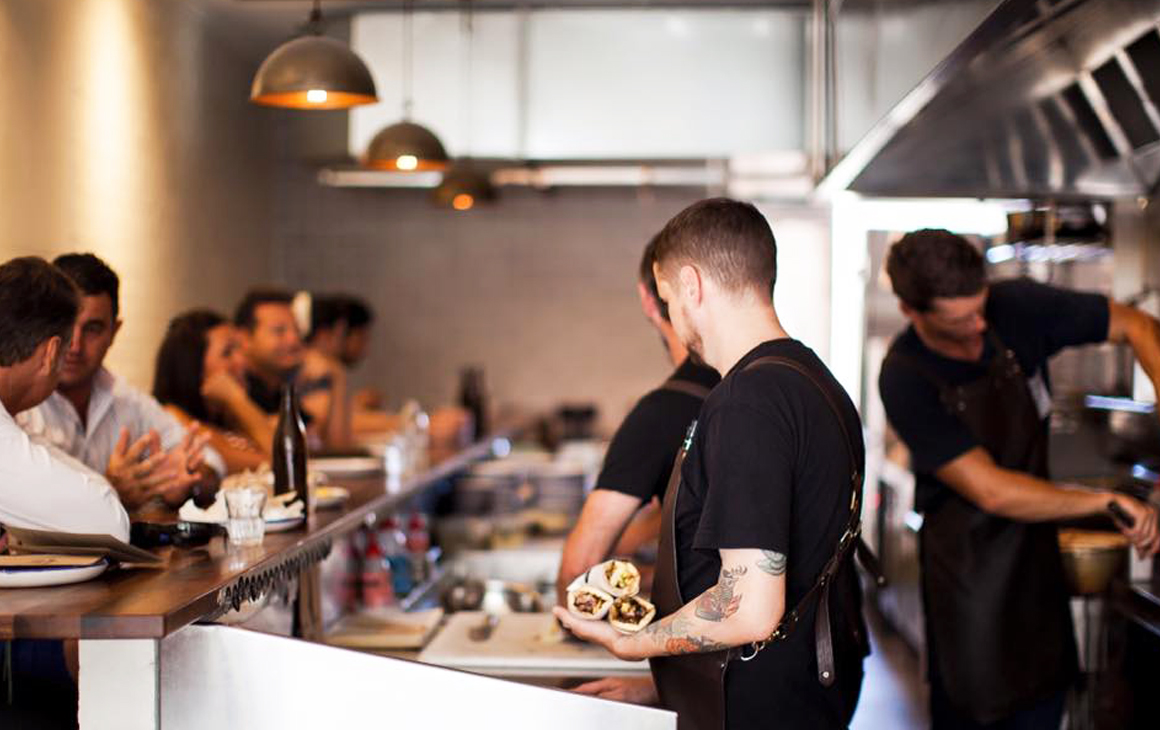 Char Baa
While this little gem borrows from a huge range of cuisines from around the globe, there's no denying the Greek influence that permeates Burleigh's Char Baa. With the whole concept stemming from the perfect gyros bread and cooking over charcoal, you'll be glad to see your favourite Greek styles on the menu including slow-roasted meats, gorgeously smooth tzatziki and, of course, the flatbread that inspired the dream. Our tip? Grab take out and head for Burleigh Hill on sunset.
Where: 4/1840 Lower Gold Coast Highway, Burleigh Heads
Xenia Grill
Opening its doors just last week, this new player is elbowing for its place among the best Greek restaurants on the Gold Coast. Xenia Grill is dedicated to serving Greek food as it should be—simple and fresh. With the Mediterranean diet widely considered the healthiest national cuisine in the world, you can order prawn saganaki, fried white bait, char-grilled octopus, souvlaki galore, and baklava, 'cause it's practically guilt-free, right? If you think you recognise the crew here, for the last decade they've been beating the food stall trail with their catering venture, The Groovy Souvi. Now they've laid roots with a bricks and mortar establishment in Coolangatta, so to be sure to get down there and give them a big Gold Coast welcome!
Where: Corner Maclean Street and Marine Parade, Coolangatta
Did we miss your favourite among our roundup of the best Greek restaurants on the Gold Coast? Let us know?
Photo Credit: The Lamb Shop