Ahhh Sundays… While some see the day before Monday as a time to hide and reflect on mistakes made since 5pm Friday, we choose to see Sunday as the perfect way to farewell the weekend and celebrate freedom while there's still time. So, in honour of spring bringing its A-game, we've rounded up the best places to enjoy a Sunday long lunch in Sydney.
Searock Grill | Circular Quay
Nothing cures Sunday-itis like taking in the view of Sydney with a glass of wine and a delicious meal in front of you. We recommend Searock Grill's Crab Tian; with fresh Alaskan King crab meat, guacamole, chipotle mayo, fresh lime and a bloody mary dressing. Or if you're feeling decadent, go for one of the seafood platters – you won't be disappointed.
Manly Wine | Manly
The worst part about Manly Wine is choosing a best part. Seriously, this place is dripping with beautiful views, delicious eats and enough lush greenery to keep your eyes (and mouths) occupied for hours. And with so many watering holes surrounding, there are plenty of locations to drop in, enjoy a drink and observe backpackers doing what they do best – get drunk and sunburnt.
Cental, The Living Mall | Chippendale
The guys at Central's Living Mall have tapped into the brilliant sunshine of the shopping precinct and are letting you celebrate the end of your weekend in style, with deck chairs, wine tastings, live music and a delicious spread of $15 lunches that won't hurt your wallet like a Saturday night out will.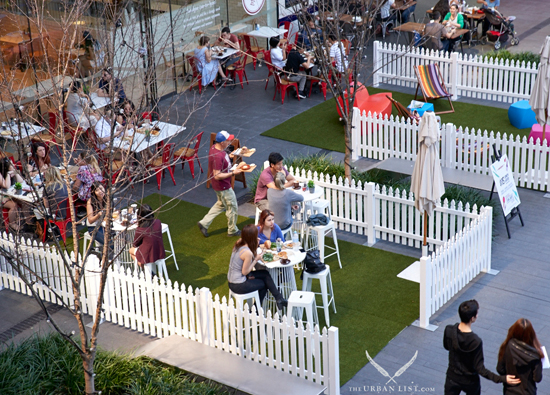 North Bondi Fish | Bondi
This semi-new and definitely delightful location in North Bondi begs to be used and abused as the weather gets better and the days get longer. With an unbeatable ocean view at your disposal, it would be mighty shellfish of you not to order some oysters at North Bondi Fish… Also, they serve alcoholic popsicles, because yum, that's why.
The Terrace On Pittwater | Newport
It is well worth a drive or bus up to the Northern Beaches for this gem that will make you feel miles away from home (unless you live around the corner). Try out The Terrace's Atlantic salmon with spicy cauliflower, squid ink vinaigrette and cauliflower puree, and make sure not to skimp on the dessert; we went for the deconstructed lemon meringue pie with pistachio praline.
China Doll | Woolloomooloo Wharf
While it may be a bit more upmarket, China Doll is definitely one to try out for a special occasion or if you have family visiting. Order one of the delicious banquet menus; get stuck into the wine and cocktail lists and take in the beautiful surroundings. Bonus points if you spot a celeb.
Alphabet St. | Cronulla
Locals know it to be a favourite, and if you haven't checked out the fresh, Asian-fusion flavours at Alphabet Street, then make a booking for a Sunday Long Lunch ASAP. We died and went to crispy-skinned heaven when we sampled the Ped Tod: caramelised duck with honey and five spice. Add a cocktail and a few glasses of wine, and that's us done for the day!
Woolwich Pier Hotel | Woolwich
Pub dining with a view? We're there! The special Sunday menu at Woolwich Pier Hotel begins with cocktails… Clearly they know us all too well. Dive head-first into a jug of Pier Punch, with Gordon's Gin, peach, grapefruit, lime, passionfruit and sparkling wine, and then select from the lunch menu. We loved the Grilled zucchini and Persian feta salad.
Black By Ezard | Pyrmont
3 words for you – Champagne. Sunday. Lunch. End the weekend in style in Black by Ezard's stunning restaurant. Match your 2 or 3 courses with a glass of NV Moet & Chandon Brut and pretend you're extra fancy (even if it's just for the afternoon).
Alpha Restaurant | CBD
Get us to the Greek! We love us a long lunch and we especially love the Sunday lunch at Alpha Restaurant. Choose from their a la carte menu (don't miss the home made taramosalata) or go full Greek with Yia Yia's Table menu with matching wines.
Image credits: One: North Bondi Fish, Kit Baker for Central, The Living Mall