If you haven't got to know this leafy North Shore suburb and all that it has to offer, please allow me to take you through its various hidden gems. From fine-dining restaurants and cosy bars to hole-in-the-wall takeaway joints and a luxe hairdresser, you really can get everything you need in Neutral Bay.
So without further ado, welcome to my hood.
Woodland Kitchen
This is a must-visit restaurant for when you're in Neutral Bay. Led by celebrity chef Damian Heads and run by a team of legends, Woodland Kitchen is the kind of place you can pop into for a casual weeknight meal, or bring a group of friends for a special occasion. Be sure to try something from the woodfire grill. I recommend the Mirrool Creek lamb rump… Drool.
Japaz
A favourite among locals, Japaz is one of those hidden gems that you'll visit once and quickly become a local. The modern Australian meets Japanese izakaya style of dining will open your eyes to a delicious new way of eating, where enjoying torched blue cheese before a steamed pork and prawn shumai won't feel strange. Go for one of the tasting menus on your first visit, then return for your faves.
Kabocha
Hands down the best katsu curry in all of Sydney. Big call, but I'm making it. This hole-in-the-wall at the back of the Grosvenor Street shopping area offers tasty, authentic Japanese cheap eats and encourages visitors from all over Sydney to come in for their fix.
Wild Basket
You've got to love a café in Sydney that greets you with a smile even when your eyes are barely open at 7am. The team at Wild Basket provide delicious coffee, top-notch chat and an always-tempting selection of breakfast to keep that smile on your face. Speaking of tempting, you won't be able to avoid the condiment wall, just let it happen.
Bourke Street Bakery
One of the best bakeries in Sydney, Bourke Street Bakery's Neutral Bay larger than its inner-city siblings, with streaming sunlight through the high windows and plenty of spots to sit outside and park your pooch while chowing down on a coffee and some of their delicious baked goods.
Italian Street Kitchen
One of the newest kids on the Grosvenor Street block, Italian Street Kitchen is the home of humble Italian (duh) fare in leafy Neutral Bay. This is the spot to get your salumi or pizza fix while sipping on a bellini and relaxing the afternoon away.
Chef and Barista
First things first: yes, this is the home of those Nutella doughnuts, you are right to get excited. But if you head in during the week, when said doughnuts are not available, you'll be treated to friendly service and delicious fare from the team. Be sure to try one of their homemade pies, covered in flaky pastry and bursting with flavour.
The Oaks
Ahhh The Oaks, a symbol of pride for anyone that has ever resided on Sydney's North Shore. It's the perfect spot for a few catch-up drinks, a group dinner, or a place to plonk yourself while you watch the footy. Word to the wise: get here early to avoid missing out on a seat, it packs out very quickly.
The Local Bar
If it's a stellar wine list you're after, this is the place to be. It's the ideal spot for a bottle of wine and some share plates. Of course you could always dabble in their sherry and charcuterie matching if you're feeling like living it up. There's no wrong way to enjoy The Local Bar, so just find yourself a seat and see what happens.
Honey Rider
Look no further than this low key bar for all of your cocktail needs in Neutral Bay. Honey Rider is the type of place that greets you with a smile and a negroni… I'm sure you can get used to that!

Cleavers
When the time comes for a dinner party, or you're simply keen to get your paws on some seriously top-notch meat, Cleavers is the place to be. Who can resist a friendly chin wag with one of the best butchers in Sydney.
Helen Rodrigues
Locals know this as the holy grail of bridal stores on the north shore. Appointments have been made before the ring is firmly on the finger. Lusting after the designer gowns in the window is a rite of passage for anyone growing up in the area.
Cosmo's Florist
There's a little alcove in the back of Neutral Bay that is full of hidden gems, and it's here that you can find Cosmo's Florist. Run by Cosmo himself for over a decade, it's a must-visit for flowers in Neutral Bay.
Bay Coffee
You've got to visit this café on Grosvenor Lane simply to marvel at their incredible equipment. And you'll want to grab a coffee while you're there, right? These guys have a micro-roastery on site and offer takeaway bags of their heavenly-smelling beans.
Sydney Cooking School
Want to get your chef on, but aren't exactly Masterchef material? Hit these guys up and learn the tricks of the trade. There's everything from BBQ classes to gluten free workshops on offer, even kids classes in school holidays. Train 'em while they're young!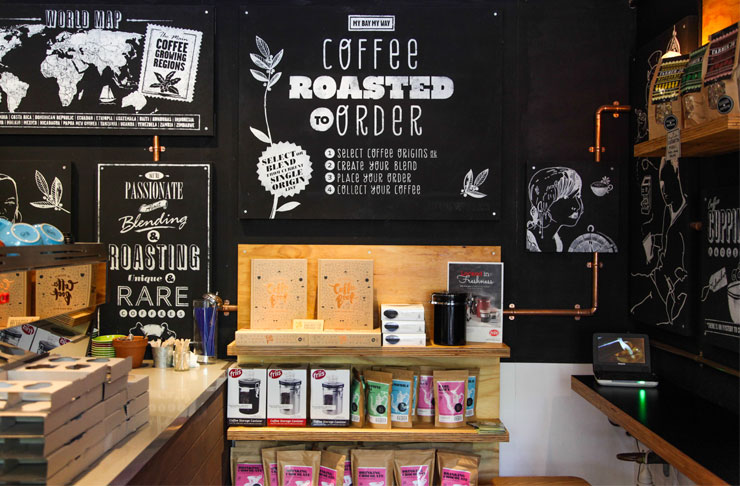 Power Living Yoga
Gettin' sweaty has never been so much fun at Power Living's Neutral Bay location. It's a nice big studio that brings instant calm, just what you need after stepping away from the bustle of Military Road.
Butlers
When it comes to hairdressers in Neutral Bay, Butlers is the only name you need to know. They'll get you dolled up for an occasion or simply give your hair an on-trend refresh… And they'll always offer a cheeky glass of wine while you're being primped.
Bronzalicious
When the weather is warm but your skin is looking a liiiittle more like Casper the friendly ghost than you'd like, Bronzalicious is your first stop for a spray tan in Neutral Bay. They've been in the game for years, so you'll always come out looking sun-kissed and fab.
Go exploring in Sydney! Check out our Pick of the Precinct for Marrickville and Parramatta.
---
Image credit: Jackielyn Powell at Woodland Kitchen, Federica Portentoso at Bay Coffee Roasters and Power Living, Lisa Brooke at The Oaks Hotel, Ellen Ji at Cosmo's Florist.