Just when you thought you knew what a good taco was, along comes a new Mexican eatery that blows all your expectations out of the water. Newly open in West End is Mama Taco, a taqueria and tequila bar where sour cream is a dirty word and tequila is made to be sipped, not shot with a slice of lime.
The new spot comes to us from the team behind popular Italian restaurant Luigi's (and Holloway before it), including owner and executive chef Raffaele Persichetti, head chef Harry Antoniak and restaurant manager Shaniah Ugarte. So if you were upset about losing your favourite pizza spot, don't be—because you're about to gain a new favourite Mexican to replace it.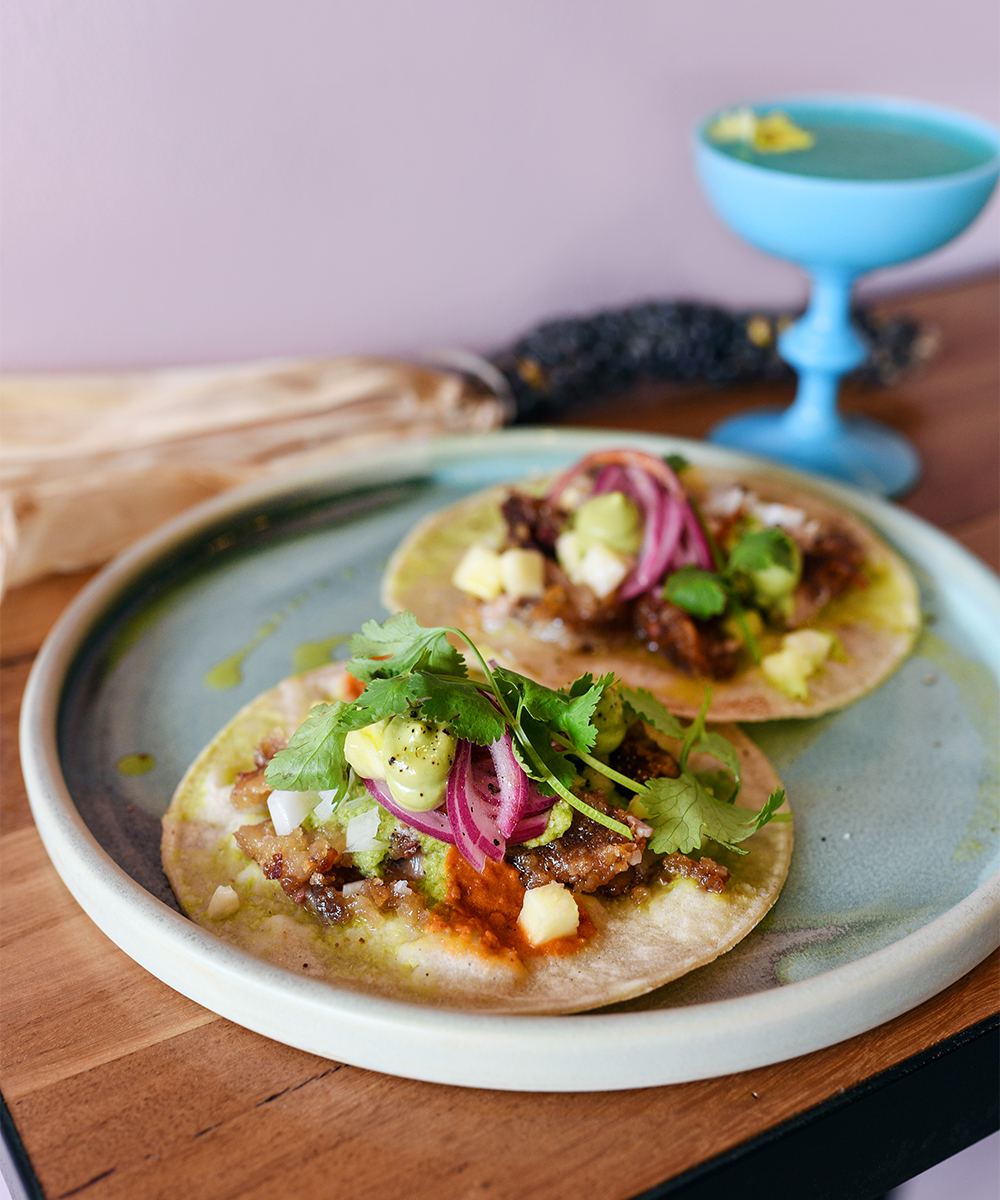 Mama Taco is an homage to authentic Mexican cuisine with contemporary touches—and an Instagrammable pastel pink aesthetic to boot. Featuring several wooden booths and high bar tables, adorned with hand-painted Mexican tiles, the cosy space is overlooked by a dreamy photo of the Baja Desert from above the bar, which may or may not make you even thirstier for the mezcal lining the shelves below.
We'll get to that mezcal in a minute, but first, let's talk tacos. Everything here is made from scratch using traditional Mexican preparation and cooking techniques—and we mean everything. Gluten-free corn tortillas in a variety of styles are handmade using nixtamalized organic corn, which means it's soaked in water and lime to remove toxins and increase the nutritional benefits—so you can feel guilt-free about your taco binge. The mole madre, a rich Mexican sauce, is created on site using somewhere between 40 to 50 ingredients, while chillies are fermented in house to create hot sauces. To cap it all off, the meats are slow-cooked over a wood fire grill.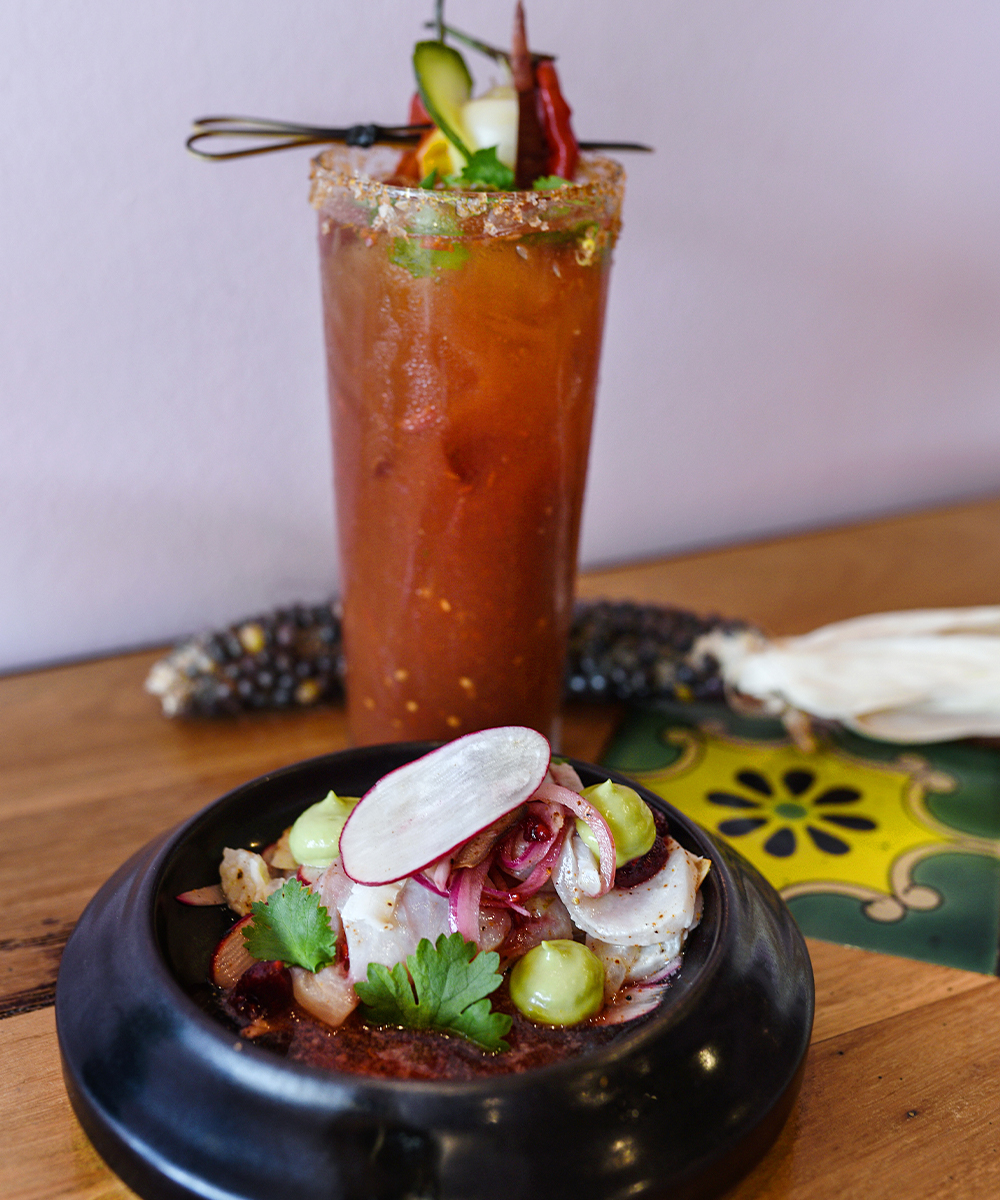 Combine all that dedication to authentic techniques and what do you get? Quite possibly the best tacos in town, with an explosion of flavours you wouldn't have thought could fit into a single mouthful. Tacos al pastor y carnitas come topped with juicy pork, salsa roja, salsa verde, guacamole, crispy pork rinds, tomato salsa and pineapple, while the vegetarian berenjena de comina is piled with cumin eggplant, minted yoghurt, red onion and plenty of salsa.
Tacos aren't all that's on the menu though, there's also a signature burrito, tostada ensaladas (fried tortillas stacked with beans, mozzarella and fresh salads) and aguachile, a zesty cured fish dish similar to ceviche. Every week will see a new shared plate or two featuring seasonal ingredients hit the menu—think whole marinated and roasted fish with plenty of sides to feast on, or whatever takes the chef's fancy.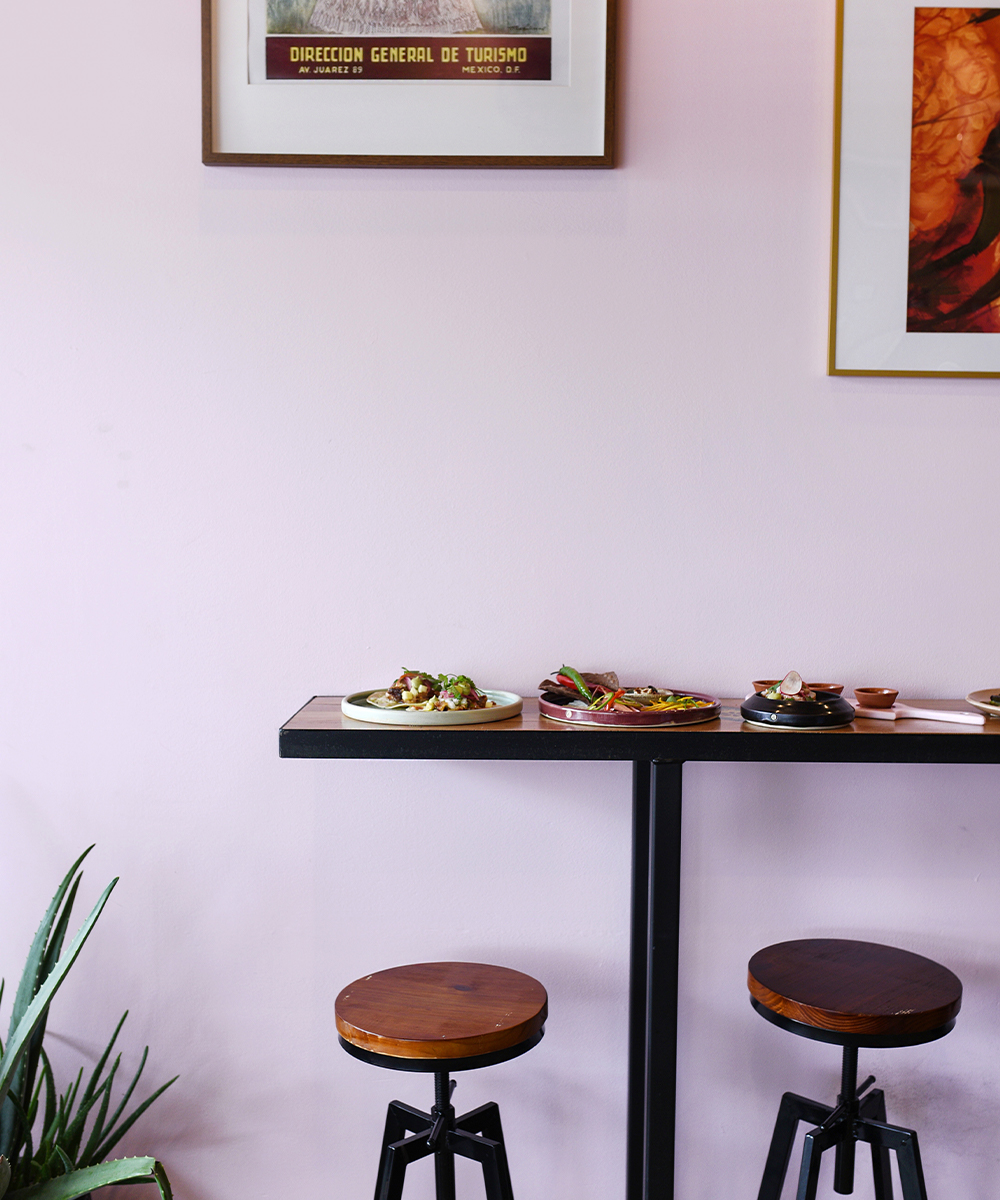 As for what you'll be pairing it with, the bar here is stocked with plenty of tequila—but don't go shuddering in horror just yet. Bar wizard Carlos Hurworth is on a mission to teach us that agave spirits deserve just as much attention as gin and whisky, and has crafted a wickedly good cocktail menu to prove it. But as well as ordering up classic sips like palomas, margaritas and micheladas (a lager-filled Mexican style bloody mary), you should definitely also sample a flight of three single origin tequilas or mezcals—it might just change your mind about the spirit for good. If just the thought brings back too many bad memories though, the bar list also features a handful of Mexican wines as well as one Australian feature wine each week, several beers and a range of non-alcoholic sips like tepache, a fermented pineapple drink.
We could go on and on about why you should hit up Mama Taco as soon as possible, but we'll let you discover the rest of the reasons for yourself.
Image credit: Larissa Drazic