Now the temps have dropped and Brisbane has been encased in an icy fortress of (reasonably) low temps, we can all make a start on switching from our fave summer tipples, to something more akin to all these wintery feels we're having.
Brisbane's best bars all know we love a good seasonal drink, and no sooner had they heard our cries (or somehow knew that with June comes a change of season… crazy) one iconic Brisbane bar has upped the ante, creating a winter cocktail menu so enticing, it makes it very hard to stick to just one!
Much-loved Riverbar & Kitchen, located front and centre on the Brisbane River on Eagle Pier—talk about killer views, right?—knows a thing or two about a cracking menu; their food menu is a what's what of seasonal produce, locally sourced and meticulously presented, with flavour for days.
But what's a great dining menu without some sauce, right? Riverbar & Kitchen's creative approach to flavour blending leads to one thing and one thing only; seriously, dangerously delicious cocktails!
So, in the name of journalistic research (you're welcome), we made our way through the list to bring you our ultimate top 4. In no particular order, we suggest wetting your whistle with these Riverbar & Kitchen beauties:

The love child of a Fantail and an Espresso Martini, the 'Salty Sailor' is dosed up on Sailor Jerry spiced rum, a splash of Drambuie, lashings of salted caramel, an espresso shot, and topped with caramel popcorn (in case you're a bit peckish).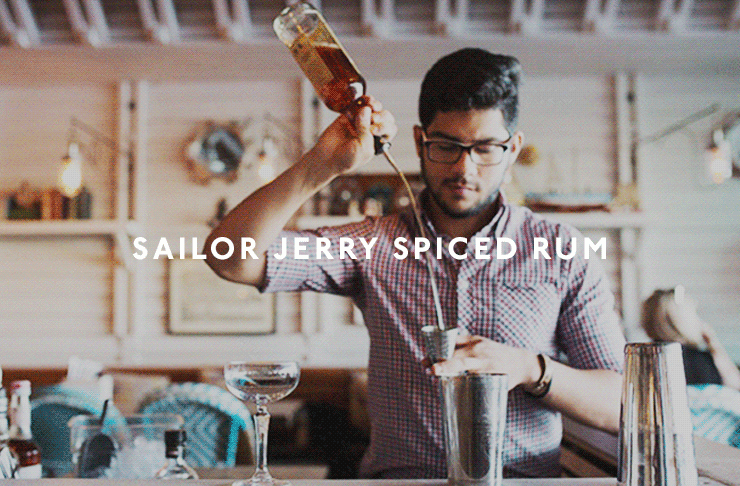 So much more than just a whisky cocktail, knock back Chivas 12 year old, with ginger, a drizzle of honey, a squirt of lemon, and accompanied by a smokey whisky float, this is winter in a glass, and will warm the soul.

This one's perfect for a warm winter day, and let's be honest, we get a few of those. House-made Hibiscus-infused gin, stir in some sweet and sour grapefruit marmalade, a dash of chilli for a kick, lemon, then topped up with bitter orange soda—did someone call sundowner?

A fave summertime thirst-quencher, why should we be denied this classic because the sun goes down a little earlier? Top up your glass with Absolut pear, Drambuie, apple slices, cinnamon, plenty of citrus, lemonade, and of course, lashings of red wine. Arriba!
If you've made your way through this list, or fancy mixing things up a bit, come down to Riverbar & Kitchen's Social Sundays for specially crafted cocktails every Sunday from 2pm. Every month has a different focus, kicking off with Bacardi Fuego cocktails coming hot and fast out of the pop-up bar. Kick back with pals, try your hand at some Giant Jenga, and revel in Brisbane's oh-so perfect winter weather. We're totally spoilt!
Image credits: Daniel Hine