We love Malaysian food and we love nasi goreng, so we were pretty dang excited when we caught wind of this Malaysian nasi goreng recipe from The Wandering Matilda. This gal has spent a lot of time hopping around Asia, so she knows her shizz when it comes to Asian eats, and it sure does show in this recipe.
If you don't have dinner plans tonight, you know what to do.
---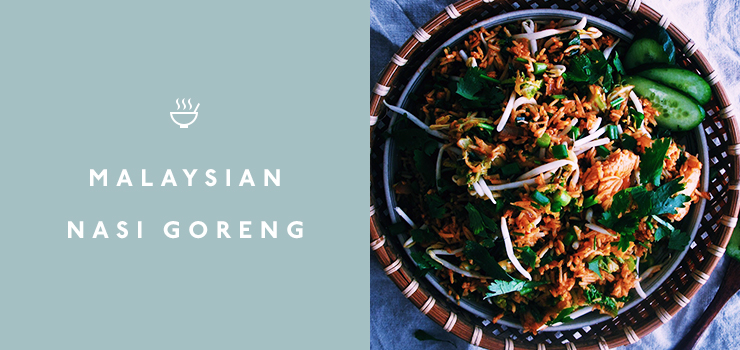 METHOD
Start by putting your rice on. Once it is cooked, leave aside—uncovered, to cool.
While that's cooking, combine the sriracha, kecap manis, soy and sesame oil in a cup then leave aside.
Make sure all your chicken, veg and herbs are chopped and ready to go then heat a little oil in a wok and over a super high heat, fry off the onion, garlic and chilli.
After 2 minutes, add the chicken and cook through. Stir in beans, cabbage, spring onion, coriander and sprouts, then the cooked rice.
Push the rice to one side then crack the eggs in the wok. Mix the yolks through and using your utensil, work the eggs until they scramble. Pour the sauce mixture over the rice then fully combine with the egg. Et Voila!
Want more Asian goodness? Make these sticky pork noodle bowls and win at life.
Image credit: Holly Nicholls