The traditional bride has had a clear idea of her nuptials planted firmly in her mind since she was just a pup. She covets Vera Wang, baulks at the idea of a coloured wedding dress, and can't understand why you would get hitched on a beach (without shoes!). The traditional bride values ceremony and the age-old conventions that accompany the big day. There will be no skimping on trimmings if it means the perfection of her day is impeded.
Here are our top picks for the traditional bride: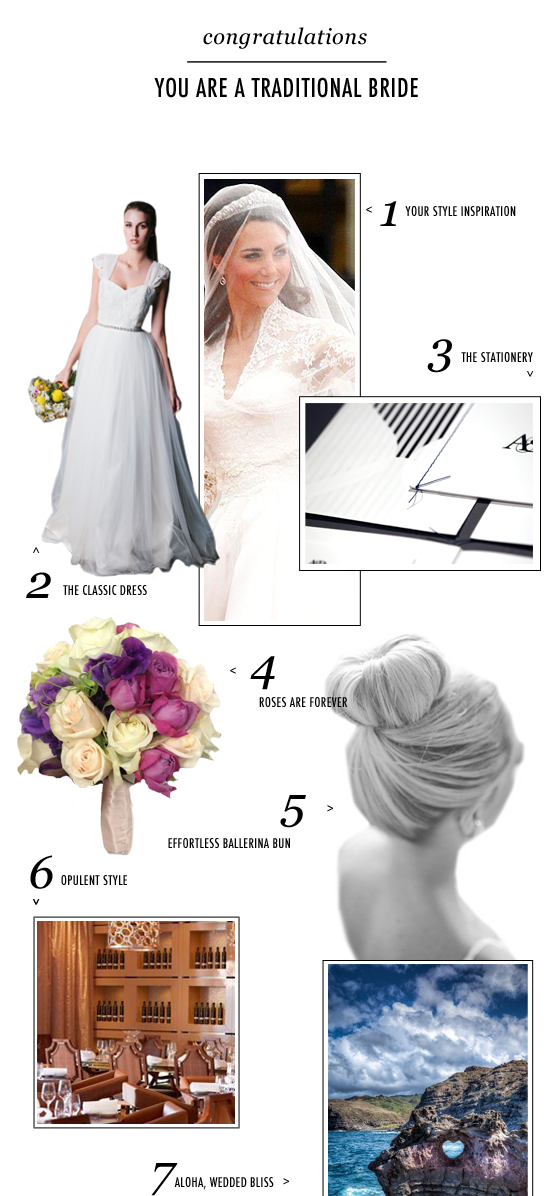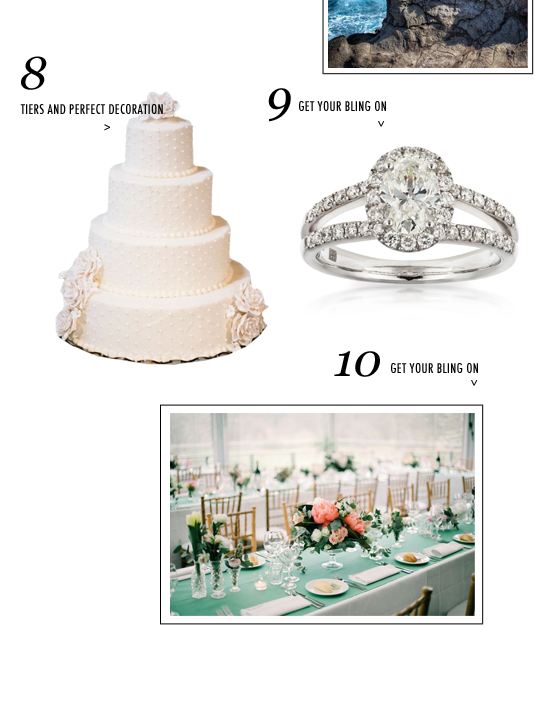 1. The Inspiration
The whole princess thing may be a tad naff, but Kate Middleton's wedding to Prince Wills was the stuff traditional wedding dreams are made of. As the ultimate 'modern' traditionalist, Kate chose a gown by a slightly daring, fresh designer, but the obvious Grace Kelly inspiration behind her dress was pure wedding classicism.

2. The Fashion
Wedding dress designer, Jennifer Gifford can create a dress for you that is as conformist, or cheeky, as you like, but her hand-designed pieces are made with you in mind, to ensure the dress is the one of your dreams. The traditional bride will be comforted by her finesse with classic silhouettes, and talent for handling lace and tulle.

What to wear | Jennifer Gifford
3. Stationery
This classic stationery set is formal and striking, perfect for the traditional bride. Presented in a bound envelope, this printed wedding booklet and invitation are bound with blue cotton thread.

Little Peach Co. makes every effort to create invitations that are unique, beautiful and tailored to each bride. Best of all, they make the design process fun, easy, and fast! Check out a video of the Little Peach Co. letterpress in action, here.
Where to go | Little Peach Co.

4. The Flowers
The traditionalist bride really has nowhere to go florally aside from the roses route. Roses go with everything, and there's a rose to suit every mood and bridal inclination. Mix your roses with sweet peas and tulips in soft pastels for a dreamy bouquet, and tie with a traditional satin ribbon.

Alba's fresh, hand-delivered arrangements have made this inner-north florist one of our favourites for many years. Their gorgeous blooms and exquisite service are highly prized by brides-to-be.

Where to go | Alba Roses

5. The Hair
Keep it sophisticated with a sleek and smooth top-knot bun. This classic hairstyle will accentuate your gown (and your pretty face), with no messy distraction. The gang at Blow are more than capable of helping you achieve a flawless high-bun, and can even give you a quick mani' and lash tint, while you're at it.
Where to go | Blow

6. The Venue
The opulent, refined surrounds of South Bank's Bacchus offer the ideal venue for a traditional bride to ring in married life. With a range of gorgeous spaces for hire, including a private dining room and cocktail space, receive a complimentary waitress for your event, premium bottle service, and music that can be tailored to your day (can I get a string quartet?)—there's nothing not to love about the Bacchus experience. For reservation enquiries click here.

Where to go | Bacchus

7. The Honeymoon
Aloha, wedded bliss! The Four Seasons in Maui is the perfect location for newlyweds to take in some sun, sip on a cocktail or five, and get down to business. And by business, we mean writing thank you notes to your wedding guests, of course.
Where to stay | Maui, Hawaii

8. The Cake
Towered and white, covered with delicately piped icing and adorned with flowers. This is the cake for you. Your wedding day is not the time to shy away from opulence, so choose a fittingly regal cake with as many towers as you can manage (think the Tower of Pisa without the lean). Nat from The Cake Tree will sit down with you to ensure your cake is styled exactly to your liking.
Where to go | The Cake Tree

9. The Rings
The split band ring with a cushion-cut diamond taking centre stage, and a splash of tiny diamonds adding just the right amount of sparkle? Yep. This white gold ring is every little girl's engagement ring dream, and fits the bill perfectly for the bride who likes to play by the book.
Where to go | Hardy Brothers

10. The Stylist
Starting with your overall design concept, and covering all of the planning elements, the team at Victoria Cameron will manage every detail of your wedding day. This will ensure the event is tailored to suit your personal style and executed flawlessly. Victoria's team will liaise with only the most talented and respected vendors, managing and coordinating all aspects of your big day. Victoria Cameron appreciates the finer details and offers the personal touch, so you can be rest assured your wedding will be a true reflection of your personalities, relationship and style. Your big day will be as perfectly turned out as you both are!
Where to go | Victoria Cameron

Want to find out your bride personality? Take our quiz!