Winter has officially arrived Brisbanites! And you know what that means? Three to four months of bitterly cold mornings, which aren't fun, unless you fill them with hearty breakfasts to warm your soul. But if you can't see yourself wandering the streets on a freezing cold morning trying to find a sensational brekky (who has time for that?), we've done the legwork and compiled a list of our favourite Brisbane breakfast spots that will leave you feeling warm and cosy, all day long.
Mondo Organics
With a team dedicated to sourcing the highest quality organic produce, Mondo Organics offers diners a scrumptious winter breakfast menu using fresh, quality organic ingredients. Think brioche with home-made nutella, caramelised banana and vanilla ice cream, omelets with roasted pumpkin, brie, sage leaves and toasted pane, and sourdough spelt crumpets, rapadura golden syrup, poached autumn fruit, and whipped mascarpone. Hungry yet?
Au Cirque
Au Cirque has long been a Brisbane breakfast favourite, but this French cafe comes into its own in the cooler months — the sun-filled dining spaces are the perfect winter retreat. Our pick of the menu for instant stomach bliss is the barbecue pork sloppy joe, topped with a fried egg and sour cream. It's guaranteed to shake off the winter blues.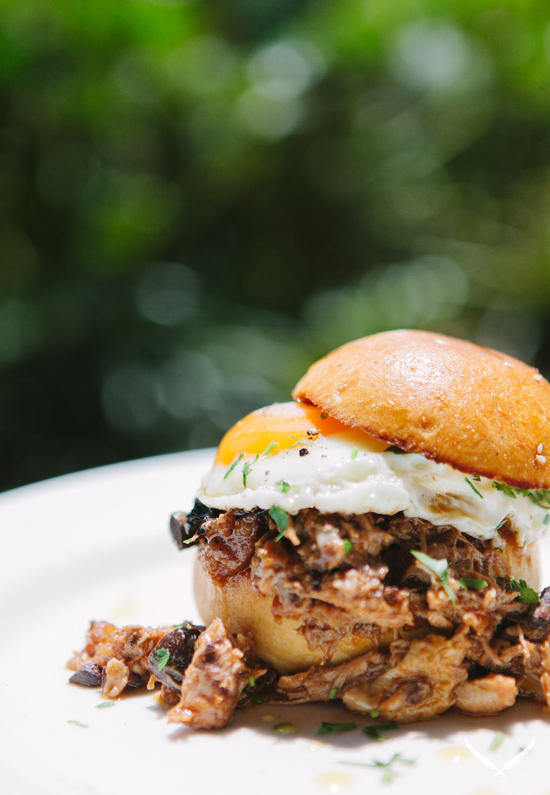 Nana & Da's
If the thought of being curled up with a cup of tea at Nana's house is comforting as heck, you'll love Kedron's latest addition, Nana & Da's. With a homestyle menu, and equally homey interior, this new Brisbane breakfast joint is the ideal reprieve from the winter doldrums. Their cider chorizo beans with 'mojo' sauce are a suitably wintery breakfast option.
Crema and Cream
Crema and Cream in Stafford will transport you back to your childhood, with warm, scrumptious breakfast options including green eggs and ham (yes please!), smashed avocado on house bread, French toast, and their signature 'mushroom thingy' (just try it). On Saturdays the breakfast menu includes waffles (Canadian style, please!), and another two of their own creations 'the big one' and a vego' option, the 'no-meaty-eaty'. The choices are endless!
Shouk
It may have only been on the scene for a few months, but Paddington's new Middle Eastern café, Shouk, has won our hearts with their breakfast menu, which expertly toes the line between Middle Eastern flavours and traditional breakfast fare. If it's a winter warming breakfast you're after, you can't go past the classic Shakshuka. This Tunisian dish of baked eggs, cooked in rich tomato sauce and spices, served with toasted challah and sausage is the 'it' breakfast right now, and Shouk's version is a must-try Brisbane breakfast. Shouk also has killer views of the Paddington hills, which you can enjoy from inside this warm and inviting café.
Eve's on the River
Situated along Teneriffe's waterfront, Eve's is possibly one of our favourite spots for a traditional, hearty Brisbane breakfast. Tucked out of the wind, but with killer river views, their menu features old favourites like eggs Florentine and eggs Benedict, and other seriously yum options including grilled haloumi, porridge with pistachio praline, macerated figs and apricots, and brioche French toast with saffron poached pear and honey ricotta. Don't waste precious eating time, head to Eve's, pronto!
The Balfour Kitchen
Our favourite meal of the day is breakfast, so to have someone lovingly prepare it for you is a real treat! And in our food-obsessed society, where it's becoming more common to find 'fermented' this and 'raw' that on breakfast menus, sometimes you just feel like a classic, hearty brekky, made with fresh quality produce. The Balfour Kitchen understands our feelings on this matter, incorporating a range of home-cooked classics into their extensive breakfast menu. Think along the lines of the classic 'big breakfast', eggs benny with smoked salmon, and grilled haloumi with asparagus, avocado and grilled red capsicum on sourdough toast. Yum, yum and er, yum!
Anouk
This ever-popular cafè tucked away amongst Paddington's food and fashion precinct is one of the go-to spots for a scrumptious winter breakfast in Brisbane. If you prefer the traditional breakfast, you can't go past Anouk's French toast (it's delish!), but if you're a little more adventurous when it comes to brekky we recommend trying the omelette with roast pumpkin, caramelised onion, goat curd, crunchy baguette and butter. Anouk's breakfast menu is hands down one of the best. Oh and did we mention they can serve your coffee in a bowl? Yes, I did say bowl. It's how they do coffee in France!
Click here for more of Brisbane's best breakfasts!
Image credit: The Talking Kitchen