Forever looking for a bar where you can kick start your night with a few tacos and move onto a live music session before hitting the D-floor fuelled by espresso martinis and tequila? Well we have found just the spot for you.
Opening the doors on its vibrant bar and dining space this weekend, Ivory Tusk has transformed what was once the dim and grungy Woolly Mammoth into a bright, pastel venue for eats, beats and even the occasional energetic Rockaoke session. Complete with three separate spaces for dining, dancing, cocktail drinking and live tunes, the revamped bar is all about Palm Springs vibes, combining pastel decor, Cali style and a few quirky touches that make it as fun as it is glam.
The woolly mammoth standing watch over the dancefloor is no more (you'll find him mounted on the wall upstairs in the Mane Stage), instead a classic pink convertible now takes pride of place, doubling as a DJ booth for when the dining area turns into a dancefloor after dark. Upstairs, the Garden Terrace has been adorned with fluffy pendants, bright umbrellas and a swinging chair, perfect for knocking back cocktails over a game of giant jenga. A range of specially curated cocktails on tap mean queueing for drinks will be a thing of the past, with sips like gin spiked peach iced tea and an espresso martini ready to pour. Cocktail tasting paddle, anyone?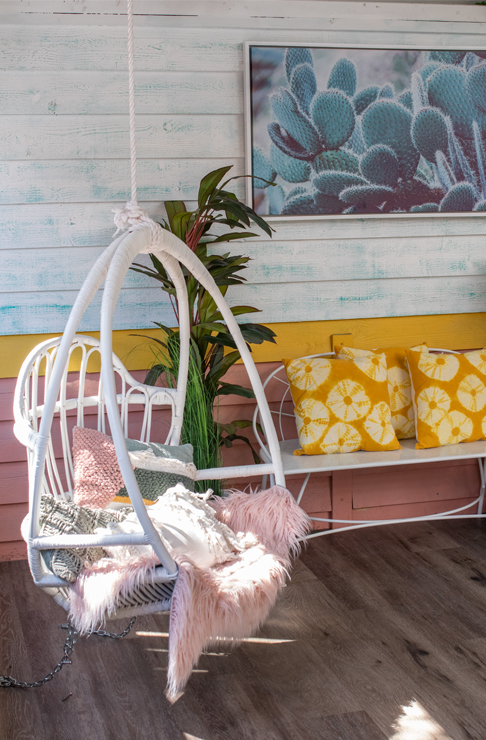 But before you get to the cocktails, there's a killer eats menu to hit up, designed by executive chef Graeme McKinnon, previously of Covent Garden, and head chef Jack Thomspon of South Australia's hatted restaurant, The Line & Label. Tuck into bar bites like fried cauliflower tacos, Mexican street corn and pork chicharrones, with a set table menu available if you don't want the pressure of choosing what to eat, and plenty of gluten free and vegan options.
All in all, the Woolly Mammoth's evolution into a vivacious (and definitely post-ice age) party spot is one we can get around. Ivory Tusk lands this weekend, open from Wednesday to Sunday, and you can get all the details here.
Before the clock hits 5pm though, here's where to sip on the best bubble tea in Brisbane.
Image credit: Ranyhyn Laine