There's something to be said for holidaying like a local. There's no awkward map following, no splashing cash on dud-cafes—everything is as perfect as if you were heading out for coffee at your local. That's why we've teamed up with uber-locals, Visit Sunshine Coast, to bring you this delightful local's guide to every nook and cranny of the region. Bliss!
Plus, you can win a trip there at the bottom of the article—so keep reading!
We've broken it up by region to make everything easier on you because there's seriously SO much to explore, but just a bit of a spoiler: they're all kind of ridic.

Coolum
Coolum is a rather active corner of the Sunny Coast, and it's mostly thanks to the epic hiking spot that is Mount Coolum. The hike makes Coolum worthy of a visit alone, but that's before we even mention the Coolum Surf School, or Coolum Beach…The breakfast tower (think high tea, but for breakfast) at Coolum Beach Surf Club is also kind of major.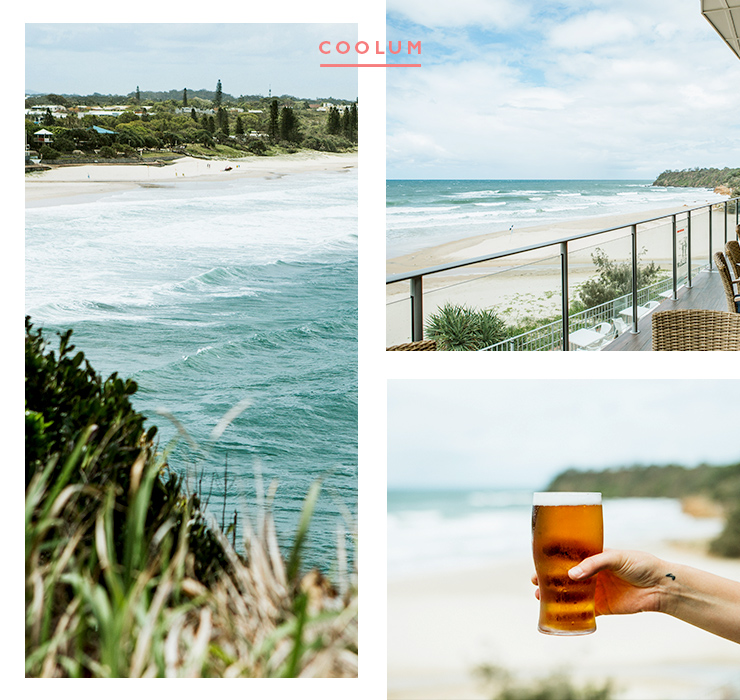 Caloundra
Caloundra has it all, tbh. Mega-stunning azure waters, white sand beaches…it's like a tropical paradise, except it's only an hour from Brisbane. When you're in town, you'd be a fool not to stop by The Pocket Espresso Bar for some pretty ridiculous beachfront eats spanning across breakfast and aaalll the way through to rosè and cheese boards. If you've got nothing but beer on your mind, head to Moffat Beach Brewing Co for a local drink or two, or 26° Bar at Rumba Resort. There is also a whole heap to do in Caloundra that doesn't ~gasp~ involve eating, like spending the day lazing around King's Beach or getting your DJ Khalid on and hitting up Caloundra Jet Ski.
Eumundi
Eumundi may not have a beach to dip your toes in, but boy oh boy does it have a bunch to do. First of all, there's the—dare we say—iconic Eumundi Markets for all your vintage, craft, and potato slinky needs. Food wise, we can't get enough of Bohemian Bungalow for its hinterland vibes (there's a garden bar!) and delicious menu. Imperial Hotel is another unmissable spot for sundowners with your bestest pals. If you're more of a George Calombaris than a Matt Preston, head straight to Spirit House for a cooking lesson (while not technically in Eumundi, it's just a short drive away in Yandina). The space is reminiscent of a luxe Balinese getaway, and is a seriously well-kept secret despite it laying claim to a chef's hat!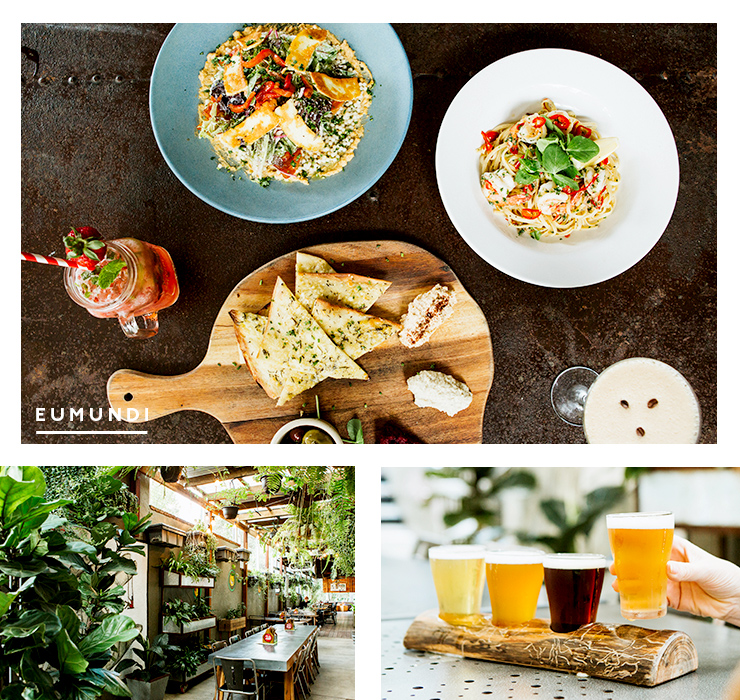 The Hinterland
The hinterland is an often-overlooked part of the Sunshine Coast. Personally, we don't get it: there's the stunning Gardeners Falls, Mapleton Falls, and the actual-jaw-dropping Mary Cairncross Reserve. When your stomach inevitably starts to grumble, make a beeline for Maleny Food Co for drool-worthy gelato, cheeses, and our personal fave, the roasted field mushrooms on sourdough. The Basement is a bar with Melbourne levels of cool hidden away in Nambour, so add it your list already. You can't miss the Glass House Mountains while you're here either, make sure you stop and take a few Instagrams of the stunning vista (our pick is Mary Cairncross).
Mooloolaba
First things first, you're going to want to find some accommodation because you're not going to be able to leave Mooloolaba after only a few hours. So, dump your bags at the ridiculously stunning Oceans Mooloolaba—every room has an ocean view and there's even a private cinema. When it comes to food, you're going to want to stop by Spice Bar and order the Mooloolaba prawn betel leaf immediately. For after-dinner drinks, make your way to Taps and order their Tzatziki Teapot cocktail—for real. Oh, and you obviously can't visit Mooloolaba without hitting the beach.
Maroochydore
Maroochydore has been dubbed the heart of the Sunshine Coast, and with good reason. Reason number one is the Nights on Ocean markets that go down on the second Friday of each month, and are home to delicious food, craft, and live music. For something a little more active, head to Maroochydore Beach, or get a different perspective via Paradise Seaplanes or Maroochy Eco Cruise. Alternatively, Maroochy Botanic Gardens will give you serious get-back-to-nature feels as you meander through 112 hectares of bush tracks lined with sculptures, water features and modern artwork while Cotton Tree's super-calm waters are ideal for beach picnics.
Want to win the ultimate Sunshine Coast getaway?
Obviously. We've teamed up with Visit Sunshine Coast to do just that, including: a luxe stay at Oceans Mooloolaba, meal for two at Pocket Beach Espresso, a Caloundra Jet Skiing session, and a cooking lesson at Spirit House!
Sound good? Fill out the form below to win and click here for terms and conditions.