While there might be more than a few of us who've ditched our Monday to Friday trips into the city for the foreseeable future, there's plenty of workers who've been dragged back to their offices kicking and screaming (or willingly, if you quickly got sick of only having house plants to talk to). For the latter, the newest cafe to hit the CBD's concrete jungle might just be the incentive you need to get out of bed a little earlier, so you've got time to fit in a hearty breakfast and a smooth coffee.
The Maillard Project comes to us from Adam Wang, the coffee connoisseur behind Coffee Anthology, one of the city's most popular cafes. There's a distinctly different vibe here though, with a minimalist stone, concrete and timber interior in contrast to Coffee Anthology's industrial style. Surrounding the central service bar are several distinct areas—the plush seating area for those sitting down for a bunch, a training area where training, tasting and cupping sessions will take place and a grab-and-go area at the front for the takeaway caffeine addicts.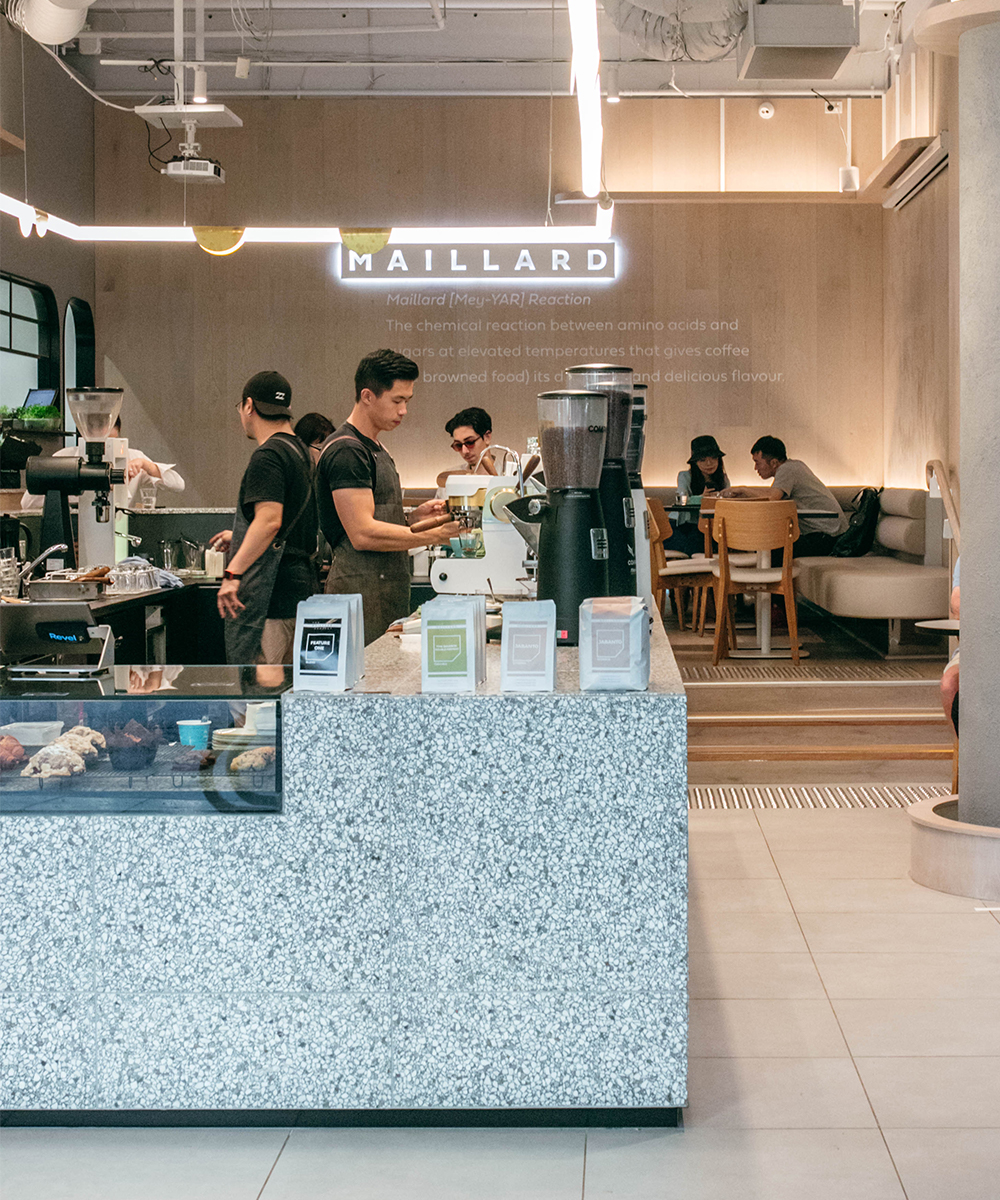 The most impressive section of the venue though, is the roasting area, which is visible behind a wall of glass and is where you might catch The Maillard Project's beans being roasted on the daily, so Wang and his team can tinker with quality and flavours in house. You will only find those beans being brewed up in their own machines, however, you can grab a bag to take home if you want to recreate a cup at home. Prefer to let the professionals do it? They'll get you caffeinated no matter your preference—espresso, cold drip, batch brew or just a good latte.
Though the new spot is very much about being a hub for coffee lovers to hang out and share their love of the bean, the breakfast menu is no afterthought. On the morning roundup, you'll find sweet cardamom pancakes with yuzu curd, meringue, chestnut mascarpone, orange and berries, and a pork bone broth congee with smoked ham hock, pickled bamboo, mixed herbs, crispy shallot and halved soft boiled egg. If it's breakfast for lunch you want, you can tuck into Nutella waffles with sous vide pear, vanilla anglaise and chocolate ganache, or the chilli scrambled eggs on sourdough from their all-day menu.
There's a handful of lunch dishes like crab linguine, beef red curry and a well-stacked Wagyu burger as well, plus a selection of baked goods at the counter if you just need something to get you through the afternoon.
Whether you're looking for a mid-week feed or you just want a barista to show you how to pull a decent espresso, you'll find The Maillard Project on Charlotte Street in the CBD, open seven days a week. Get all the details here.
Find more places to get a good breakfast in the city here.
Image credit: Ranyhyn Laine