Buckle up, Queenslanders—it's time to get out of the house and explore what our beautiful state has to offer. But not just by getting out of town, because with all our favourite bars and restaurants officially re-opening, and hotels accepting bookings once again, the city of Brisbane is fast coming back to life. Though the last few months have been a total write-off, there's plenty to eat, drink and do to make up for lost time which is why we've teamed up with Queensland to help you tackle it all. So whether you're a local or you're holidaying in our sunny slice of paradise, here's the best way to spend a week exploring Brisbane. Queensland is good to go, so let's celebrate our return to freedom.
Where To Eat
Same Same
For a sophisticated, fun and creative dining experience that's about more than just the food, pick up the phone and book a table at Same Same in Fortitude Valley. Underneath their soaring curved ceiling, you'll feast on drool-worthy Thai curries, stir-fries and snacks packed with flavour, best eaten while you sip on one of their spicy margaritas. Trust us—after one meal at Same Same, you'll want to become a regular.
Honto
Honto is all about modern Japanese fare—but not as you've ever seen it. After a pre-dinner drink in the shadowy ÔÔ cocktail lounge, you can take a seat at one of their shared tables and tuck into lobster katsu sandwiches, tuna and avocado drumsticks and slow-cooked beef short ribs. The menu is designed for diners to build their meals by sampling a little of everything, so bring your friends along to indulge in a oishii Japanese feast.
Farmhouse Kedron
If you're big on brunch, this one's a game changer. The Farmhouse is all about paddock-to-plate dining, meaning everything you eat is fresh from local farmers. They boast an impressive all-day brekky and lunch menu, so you can eat your faves no matter what time of day it is. We're talking produce bowls, ricotta hotcakes, breakfast gnocchi—even a slow-cooked BBQ jackfruit taco that's 100 per cent vegan. Seriously, their menu is something else.
Donna Chang
For an ultra-modern fine dining experience, you won't want to pass up dinner at Donna Chang. Ancient Cantonese and Sichuan flavours fuse together to create modern Chinese meals sure to tickle your tastebuds. Order a banquet for two and feast on steamed prawn wontons, pork and garlic chive dumplings, steamed barramundi and kung pao chicken—not to mention their signature black pepper beef fillet. Hot tip: Request one of their plush pink booths.
Julius Pizzeria
The truest sign of an authentic Italian Pizzeria is when you can't pronounce half of the items on the menu. At Julius Pizzeria, you may not be able to pronounce what you're ordering, but the English descriptions are more than enough to make your mouth water. And once the food comes out? Let's just say you won't be politely waiting for everyone to have their meal.
Extraction Artisan Coffee
Ok, so it's a little way out of the city, but this warehouse coffee roastery and café is worth a drive for any caffeine addict. You've got to get a cup of Joe, of course, brewed on beans roasted in house, but since you've come all this way, you may as well sit down to breakfast or lunch, with all meals made from scratch. After you've polished off brekky, make sure you grab a bag of beans to take home.
Poppy's Chocolate
Whether you do one of their famous factory tours or just stop by the chocolate shop, Poppy's Chocolate in Beenleigh is a mecca for dessert lovers. With handcrafted chocolate blocks, bark, bars, buttons, truffles, rocky road and even sugar-free and vegan chocolates on offer, there's no way you'll walk out empty-handed.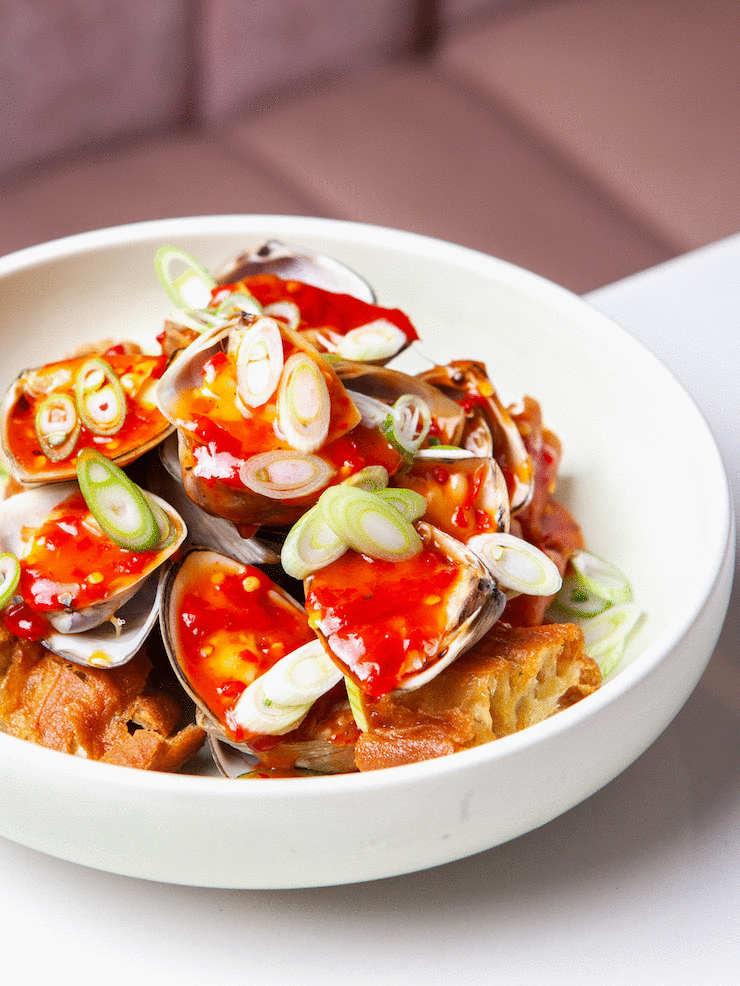 Where To Drink
Felon's Brewing Co.
Felon's Brewing Co.'s prime position on the banks of the Brisbane River provides incredible views of the city, making the brewery the perfect place to sling back a frose and have a few laughs. The best part is, the sunny lawn alongside is fully licensed, meaning you can grab a brew to go and sip while laying on the grass. Don't worry, Felon's has a food menu too so you can top yourself up without having to venture very far.
Maker
Reminiscent of European back alleys and hidden drinking holes, Maker promises a sophisticated drinking experience unlike any other. Its minimalistic interior which holds just a dozen patrons allows the drinks to take centre stage—and trust us, you won't be focussing on anything else once you're there. The award-winning bartenders serve up seasonal cocktails in designer glassware that look like works of art—if you can get a seat.
Death & Taxes
Don't let the name put you off, this sleek and sophisticated watering hole in the heart of Brisbane City will lure you away from the hustle and bustle of working life into its den down on Burnett Lane. Death & Taxes has mastered the art of cocktail mixing, with over 30 different combinations on offer, not to mention their selection of wines and spirits. The eight-metre long back bar stacked four metres high with around 800 bottles is sure to inspire you to try something new, so sit back in a leather-lined booth and start drinking.
Green Beacon Brewing Co.
Operating out of a revamped warehouse, Green Beacon Brewing Co. is an award-winning boutique craft brewery and bar just outside the city centre. Founders Mac and Adrian aim to bring a new culture to beer-drinking in Australia and steer away from smashing six-packs in favour of exploring the flavour and depth behind every brew. If you fancy yourself somewhat of a beer connoisseur, this is the spot for you.
The TERRACE
Found on bustling Grey Street in South Bank, venture inside the glamorous 5-star Emporium Hotel, step inside a futuristic elevator and ride your way up to The Terrace bar. This rooftop oasis boasts bold confidence and lush glamour galore. Here you can perch on a stool and soak up the panoramic views of the winding Brisbane River and sweeping city skylines with a drool-worthy cocktail in hand. We recommend coming for sunset drinks so you can watch as the sun falls behind the skyscrapers and paints the sky pink.
O'Reilly's Canungra Valley Vineyards
If you prefer to go straight to the source for your wine, O'Reilly's Canungra Valley Vineyards are an easy two-hour drive out of the city, and you'll find their cellar door open seven days a week. Don't grab and run though—stay a while and enjoy a picnic on the grounds, or take one of their friendly alpacas for a walk. Even better, just stay in the area for the night—O'Reilly's Rainforest Retreat is ready to welcome you about 15 minutes down the road.
Where To Stay
Spicers Balfour
If you consider yourself the artistic type, you might want to consider a stay at Spicers Balfour. Nestled amongst the leafy streets of New Farm, Spicers offers a welcoming sanctuary in the way of chic and luxurious suites inside an iconic Queenslander. Plus, it's just two minutes' walk from Howard Smith Wharves, so you can spend your afternoons relaxing out on the green before treating yourself to dinner and bed.
The Calile Hotel
Ah yes, The Calile Hotel, otherwise known as the cool new digs that blew up our socials back in 2019. Whilst The Calile's modern, minimalistic style makes it the perfect backdrop for all your Insta pics, it's location is nothing to sneeze at either. With neighbours like Jocelyn's Provisions, Same Same and Sixes & Sevens, you'll be out exploring James Street until well into the night. Don't forget to stop by Hellenika for alfresco dining or casual bites at the poolside.
Emporium Hotel South Bank
If you're looking for luxury, a stay at the Emporium Hotel is sure to impress. The five-star boutique hotel oozes decadence, offering guests sweeping views over Southbank and the Brisbane River, as well as access to the 23m infinity pool. Spend the night sipping cocktails on The Terrace Rooftop Bar before heading down for dinner at the hotel's showpiece restaurant, Signature.
Brisbane Marriott
Another of Brisbane's five-star hotels, the Brisbane Marriott boasts 28 floors of pure bliss. Treat yourself to a buffet breakfast at The Motion Bar and Grill, or stop by for charred octopus and Darling Downs aged scotch fillet to fill you up later in the day. Their on-site day spa offers massages, scrubs and steams for a whole-body rejuvenation that will leave you feeling refreshed and relaxed. Sound like your kind of getaway? Ours too.
Next Hotel
Located on Queen Street, a suite at Next Hotel will have you staying in the heart of Brisbane City. Pegged as the hotel for the efficient traveller, Next offers guests complimentary high-speed WiFi throughout the hotel, four free mini-bar items of your choice daily (because mini-bars make the hotel experience), plus free access to the lounge, outdoor swimming pool and 24-hour gym. If you're a sucker for freebies, this is the hotel for you.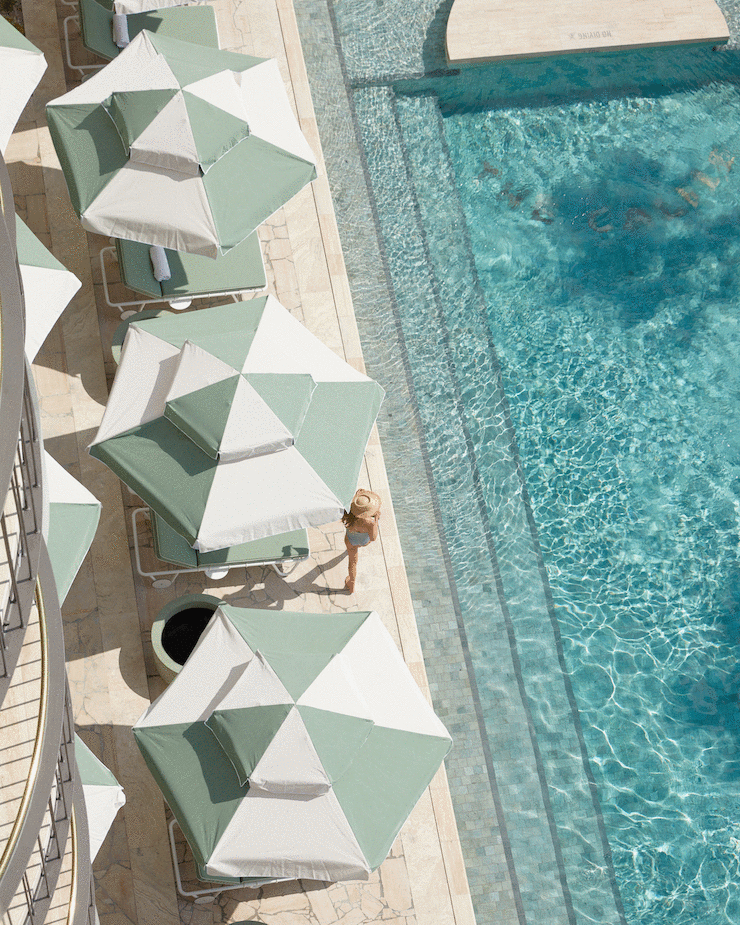 What To Do
Make Friends With Sea Turtles During An Eco Marine Safari
If you're looking for Whitsundays vibes but can't commit to a flight, a day cruise to Moreton Island is the perfect alternative. You'll head out on a 50-minute cruise starting from the mainland, giving you the chance to spot dolphins and humpback whales on their migration home. Once you reach the island, that's where the fun starts—snorkel the Tangalooma Wrecks, try your luck on a fish feeding tour, and end the day with an eco marine safari, where you'll cruise the crystal-clear shallow waters of Moreton Bay searching for turtles, dolphins and stingrays. Did we mention the boat comes with a fully licensed bar?
Embark on An Incredible Cultural Journey Through Aboriginal Australia
Open your eyes to the history, beauty and culture of the Aboriginal people with a little help from Spirits of the Red Sand. This endeavour aims to connect Australians with ancient Aboriginal rituals and customs and take them through the history of Australia's first peoples. Participate in boomerang painting and bush tucker tasting, before sitting down to an award-winning roving dinner and theatre experience that takes you from the Dreamtime all the way through to when British and Aboriginal ways of life collide.
Fill Your Culture Void With A Visit To QAGOMA
If you've spent the last few months holed up watching Netflix, you're in dire need of some cultural exposure, so head on over to QAGOMA. The Queensland Art Gallery is now open, with GOMA set to follow suit on Friday 7 August. Currently on display is Ai Weiwei's 'Boomerang' exhibit, composed of over 270,000 crystal pieces that fill the soaring space of the QAG's Watermall.
Cuddle A Koala At Lone Pine Koala Sanctuary
The heading says it all. The koalas at Lone Pine have missed out on a lot of love thanks to COVID-19, so you really have no choice but to show them how much you missed them by paying them a visit. You'll have to pre-book tickets, but hey, it's worth it for the koalas.
Soar Above The Ground In A Hot Air Balloon
Want to see the south east Queensland countryside from the air? You can get a bird's eye view on one of Floating Images Hot Air Balloon Flights, which take flight from Ipswich, about 30 minutes from Brisbane CBD. Launching into the sky just after dawn, you'll see the Brisbane skyline, the peaks of the Great Dividing Range, the Brisbane River and Wivenhoe Dam, before gracefully coming back to earth and heading to Fourth Child Restaurant for an included breakfast.
Pop Over To One Of Brisbane's Beautiful Islands
We're blessed with dozens of white sand isles found just off the coast Brisbane that makes for a great day trip or you can camp or check into accommodation for a longer sojourn. One of our top picks, though, has got to be Moreton Island that's home to Tangalooma Resort. It's a quick and picturesque 75-minute ferry over to the island. Here you can hire a quad bike and rip around the island, snorkel the Tangalooma wrecks, explore the dunes, go parasailing, feed dolphins at dusk... If it exists, Tangalooma Island has it. And, hot tip: get down to the jetty at dusk to witness the magic of one of Moreton Island's spectacular sunsets. Your 'gram will be absolute fire.
Try Your Hand At Putt-Putt With Awesome City Views
Weave your way around the rocky terrain at Victoria Park's 18-hole mini-golf course. Boasting magnificent views of the Brisbane City skyline, the course is open morning, noon and night, so you can show off your putt-putt skills anytime of the day. The course is fully licensed, but don't drink too much, or it'll affect your game—trust us, we've been there.
Whether you're looking to holiday in Brisbane or you're a local looking to really make up for lost time due to COVID, now's the time to make the pledge to get out and explore. Not only is it the perfect excuse to live your best life, but you'll also be supporting businesses and locals who have been doing it tough over the past few months.
Queensland is good to go, so let's get out there! And remember, always be COVID safe and check operator details and opening times prior to travel.
Editor's note: This article is sponsored by Queensland and proudly endorsed by Urban List. Thank you for supporting the sponsors who make Urban List possible. Click here for more information on our editorial policy.
Image credit: The Calile Instagram, sAme sAme Restaurant Instagram, Donna Chang