How great is it that we have a day off work for the Ekka public holiday? Ignore the alarm, crawl out of bed after 8am (just living the dream) and take it easy—you deserve it. Sort of.
Now of course you can just go to the Ekka, but whatever you do decide to do on this glorious day, you gotta eat, right (oh, and a few frosties would go down a treat, too)? So, spare a thought and a prayer for all the best Brisbane, cafes, bars and restaurants making your Ekka public holiday great by staying open, just to feed and hydrate us. Gosh, they do us proud, guys.
So this is it Brisbane, here's what's open this Ekka public holiday 2017.
Restaurants & Cafes Open This Ekka Public Holiday
The Cheese Pleaser
Pleasing practically everyone (except maybe the lactose intolerant) is The Cheese Pleaser, cranking out cheese toasties, coffee, their ever-changing lunch specials, cheese platters and coffee all day for the Ekka public holiday. Gosh, we're spoilt, aren't we?
ABODE CAFÉ | TARINGA
If you're looking for a good brew and some homemade goodies head over to the western suburbs this Ekka public holiday. Abode will be open from 8am to 12pm.
ALCOVE CAFE & DELI | WILSTON
This urban chic café and deli will be open from 6am to 12pm serving up brunch and boutique local produce for you to take home.
ANOUK | PADDINGTON
Anouk will be serving up all the goods in their trendy café this Ekka from 6:30am till 2pm with an all day menu. Make sure you try the campfire hash!
Arthur's Green | red hill
Cute little café Arthur's Green will also be open on Ekka Day. Pop in from 7am – 12pm and enjoy a hot cuppa in their gorgeous outdoor seating area.
ARTIE & MAI | ALBION
If you haven't tried the chorizo brekky at Artie & Mai, now is the perfect opportunity. Doors are open from 7am to 3pm and I would book in advance as this little breakfast haunt is thriving.
ATALANTA BAR | HAMILTON
Charcoal pit cook ups and cocktails? Yes please! Atalanta Bar will be open from 11:30am till late.
ATTICUS FINCH CAFÉ | PADDINGTON
Neighbourhood café and bar Atticus Finch is serving up supreme coffee and good simple food from 7am to 12pm.
THE BALFOUR KITCHEN | NEW FARM
The Balfour Kitchen of Spicers Balfour Hotel is serving up a fancy spread this Ekka, so if you are looking for some fine dining head on over from 6:30am to 8:30pm.
BAR ALTO | NEW FARM
Located atop The Powerhouse in New Farm, Bar Alto will be serving up all your Italian favourites from 11:30am to 3pm and 5:30 to 9pm. Pro tip – make sure you try the mussels, they are to die for!
BOWEN ARROW | BOWEN HILLS
Focusing on fresh produce and wholesome ingredients Bowen Arrow Café is the perfect place to grab a bite this public holiday. They will be serving up brekky, lunch, and snacks from 8am to 1pm.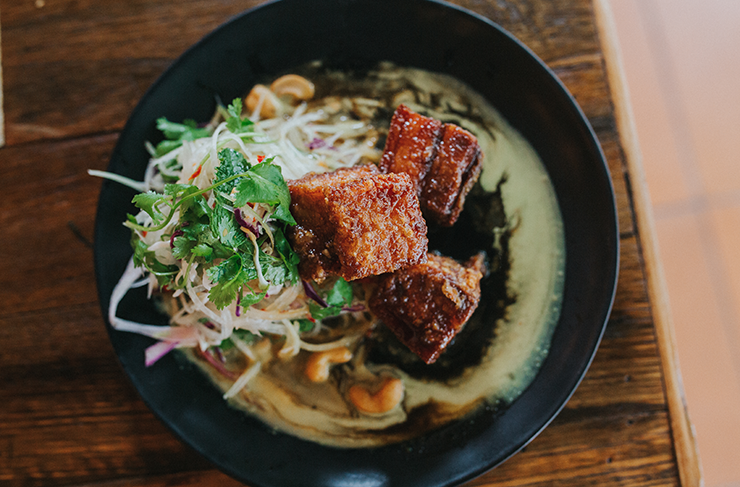 THE BRASS BARREL | Rosalie
Open from 6am till late this public holiday The Brass Barrel is always a solid option. For an added bonus, they have 'Wednesdays with the Bachelor' where they have Bachie sweepstakes and Matty J's face on all screens available – score!
CAFE NOMA | WAVELL HEIGHTS
Grab one of Café Noma's legendary bacon and egg wraps and a coffee this Ekka holiday. They will be open from 7am till 1pm.
CHAPTER IV | PADDINGTON
Head into Chapter IV for a warm jaffle and hot coffee to get you through the Ekka madness. Open from 7am to 1pm.
Chu the phat | South Bank
Chu the Phat is a brand spanking new restaurant in Southbank serving up modern Asian cuisine in an urban setting. Check them out on your holiday from 12pm until 10pm.
CHUR BURGER | FORTITUDE VALLEY
Stop in for a choice burger from 7am to 10pm at Chur Burger in the valley to satisfy all of your burgery needs.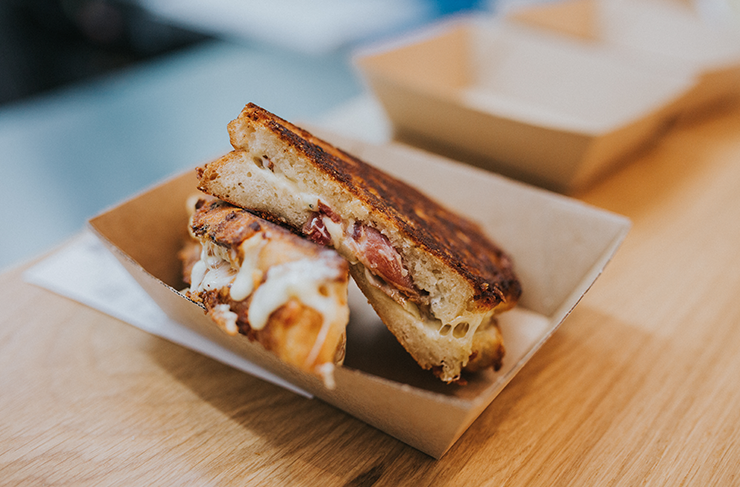 COWCH | SOUTH BRISBANE
Two options - waiting in line at the Ekka, or eating dessert pizza? Is that even a question? Head into Cowch from 7am until 10pm for an ultimate cheat day.
DARLING & CO | PADDINGTON
Now open on weekdays Darling & Co will be serving up a storm this Ekka. Pop in for brekky, lunch, or dinner from 6:30am to 12am and make sure you try their new rotational desserts!
plum tucker | red hill
Local favourite, Plum Tucker will be opening their doors this Ekka public holiday, serving up their classic all-day menu, decadent baked goods from the counter, and all importantly, coffee!!
The defiant duck | newstead
The Defiant Duck will be holding an Ekka Eve and Showday party this year! From 11am until midnight both days you can eat and be merry while checking out their 24 beers on tap and wide range of cocktails!
The Single Guys | Kenmore
Keeping the west side happy as Larry this Ekka public holiday are the team at The Single Guys. Expect their usual, discerning menu, service with a smile and their variety of coffee and small batch brews. Perfect fodder for a day off work.
FOXY BEAN CAFÉ | WOOLLOONGABBA
Sit back and relax at Foxy Bean Café. They will be open from 6am to 3pm for breakfast and lunch this Ekka public holiday.
FUEL & CO | NUNDAH
Nundah's best local café Fuel & Co will be open this Ekka holiday from 6:30am to 2pm. Enjoy their healthy seasonal menu and choice coffee.
gelato messina | South Brisbane
Everyone's favourite new ice creamery will not disappoint us this Ekka public holiday. Open from midday to 11pm stop by Gelato Messina for a cup or cone.
HELLO HARRY | HAMILTON
Serving up bloody good burgers Hello Harry will be open from 11am till 9pm, so make sure you stop by for a feast!
Junk | Southbank
Keen for a wicked spread worth sharing (or more so eating all by yourself…). Junk will be open from 11am until 10pm serving up authentic Asian cuisine with a freestyle Australian twist.
KETTLE & TIN | PADDINGTON
Serving up the best of the best in coffee and brunch, Kettle & Tin will be open all day from 7am to 3pm.
KING ARTHUR | TENERIFFE
Come in to King Arthur Café from 7am till 3pm for their creative cuisine and some seriously good coffee.
king tea | Paddington
Craving some tapas with a few mates on your day off? King Tea will be open from 4pm next Wednesday.
LES BUBBLES | FORTITUDE VALLEY
Les Bubbles will be open from 12pm to 2:30pm, then 5pm to 11pm to provide you with all the authentic French meals, desserts, and cocktails you could dream of. Oui oui!
LET MINNOW | CLAYFIELD
If you are a fan of puns, fishy decour, and have an unrelenting sweet tooth, this café is definitely worth your time. Let Minnow will be trading from 6:30am to 2:30pm this Ekka, as will their mini me Let Minnow 2 Go.
little red providore | red hill
Join Little Red Providore for brunch as they serve up some choice eats in their local café from 6:30am to 2:30pm.
LOCAVORE | WOOLLOONGABBA
Venture into the heart of Woolloongabba for some of the best local food and most ethically sourced food around. Locavore will be nourishing their customers from 6am to 2pm
LOKAL + CO | WEST END
Nordic inspired Lokal + Co will be serving breakfast and lunch this Ekka holiday from 6am until 3pm in their adorably chic café.
lucky egg | west end
West End's newest burger eatery Lucky Egg will be open from 11am till 9pm this Ekka public holiday. Saving us Brisbanites one hangover cure at a time.
MADAME WU | CBD
What better way to spend your day off than at Madame Wu. Choose from their extensive cocktail list and enjoy the stellar view from 12pm till late this Ekka holiday.
miss jones | New Farm
Gorgeous little café, Miss Jones is open for business the Ekka holiday! Come in for a coffee and breakfast between 6:30am and 3pm.
PEARL CAFÉ | WOOLOONGABBA
Yet another Wooloongabban gem, Pearl will be serving up their pantry essentials and sweets alongside great coffee and food. Open from 8am to 1pm Ekka public holiday.
River Quay fish | SOUTH BANK
Serving lunch from 10am to 3pm this Ekka holiday, River Quay Fish is where you want to be. Relax on their terrace with beautiful views of the Brisbane River and gorge on their amazing seafood dishes.
SCOUT CAFÉ | PETRIE TERRACE
Surprise yourself by venturing into Scout Café between 7am and 3:30pm. With their constantly rotating menu that never fails to be creative and insanely tasty they wont disappoint.
SEVEN SOUTH | YERONGA
Check out Seven South's gourmet menu between 7am and 2pm. Whether you go for the brioche French toast, the duck porcini parpadelle, or any of their scrumptious other menu items between, you will be more than satisfied well after the last bite.
5 BOROUGHS | GREENSLOPES & ascot
Buckle up for a seriously good burger at 5 Boroughs. Open from 12pm at both locations they are known for their awesome burgers - and make a mean milkshake too.
POPOLO ITALIAN | SOUTH BANK
Open from 12pm for lunch then 5pm for dinner, Popolo serve the authentic, rustic, Italian cuisine you have no doubt been searching for.
Nickel KITCHEN & BAR | fortitude valley
Rocking killer seasonal menus this nostalgic restaurant and bar is dedicated to provide you a luxurious and indulgent dining experience. Nickel Kitchen and Bar will be open from 11:30am to 10pm.
OTTO RISTORANTE BRISBANE | CBD
Settle in for a luxurious Italian dinner this Ekka holiday at OTTO. With amazing views of our iconic story bridge and even better food they will be serving lunch from 12pm to 3pm.
Miss kay's | Michelton
The already iconic Miss Kay's will be serving up burgers galore this Ekka public holiday. Try their 5 beef pattie burger eating challenge between 10:30am and 10:30pm.
Bars Open This Ekka Public Holiday
ALFRED & CONSTANCE | FORTITUDE VALLEY
Get lei-d at Alfred & Constance, open from 11am till late. Being just walking distance from the Ekka grounds A&C is your ideal sot for kick ons.
AT SIXES AND SEVENS | FORTITUDE VALLEY
From 11am til midnight stop in for some choice eats and beverages at neighbourhood stop in At Sixes and Sevens.
CANVAS | WOOLLOONGABBA
Canvas bar is open for the public holiday from 12pm till late. Check out their trendy decour and extensive cocktail list to end your day off right.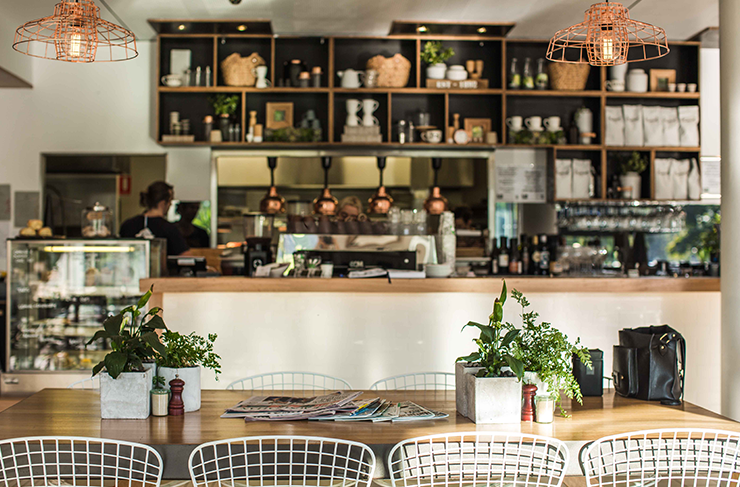 cobbler | west end
One of Brisbane's fave cocktail and whisky bar's, Cobbler will be serving up the goods for all to enjoy this public holiday. Open from 4pm till late, the perfect way to end your day off is with a cocktail or whiskey in hand.
Copado | Teneriffe
Head in to intimate wine and charcuterie bar, Copado for some tasty European inspired eats and, of course, wine. Copado will be open from 12pm onwards this Ekka public holiday.
THE DALGETY PUBLIC HOUSE | TENERIFFE
Want your day off to start with a mountain of food? Me too. The Dalgety Public House will be hosting a bottomless brunch Ekka Wednesday running from 10am to 1pm serving all of your brunch favourites PLUS wine! Need I say more?
ESCOBAR KITCHEN & BAR | NEW FARM
Nestled in a quaint old Queenslander in the heart of New Farm you'll find this gem of a bar. Escobar Kitchen & Bar will be opening its doors from 3pm onwards providing beer, board games, and good times.
FARRIER | FORTITUDE VALLEY
Pop in for a spot of supper at Farrier, open this Ekka Wednesday from 5pm till late.
the fox hotel | South Bank
An oldie but a goodie, The Fox Hotel will be serving up beers and pizzas for your day off. Open from 11:30am till late they will be serving $4 pizzas between 6pm and 8pm!
GREEN BEACON BREWING COMPANY | TENERIFFE
Unwind with some quality beers and delectable toasted sandiwhces and platters at Green Beacon Brewing Co. Open 12pm till 11pm this Ekka public holiday.
HEYA BAR | FORTITUDE VALLEY
Hey Ya is throwing an Ekka Carnival Party the night before our communal day off, and after that, you can recover on your day off at Hey Ya, open from 5pm till 3am.
SAZERAC BAR AND BISTRO | CBD
Keen to unwind after a hectic day at the Ekka? Sazerac Bar has you covered. With their rooftop bar open from 3pm till close you can soak in the Brissy skyline in style.
WOOLLY MAMMOTH ALEHOUSE | FORTITUDE VALLEY
Make your way to Woolly Mammoth for carry ons from the races with their annual after party. Doors open at 5pm sharp with free entry if you get there before 6pm and running until, well, until it runs out!
SHADY PALMS | STONES CORNER
Head over to Stones Corner and try some of Shady Palm's legendary chicken and beer next Wednesday. They will be open from 8am to 10pm.
RIVERBAR & KITCHEN | CBD
On top of being open from 8am to 10pm on Ekka Wednesday, Riverbar & Kitchen will also be hosting an Ekka Eve pop up bar the night before to celebrate. Cheers Riverbar!
Image credit: Hayley Williamson, Rachael Baskerville