Leading up to its half decade birthday, it's crazy to think that I only just visited Fremantle Italian joint La Sosta for the first time last week.
Crazy because I eat out a lot, but even more insane because the food dished up here is absolutely incredible.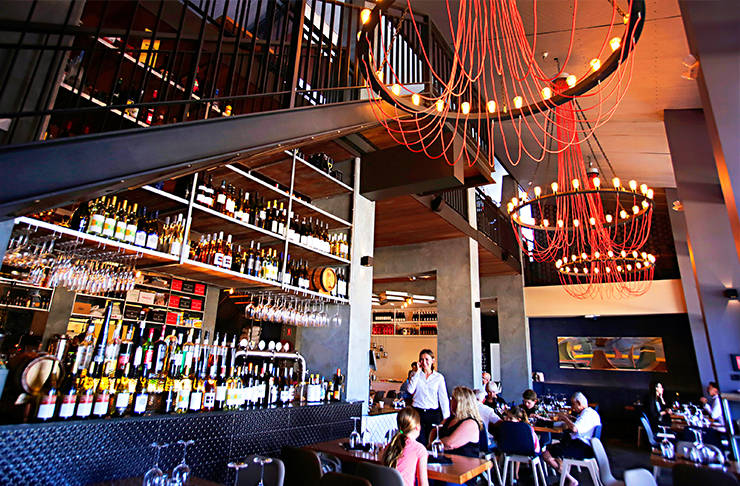 Originally starting out as a small restaurant, La Sosta now spans three levels in its building off Market Street. Climb the stairs to the first floor (past La Sosta's day-time cafe, Bottega) and you'll find a super stylish restaurant and cocktail bar, perfect for group gatherings or not too stuffy dates. There's also a balcony that's perfect when the weather is balmy.
The food is authentic yet sophisticated and everything is prepared in-house by the very charismatic (and very Italian) crew.
Settling in for dinner on a Monday night, the place was buzzing and warm—it's definitely the kind of spot to put on your winter dining bucket list. It was tough going choosing what to eat as the menu is extensive, but the friendly wait staff, donned in black with bright orange bowties and suspenders, steered us in the right direction.
We kicked off with the spada marinato (marinated swordfish with peaches and basil), gamberi lardellati (pancetta wrapped prawns) and caprese di bufala (buffalo mozzarella, tomato and basil salad) for entree. The seafood was as fresh as you can get and it was all delicious, especially the caprese salad and prawns.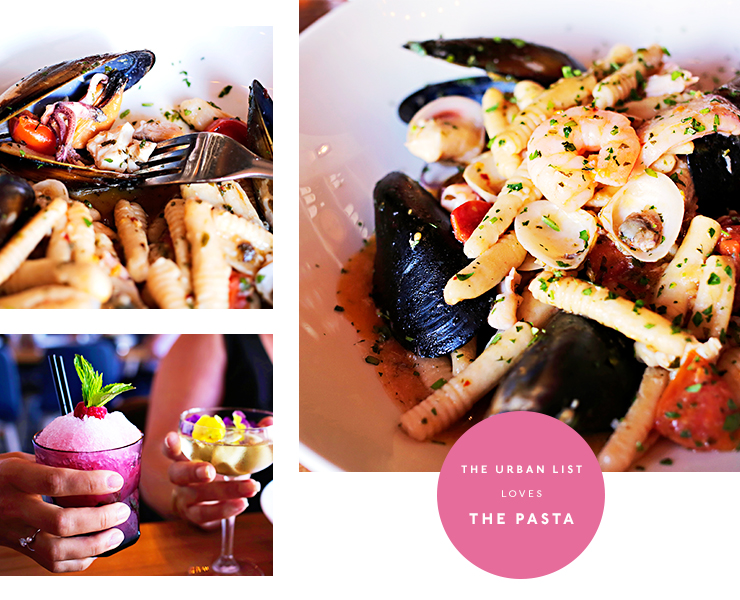 For mains we could not possibly pass up the freshly made pasta. The lasagnole gamberi was everything you want a pesto pasta to be. Big, rectangular sheets of pasta were layered over garlicky prawns and smothered in a pistachio pesto. It went down a treat.
The winner of the evening had to be the pappardelle agnello—thick ribbons of pappardelle, intertwined with slow cooked lamb ragu, split peas and truffle paste, sprinkled with pecorino cheese. It was a taste bud explosion!
After all of that any normal person would have called it a day and gone home with full and satisfied tummies, but we're not normal people, so we ordered the melting chocolate moment and chocolate mousse for dessert. Both were extremely rich and decadent.
Open every day for dinner, as well as lunch on the weekends, it's safe to say that I will be back very, very soon, La Sosta!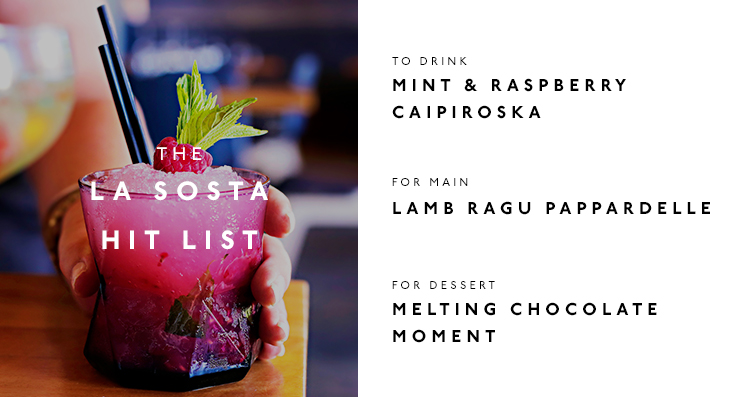 Image credit: Elle Borgward