There's no denying Porch and Parlour is a bona fide North Bondi meeting place. Helmed by travellers and gastronomes Sarah Hendriks and Sammy Smith, this institution has stood loud and proud on the bustling strip of Ramsgate Avenue for over a decade now.
While Porch and Parlour's signature green pea pancake with poached egg, whipped feta, house relish, avocado, zucchini, mint and snow pea leaf salad remains a favourite in our morning beach-to- brunch ritual, the team here has whipped up some new additions to the menu (which are all available for takeaway).
The newbie's look like an ocean trout fish burger; a cool noodle salad loaded with soba noodles, avocado, nori, tomato, cucumber, crunch slaw, pickled ginger, kimchi and sesame; and a Caesar salad with egg, grilled corn cob, bacon, pickled onion, parmesan and caesar dressing.
And due to the outbreak of COVID-19, these legends are working really hard to provide you foodies with some hearty take-home meals. In the meantime, co-owner and head chef Sammy Smith gave us the low-down on how to recreate Porch And Parlour's brand-new fish burger so you can whip up this beauty at home (you know, to make self-isolation that little bit better).
Recipe | Porch and Parlour Fish burger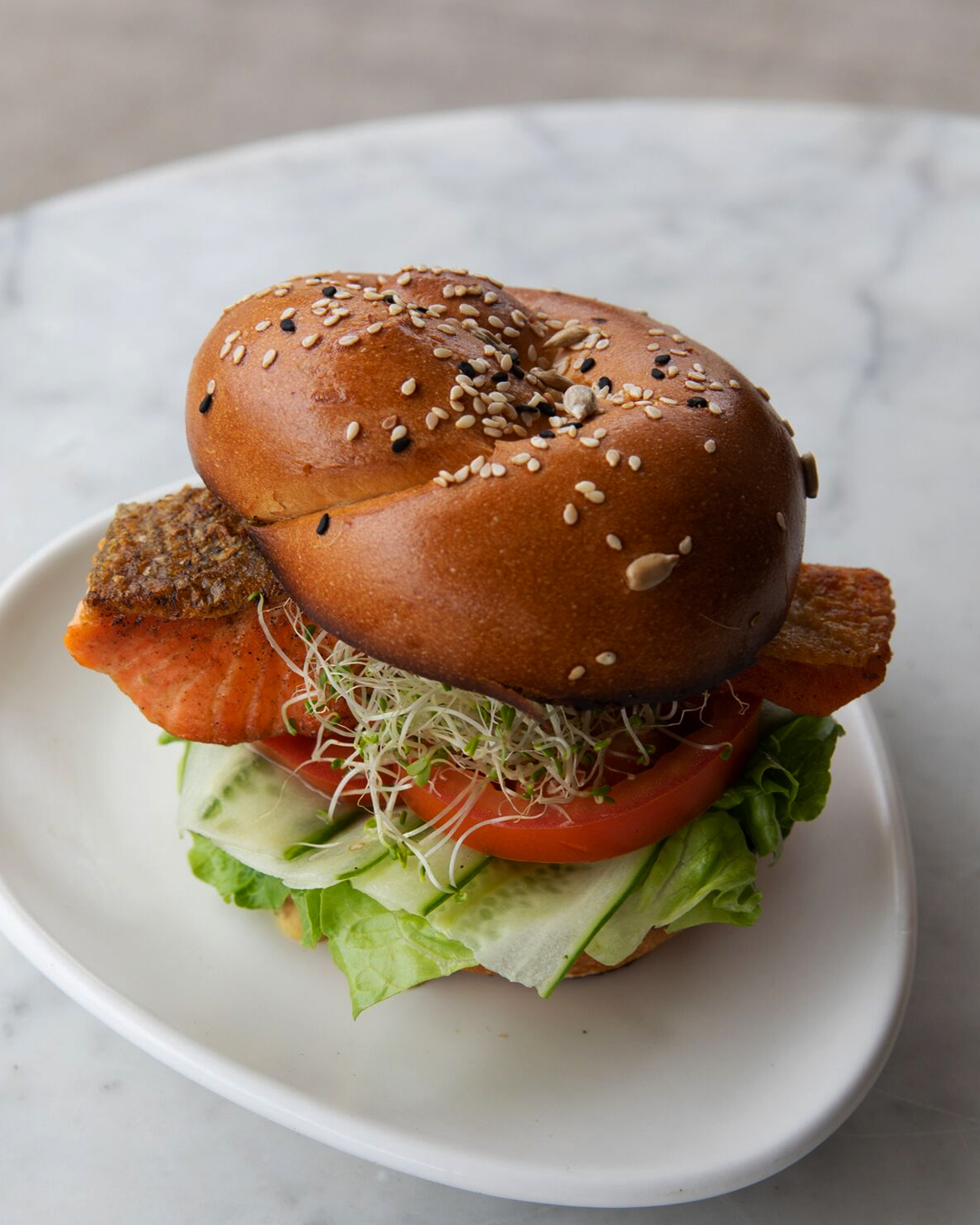 Ingredients
1 brioche bun
40g sliced iceberg lettuce
40g sliced tomato
20g fine sliced cucumber
Alfalfa sprouts
1 x 120g ocean trout or salmon fillet- cook skin side down for 3 - 5mins
Method
Tartare sauce
Mix chopped cornichons, capers, spring onion, boiled egg, lemon zest and dill through a good quality aioli.
Fish Burger
Slice and toast brioche bun.
Sear ocean trout skin side down and either place ocean trout in the oven for 3 minutes, or turn and leave on grill for 3 minutes.
Add a tablespoon of tartare to brioche bun.
Place lettuce, tomato and cucumber on the bun along with ocean trout and then alfalfa sprouts.
And serve up with a wedge of lemon
Hell-bent on not moving? Here's a bunch of epic things you didn't know you could order straight to your front door.
Image credit: Porch and Parlour