If you need to quit your job and focus on what's really important to you, like demolishing food and drink at each café, restaurant and bar in an entire suburb, we totally support you in this decision.
Since it isn't the smallest of Sydney suburbs, our list should help you navigate your way through the culinary jungle that is Surry Hills. So prepare thy body and slip into those stretchy pants, you've got a lot of eating and drinking to do, people.
These are the best spots to eat and drink in Surry Hills.
The Best Restaurants In Surry Hills
1. Don't think of vegan food as carrot sticks and soy milk, when it's more like Bad Hombres roast cauliflower with seaweed salt and cashew cream tacos.
2. Firedoor cuts all meat to order and puts all its focus on premium Australian ingredients, resulting in the yummiest of foods like the 147-day dry aged grain-fed rib of beef – we'll have two thanks.
3. Fuel your pasta addiction at Flour Eggs Water with the squid ink ravioli, salmon, vodka, chives, dill and fennel.
4. Enjoy a brilliant feed and give back at Folonomo. The business gives 100% of its profits to charity which makes eating the sautéed black rice, broccolini, mushroom and walnuts even tastier.
5. Live a little and try the infamous burnt miso ramen at Gogyo.
6. Masala means spicy and you'll find that Masala Theory dishes up some of the tastiest (and spiciest) Indian food around. Did we mention it's extra spicy – you've been warned.
7. Maybe Frank offers all you can eat Tuesday nights for just $20 per person. Sign us the hell up.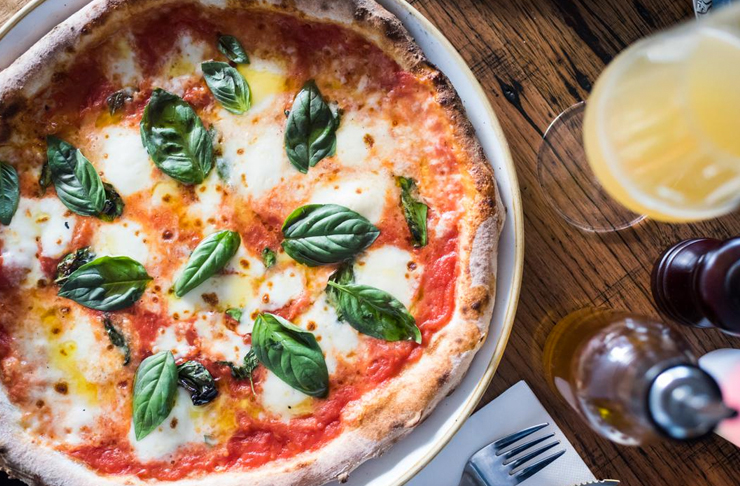 8. Home-made pickles and cured meats are just two of the reasons why you really need to check out Nomad.
9. If wood fired honey figs sound like the best thing ever created, Nour should be your next date night spot. Or solo eating spot. Either way, these figs aren't going to eat themselves.
10. Argentinean BBQ's should be a bigger part of all our lives, so if you haven't already sussed out Porteño, you know what to do this weekend. (Hot tip: head to their wine bar, WyNo for a pre-drink).
11. Risotto with pesto and chicken or home-made gnocchi with gorgonzola and arrabbiata—they don't make the decision easy at Il Baretto, do they?
12. Izakaya Fujiyama is not only a snazzy Japanese joint but doubles as a bar too, so if your sushi is missing some Japanese whiskey – it's no problem.
13. Head to Loluk Bistro each Tuesday and Wednesday for $49 charcuterie boards with oozy raclette cheese from 6pm. They also take payment in the form of bitcoins… 2018 is cray, right?
14. We're not exaggerating when we say Longrain serves some of the best Thai food out – so give it a whirl.
15. The OG Via Napoli was so freaking successful in Lane Cove, it came all the way to Surry Hills (over the bridge my god) just so we could eat their famous 1-metre authentic Italian pizzas. All we can say is thank you.
16. Fry anything and we're fans of it TBH. Head to Butter for some seriously good fried chicken.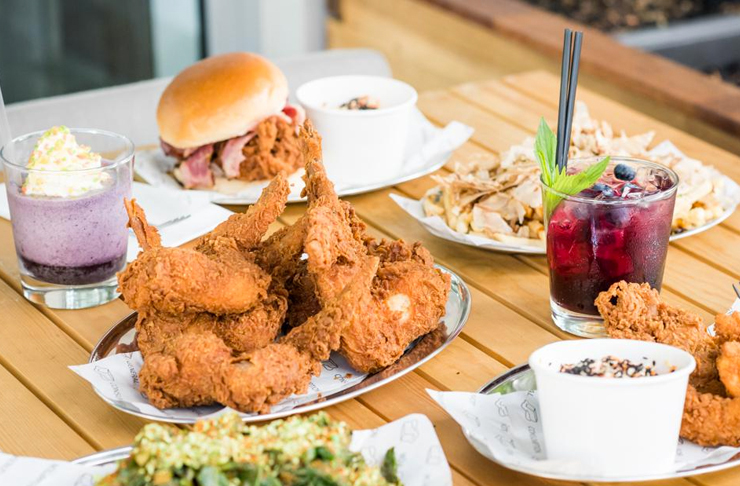 17. Get yourself a glass of vino and a bowl of home-made pasta for just $20 at Baccomatto Osteria next Monday night.
18. Bishop Sessa is all about local produce, but more importantly it has a god damn wine club. A wine club, people!
19. If you go to Chin Chin and don't get the $88 cook book feed me option, you may need to re-evaluate your life choices. We mean, you'd be crazy to say no to a Chin Chin banquet!
20. You've gotta get to Yulli's for your next veggie fix, with the all vego restaurant serving the most delish miso baked eggplant and stuffed feta roast capsicum.
21. Get silly on cocktails at 4Fourteen and chow down on the rather interesting pigs ear schnitzel and the chicken liver parfait jaffle.
22. You can just about have the most luxe 10 course Japanese degustation ever at Raita Noda's on Riley Street.
23. Go antipasti cray cray at Vacanza with their salumi and formaggi board or the mortadella and pasta fritta… or both, let's be realistic.
24. Opt for the tasting menu at Toko Sydney, the modern-Japanese joint down Crown Street.
The Best Cafes In Surry Hills
1. Roasted right on site, Rueben Hills is one of Surry Hills' finest coffee joints—oh and try their take on the Rueben sandwich. You can thank us later.
2. All day breakfast is heaven and heaven is Kawa.
3. Paramount Coffee Project serves up not only lovely coffee but an out of this world bibimbap (Korean rice, veg, chilli, pickles and egg).
4. Do yourself a favour and get the Bacon MacDaddy at Surry Hill's Cuckoo Callay. Think triple smoked bacon, bacon mac and cheese, an egg, relish and fried shallots on a toasted croissant… OMG is the appropriate reaction.
5. Ever sipped on a coffee that made you wonder if the baristas are actual angels? If not, you obviously haven't been to Single O Café and Sideshow yet.
6. Picking up a fresh cup of batch brew and an avo bagel next time you're at Brewtown is never a bad idea.
7. If you take your coffee seriously and laugh at the concept of soy milk, Artificer is your go to for an impeccable caffeine hit.
8. For a classic breaky that won't disappoint, Blacksmith café is where it's at (oh hello freshly baked sourdough).
9. Bangbang Café is known for their totally delicious burgers and big ole' English breakfasts. Let's just say you won't be leaving hungry.
10. For all of the toasties, head to Shift Eatery—the best part of all is they're 110% vegan.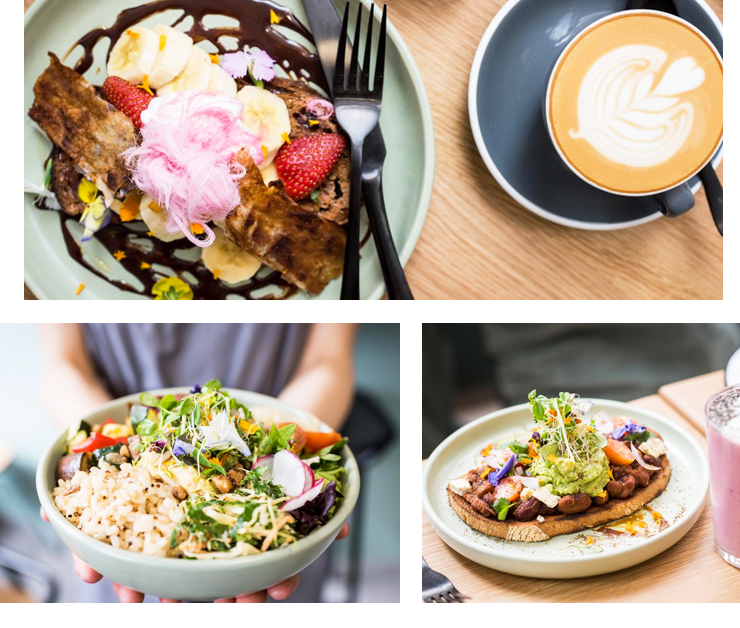 11. Kentaro brings a Japanese twist to Australian classics like a matcha bircher muesli or the spicy pork belly toast. Yum is the only word we have for you right now.
12. New York style bagels are calling your name so head to Brooklyn Hide and get yourself sorted.
13. Cook & Archies will serve you the best damn chilli scrambled eggs ever and if you disagree, you're wrong.
14. Lucky Pickle is a hole in the wall café that has a limited menu of coffee and specialty baguettes including pork belly, duck liver, coriander, cucumber and pickled carrot – lunch plans sorted.
15. Another consistently fab café is the Reformatory Caffeine Lab, with limited standing benches, you'll get quick, perfect coffee every time.
16. Vegan pancakes, people. Vegan. Pancakes. Find them at Bondi Wholefoods in Surry Hills.
17. With an ethos of brunch, brew and banter, it's no surprise why we're obsessed with The Factory Grind.
18. Forget the gym and make green smoothies, quinoa bowls and raw snickers bars your new thing at Verd.
19. Blink and you might miss this one cause it's literally Sydney's smallest coffee shop. Doing only takeaway brews, Neighbourhood is the perfect pre-work coffee hit.
20. If you like your French toast stuffed with banana, dulce de leche, mascarpone, nut crumble and maple syrup, Four Ate Five is the place to go.
The Best Bars And Pubs In Surry Hills
1. Are you even a real Sydney sider if you haven't had aperitivo hour at The Dolphin?
2. Bar Ume is the coolest Japanese bar that also sells incredible burgers (think fish katsu and kaklage). The only thing else you need for a good night is one of the Japanese shochu bevvies. Night complete.
3. Wednesday's are officially sorted with $12 whiskey sours and a rack of ribs for just $35 at Clock Hotel on Crown Street – keen.
4. Pick up $20 beer pitchers and $10 nachos each Thursday and Harpoon Harry's.
5. With an all Australian wine menu, it's kind of hard to go wrong at Dead Ringer.
6. One of Surry Hill's most loved pubs, the Cricketers Arms Hotel continuously serves top notch pub food and cheap pub bevvies.
7. If you've never been to a bar that doubles as a millinery workshop (hat making), what the heck have you been doing with yourself? Check out Soultrap for some super cool beats and French-inspired cocktails.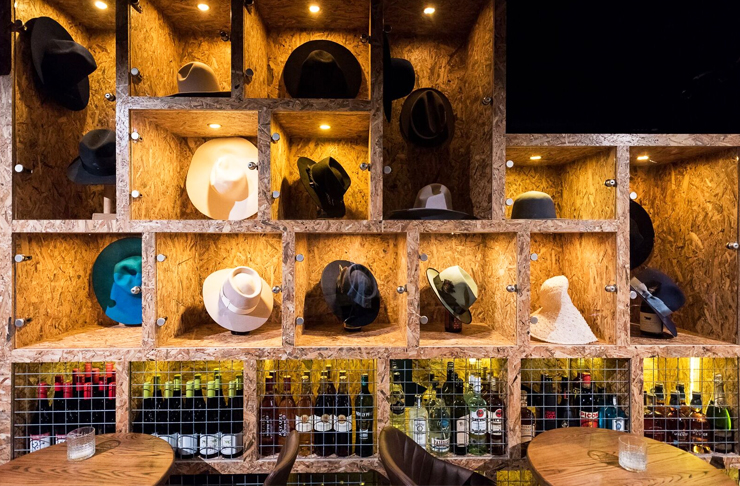 8. El Loco is an oldie but a goldie, cause who the heck doesn't like Mexican food and margaritas?
9. Did someone say late night cocktails from 9pm to 10pm at The Carrington?
10. Fonzarelli's is a 1950s and 60s Americana bar, with a cocktail list so fine you could easily spend a whole night here.
11. A Japanese-themed bar with karaoke and a lot of gyoza, yakitori and sake? It's a yes from us.
12. Make this weekend the time to try Jamaican Jerk-style food at our fave rum bar, Rosie Campbell's.
13. Bourbon, beers and bites is what the Keg & Brew offer and quite frankly, it sounds mighty fine.
14. Need a hot spot for your next Tinder date? Mr Fox is open every night of the week and is cosy and dimly lit – bring on the romance.
15. Sip on a $6 pint, wine or spirit every day from 6pm till 8pm at The Beresford Hotel.
16. It's always wine time at The Winery, and every Friday from 4pm, you can pop open a magnum of champagne for $99.
17. Button Bar promises a good night with a tonne of spiced rum, Singapore slings and sherry to go round, and not to mention their off the chain cheese and meat boards on offer.
Next up, Cronulla.
Image credit: Maybe Frank, Butter, Shift Eatery & Soultrap | Caitlin Hicks