If you didn't know already, one of our fave destinations for a beach-y weekend away has been upping the ante in the food offering department. Yep, there's a serious foodie revival underway on the sunny Gold Coast, with the mammoth addition of The Kitchens and over 40 new eatery options just last week.
From their own on-site honey bees, to design-your-own sausages made before your eyes, cooking master classes, tastings, a demonstration bakery, on-site coffee roaster with an espresso martini bar, up-to-the-minute seasonal menu items, live entertainment, and rotating pop-up market purveyors, if you can imagine it, they've probably got it! The Kitchens at Robina Town Centre is an interactive destination with a big ambition to make us more conscious of our food, where it came from, and how it's prepared.
We landed the tough gig of eating our way through a handful of the most drool-worthy offerings to bring you a shortlist of 10 epic eats you don't wanna miss at The Kitchens. Prepare for your mind and diet to be blown!
Authentic Greek Gyros | Jimmy Grants
Sorry to break it to you Brisbane, but the Gold Coast just nabbed the first ever Jimmy Grants to fly the Melbourne coup. These authentic Greek gyros by celebrity TV chef George Calombaris have legendary status in Victoria, so you know they'll be totes worth jumping in the car for. After your beach sesh, we recommend you head straight for The Kitchens to re-fuel, and demolish a lamb, beef or chicken-filled souva. Yep, seasoned chips stuffed into a souvlaki, you had us at hello!
Baked Goods Galore | Mr Pigs Bakehouse
If flaky house-baked pastries and wafting meat aromas make you weak at the knees, we've got three words for you: Mr Pigs Bakehouse. Another eatery unique to The Kitchens, from the talented team behind GC's Pigs and Pints, Samphire Bites and Brady's Fish, we've got our eyes on the brioche doughnuts, home-made chunky beef pies, and bacon and cheese pull-a-parts. Drool! Looking for some brekky fuel pre-shopping spree? Try the wild mushroom fricassee with tarragon poached eggs and topped with hollandaise. Whatever you do, don't leave without scooping up a few loaves of bakery-fresh artisan bread on your way out.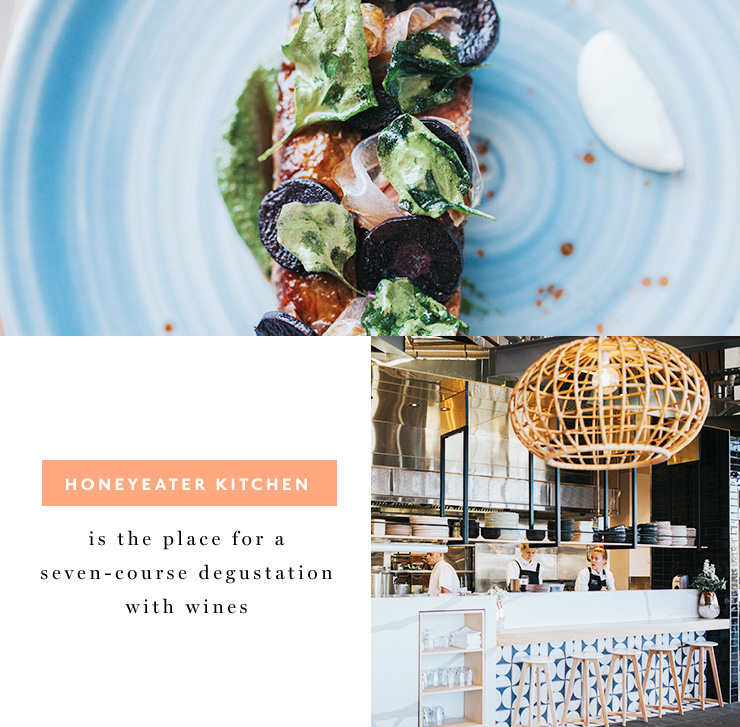 Seven-course Degustation | Honeyeater Kitchen
Those who are thinking shopping mall "food court" should wipe those words clearly from their vocabulary. Blending European and Asian techniques, Honeyeater Kitchen's innovative menu could be mistaken for being plucked straight from a fancy hotel with the likes of the spanner crab omelette with miso broth and sprouted salad for breakfast, line-caught squid stuffed with pulled pork for lunch, or an impressive seven-course degustation dinner with wine pairings. See, we told ya the foodie offerings would blow all preconceptions clearly out of the water!
Fish Parmigiana | Fish Lab by William Wu
Feasting on nek-level seafood dishes is probably the last thing which comes to mind when setting out on a shopping trip. Riiight? Well marrying these two fave past times is now possible with the opening of the Fish Lab at The Kitchens. Chef William Wu mastered the technique of preparing seafood with the Japanese masters, combining his skills with Australia's epic produce selection to create experimental dishes like the seriously tasty fish parmigiana topped with Jamon serrano, tomato chutney, basil, crispy capers and mozzarella.
Espresso Martini Bar | Crafted Coffee Co.
This one is best explored on your next Gold Coast weekender, when you can work your way through the menu at the Coast's first dedicated espresso martini bar (open Thursday to Saturday). Squeal! With four espresso martinis and six coffee-inspired cocktails on the list, we're buzzing just thinking about it. Crafted Coffee Co. is sourcing and roasting their own beans onsite, with coffee infused in almost everything on the sweet and savoury food menu. Showcasing our fave bean's wickedly delicious versatility, you can order ricotta hotcakes or French toast drizzled with maple or Crafted coffee syrup, banana bread with coffee and cinnamon butter, gourmet salads with coffee-crusted chicken, coffee macrons, their own chocolate range, and there's even a bloody affogato menu with nine options! O.M.G.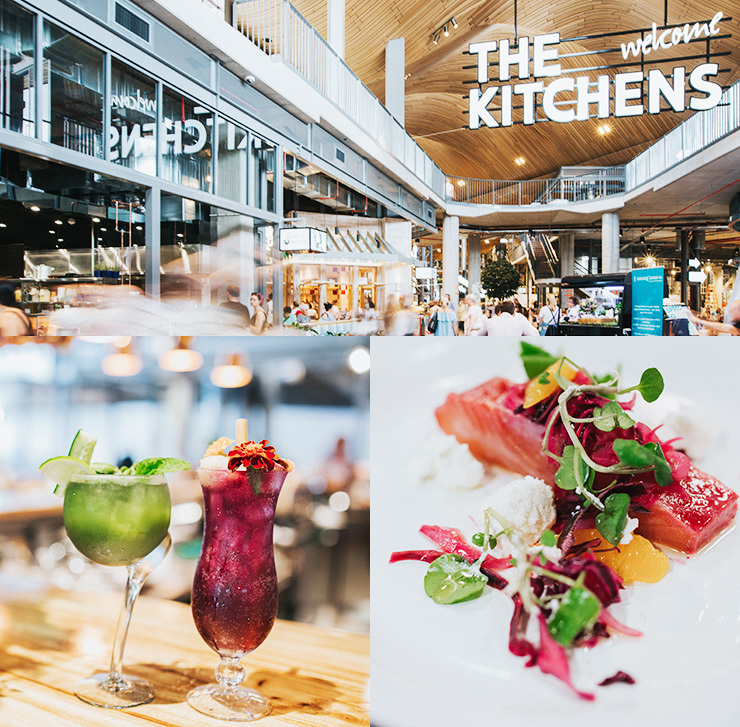 Arepas | Fiery Deli
If there's anything we love more than Fiery Deli's loaded Venezuelan arepas, it's their story. This lot literally surfed and cruised their way to Australia on a freakin' sailing boat, bringing their authentic South American street food to the Gold Coast; first to a food truck, then to Burleigh and now with a new home at The Kitchens. Their signature cornmeal pocket bread arepas are a tasty cross between a burger and a taco, and served with the widest damn smiles you'll ever see. Thanks for choosing Oz, fellas!
Coconut Flesh "Calamari" | Elixiba
Starting out on the Sunshine Coast, another epic addition to The Kitchens precinct is plant-based foodie heaven, Elixiba. Shaking things up, quite literally—their cocktails and beers on tap are infused with rare active botanicals. Try the turmeric ginger beer then, move onto innovative dishes like "calamari" made from coconut flesh, that will ensure vegan and paleo fans alike will leave feeling smug ('cause it's just THAT good) and satisfied. Want more? Try the sliders with fresh-baked paleo buns, signature plant-based patties, smokey BBQ and vegan cheesy sauce. Proving that you can still look after your health while indulging in a butterfly-like social life.
Chinese Crepes | Roti and Buns
Cooking up Malaysian and Hong Kong street food like nobody's business, follow your nose to the aromas flooding from Roti and Buns. Our mouth is watering at the thought of Jian Bing (Chinese crepes) made fresh before our eyes, hand-crafted dumplings galore, curries, and savoury-stuffed roti (Malaysian flat bread). Nom nom nom!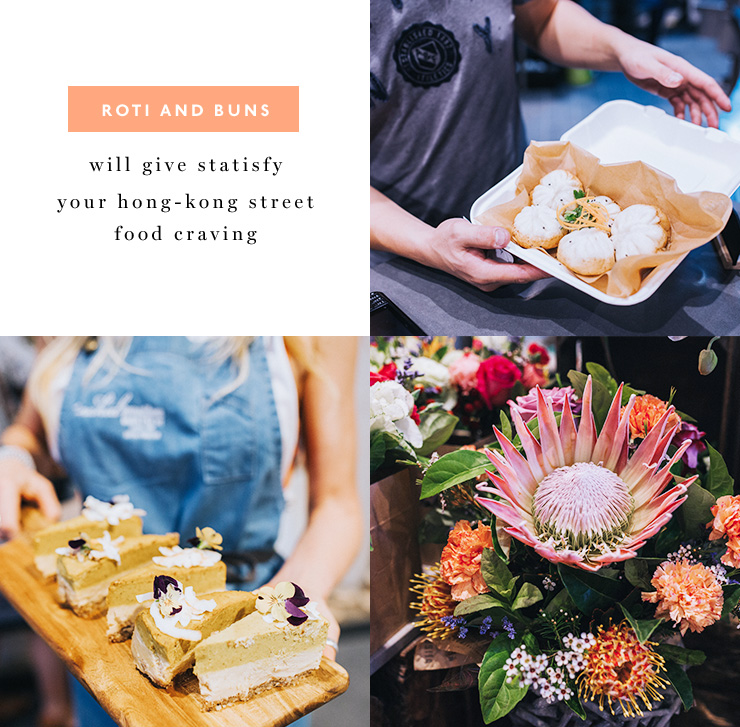 Rainbow Bagels | NYC Bagel Deli
No, you don't need to do a double take, 'cause the craze that took New York by storm earlier this year has just landed in Queensland! NYC Bagel Deli has set up shop in The Kitchens and the star attraction is certain to be their hand-crafted Rainbow Bagels. Srsly! But you can only get 'em at the Gold Coast store, and only while stocks last. We'd be camping out overnight if we were you.
Raw Desserts | Naked Treaties
When used in the same sentence as healthy diet, we love that dessert is no longer considered a bad word. Thanks to seriously yummy raw goodies, like those by Byron Bay's Naked Treaties. Serving their famous desserts at The Kitchens, together with a stellar line up of nutritious eats and super smoothies from their raw bar. Did someone say Choc Beet Mud Cake?
Image credit: Hayley Williamson
This article is sponsored by The Kitchens and endorsed by The Urban List Brisbane. For more information on our editorial policy click here.